Sig Sauer P226 vs. P229: Two Of The Best Pistols Side By Side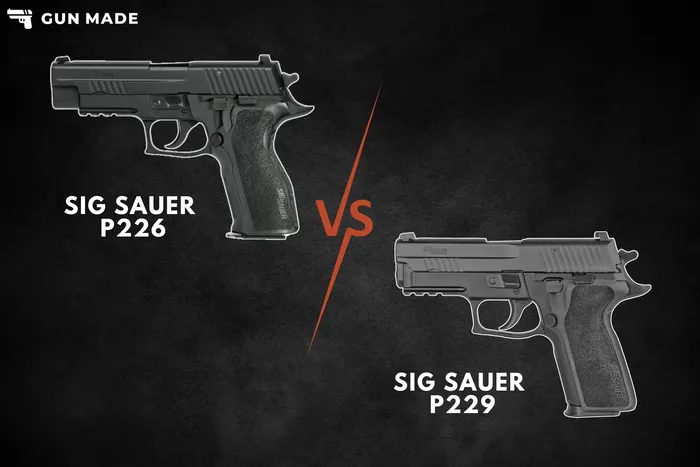 Sig Sauer P226 vs. P229: Two Of The Best Pistols Side By Side
Am I even old enough to put the Sig Sauer P226 vs. P229?
These two legendary firearms have been around since the days before I was spawned. And not for nothing, they are two of the best pistols in their respective categories.
The first pistol I ever fell in love with was the Sig Sauer P226 MK25, which resulted from reading all the Navy SEAL books I could get my nine-year-old hands on from the book fair.
You can understand why once you put it alongside its predecessors.
But the Sig Sauer P229 doesn't fall far behind. Well, aside from the size, anyway.
So, let's compare these two Sigs and see why they are considered two of the best pistols ever made. Here are the three main points you should take away from these two handguns:
Consider Size for Concealability: If concealability is a priority, the P229's more compact size makes it a better choice than the P226.
Assess Your Needs: The P226 is ideal for field use, range time, or home defense, while the P229 excels in concealed carry scenarios.
Avoid PVD-Coated Slides: Based on my experience with wear issues on PVD-coated slides, I recommend choosing models with Nitron-coated slides.
Overview of The Sig Sauer P226
History of the P226
Sig Sauer began developing the P226 in the early 1980s when flashlights were being taped on the sides of MP5s, Miami Vice was popular, and there were talks of an international space station.
It was entered in the Army's XM9 handgun trials to find a replacement for the M1911A1, the longest-serving military sidearm.
Only the Sig Sauer P226 and Beretta 92F met the qualifications, but when the time came for pricing, Beretta offered the government a better deal, even though the P226 did better than the 92F in the trials.
So, the Army chose the 92F (M9 is the military variation) over the P226.
We all know how the government likes to save money against our best interests and spend it on its own.
Anyway.
In the late 1980s, the German Kampfschwimmer (German Navy SEALs) successfully tested and adopted the P226. Once the U.S. SEALs saw how well it did in a maritime environment, they decided to ditch the M9 and make the P226 and P226 MK25 (P226 Navy) their designated sidearm.
They called it the MK25 Mod 0, which saw an anchor engraved in the slide.
This prompted law enforcement and three-letter agencies like the FBI to conduct their own trials, especially after the FBI shooting in Miami-Dade, which showed them how ill-equipped they were for the occasion.
The P226 was a hit. Then, after the Navy SEALs movie with Charlie Sheen came out in 1990, everyone was buying P226s and painting their faces green.
And since it was available in .40 S&W and .357 Sig for the first time, shooters who wanted more power could have the best of both worlds.
It was also offered in .22 LR, 9×21 IMI, and 7.65×21, but they weren't as common.
The P226 is still in production today and has plenty of variants to choose from.
Overview Of The Sig Sauer P229
History of the P229
The Sig Sauer P229, introduced in 1992, was derived from the P228, which was developed to serve as a more compact version of the P226.
The P228 quickly gained widespread popularity among government agencies and militaries worldwide.
It was used by flight crews, boat crews, military police, NCIS, the Army Criminal Investigation Division (CID), the Air Force Office of Special Investigations, and almost every law enforcement agency related to the Pentagon, the Secret Service, and the military.
But, it wasn't too long until the need for more caliber options arose, so Sig Sauer remanufactured the P228 to accept more powerful rounds like the .40 S&W and .357 Sig and got rid of the folded, stamped, and spot welded slide on the P228 and replaced it with a solid machined slide.
Enter the P229.
The P229, compact and capable of firing heavier rounds, gave law enforcement a new option.
To this day, the P229 is used by law enforcement agencies all over the globe. My uncle, who works Sheriff K9 in New Jersey, was issued the P229 chambered in .40 S&W and is still carrying it to this day.
Specification Chart for the Sig Sauer P226 and P229
| | | |
| --- | --- | --- |
| Specifications/Model | P226 | P229 |
| Overall Length | 7.7 Inches | 7.1 Inches |
| Overall Height | 5.5 Inches | 5.4 Inches |
| Barrel Length | 4.4 Inches | 3.9 Inches |
| Sight Radius | 6.3 Inches | 5.7 Inches |
| Overall Width | 1.5 Inches | 1.5 Inches |
| Barrel Material | Carbon Steel | Carbon Steel |
| Slide Material | Stainless Steel | Stainless Steel |
| Action | DA/SA | DA/SA |
| Trigger Pull Weight | 10 Pounds (DA) / 4.4 Pounds (SA) | 10 Pounds (DA) / 4.4 Pounds (SA) |
| Weight | 34 Ounces | 34.4 Ounces |
| Caliber(s) | 9mm, .357 Sig, .40 S&W | 9mm, .357 Sig, .40 S&W |
Key Differences Between The P226 and P229
Size and Weight
As you can see above, size is the main difference between the P229 and P226. This makes sense when you remember that the P229 was created to be a compact version of the P226.
The P226 is a full-size handgun with a slide length of 7.7 Inches and a 4.4-inch barrel catered more toward use in the field and less toward an everyday carry gun.
Don't be mistaken; the P226 is a battle gun, and if you can conceal it, you will never have to worry about your carry gun giving up on you.
The P229, on the other hand, has a slide length of 7.1 Inches and a barrel length of 3.9 inches, which lends itself better to concealed carry scenarios and areas where a full-size pistol isn't needed, like Costco and Whole Foods.
The weight between the two only differs by 0.4 ounces, so you'd never even notice it without a scale.
Grip Size and Feel
One of the most notable features of the P226 is how it feels in the hand.
The grip isn't too broad or thin and fits most hand sizes perfectly. And the length is more than enough to find a home for all your fingers. It also has a very nice medium-grit texturing and contouring.
This has prompted companies like Wilson Combat to produce grips that emulate the feel of the P226.  
The P229 is only a tenth of an inch shorter, so there is still enough room for all of your fingers to fit on the grip. The contouring is also slightly different, with less curvature on the backstrap.
I do prefer the feel of the P226, though, which is why I have a Wilson Combat grip on my M18.
Sig Sauer P226 Pros & Cons
Pros
Long history of reliability

Available in multiple calibers/variants 

Duty-use-oriented and proven

Great trigger

Superior ergonomics

SIGRail accessory rail
Cons
Expensive for more sought-after variants (MK25, Legion, etc.)

Rather large for concealed carry 

Low magazine capacity compared to newer firearms of the size

PVD coating on newer models wears quickly
EXPERT TIP: Regular maintenance is key, especially for models with PVD coatings to mitigate wear and tear.
Sig Sauer P229 Pros & Cons
Pros
Available in multiple calibers/variants

Concealed carry oriented

Great trigger

SIGRail accessory rail

Good magazine capacity, considering the size 

Reliable
Cons
Doesn't feel as good in the hand as the P226

PVD coating on newer models wears quickly
Which One Should I Buy?
Now, if you're looking for which one is better for you, keep reading.
If you want a pistol for home defense, the range, or to throw in a Safariland holster on a battle belt, then the P226 has a long history proving why it's perfect for those roles.
On the other hand, if you want a proven pistol for concealed carry, you're better off with the P229 due to its slightly smaller size. However, it will also do well in home defense.
It all depends on the role.
Both pistols sport a 15+1 magazine capacity (on the ones made today, anyway), so you aren't losing there.
If I could give you one bit of advice, it's to run the other way if you're about to buy a Sig with a PVD-finished slide. After 1,000 rounds through my M18, I had to change the slide due to the horrible wear and tear that the Sig PVD-coated slides suffer from.
The P226s and P229s feature mostly Nitron-coated slides, which don't have nearly as many problems, but I'd still watch for wear issues.
Now, if I had both pistols in front of me, I would choose the P226. It would be of the most use to me.
EXPERT TIP: If you're new to firearms, consider starting with the P226 for its ergonomic design and ease of handling.
I live in a colder climate, typically wearing oversized sweaters that can more easily conceal larger handguns. But, I'm also 6 feet tall and 185 pounds, so concealing a larger pistol isn't hard for me.
However, if I lived in a climate where it's warmer, like Florida, I would choose the P229 since it's a little more concealable.
So before you pick between the two, think about which would fit you and your needs best.
FAQs
Can I switch between double-action and single-action on the Sig P226 and P229?
Yes. Both pistols are DA/SA unless your variant is DAO (double action only) or SAO (single action only).
When the hammer is forward, it's in the double-action phase, where the trigger and hammer must travel further before the shot breaks. This results in a longer, heavier trigger pull. The first shot with a DA/SA revolver is typically in double-action unless the hammer is manually cocked by the shooter. Once the hammer is back, it's in the single-action phase, and the trigger doesn't need to travel as far. This results in a lighter trigger pull. The gun will be in single-action after the first shot.
Are there aftermarket upgrades available for these Sig Sauer pistols?
Of course. Not only does Sig have aftermarket options for these pistols, but there is a large number of other companies that make parts for them as well. However, they aren't as well supported as a Glock or the newer Sig pistols, but support is still available.
Are there ambidextrous options for left-handed shooters?
Neither the P226 nor P229 are ambidextrous, which is not surprising for older Sig models. You can reverse the magazine release on both, but every other control (de-cocker, slide release, and takedown lever) is non-ambidextrous.
Conclusion
I believe the Sig Sauer P226 and P229 are two of the greatest pistols ever produced. Plenty of variations exist, so there are models for just about everyone. Just remember to stay away from Sig models with PVD-coated slides.
It'll save you time and money in the long run.
The P226 is my favorite of the two, especially in the MK25 configuration. It was my first love (before I learned about girls) and introduced me to the world of firearms. I even had a poster of it on my wall as a kid.
With that said, I don't think you can go wrong with either the P226 or P229.
Which of the two is your favorite? Or do you suggest a different DA/SA pistol? Let us know in the comments below.
Be good and take care.
Explore more