2011 vs 1911: Modern Competitor or the Classic Carry?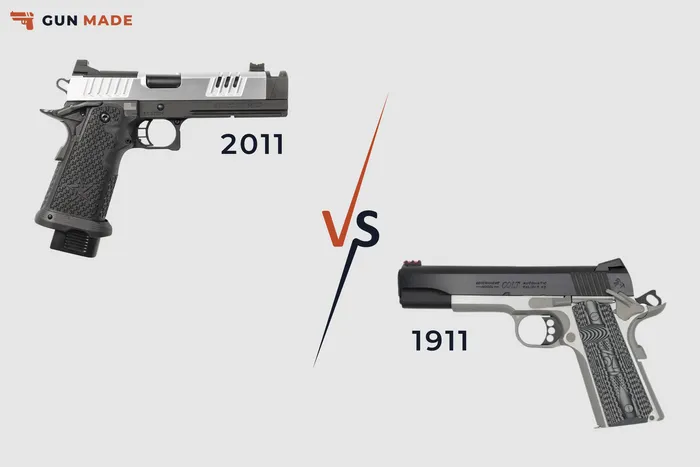 2011 vs 1911: Modern Competitor or the Classic Carry?
Introduction
Both the 1911 and 2011 have a slew of fans out there, and I'm happy to count myself as an aficionado of both.
The 1911 is a classic piece of Americana that helped win both World Wars, and the 2011 is a modern classic that has won every major handgun competition in the world. I've owned both and can say they're both excellent in their own way and great at what they do.
But which one is better for you?
Today, we're going to compare and contrast these two titans of the handgun world, not to declare one a winner, but to give you an idea of which one will best meet your needs.
We'll look at everything from self-defense performance and carry, to competition-readiness and price. Let's find out which one of these guns makes the most sense for you to own (or at least pick up first).
The Colt 1911: A Century-Old Workhorse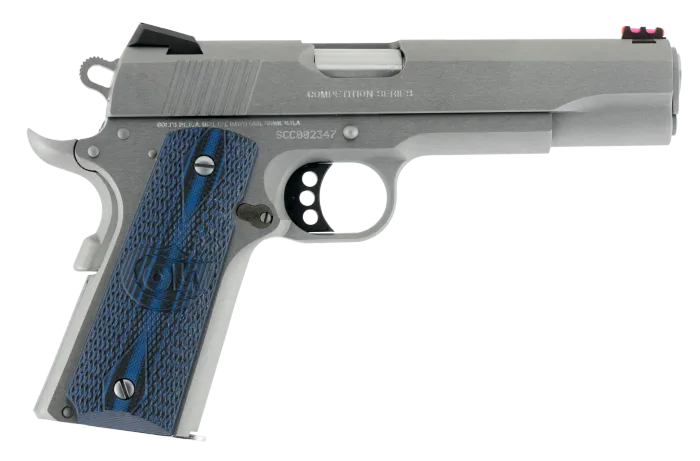 The Colt 1911 as we know and love it today was born out of a design trial intended to find the U.S. military's new service pistol. After years of field testing, competitions, torture testing, and other evaluations, it was officially adopted on March 29th, 1911 (hence the name).
The original 1911 was chambered in .45 ACP, had a single-action trigger, and a 7-round capacity—one more than the popular revolvers of the day. It had fixed sights, wooden grips, and both a grip and thumb safety.
The 2011: The Modern Masterpiece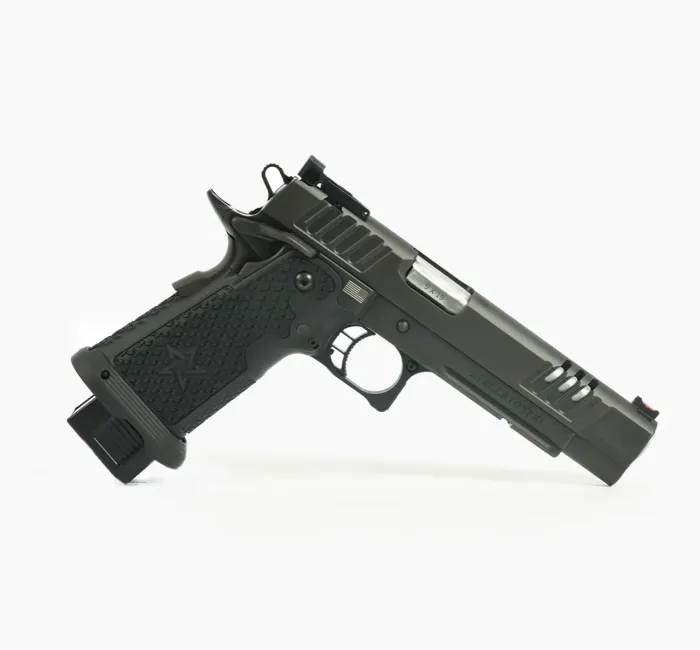 In 1993, engineer Sandy Strayer and custom 1911-maker Virgil Tripp got together and formed Strayer-Tripp International, or as most people knew them, STI. Together, they decided to update the 1911 for the modern era and designed a modular frame with a double-stack capacity.
The goal was not only to bring the 1911 design up to modern standards (the Beretta M9 had mostly replaced the 1911 as the service weapon of choice for the US military by that point) but to also make something that could dominate on the competition circuit.
Today, STI is known as Staccato, and there are about half a dozen companies making guns based on those original designs: a modular-framed, double-stack pistol based on the original 1911 internals, but updated for a world that demanded higher capacity, less recoil, and a 9mm chambering.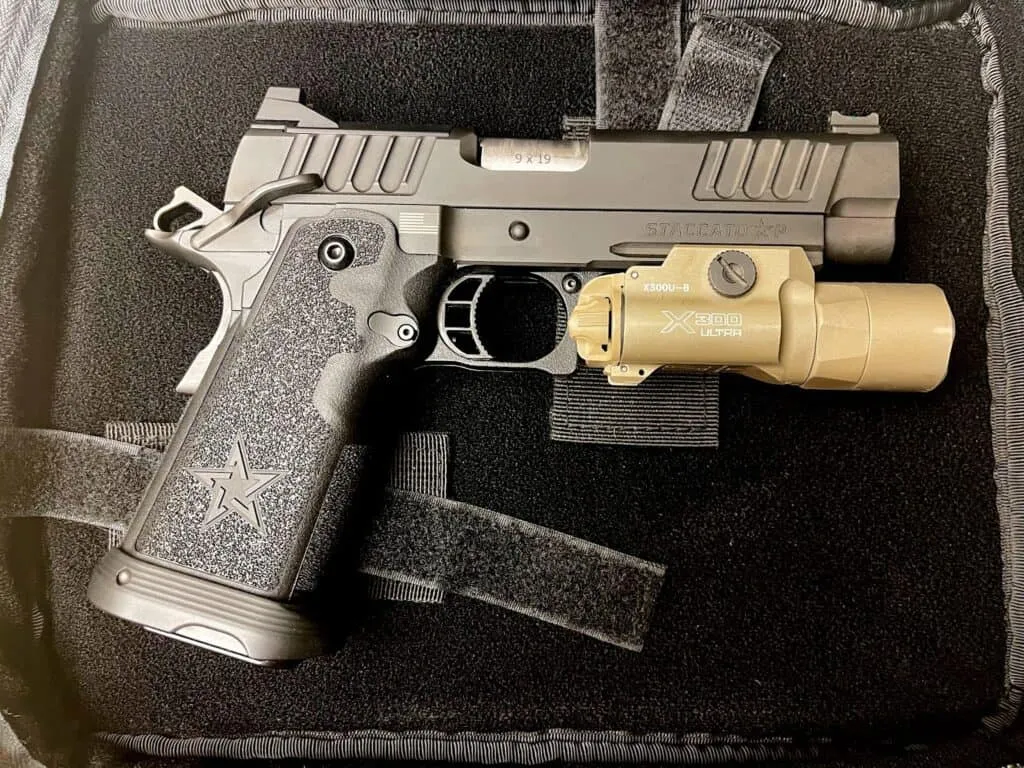 Check out our Staccato P 2011 review for more info on one of our favorite 2011s.
Comparing the 1911 vs the 2011
| | | |
| --- | --- | --- |
| Specifications | 1911 | 2011 |
| Caliber | Various (9mm, .45 ACP, .38 Super, 10mm, etc | Primarily 9mm, but with some .45 ACP, .38 Super, and .40 S&W options available |
| Action | Recoil-operated semi-auto | Recoil-operated semi-auto |
| Trigger | Single-Action | Single-Action |
| Magazine | Single-stack | Double-stack |
| Capacity | 7+1 | 17-20 |
| Frame | Steel, Single-Piece | Modular Polymer, Aluminum or Steel, Dual-Piece |
| Slide | Steel | Steel |
| Customization and Upgrade Potential | Immense | Slightly Less Immense |
| Cost | $400+ | $1500+ |
| Intended Use | Defense | Competition |
| Form Factor | Sub-compact, compact, full-size, long-slide competition, etc | Sub-compact, compact, full-size, long-slide competition, etc |
Key Differences Between the 1911 and 2011
There are some key differences between the 1911 and the 2011 that you need to understand if you're going to choose between these two iconic handguns.
A History of Warfare vs. Modern Competition Domination
By the time of World War One, nearly 70,000 M1911 or M1911A1 pistols had entered service with the U.S. armed forces, and demand would only grow (on both the civilian and military side) over the next several decades. It would subsequently serve as the sidearm of choice for the U.S. military until being mostly replaced by other handguns chambered in 9mm.
That said, some Special Forces do use a modern variant of this iconic handgun today, in the form of the M45 MEU(SOC) pistol, which is really just a tooled-up 1911 at the end of the day.
Far from being limited just to military use, the 1911 in all of its variants is used today for everything from carry to competition, and it remains one of the most popular pistols ever designed. The U.S. military alone has ordered nearly 3 million copies of this iconic firearm, and countless more have been sold into civilian hands.
The 2011, on the other hand, has only been around for about 30 years now and was born out of a desire to improve the original 1911 design for modern pistol shooting competition.
The original design brief wasn't for a combat or defensive pistol at all, but instead for a pistol that could shoot as accurately, comfortably, and reliably as possible on the field of competition. That design intention can be felt all the way through the 2011 lineup today.
Sure, there are 2011s designed for self or home defense, and even some that are being produced for military use, but at its core, the 2011 has always been about competition performance over rough-and-tumble field use.
Modular Frame Shapeshifter vs Solid Steel Tank
One area where we see this is in the modular, often polymer frame of the 2011, versus the one-piece, typically steel frame of the 1911. The 2011s grip frame is designed to remove quickly and easily so it can be swapped out for a model with a different grip angle, texture, or what have you.
With the 1911, you have a very simple one-piece lower frame that has a pair of grip panels covering the main spring and held together with a screw (the only fastener used in the whole design).
This limits what you can do with a baseline 1911 in terms of customization, and makes the 2011 a bit more versatile for things like competition. It also makes the 1911 potentially more durable in something like a combat situation.
The 1911 was designed to be used and carried by Army grunts at the end of the day, which essentially means it had to be solid enough to be used as a hammer or a boat anchor. The 2011, while durable and reliable, has more points of potential mechanical failure if handled roughly.
Is that a mark against the 2011? Not in a civilian context, I wouldn't say. In fact, I'd say the shooting performance you gain more than offsets the fact that it's potentially less useful at clubbing a Nazi upside the head in the trenches of France.
Speaking of shooting performance…
Capacity Issues
One of the biggest practical differences between the standard 1911 and the 2011 is simply one of capacity. You can tune up a 1911 to shoot just as well as any 2011, with compensators, ported barrels, high-end triggers, lightened hammers, etc.
You can't make a single-stack .45 ACP hold more ammo than a double-stack 9mm with the same grip length though. You get more space in the grip of a 2011 than you do with a standard 1911, and that's just a fact.
Yes, there are double-stack 1911s, which I'd argue are closer to a 2011 than John Moses Browning's original design, but at that point, it's just the modular grip really separating the two. Double-stack 1911s are also more expensive due to often having to be hand-fitted to allow everything to feed reliably.
Pros and Cons of the 1911 Design
Pros
Proven, battle-tested design with tons of history
Huge wealth of aftermarket parts and accessories
Excellent ergonomics
Manual safeties make it very difficult to have an accidental discharge
Single-action trigger is by default smoother than double-action or striker-fired triggers
Easy to find a 1911 for under $1000
Cons
Less reliable than similarly-priced production pistols

Single-stack magazine has limited capacity

Disassembly is fiddly

A century-old design doesn't make use of advancements in firearm design
Pros & Cons of the 2011 Design
Pros
Modular grip frame allows for easy customization

Single-action trigger 

Double-stack magazine has a very high capacity

Polymer frame models tend to absorb recoil better than steel and are lighter

Takes advantage of many modern advancements in firearm design
Cons
Much more expensive to purchase ($1500+)

Parts are harder to find (and more expensive)

A limited number of manufacturers

Often custom, and therefore inconsistent in performance
Other Alternatives to Consider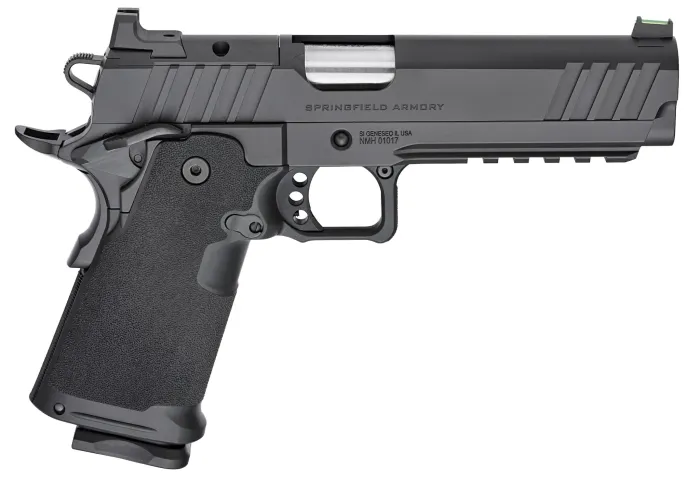 Springfield calls this a 1911, but that designation has a whiff of legal technicalities and marketing fluff about it: this is a 2011 by any other name. It features a double-stack magazine, modular grip frame, and everything else we've come to expect from a 2011…including the price point.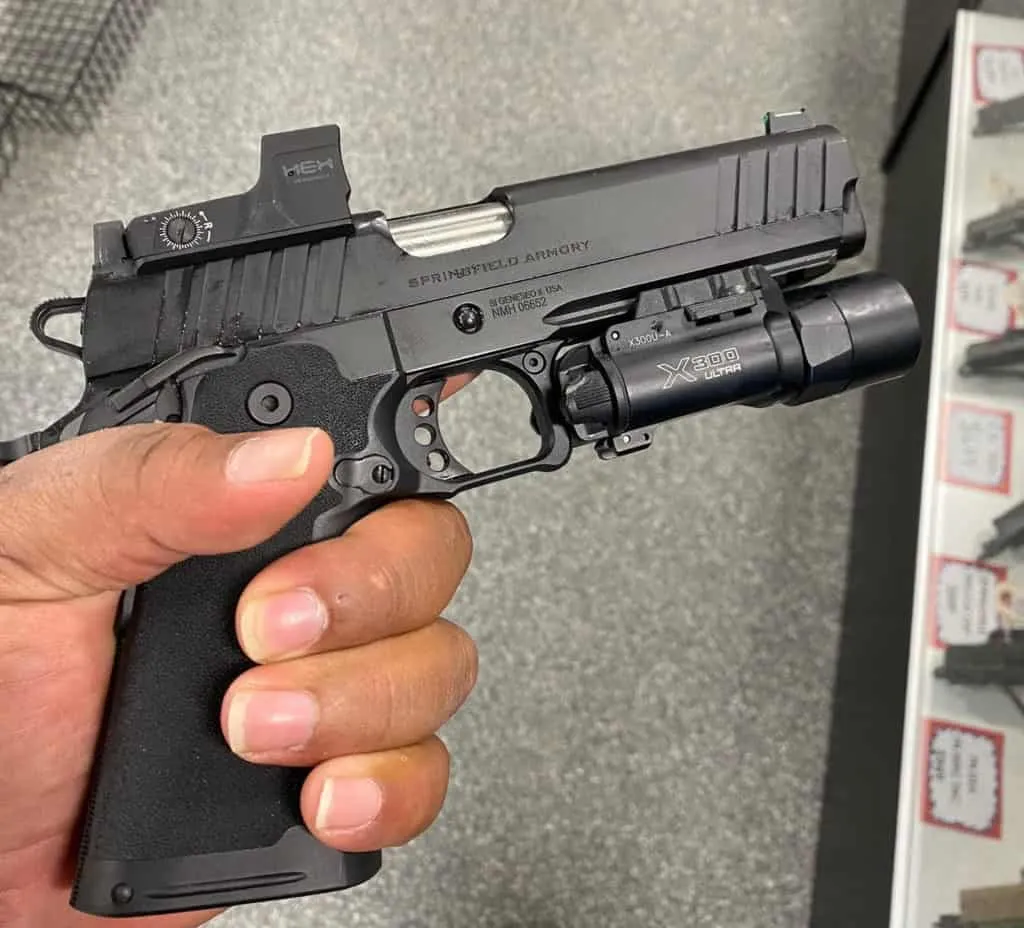 It performs well, and in my testing, it out-shot custom guns with a price tag twice as hefty, so it's definitely worth considering if you want a more "production" 2011, rather than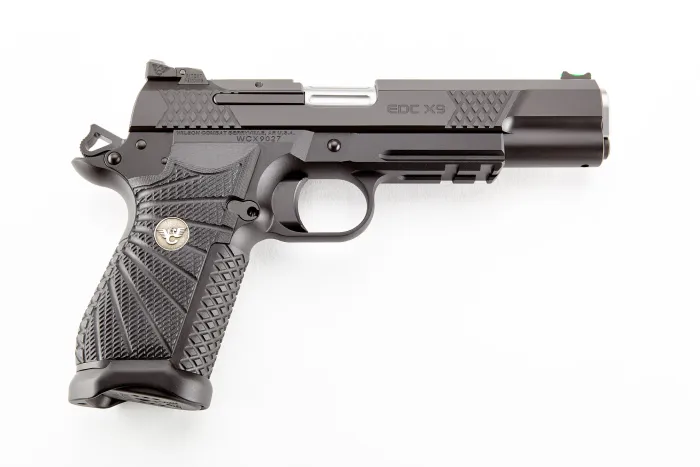 On the 1911 side of things, the EDC X9L straddles the line between 1911 and 2011 almost as much as the Prodigy above. Indeed, Wilson Combat is certainly one of the most accomplished makers of 1911s on the planet and you can feel that influence and experience here.
Still, it's double-stack, but has a metal frame and comes in one flavor: custom. In other words, essentially a 2011 competitor, but with all the 1911-making prowess of one of the best makers in the game.
And it shoots better than you do. You'll never outgrow this one, I promise. Unless this is Jerry Miculek reading this, in which case, Hi Jerry! Big fan over here.
Frequently Asked Questions about 1911s and 2011s
Is a 2011 a Double-Stack 1911?
Technically, a 2011 is not just a double-stack 1911. The modular grip frame sets the two apart, though they are very similar. The mag catch, mainspring housing, and trigger are also different due to the double-stack magazine design.
Who makes 2011 pistols?
2011 pistols are made by a variety of manufacturers, including Staccato (formerly STI), Taran Tactical, Atlas Gunworks, Hayes Armory, and Nighthawk Custom, with more makers coming on the scene every day. Wilson Combat, Springfield Armory, and more also make very similar pistols.
What is the difference between a 2011 and 1911?
The primary difference between a 2011 and a 1911 is the modular grip frame used in the 2011, plus the fact that most 1911s are single-stack while 2011s are double-stack and thus have a much higher capacity.
Final Thoughts on the 1911 vs 2011 Debate
The 1911 and 2011 are both stellar handguns with much to recommend about them. The M1911 helped win two World Wars, and the 2011 stands on the shoulders of that giant to offer modern competition-ready performance.
At the end of the day, which one you choose has to come down to personal preference, budget, and what type of shooting you're planning to do. If the sky is the limit and you're primarily worried about shooting performance, go with the 2011.
If you want a battle-tested design that doesn't cost as much as some used cars, then maybe the classic 1911 is a better option for you. Honestly, it's hard to go wrong either way, and in a perfect world, I'd own both.
In this decidedly imperfect world, I still own both.
Explore more