5 Best AR-10 Rifles On The Market [2023]: Full Buyer's Guide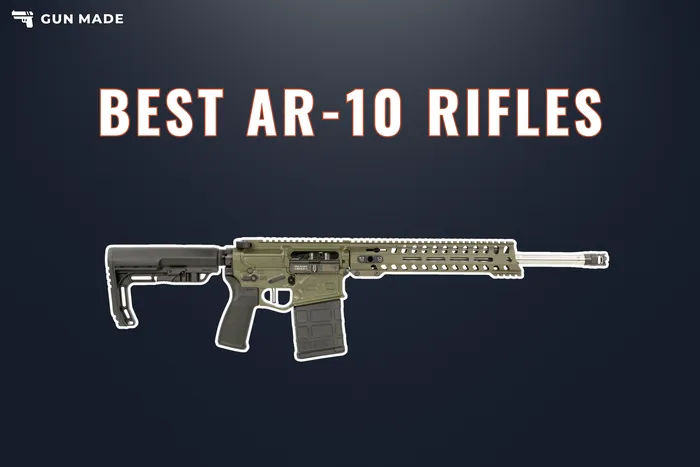 5 Best AR-10 Rifles On The Market [2023]: Full Buyer's Guide
Introduction
To tell you that I know which is the best AR-10 on the market would be impossible. Think of all the rifles you have to put against each other and how far back 7.62x51mm rifles go. That's a loaded question and a considerable debate.
I could point you to manufacturers like Knights Armament and H&K or LMT. Don't worry, they're in here. They have to be (if you're looking for the best).
But some other manufacturers have done some interesting things that have made AR-10s possible for those who would usually shy away from the heavier weight compared to an AR-15.
And one of those is mighty affordable. So before you go off and get lost in 20 different rifles, here are five that I guarantee would cover anything you're looking for in an AR-10.
Best AR-10 Rifles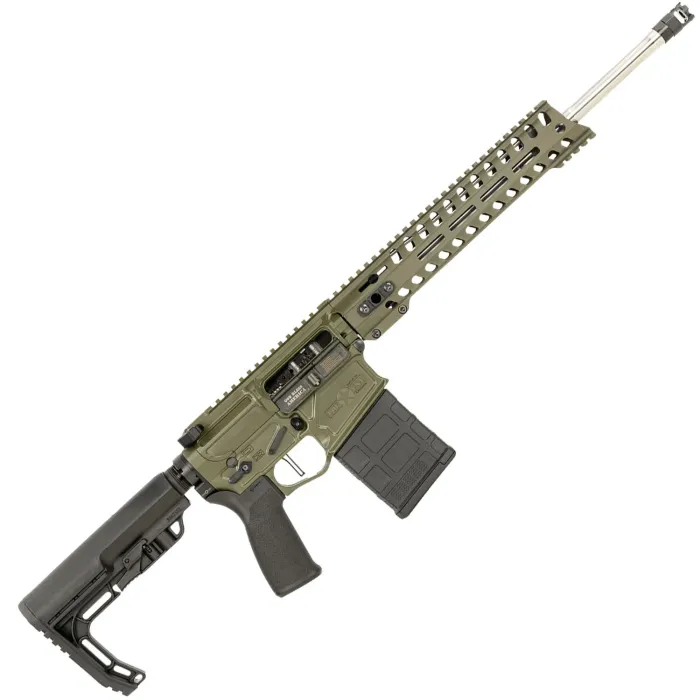 Specifications
| | |
| --- | --- |
| Caliber | .308, 7.62×51 NATO |
| Capacity | 20 Rounds |
| Weight | 5.9 Pounds |
| Overall Length | 34 Inches |
| Barrel Length | 16.5 Inches |
Pros & Cons
Pros
Lightweight at only 5.9 Pounds

Full-length Picatinny rail 

Can fire .308 and 7.62 NATO 

AR-15 size

Dual extraction (could be a con for reloaders)
Cons
Can be picky with certain magazines
The POF Rogue is the more lightweight and affordable version of the POF Revolution. Unlike the Revolution, the Rogue does not come with a piston-driven option. However, it does feature a lot of the same fully ambidextrous features.
But some more exciting features about this rifle make it earn the "Rogue" name.
It's not an actual AR-10. It's an AR-15 chambered in .308. So, while you still have the power of the mighty .308 round, you still enjoy the compact profile of the AR-15.
Anyone who has shot the two side by side knows how big AR-10s can be compared to an AR-15, especially when you rip out the internals. Oddly enough, the bolt carrier group on the Rogue is the same size as a standard AR-15.
How did they do it? There are a ton of modifications to the upper and lower receivers. From the naked eye, you would never suspect that this small rifle can punch out .308.
But it does. And it does it well. With all of the features you get with the Rogue vs. what you pay, I think it deserves the spot for the best overall "AR-10" on this list.

Specifications
| | |
| --- | --- |
| Caliber | .308, 7.62×51 |
| Capacity | 20 Rounds |
| Weight | 6.8 Pounds |
| Overall Length | 34 Inches |
| Barrel Length | 16.10 Inches |
Pros & Cons
Pros
Smaller AR-15-like profile

Fairly lightweight at 6.8 pounds

Easily accessible gas block
Cons
Heavyweight spring and small charging handle
Ruger is constantly in the race for the best manufacturer of "budget" rifles. If you want to get a solid battle rifle in .308 but want to save money for ammo and accessories, here you go.
The Ruger SFAR is not a typical AR-10. Like the POF Rogue, the SFAR is made to cut weight to a minimum and adopt more of an AR-15 profile. So you still get a .308 ballistics in a lighter package.
Out of the box, the SFAR will help you take down any hog or coyote on your trek. It has enough picatinny space to hold a good scope and M-Lok space for a bipod or grip, but the handguard is the first thing I would change if I got the SFAR.
I like full-length Picatinny rails on the top of my rifle. It's a personal preference. If that's not an issue for you, then you will be OK with the one from the factory.
The muzzle brake on the SFAR does a fine job of projecting the gasses to the left and right of the shooter. While it will piss off the shooters next to you, it will help you keep the rifle on target.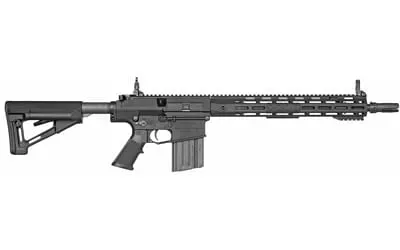 Specifications
| | |
| --- | --- |
| Caliber | .308 Win, 7.62×51 |
| Capacity | 20 Rounds |
| Weight | 8.4 Pounds |
| Overall Length | 35.75 Inches |
| Barrel Length | 16 Inches |
Pros & Cons
Pros
Long history of battle-proven reliability

Ambidextrous controls 

Built to outlast the life of your children's great-grandchildren
Cons
Too many proprietary components (personal opinion) 

Expensive
Did you think we would talk about AR-10s without mentioning the original AR-10 that Stoner designed? This is the closest to a true AR-10 that one can get. It's also a legend in the field.
SR stands for "Stoner Rifle" and was designed by the pioneer of the Armalite platform himself. Mr. Eugene Stoner. The SR-25 goes back to the days of the great race to find the new U.S. Military battle rifle. Before 5.56×45 was fielded.
Anyone who knows Knights will understand that this rifle is ready to go out of the box. Whatever you want to throw at it, go ahead. Knights Armament rifles are not ones you just leave in the safe. It's a rifle that you shoot consistently.
It's a proven battle rifle. The SR-25 helped give way to the M110 one of the finest marksmen rifles during the Global War On Terrorism and one of the winners of the Best 10 Innovations by the U.S. Army in 2007.
Of course, all that hype carries a hefty price tag. But this is one of those rifles you would want if you were going into a war tomorrow.
Options
Any of those rifles over top of this paragraph will give you what you need in an AR-10. You have everything from practical to tactical. But this article wouldn't be complete without me mentioning a couple of others.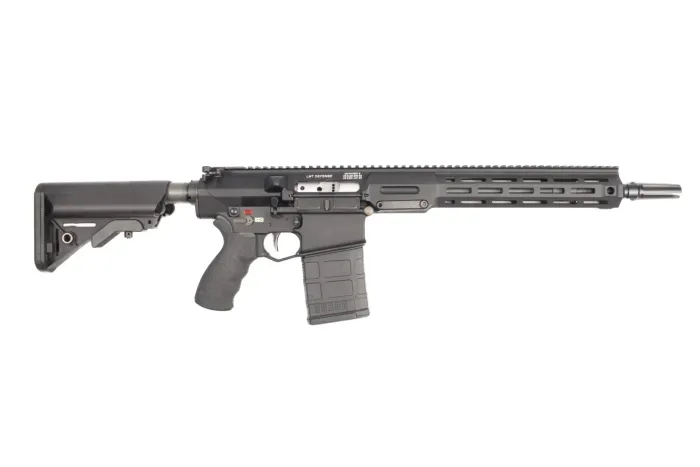 Specifications
| | |
| --- | --- |
| Caliber | 7.62×51 |
| Capacity | 20 Rounds |
| Weight | 9.48 Pounds |
| Overall Length | 34.75 Inches |
| Barrel Length | 16 Inches |
Pros & Cons
Pros
Monolithic upper receiver 

Quick change barrel w/ quick zero 

Ambidextrous controls

Nitride extractor on bolt carrier group with chrome bolt.
This is not one of those rifles you don't party with. It's not a Sunday shooter, and using it once a week is not what this is made for. If you want an AR-10 for home defense, you might want to go with an SFAR.
Now, if you want a battle rifle, something you can take into war and bet on, this is a viable option.
The MARS-H is one of those rifles you put your hands on and say, "Ahh, that's what a rifle is supposed to feel like." And yes, that's a natural feeling. It's robust, sturdy, and well put together. You don't look at it and wonder if it could survive some abuse. It's established when you pick it up.
It has an ambidextrous safety selector, magazine release, and bolt release. In addition, you'll find proprietary parts out the wa-zoo and a barrel that can be changed out in under a minute if you're good.
That also includes the ability to swap out your .308 barrel for one in 6.5 Creedmoor.
I'm not saying you'll need to change out much on this beast, but I would recommend a different trigger. The OG trigger is mil-spec, which is garbage and gritty.
Specifications
| | |
| --- | --- |
| Caliber | 7.62×51 |
| Capacity | 20 Rounds |
| Weight | 9.84 Pounds |
| Overall Length | 35.94 Inches |
| Barrel Length | 16.50 Inches |
Pros & Cons
Pros
The barrel is made from cannon steel

Nice trigger for a combat trigger 

Buttstock saves your shoulder from the recoil
Cons
Proprietary magazines that cost a fortune

Rifle is expensive
Last but certainly not least, is the MR762A1 from Heckler and Koch. If any brand is synonymous with producing battle firearms, it's H&K.
The H&K MR762A1 is a beast of a rifle. At almost 11 pounds, it's not one you want to lug around all over the place.
When you look at the materials used on the MR762A1, you can see that the barrel is where that heft comes from. Heckler and Koch use the same material on their barrels that are used in cannons.
Some heavy ass steel that's meant to last a long time. And with the forging process that H&K uses, it amplifies the durability. So you don't have to worry about it giving out on you any time soon.
The trigger is surprisingly good for a battle rifle. It's nothing to write home about, but you aren't going to be waiting for the next Geissele sale. It'll do.
One of the rather annoying things about the MR762A1 is the proprietary magazines. I am a fan of transparency, and the price for a spare magazine is hard to justify.
How I Chose These Rifles
AR-10s are common in my shooting group. It's a debate that's been circling our group chats for a while when one of the boys goes shopping for a new rifle and doesn't know which he should get.
I like to consider myself a poor man's Sommelier from John Wick. My favorite character, even though he had a small role. So I'm always listening to them speak, doing my research, and putting the time in on the range.
This is based on experience and a ton of research.
AR-10 Buyer's Guide 
Before you hit your local gun store looking for the perfect AR-10, here are some questions to ask yourself. 
What Is The Purpose Of The Rifle?
AR-10s are something you don't come across daily. So, one of the first things you should consider before buying a rifle in 7.62×51 or .308 is how you plan on using it. 
Can it do well as a home defense rifle? Sure. But that .308 round going off indoors is going to disorient you pretty well and cause some damage to your listening tools. The lady might not be happy about your inability to listen to her about what happened at work that day. 
But it will definitely take your attacker out. Pretty damn easily. It still wouldn't be my first option for home defense, though. 
AR-10s are more suitable for outdoor use with proper ear protection. They are great for battle rifles since they do a hell of a job stopping a human. And they are downright fun on an outdoor range. 
Weight
AR-10s shoot a heavier round, so naturally, the internals will be heavier. And depending on where you plan on using this rifle, you should consider that. 
You should work on those shoulders, too. 
Not too long ago, I went shooting with one of my buddies who has a Sig Sauer 716i Tread, and we were doing some movement drills. Moving with the AR-10 is a different animal than running with an AR-15, and I felt it the next day. 
So, don't plan on being agile with this thing. You're better off throwing a good LPVO or scope on it and using it in a DMR role. 
Cost Of Ammo
If you thought you would save money with an AR-10, I'm sorry, friend. That's not going to happen today. You should be prepared to pay. 
It's not as expensive as .300 Blackout, but it's not cheap. With 7.62×51, you're looking at spending nearly a dollar per round.
AR-10s aren't restricted to 7.62×51, or .308 Winchester
AR-10s can be chambered in 6.5 Creedmoor, .243 Winchester, .260 Remington, 7mm-08 Remington, .458 HAM'R, .358 Winchester, and .338 Federal. 
While they are great rounds, they're hard to find and expensive. That's not ideal for anyone. 
Unless you want that, I would avoid AR-10s and just go with an AR-15. 
What Separates The Good From The Bad 
Or not "bad," but one that you'd rather take into a terrible situation over another. 
Materials and craftsmanship. Usually. I say usually because I've seen some better rifles, but the cost didn't reflect that thought. 
Like Stan told Billy in My Cousin Vinny, "You pay for the advertising." 
Or, in this case, government contracts. 
A good percentage of the time, a company is doing it right. And they're building great rifles. It doesn't take a brain surgeon to tell you you'd take an LMT over an M&P10. 
Why? Because of the materials used and the durability you get with one rifle over another. But that's not something we can always afford. So, you have to find a "middle ground" where you can get a good rifle but not have to spend two month's mortgage. 
What makes a good AR-10? Or just a damn good rifle in general?
Barrels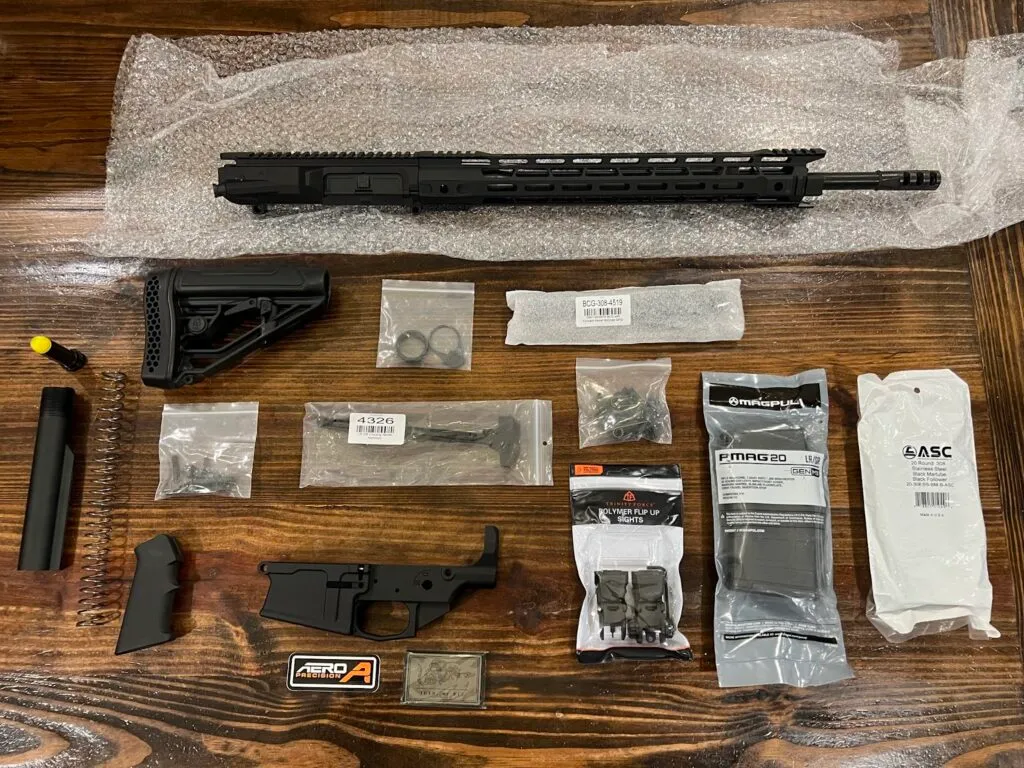 One of the most expensive parts of a rifle is the barrel. It's also the most essential part of any firearm, so that makes a lot of sense now, doesn't it? 
You have two options when it comes to barrels (material-wise). Either Chome Moly or Stainless Steel. The latter will be more expensive due to how accurate and precise they are, and they are also heavier. So keep that in mind. 
If you're aiming for precision and accuracy, stainless steel is the way to go. Just know that they wear quicker than stainless steel. They are better against corrosion, though. 
Chrome Moly, on the other hand, is lighter and more durable than stainless steel. It's also more affordable. It's not the best for accuracy, but Chrome Moly will do you well if you plan on running your rifle through hell and back. 
You can go with Chrome Moly if you aim for a hard-use rifle and don't care too much about precise shot groupings. It is more prone to corrosion than stainless steel, so keep an eye on it. 
Chrome-lined barrels are more expensive and less durable than Nitride (melonite) coated barrels. The latter is meant more for battle rifles. The former is meant for precision and tight groupings. 
Carbon steel is also common in barrels. 
Sidenote: Make sure your barrel and chamber are rated for .308 if you plan on shooting it out of your AR-10. You can shoot 7.62×51 NATO out of a .308, but not vice versa. 
Bolt Carrier Group
Ahh, the heart of the rifle. Where all the magic happens. I'm sure I don't have to reiterate how important your BCG is, but I will do my damnest to make sure you don't end up with a bad one. 
First, a bolt carrier group includes the gas key. The bolt carrier is just the housing alone without the internals. It's the shell, so to speak. 
Do you know what makes a good bolt carrier group? 
Good springs and no gas leaks. Oh, and good material. 
I can't tell you which company is the best (I've seen every company put out bad BCGs). Still, in my experience, 8620 tool steel carriers and 9310 steel bolts are the standards for AR-10 bolt carrier groups. 
When looking at your AR-10, pay attention to the staking on the gas keys (screws on top of the BCG) and make sure they were done correctly. Look for the inside of the BCG to be chrome-lined as well. 
Ask what the bolt is made of. Grade 8 bolts are another standard in the industry. 
One of the best ways to tell a good or bad bolt carrier group is to pay attention to those two things. 
As for coatings, nitride-coated and chrome is best. 
Don't be afraid to ask the gun guy behind the counter any of these questions. 
Gas Operating Systems
AR-10s can come either with a direct impingement or gas piston operating system. Direct impingement is the more common operating system in which you'll see an AR-10. 
Gas piston operating systems are cleaner and more reliable than the direct impingement system but tend to be less accurate due to the amount of mass going backward into the shooter. 
Choosing either depends on the purpose of the rifle. 
Handguards
What mounting system do you want to use? You can choose from M-Lok or Picatinny. 
I won't let you choose Keymod. It's not as reliable as the other two. Do note that Picatinny is heavier than M-Lok and more durable as well. Some companies like Knights Armament do both where they have picatinny on M-Lok handguards. 
Other companies like LMT have picatinny on top and M-Lok on the sides and bottom of their monolithic handguards. 
M-Lok is becoming more standard these days. Most of the attachments you see at the gun store use M-Lok. 
Upper And Lower Receiver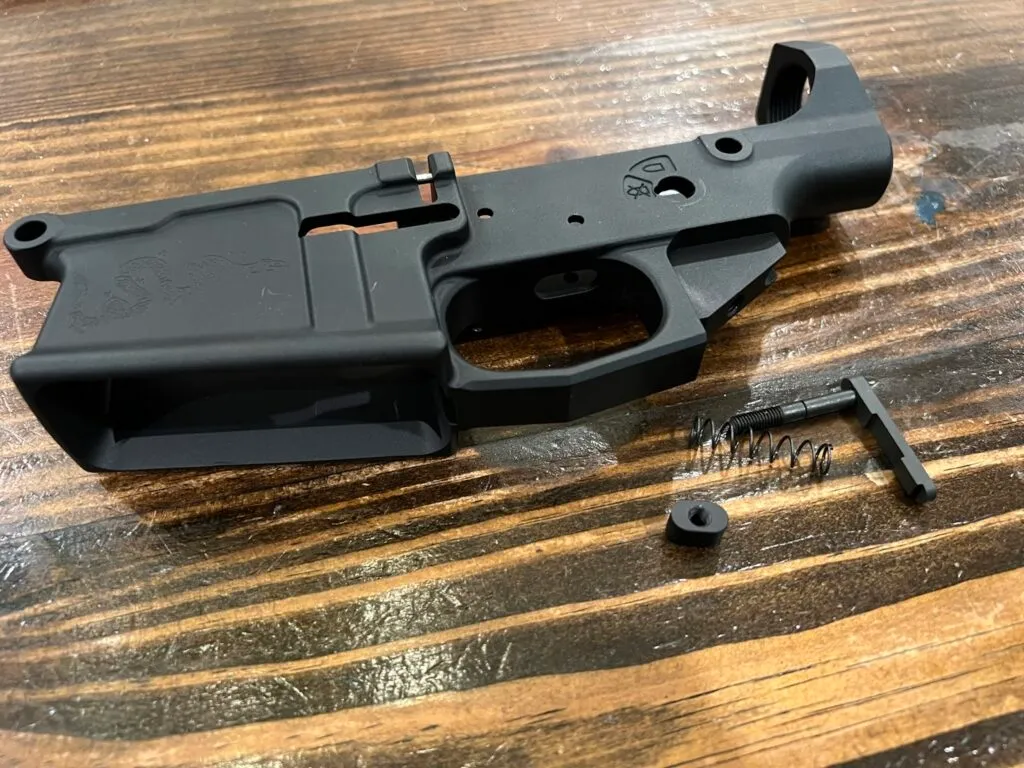 The upper and lower are usually made of some type of aluminum. I always say 7075 T-6 Aluminum is the standard for upper and lower receivers, but I've also seen 6061 T-6 do well. 
Of course, the latter is more durable, but it all depends on the receiver's manufacturer. Some manufacturers do a great job, and some do not. Uppers are usually the more stressed of the two receivers, but I rarely see one go bad. 
If durability is what you're after, go with 7075 T-6. 
Recoil System (Buffer and Buffer Spring)
Ideal buffer weights rely on two things: running a suppressor and the grain weight of the round you're shooting. The load will depict the gassiness of the rifle, and suppressors just make rifles cycle harder than anything else. 
More gassiness. 
If you are shooting suppressed, you may want a heavier buffer to mitigate the heavier recoil going back into your shoulder. The same goes for shooting heavier-grain ammo. Don't go too heavy because the rifle may not cycle. 
Attachments and Furniture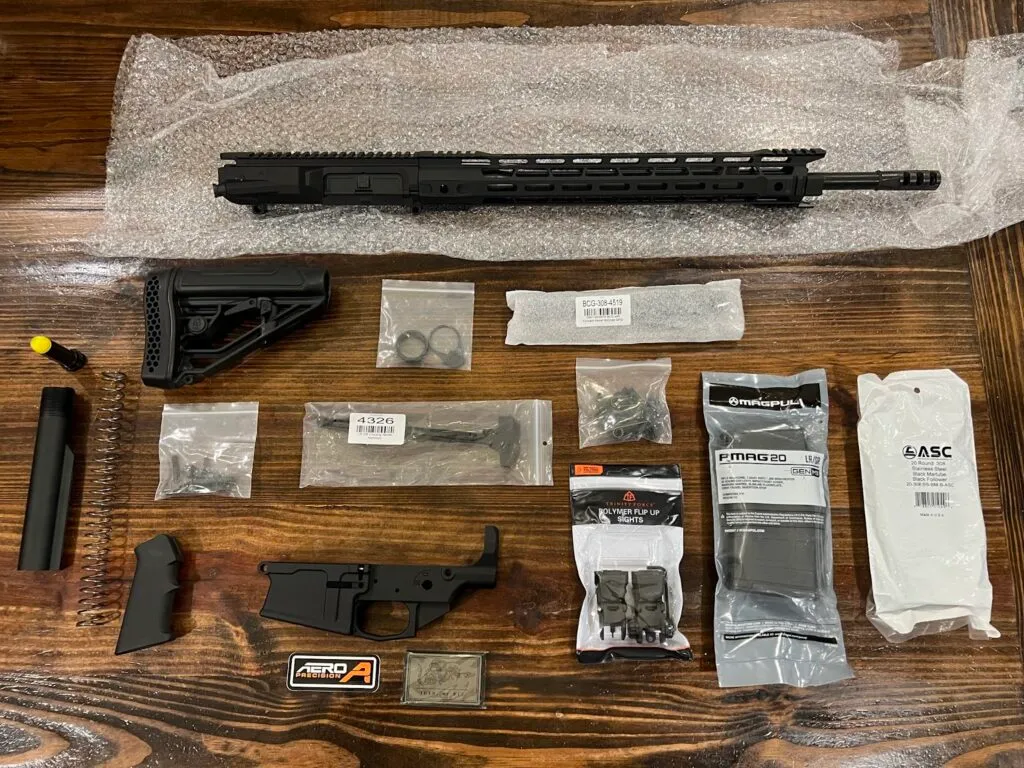 Attachments are your optics, slings, lights, and lasers. Furniture is your stock, grip, and foregrip. All of these things are dependent on what the role of your rifle is and how you want it to look and feel. 
Your optic choice goes hand in hand with your barrel length. If your barrel is longer, use an LPVO or scope of some sort to maximize the reach of your rifle. For those who want a shorter length, you can still benefit from an LPVO, but that's up to you. 
A bipod will also go great with a scope for reaching out and touching someone. 
Again, it's all up to you. Have a blast. 
FAQs
Is an AR-10 more accurate than an AR-15?
AR-10s are more suitable for long-range encounters than AR-15s. The 7.62×51 round packs more of a punch at longer distances than 5.56×45. 
How far is an AR-10 accurate? 
800 yards is the maximum effective range, but the round is good for 400-600 yards on a good day. 
What is the best barrel length for 7.62×51?
Anything below 16 inches is when you start noticing significant velocity losses. So you're good from 16 inches and up. 
Conclusion
I didn't want to oversaturate your mind with rifles. Everything you see here is what's best for the respective price point, and the latter is your super high-end, tried and tested battle rifles. But they carry a price point that isn't attainable for some.
And you don't need a MARS-H; the SFAR will work fine. Rifles at that point are for shooters who have trained enough and want a rifle that can keep up with what they demand.
I recommend you get yourself a POF Rogue or SFAR and train your ass off. Get good with the basics and work your way up. Trade your way up. One of my buddies traded his way up from a Daniel Defense to an LMT MARS-L, so it's possible.
Again, this list is based on rifles I've seen on the range and shot myself. There are other solid rifles out there, but this is what I know and have researched. Now, go buy one and train.
And, just in case you're interested, here is a list of recommended AR-10 Pistols as well. Caution: they breathe fire.
Explore more