6 Best Rifle Scopes in 2023: Reviews & Complete Buyer's Guide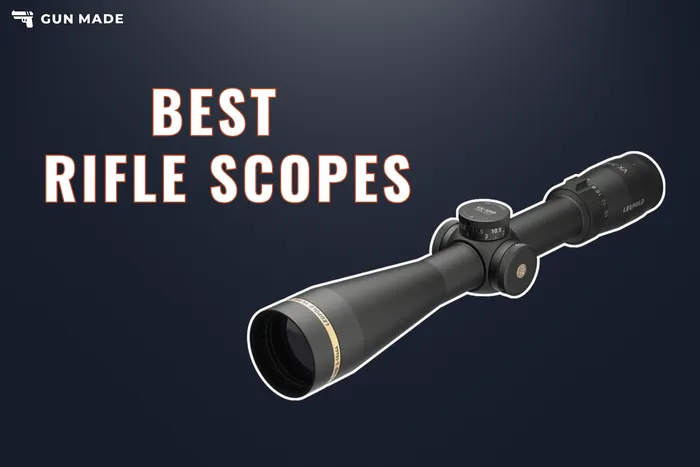 6 Best Rifle Scopes in 2023: Reviews & Complete Buyer's Guide
Introduction
Rifle scopes and optics have become must-have accessories for members of the shooting community. While iron sights are great, making your target appear closer with the help of a scope can offer a huge boost to most shooters' accuracy.
Selecting the best rifle scope(s) can be an exercise in semantics. So many factors shape which scope is the best for which situation. It can be a daunting challenge.
Since buying my first scope (super budget model from a big box store) years ago, to my most recent acquisition, I have got to handle and shoot with a lot of glass over the years. Learning from others' mistakes and successes is much cheaper than making the mistakes yourself.
To this end, we will look at several factors you should consider when purchasing a scope and give you a curated list of scopes capable of meeting the needs of most shooters.
Buyers Guide
Purpose
The first factor you should consider when purchasing a rifle scope is understanding why you are buying the scope. The best scopes for long-range target shooting are not necessarily the best scopes for hunting. The best scope for hunting is not necessarily the best option for a gun in a competition environment like a 3-gun or a desert brutality shooting match.
Within these various shooting disciplines, you can also get varying requirements for success. Once you know the scope's intended purpose, you can start comparing specific models.
Price
When selecting a scope, it is important to know your budget. Typically, but not always, the more you spend on a scope, the better it is. The glass, coatings, tubes, and reticles will be of higher quality and yield better results.
I am, unfortunately, not someone with enough money to be able to ignore the cost of a product. If you have to ask the price, you may be unable to afford it. Well, I have to ask about the price, so the top-end scopes are usually out of my price range.
Many others who participate in shooting sports are in the same boat. Finding the most bang for our buck is essential, whether buying a scope that is less than $500 or a scope over $1,500.
Features
Knowing which features you want vs. need is essential when purchasing a scope. There are many features and options that you can choose from.
First vs. Second Focal Plane
You must decide whether you want a first or second focal plane scope. Generally, first focal plane scopes have a price premium over second focal plane scopes.

With a first focal plane scope, the reticle size changes based on the magnification setting of the scope. This means that the units of measurement on the scope remain the same regardless of magnification. FFP scopes are more popular with long-range shooters.
Second focal plane scopes are very common and have been around for a long time. The reticle on the second focal plane scope stays the same regardless of magnification.

This means the hash mark distances are only truly accurate at the maximum magnification. Below maximum magnification, the hash marks are relative values based on the current magnification settings of the scope.
Reticle Types
While there aren't as many reticles as shooting activities, there are plenty of options to choose from, enabling you to match your reticle to the purpose of the scope. This isn't an article about reticles, so I will avoid an in-depth rundown. But, three of the most common/popular reticles are Duplex, BDC (Ballistic Drop Calculator), and Mil-Dot.
A duplex reticle is a simple, all-purpose reticle. It is popular with hunters and is considered by some to be the best reticle for hunting.
The Ballistic Drop Calculator, or BDC, reticle is designed to help shooters adjust for bullet drop at set distances. This allows shooters to know their point of aim/impact at set distances. This is a quick way to make adjustments to your point of aim without adjusting the scope's elevation.
Like a BDC reticle, a Mil-Dot reticle is designed to help shooters estimate the range to the target and make adjustments for wind drift. Mil-Dots use milliradians. Milliradians are an angular measurement that is equal to 1/1000th of a radian. It can be used to measure the size of an object.
Fixed vs. Variable Magnification
The majority of rifle scopes are variable magnification scopes. Variable magnification scopes are listed with a range of magnifications, i.e. 3-9x or 3-15x. This contrasts with fixed magnification scopes where the magnification is listed as 3x.
Fixed magnification scopes are more straightforward, with fewer moving parts, and tend to have less go wrong. Vintage rifle scopes are usually fixed power scopes.
Controls, Coatings, and Glass
Controls on rifle scopes are the mechanisms that allow the shooter to adjust the scope's setting(s) to improve accuracy and precision.
Magnification ring: this is what controls the magnification on a variable magnification scope.
Windage knob/turret: located on the right side of the scope, the windage knob adjusts the reticle left and right.
Elevation knob/turret: located on the top of the scope, the elevation knob adjusts the reticle up and down.
Parallax adjustment: some scopes, usually not on budget scopes, have a knob to adjust for parallax error. Check out this article that Gun Made published about long-range shooting for a discussion on parallax.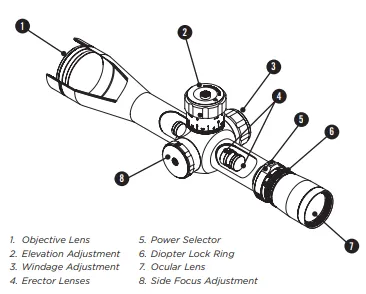 Coatings on rifle scopes improve the performance of the optics. When talking about coatings, here are some things to consider.
Light transmission: coatings on rifle scopes increase light transmission by reducing light reflection, allowing for a brighter and clearer image.
Anti-reflection: Anti-reflection coatings improve light transmission and help to produce brighter images with more contrast.
Reduction of glare: coatings reduce glare and reflections off your scope's interior and exterior. This can improve the shooter's ability to acquire and track their target.
Durability: Coatings on rifle scopes protect the lenses from scratches and other types of damage.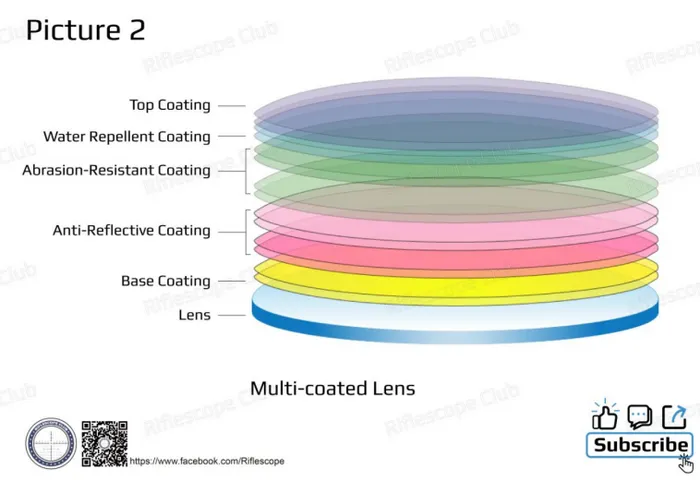 Glass on a rifle scope refers to the lenses inside the scope that magnify and focus the image of the target. These lenses are made of high-quality glass and are coated. The glass on a rifle scope performs three primary purposes:
Magnify the target: the objective lens captures reflected light from the target and creates the magnified image.
Focus the image: the ocular lens focuses the image on your eye and determines the eye relief distance of a scope.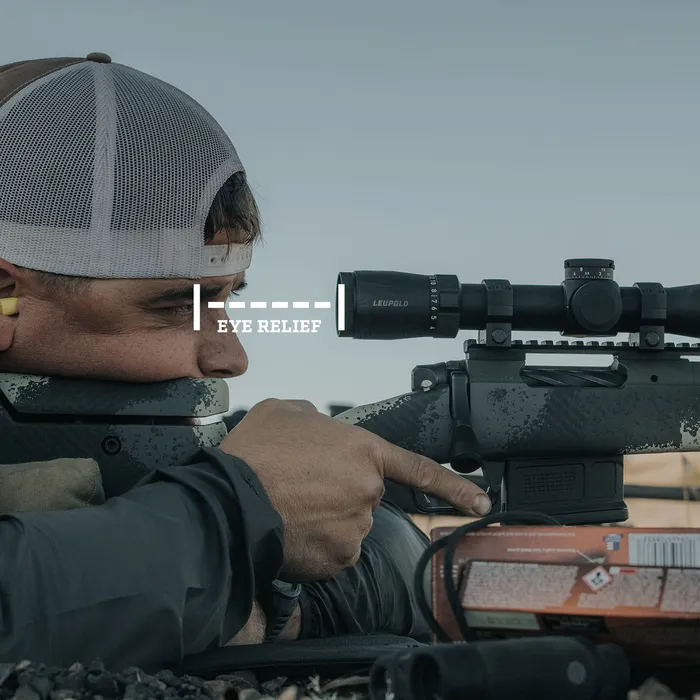 The glass on a rifle scope is essential to determining the clarity and brightness of the scope. The more you spend on your scope, the better glass you will receive.
Best Rifle Scopes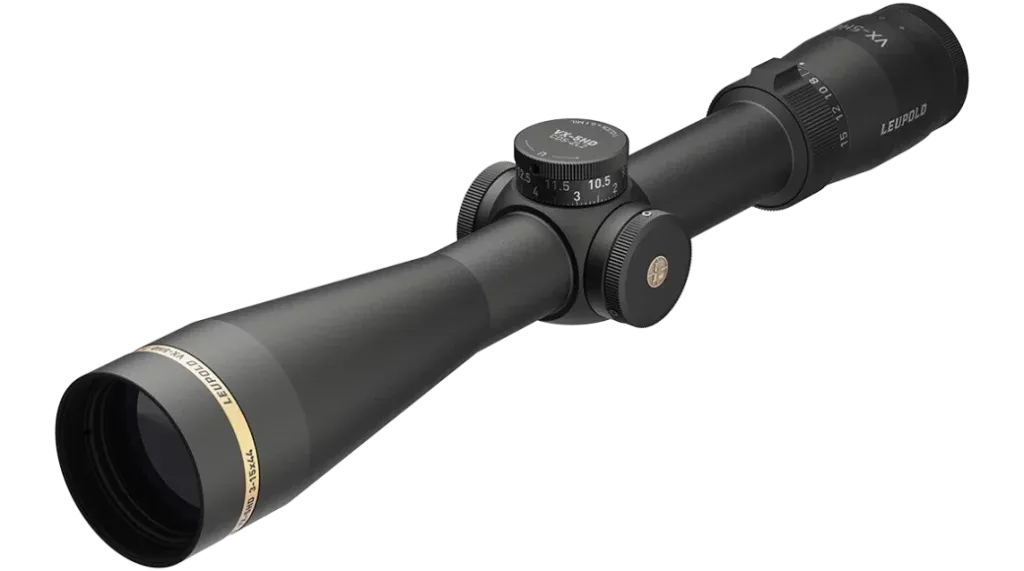 Specifications
| | |
| --- | --- |
| Magnification | 3-15x |
| Tube Diameter | 30mm |
| Objective Lens Diameter         | 44mm |
| Length | 13.5 inches |
| Weight         | 19.7 ounces |
| Reticle | Multiple, including illuminated Duplex |
| Focal Plane | Second Focal Plane |
Pros & Cons
Pros
Durable construction

Lifetime Warranty

Lightweight

Wide magnification range allowing for lots of versatility

Quality glass
Cons
Not the most affordable optic
Leupold has a well-earned reputation for producing high-quality optics. The VX-5HD is one of the reasons for this reputation. The VX-5HD is our choice for the best general-use rifle scope.
The VX-5HD has a rich feature set with a wide 3-15x magnification range, a rugged and lightweight construction, and high-quality glass. These combine with the VX-5HD's price point to make a solid scope.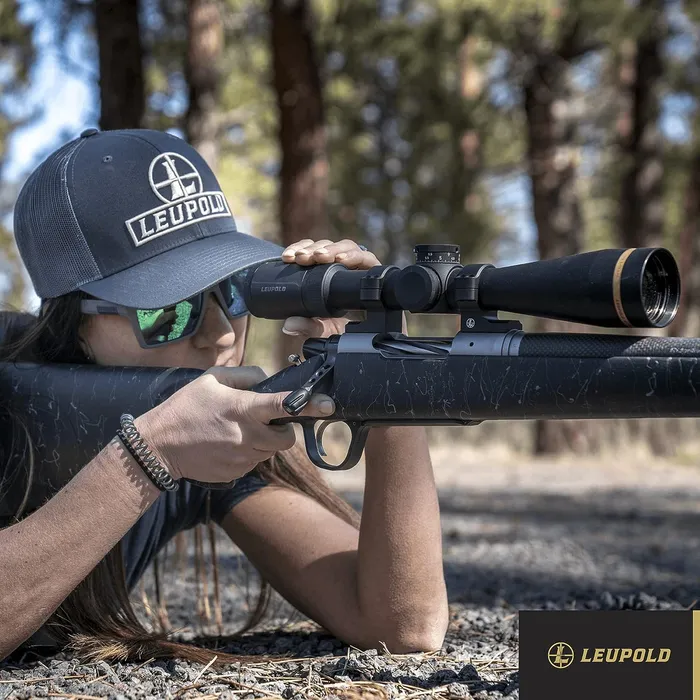 The 3x magnification on the VX-5HD is low enough to permit shooters to effectively engage targets at closer ranges and, simultaneously, at distances north of 300 yards. This versatility makes the VX-5HD an excellent general-purpose scope. The scope can be used when hunting, participating in a shooting competition, or just plinking.
The rugged and lightweight construction of the VX-5HD makes it an excellent scope for a backcountry rifle. Weight is an enemy when hiking miles to reach an ideal hunting location. You will never be able to find a completely weightless optic, but the VX-5HD, at only 19.7 ounces, isn't too bad.
All the scopes on this list will have quality glass….for their price point. The VX-5HD shines with the quality of the scope's glass and coatings. This quality is especially noticeable at maximum magnification. Maximum magnification is where you will notice the most distortion in the glass of a scope. The VX-5HD maintains its clarity even at maximum magnification.
The Leupold VX-5HD also comes with a lifetime warranty. The scope is built well enough that you should expect never to need that warranty, but it is comforting to know it is there if you need it.
One area where the Leupold VX-5HD could improve is the price. The scope is not cheap and could be more than the price of your rifle. That said, quality glass can take any rifle to the next level. The quality glass and features of the VX-5HD could easily equate to a much more expensive optic. This makes the VX-5HD a solid value.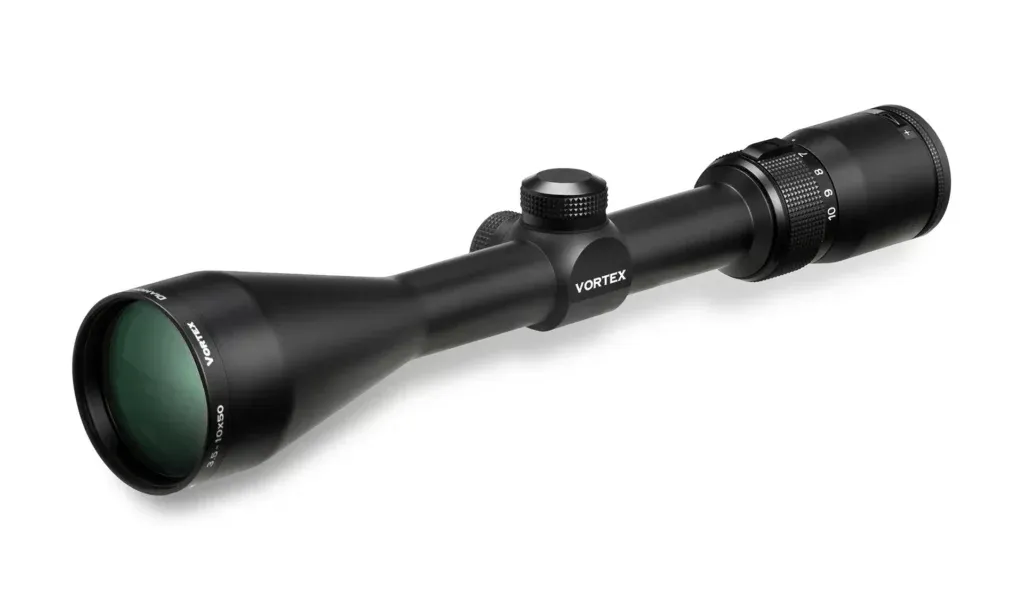 Specifications
| | |
| --- | --- |
| Magnification | 3.5-10x |
| Tube Diameter | 1-inch |
| Objective Lens Diameter         | 50mm |
| Length | 12.5 inches |
| Weight         | 16.2 ounces |
| Reticle | Dead-Hold® BDC (MOA) |
| Focal Plane | Second Focal Plane |
Pros & Cons
Pros
Excellent optical quality for the price

Durable construction

Solid magnification range

Good light-gathering ability with a 50mm objective lens

Lifetime warranty
Cons
The reticle isn't illuminated

Lower-quality turrets compared to more expensive options
I run this exact scope on my TIkka T3x Lite Compact. The Vortex Diamondback 3.5-10×50 is one of the best values you will find in optics. The scope hits a sweet spot between price and performance, which makes it an excellent choice for almost all shooters.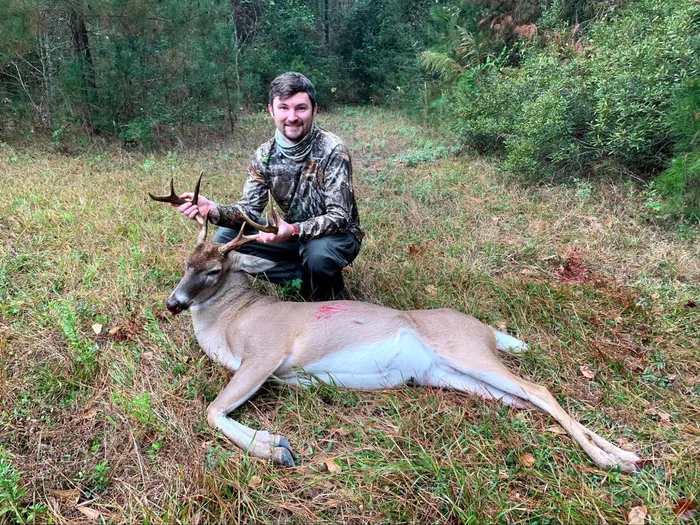 One of the features that stands out to me with the Diamondback 3.5-10×50 is the scope's performance in low-light settings. The 50mm objective lens combined with high-quality glass and coatings provides a clear image, better than what I have seen from other comparably priced scopes.
Similar to how Vortex scopes are known for being well-built optics at affordable prices, the Diamondback 3.5-10×50 is no different. It is made from one solid piece of aircraft-grade aluminum. This results in an incredibly tough design that can withstand recoil from magnum rifle cartridges.
The magnification levels of the scope, 3.5-10x, are sufficient for most shooters to harvest a game animal effectively or when shooting the distances that most gun ranges offer. If you are shooting 600+ yards, you probably want a scope with higher magnification. But highly skilled shooters can hit their targets even with a limit of 10x magnification.
The fact that you can frequently find it on sale far below MSPR makes it our best bang for your buck pick.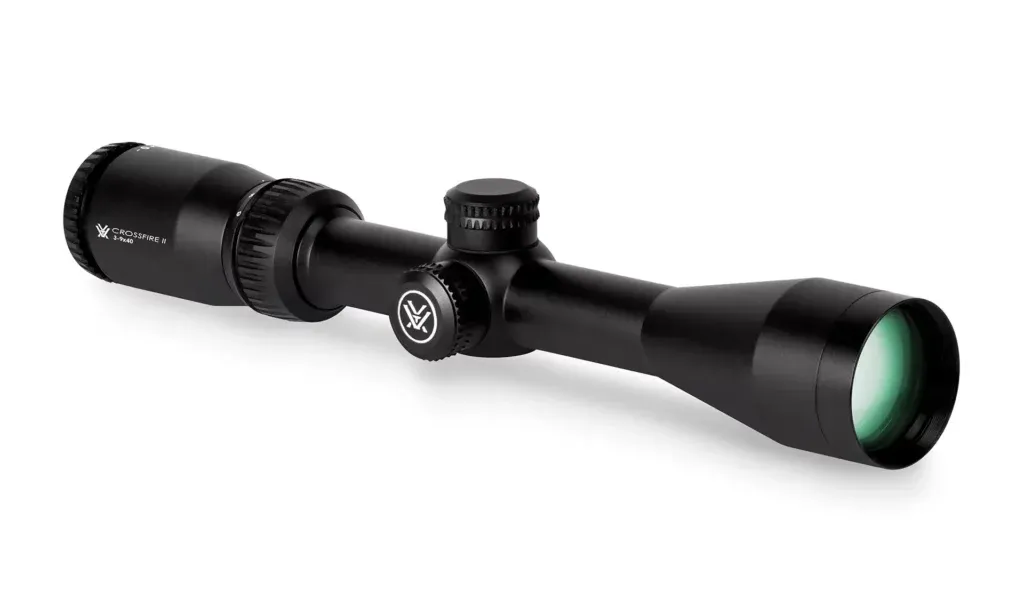 Specifications
| | |
| --- | --- |
| Magnification | 3-9x |
| Tube Diameter | 1-inch |
| Objective Lens Diameter         | 40mm |
| Length | 12.2 inches |
| Weight         | 14.8 ounces |
| Reticle | Dead-Hold® BDC (MOA) |
| Focal Plane | Second Focal Plane |
Pros & Cons
Pros
Glass and coating quality is excellent for the price point

More durable than other scopes at this price point

Backed by Vortex's excellent lifetime warranty
Cons
No illuminated reticle

Glass clarity is definitely below the higher-priced options on this list
The Vortex Crossfire II 3-9×40 is the best budget scope on the market. The Crossfire II eschews being either the cheapest or the best. Instead, it is an excellent budget option that allows those limited by their finances to get a functional and durable optic at a very affordable price.
Plenty of cheap rifle scopes are available at big box stores and for sale from online retailers. These scopes provide an entry point for many to hunting, target shooting, and general shooting.
Unfortunately, these scopes are often limited by the quality of their glass and lens coatings. As a result, they have poor low-light performance and experience distortions, especially as magnification increases.
The low-light performance on the Crossfire II is far better than the other budget scopes I purchased when I was first getting into hunting. That being said, stepping up even one level in the Vortex stable of scopes or from a competitor like Leupold should yield significant gains in performance compared to the Crossfire II.
The magnification range on the Crossfire II is adequate for hunting and target shooting for most shooters. Commonly, shooters lack the requisite skills to hunt at distances requiring more than 9x magnification.
The Crossfire has the potential for distortion, especially at the edges of the glass at 9x; although, the distortion isn't enough to cause a failed hunt or prevent you from hitting your targets. However, you will notice a difference if you compare the Crossfire II's clarity at maximum magnification to scopes at higher price points.
Another factor in the Crossfire II's favor is that retailers like to use the Crossfire II as a doorbuster. This means the Crossfire II can frequently be found far below MSPR. Spending less money and getting a quality scope is always a good feeling. Plus, it leaves more money to buy ammo.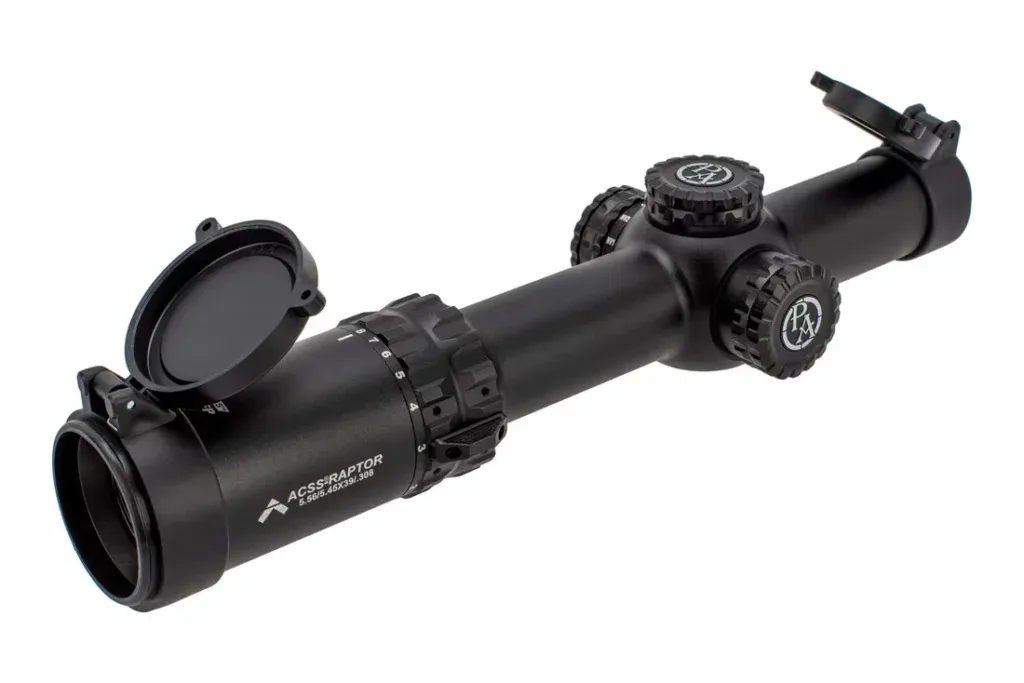 Specifications
| | |
| --- | --- |
| Magnification | 1-8x |
| Tube Diameter | 30mm |
| Objective Lens Diameter         | 24mm |
| Length | 10.4 inches |
| Weight         | 17.9 ounces |
| Reticle | Illuminated ACSS RAPTOR 5.56/5.45/.308 |
| Focal Plane | First Focal Plane and Second Focal Plane options are available |
Pros & Cons
Pros
Compact size

Illuminated reticle

First focal plane and second focal plane models are available

Good interaction of price and capabilities

Lifetime warranty
Cons
The scope is on the heavy side for an LPVO.

Some shooters dislike the eye relief on the scope.
Low Power Variable Optics (LPVO) are a growing market segment and make excellent additions to sporting rifles like the AR-15 and AK platform rifles.
Modern production techniques and improved coatings have resulted in scopes that are better able to gather light despite the smaller objective lenses in LPVOs, resulting in brighter & clearer images.
Primary Arms makes several excellent LPVOs, so choosing "the best" option under $500 is challenging. I selected the SLx 1-8x. It is available in first or second-focal plane configurations and has many features to recommend to the shooter.
The rich feature set on the Primary Arms SLx is one of the main reasons I selected this as the best LPVO under $500. The SLx has the ACSS RAPTOR 5.56/5.45/.308 reticle system. This reticle is designed to help the shooter make on-the-fly adjustments to their point of aim, allowing for greater precision and accuracy. Additionally, the reticle on the SLx is illuminated, giving added functionality in low-light conditions.
The SLx 1-8x is an excellent compact optic at just over 10 inches long. For all rifles, there is limited real estate for mounting accessories. Modern sporting rifles are often even more compact than your typical bench rest shooter, which increases the need for space optimization. On the downside, at almost 18 ounces, the SLx 1-8x is a tad heavier than some other optics on this list.
Like Vortex and Leupold, Primary Arms backs the scopes with a lifetime warranty. LPVOs are not meant for safe queens, so having the protection of a quality warranty in case of failure should help you feel better when taking your SLx 1-8x into the field.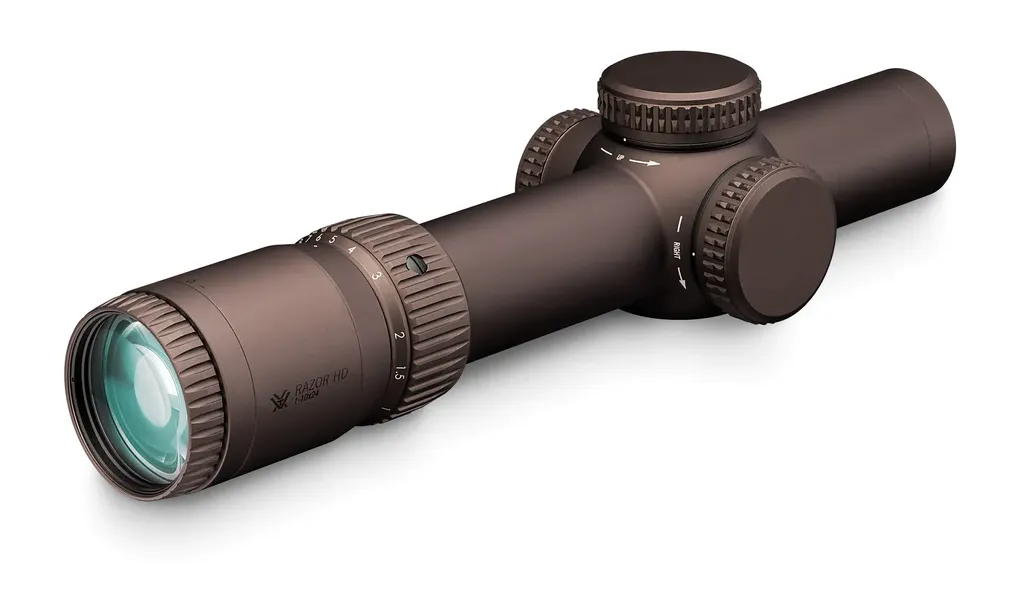 Specifications
| | |
| --- | --- |
| Magnification | 1-10x |
| Tube Diameter | 34mm |
| Objective Lens Diameter         | 24mm |
| Length | 10.1 inches |
| Weight         | 21.5 inches |
| Reticle | EBR-9 |
| Focal Plane | First Focal Plane |
Pros & Cons
Pros
You get what you pay for, which means this scope has it all

Top-of-the-line glass and coatings

A 1-10x magnification range makes the scope extremely versatile

1x performance is like using a quality red dot

Lifetime warranty
Cons
Some users might find it to be too heavy

Expensive
When you want the best that money can buy in an LPVO, look no further than the Vortex Optics Razor HD Gen III 1-10x. This full-featured scope will outperform your current LPVO and, depending on your rig, cost more than your gun.
With optics, you get what you pay for. The high price point of the Razor HD Gen III 1-10x means you are getting a rifle optic when used as intended, will outperform every other optic on this list. The large variability in magnification means the Razor can perform well to at least 600 yards, if not further.
The cost of the Razor HD might tempt you to baby it more than some of the more moderately priced optics on this list, but rest assured that if you buy a Razor HD Gen III, it is a highly durable scope capable of being put through its paces, performing well, and not breaking. If you have an issue with your Razor HD Gen III 1-10x, all Vortex scopes come with a lifetime warranty.
It is hard to find many bad features with any scope that costs north of $1,000. It might not check the box for best value, but if you want the best, you get the best.
Specifications
| | |
| --- | --- |
| Magnification | 6-36x |
| Tube Diameter | 34mm |
| Objective Lens Diameter         | 56mm |
| Length | 15.3 inches |
| Weight         | 45.1 ounces |
| Reticle | EBR-7D |
| Focal Plane | First Focal Plane |
Pros & Con
Pros
Some of the best glass and coatings money can buy

High-quality components and manufacturing

Excellent magnification range

Lifetime warranty
Cons
Heaviest scope on this list

Expensive
The Vortex Razor HD Gen III 6-36×56 is the updated version of our top overall choice from the best long-range scope article. Like the Vortex Razor HD Gen II, the Vortex Razor HD Gen III is not the best scope money can buy. What it is, though, is an excellent scope that sits at a decent price point, has great glass and a nice magnification range, is very durable, and is adjustable.
The Vortex Razor HD Gen III sports high-quality glass and coatings that give the scope a clear image. The EBR-7D reticle is highly functional and enhances the shooter's ability to hit targets at varying distances. Coupled with the scope's durability and Vortex's warranty, you have a killer package.
Adjustments on the Vortex Razor HD Gen II are simple, with high-quality turrets that are large and textured. Additionally, a tactile button on the scope helps the shooter know what adjustments have been made to their optic so they can return their scope to the standard settings more easily.
How We Chose Our Top Picks
We focused on value, durability, and purpose when selecting our top rifle scopes. 21st-century America's economy is a complicated beast. Everyone is looking for the most return for their hard-earned dollars, and we at Gun Made are no different.
Shooting can become an expensive activity quickly if you let it. Finding the best intersection of price and performance is paramount.
Once you spend your hard-earned money on a rifle scope, you don't want it to break after just a few outings. We avoided scopes with a reputation for failure or not supported by a strong warranty.
I have never had an issue with any scope by the manufacturers on this list. Additionally, I have purchased scopes refurbished by the manufacturers following warranty work and have never experienced an issue.
Finally, we tried to list scopes from multiple shooting disciplines to put on this list. Check out some of our other articles if you're looking for a specific type of optic.
This list is by no means exhaustive of all the good scopes available, and we at Gun Made are always ready and willing to help you select the best scope for your needs.
FAQs
Vortex vs. Leupold vs. Primary Arms vs. Burris: which company makes the best rifle scopes?
Modern rifle scope manufacturers put a lot of time and money into developing quality optics. They also spend a lot of money to get the firearms community to buy their products.
There is no correct answer to which company is best. All four manufacturers mentioned make quality optics; you should select the scope that best suits your needs.
What power scope is needed for 500 yards?
Are most rifle scopes made in China?
Rifle scopes are made in many countries. You can find rifle scopes being made in China, the Philippines, Japan, and the United States, among others. Vortex, for example, makes its Crossfire II and other lower-priced scopes in China, while its more expensive options are produced in Japan, the Philippines, and the United States.
Conclusion
Selecting the right scope for your rifle can be an incredibly stressful undertaking but also very rewarding.
There are many options; researching the right one can lead to analysis paralysis. But after selecting a scope, going to the range, and shooting sub-1 MOA groupings, it makes for a good feeling.
Our top choice is the Leupold VX-5HD. It combines performance and value and will help you shoot to the best of your abilities. If the price of the VX-5HD is more than you are willing to spend, thankfully, all of the scopes on our list can elevate your shooting game.
Compare the options on this list, then let us know which scope you selected. If you'd recommend a different one, let us know, too! Drop any questions or comments below, or check us out on your favorite social media platform.
Explore more