Desert Tech MDRX Review [2023]: A Futuristic Feeling Bullpup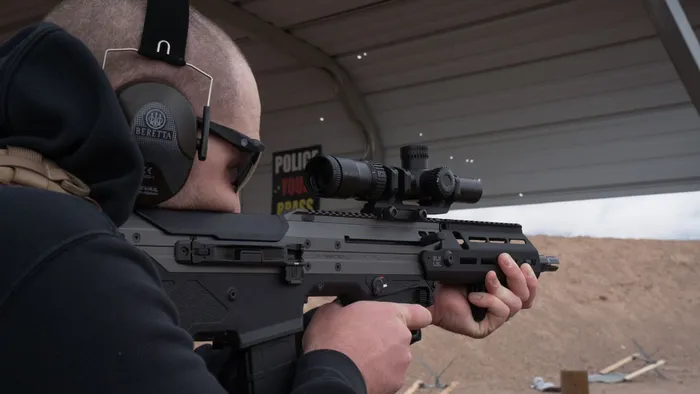 Desert Tech MDRX Review [2023]: A Futuristic Feeling Bullpup
Introduction
Desert Tech was founded a mere 15 years ago, in 2007, but has been busy delivering innovative and versatile firearms ever since. The MDRX (Micro Dynamic Rifle Xtreme) was the first Desert Tech firearm I've had the opportunity to review, but after doing so, I hope it won't be my last.
"Simple" may be one of the words Desert Tech uses to describe its products, but it's not one that I would use to describe the MDRX. Please note I say that in a completely positive light. The MDRX has a futuristic aesthetic, a ton of upgraded features, and is extremely versatile.
While I wouldn't consider myself a bullpup fanatic by any means, there is something about them I'm drawn to, which makes me always put my hand up to review them when possible.
Let's take a closer look at this interesting bullpup in particular.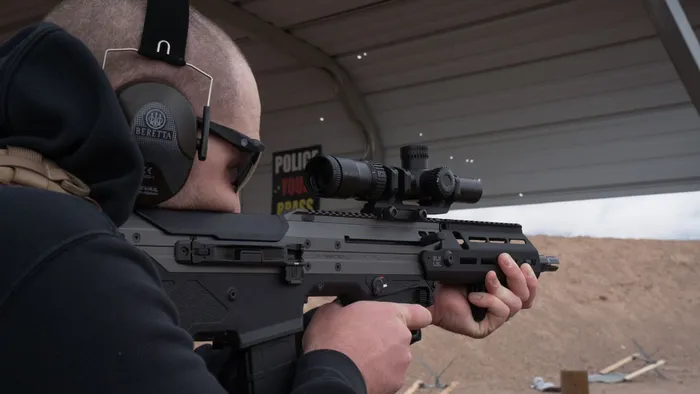 Desert Tech MDRX Review

Specifications
| | |
| --- | --- |
| Caliber | 5.56/.223 |
| Capacity | 30+1 |
| Magazine | Magpul PMAG |
| Barrel Length | 16 Inches |
| Barrel Twist | 1:7 |
| Overall Length | 26 Inches |
| Width | 1.69 Inches |
| Height | 7.86 Inches |
| Trigger Pull Weight | 4.7 Pounds |
| Weight | 8.85 Pounds |
Pros & Cons
Pros
Extremely versatile – can be converted to various calibers within minutes

Forward-ejection system

Ambidextrous controls

Reliable
Cons
Higher than expected price tag

Learning curve for reloading (would apply to any bullpup for me personally)
First Impressions and Range Time
Reliability
I took my good old time shooting the MDRX at the SHOT Show range day to help get familiar with it.
Since I didn't have the gun at home to accompany me on a couple more range trips, I couldn't shoot it as much as I would have liked. However, the shots I did take with it gave me no issues at all.
As I watched others shoot it before and after me, I didn't see any of them having issues either.
Accuracy
A Nikon Black Force 1000 scope sat on top of the MDRX, and it was already zeroed and ready to go.
I believe the range we were on was a 50-yarder, and there was not a single steel target that was safe from a quick and easy shot with the MDRX.
I wasn't worried about groupings since there was no telling which exact shot was yours, but the constant pinging of the targets let me know I was spot on. I really wish that we could have taken it out to a couple of hundred yards, but I'm happy I even got to shoot it at 50 yards.
Overall Feel
Weighing in at just under nine pounds, with the majority of the weight in the rear half of the gun, it did feel somewhat lopsided.
Not to the point of posing any concerns, but noticeable. Being 6'6 with extremely long arms also made the gun feel significantly smaller than it should have while shooting, but that's a personal problem!
Regardless, it felt sturdy and like it could take a beating and still keep trucking along.
Features
If you're a left-handed shooter, you're in some serious luck!
Forward Ejection System
Seeing the brass ejecting forward instead of out to the side is mesmerizing.
Aside from being unique and interesting, it serves a useful purpose for those who need to transition between shoulders. As the shooter, you can use the rifle on either side and not worry about getting hit in the face with your spent brass.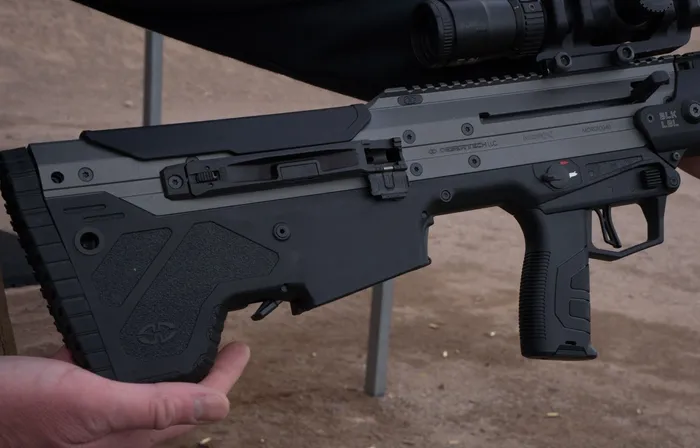 Ambidextrous Controls
All the controls on the MDRX are ambidextrous.
You name it; it's on both sides…the charging handle, safety, and mag release.
In addition, it has a secondary mag release in front of the magwell, and the bolt release is right behind the magwell for easy reloads.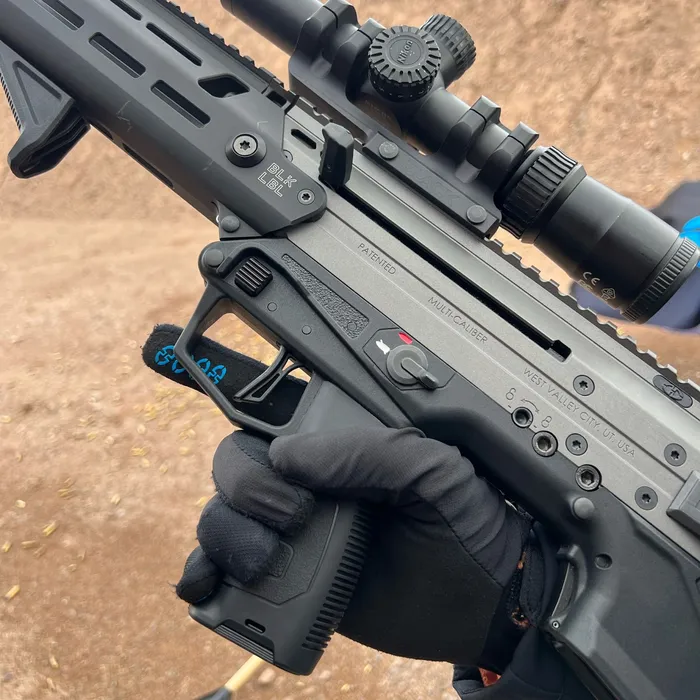 Better Than Expected Trigger
On quite a few other bullpups that I've shot, the triggers have been less than appealing.
The MDRX surprised me, though. It had a smoother pull than I expected and a nice quick reset. I wouldn't put it against some of the better AR-15 triggers out there, but I wouldn't expect to.
For a bullpup trigger, this is one of the better I've shot.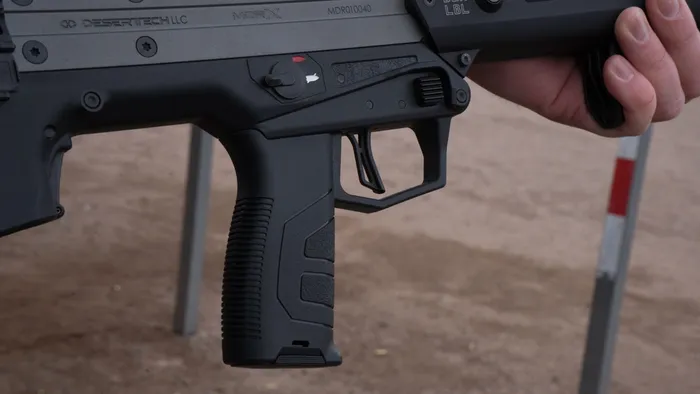 Magwell Placement
It shouldn't be a surprise that the magwell is located behind the trigger and underneath the rifle since this is a bullpup rifle.
Looking at the gun from top-down, it looks like the magwell is flared, but in reality, it barely is. I do wish it was, though, since reloading in this position is so different from what some of us are used to.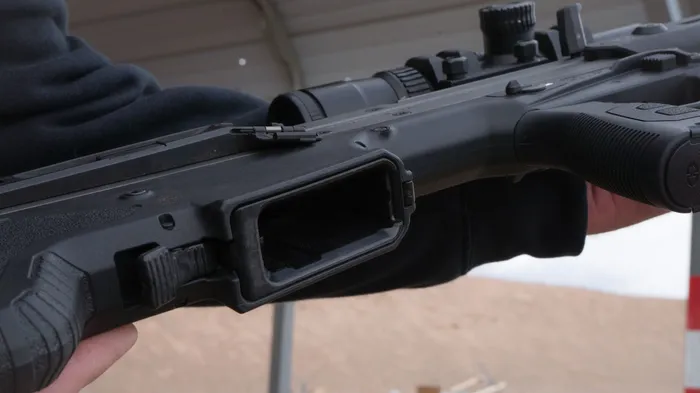 How We Tested
We had 50 yards of open desert space to shoot as much as we wanted.
With several steel targets sporadically placed downrange, we were able to transition between them all as we pleased and as quickly as we pleased too.
Ammo Used
I didn't load the magazines myself, but the ammo that I saw them loading for us was 55-grain PMC Bronze .223 FMJ-BT rounds.
They all cycled fine, and I've used them in the past with no issues that I can recall.
Score Card
Reliability (10/10)  
With a limited sample size, I had 100% success!
Ergonomics (7/10)
It's a bullpup, and I'm extremely tall…so yeah.
Customization (10/10)
It's available in several calibers, colors, and has M-Lok slots and a Picatinny rail to add your favorite accessories.
Appearance (9/10)
I wish the front and rear end were a little bit closer in height.
Value (8/10)
While I don't have reservations about the MDRX, there are a few other quality bullpups for less money out there.
Accessories
The AFG by Magpul is an affordable option to quickly and easily boost your control. Especially with the shorter handguard, a little extra reassurance to keep your hand planted is never a bad idea!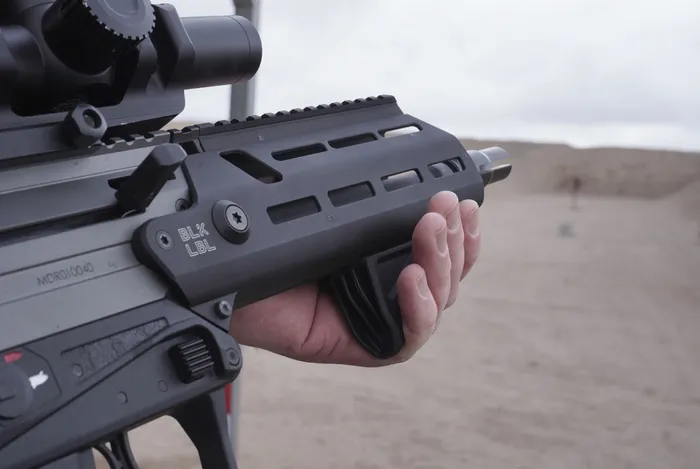 Featuring a DRT (Dual Ring Tactical) reticle, the Spitfire AR prism scope is great for close to medium distances.
It can be used with or without red/green illumination and has up to a 3,000-hour battery life on the lowest setting. The included 5.56 BDC turret provides configurations out to 700 yards, so you should be set in almost any scenario you'd find yourself in with the MDRX.
Alternatives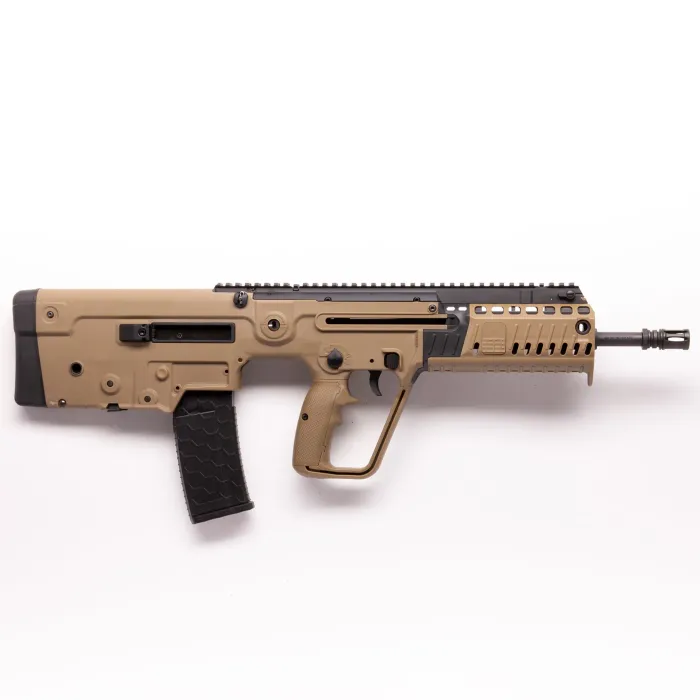 The Tavor X95 is one of the most popular names I hear when talking about bullpups.
I've heard nothing but how reliable they are. While it doesn't have any stand-out features compared to the MDRX, it does run about $500 less, so you can pick up some accessories and ammo along with it.
Check out our IWI Tavor X95 review if you want to read more.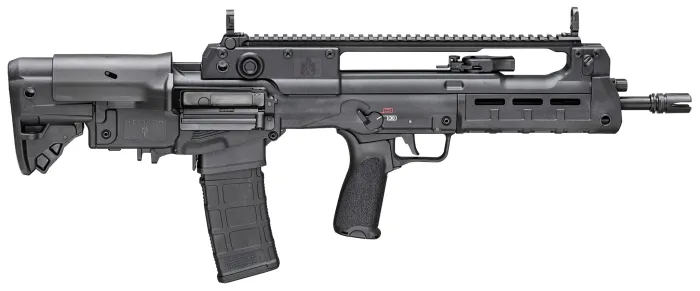 One of the newer bullpups on the market, the Hellion has continued to receive positive feedback.
It has fully ambidextrous controls, an AR-style grip, and an adjustable stock. These features will make all of the AR-15 fanatics feel a bit more at home. The Hellion is another option where you'll save roughly $500 over the MDRX.
We also reviewed the Springfield Armory Hellion if you want to take a look.
Conclusion
Whether you need the left-hand friendly features at the moment or not, they are most definitely a valuable asset to have at your disposal.
When you add on the versatility of swapping calibers easily, you're left with a capable and well-rounded rifle. The price may be higher than some of the competition, but I feel you get what you pay for in this scenario.
If you are looking for a tricked-out bullpup to join your collection, I'd consider adding the Desert Tech MDRX to your list of possibilities.
Are you a fan of bullpups? If so, what is your favorite one to hit the range with?
Explore more