Holosun HM3XT Magnifier Review: Extra Range In A Hurry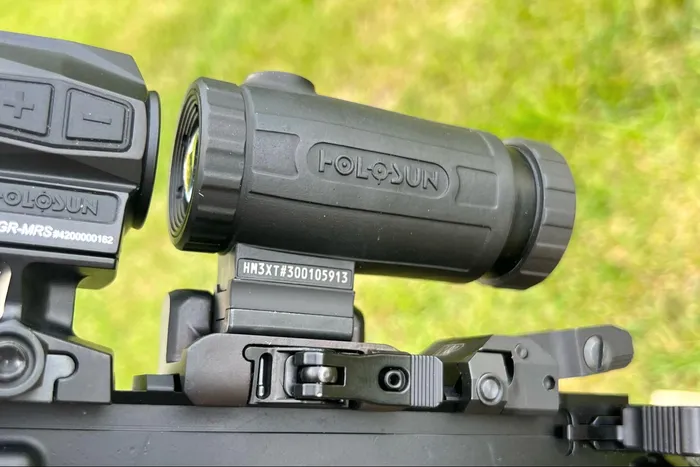 Holosun HM3XT Magnifier Review: Extra Range In A Hurry
Introduction
Red dot and reflex sights are more popular than ever; chances are, you likely have one or more yourself. Especially when they are mounted on a rifle such as an AR-15, you may want to shoot targets farther than is ideal for a 1x magnification optic. That's where magnifiers come in to save the day!
The Holosun HM3XT is a 3X magnifier that will give you that extra distance you want at the range with a simple flip. The titanium-bodied magnifier is compact and lightweight, but is it a worthy addition to your rifle or shotgun?
Keep reading to find out!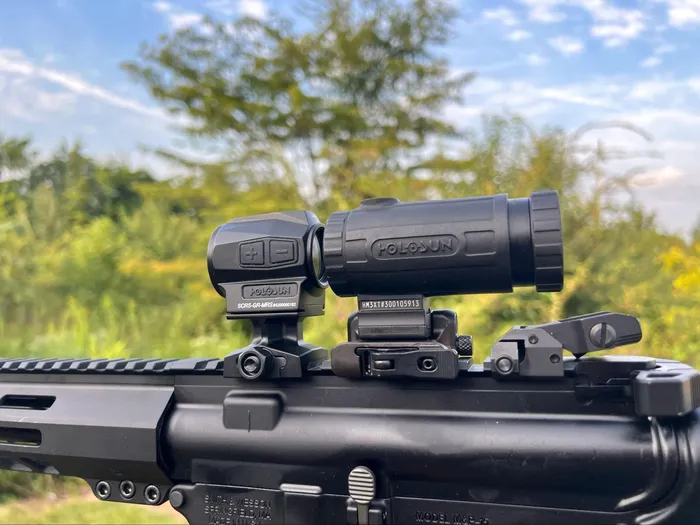 Holosun HM3XT Review
Specifications
| | |
| --- | --- |
| Magnification | 3x |
| Eye Relief | 2.75 Inches |
| Field of View | 37 Feet at 100 Yards |
| Dimension | 3.2 x 1.8 x 2.5 Inches |
| Weight | 11.6 Ounces |
| Housing Material | Titanium |
| Submersion | IP67 |
Pros & Cons
Pros
Ambidextrous Flip-to-the-side design with adjustable tension 

Increased durability thanks to the Titanium housing

Quick-release mounting system

IP67 waterproof rating

Compact design

Affordable

Built-in flat driver tool

Clear glass/lenses
Cons
Scope shadow seems to sneak in quicker than some other magnifiers

This is nitpicky because it's included and didn't have to be, but the adjustment tool is so small that even sitting still in perfect conditions, it's hard to use if you have larger-than-average hands
First Impressions
As I lifted the HM3XT out of its box, I was pleasantly surprised to feel just how light it was. Not that many magnifiers are heavy necessarily, but this one felt exceptionally light. It's also very compact, especially when the diopter is not extended.
The finish had no blemishes, and the glass clarity seemed good from a quick glance through the magnifier.
Range Time
I mounted the HM3XT on my Smith and Wesson M&P Volunteer XV Pro behind a Holosun SCRS. I used the included mounting spacer to help align the two, which put the magnifier at the perfect height.
After adjusting the diopter and ensuring I was zeroed on my target(s) downrange, I let the ammo fly. I put six 30-round mags through the Volunteer XV Pro with the HM3XT mounted, running drills focusing on transitioning between targets that did and did not require the magnifier.
I was not gentle when flipping the magnifier to the side and back since every second counts in a real-world scenario where time is precious. I'm happy to report that it stayed secure and never accidentally flipped one way or the other.
One thing I do need to note, though, is there was a more than average amount of scope shadow as I shot while moving. Unless I stayed relatively motionless and focused on the same target, a shadow would arise at one spot or another around the perimeter of the lens.
I could have been moving too quickly or too much, but I have not had that same issue to the degree I did here on every other magnifier.
Features
Quick Release Ambidextrous Flip-to-Side Mount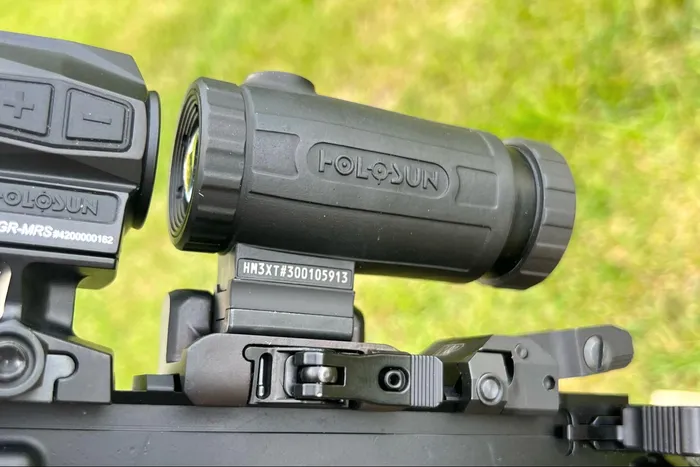 I wish all mounts came with a quick release, and I'm surprised that more do not. Anyway, I found the mount to be sturdy yet easy to remove in a hurry. Once it was secured tightly, there didn't seem to be any wiggle or play, even when repeatedly slamming the magnifier to the side and back.
There is no need to move the magnifier back and forth gently.
The mount is reversible, letting you decide which side you'd like it to flip to. Adding to its versatility is an included spacer that gives you that extra height if needed, depending on which optic you're running in front of it.
Built-in Flat Driver Tool
I usually keep a few small tools in my range bag, including a flathead screwdriver. However, I don't always have the same range bag with me, or when shooting at larger outdoor ranges, my bag may be in the truck and not by my side.
Holosun thought ahead for such scenarios and included a built-in flat driver tool. It stays neatly screwed into the mount until you need it. It's tiny, though, so it's not the easiest tool to use unless you have smaller hands.
Nonetheless, it's better to have it than not.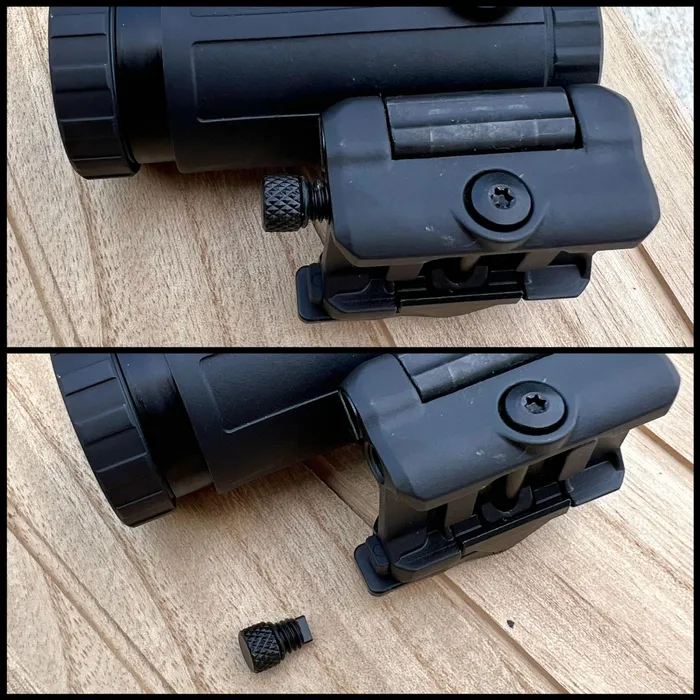 IP67 Rating
While an IP67 rating isn't going to let you swim across the Atlantic with it submerged, it will allow you to shoot in the rain and not have to worry. Technically, it means it should be able to be fully submerged in fresh water for up to 30 minutes at a depth of one meter.
Clear Glass/Lenses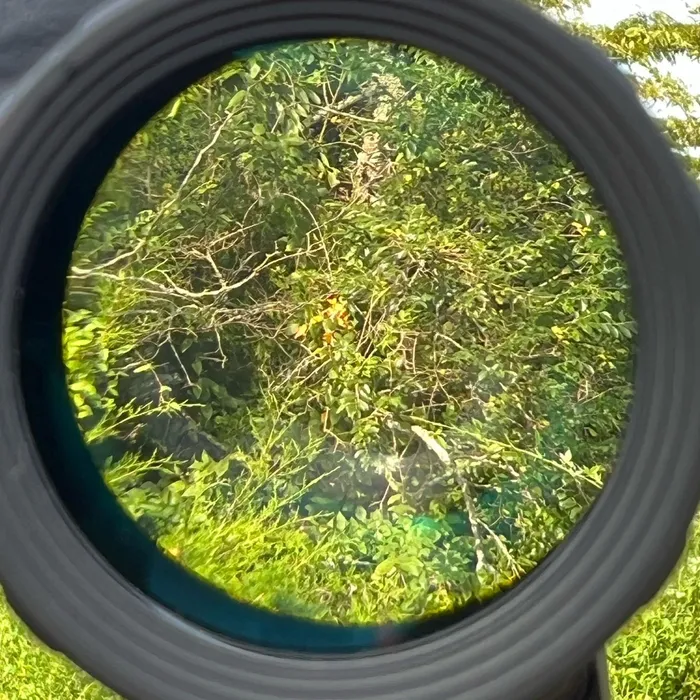 I've used quite a few magnifiers in my day, and let me tell you, they are not all the same when it comes to clarity. I'll be honest: I don't know the exact type of glass that Holosun uses with the HM3XT, but I can tell you once you adjust the diopter to be in focus, the glass/lenses look extremely clear.
I have nothing to complain about when it comes to the clarity once it's in focus and steady.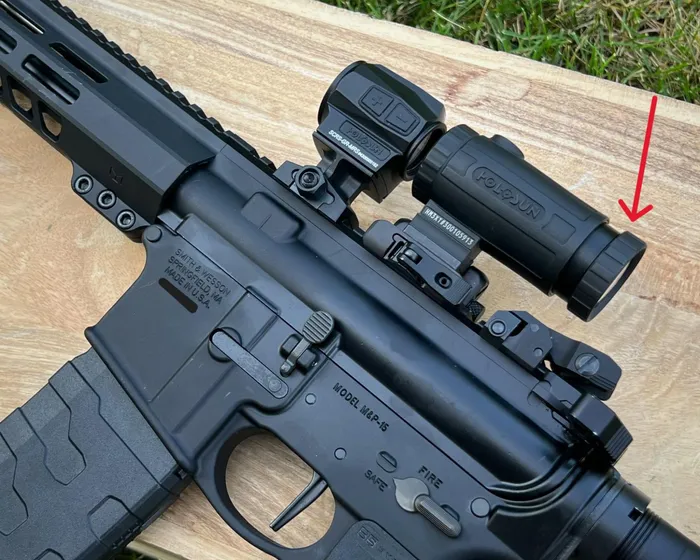 Alternatives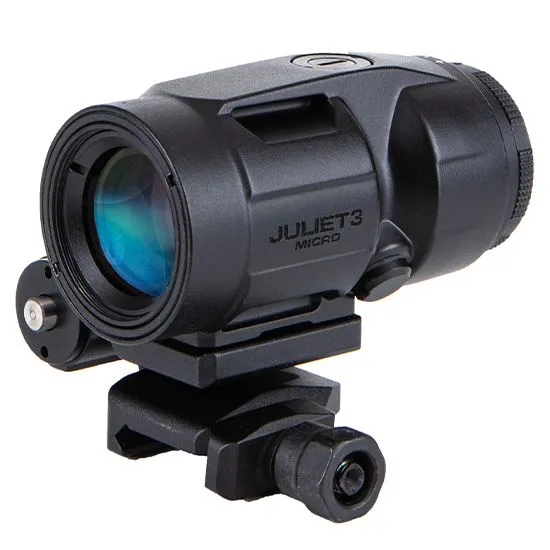 Another popular and affordable 3x magnifier is the JULIET3-MICRO. Similar to the HM3XT, it's compact, waterproof rated (IPX-7), and has a similar field of view.
However, the JULIET3-MICRO utilizes a push-button flip-to-side mount and is constructed out of aluminum, two of the main differences compared to the HM3XT. Lastly, you can probably save around $100 if you look hard enough by going with the JULIET3-MICRO.
We reviewed the Sig Sauer Romeo5 & JULIET3 here if you want all the information.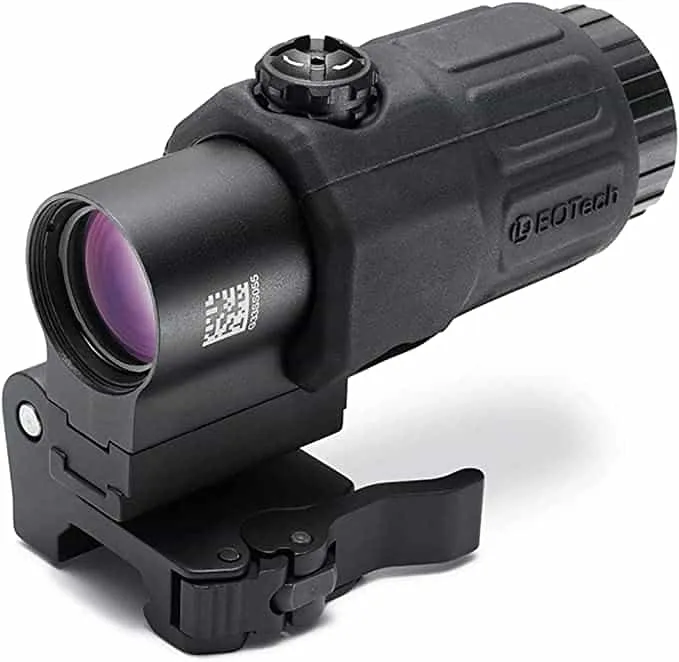 Have you ever heard the saying "buy once, cry once"? That applies here. You'll pay significantly more than the other two magnifiers mentioned above, but you'll get one of the most durable and proven magnifiers on the market.
The G33 is the only magnifier approved and under contract with USSOCOM. It shares many of the same features, such as an ambidextrous quick detach lever, 3x magnification, and an adjustable diopter.
It has fog-resistant internal optics, is water resistant to 33 feet, and can operate in temperatures between -40°F to 140°F. You will not need to worry about the durability ever.
Conclusion
While the Holosun HM3XT is not perfect, I think it's a solid magnifier at a decent price. The pros outweigh the cons, and if you're like me and like to have matching gear, it pairs wonderfully with a Holosun red/green dot.
If you're in the market for a durable 3x magnifier that won't break the bank, take a look at the Holosun HM3XT.
What is your favorite 3x magnifier? Let us know down in the comments!
Explore more