Howa Mini 6mm ARC Review: More with Less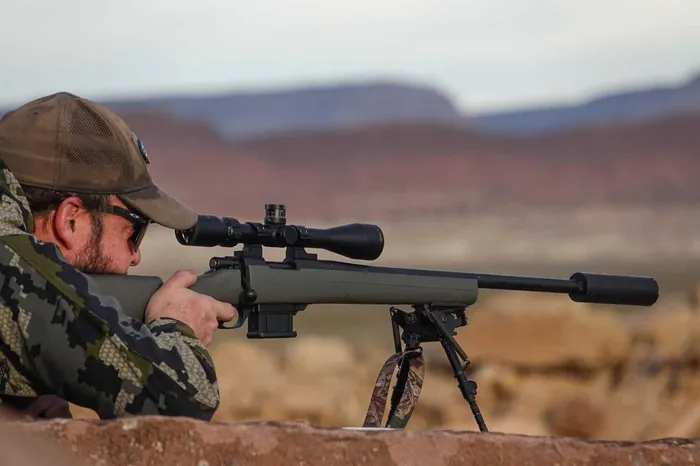 Howa Mini 6mm ARC Review: More with Less
Introduction
The Howa Mini Action rifle offers a compact rifle for hunting or sporting purposes. The very short action is designed to run only the shortest center-fire rifle cartridges. The short action of the Mini is designed for cartridges like the .223 Remington and 300 Blackout, as well as newer cartridges like the 6mm ARC model we are looking at today.
The Model 1500 Mini is a push-feed two-lug bolt action. It is fed from a detachable box-fed magazine.
Howa has long been known as a very affordable and reliable rifle manufacturer. Their products have typically been marketed toward the hunting public. But in recent years, they have also moved into the precision shooting competitive world.
My purpose for the Mini was along the same lines. I bought the rifle for my wife, who is quite petite. She needed a good rifle that shot well for our shooting adventures, and the Mini fit that niche quite well.
Its light and soft recoil made it the perfect choice for someone like my wife. And since I already was quite familiar with the 6mm ARC, and had a great deal of components to load it, I figured it would be a great choice.
I'm excited for this fall to see how well it functions for her on the deer and pronghorn antelope hunts we plan to do.
After having spent a short time with the rifle, I expect we are going to enjoy it very much.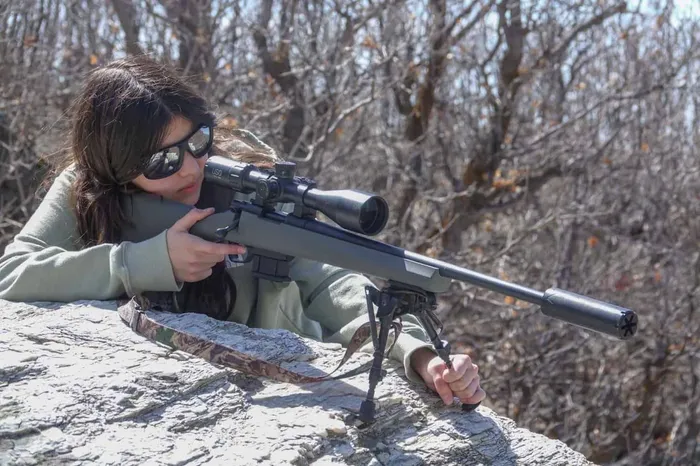 Howa Mini 6mm ARC Review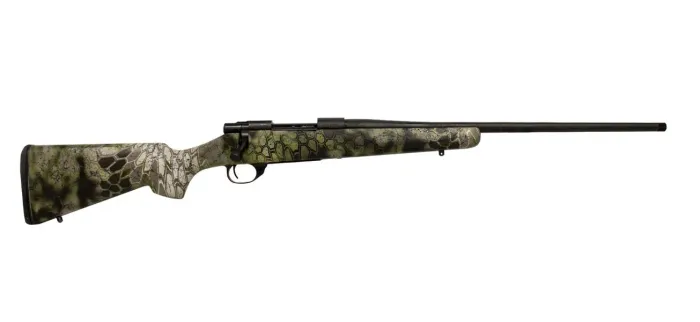 When I purchased the Howa Mini, it came with a riflescope from Howa's sister company Nikko Stirling. I figured I'd give it a try, and see how the package performed.
As I lifted the package from the box I was immediately pleased with the weight, sure it would have been even better had it weighed less, but it was certainly not heavy at 7.4 lbs for the whole package.
 I lifted the bolt and ran it back and forth a few times, followed by pulling the trigger. I love two-stage triggers, and to be honest I'd forgotten the Mini came with one. It felt great, though I think I might lighten up the pull weight in the future.
The synthetic stock was another surprise to me. Typically the inexpensive polymer blend stocks that come with economy grade firearms are pretty flimsy, and they flex far more than you'd want them to.
I was genuinely surprised by the Mini's stock; it actually felt quite rigid. Far better than almost every other comparably priced rifle stock I've played with in the recent past. This would hopefully translate into better accuracy for us in the field.
I looked through the little 4-12×40 scope, and to my surprise, it had a milling-type reticle and an exposed target turret with MOA markings. It looked pretty good, and made me even more anxious to get it in the field.
The Howa Mini looks to be a perfect little rifle for someone looking for a compact and inexpensive rifle in a small caliber, but one they could use in the deer woods.
Specifications
| | |
| --- | --- |
| Caliber | 6mm ARC |
| Capacity | 5 or 10 round box magazine |
| Barrel length | 20 inches |
| Weight | 7.4 lbs as tested |
| Stock | Pillar bedded glass filled nylon |
| Safety | Three position |
| Trigger | Adjustable two stage |
| Calibers | 6 ARC, 223 Rem, 6.5 Grendel, 7.62×39, 350 Legend |
Pros & Cons
Pros
Lightweight ultra short action
Two-stage adjustable trigger
Pillar bedded glass-filled nylon stock
Detachable 5 or ten round magazine
Threaded twenty-inch barrel
M16 style extractor
Compatible with Remington 700 two-piece scope bases
Cons
Detachable box magazine is a little weak.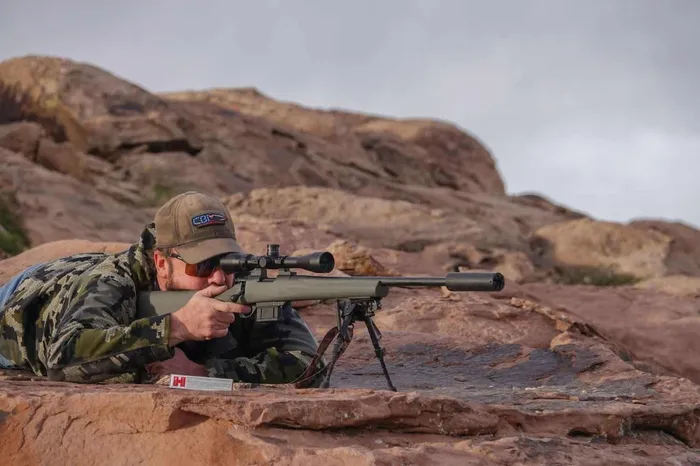 First Impressions of the Howa Mini 6ARC
My first trip to the range with the Howa Mini was pretty easygoing. I had a great selection of ammo from Hornady, which consisted of the Match 108 ELDM, the Black 105 BTHP, and Precision Hunter 103 ELDX. I was sure one of these would shoot well in the rifle.
Upon arriving at the range, I sat down with the little Howa at my bench and started stuffing cartridges into the magazine.
That's when I noticed more about the magazine design. It was a bit flimsy. I mean it works fine, and I've shot quite a few rounds through it without issue, but it's awfully thin. And I feel like if I was to smack it hard into a tree-trunk or rock, it would surely split apart and send my ammo all over.
I also wish they made a flush magazine option that didn't hang down out of the stock. Neither of these things are deal breakers for me, just something I'd point out.
Accuracy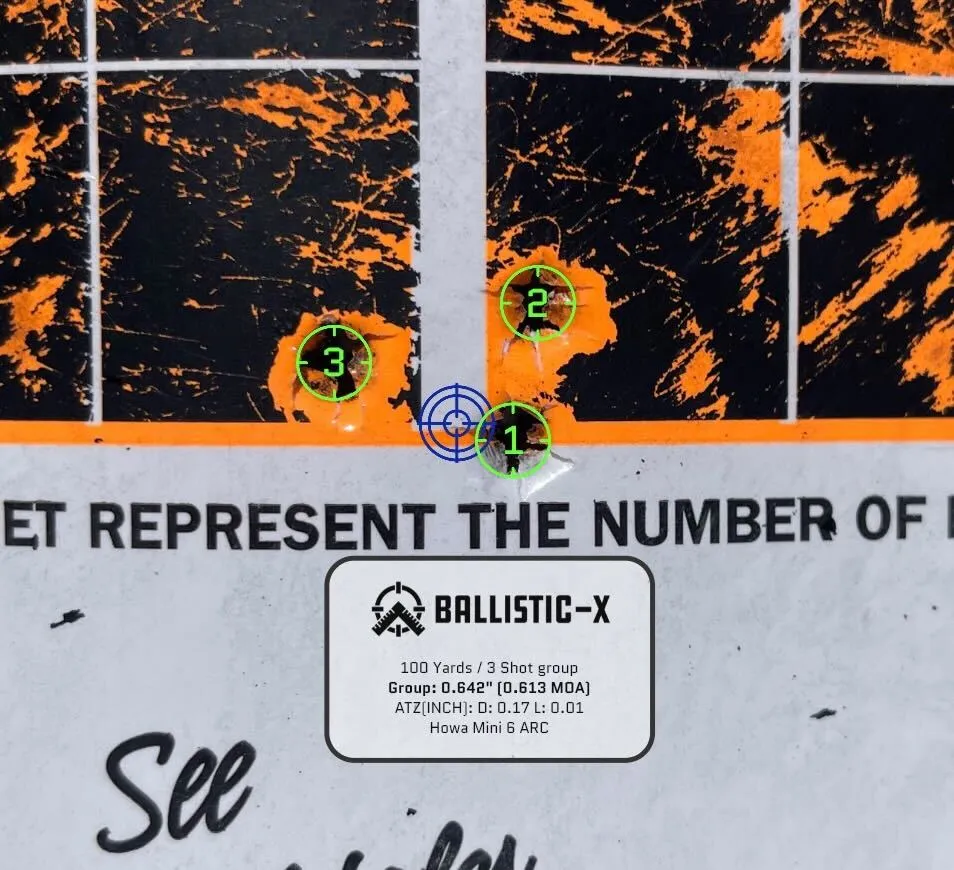 I'd boresighted the rifle prior to arriving, so I immediately set to zeroing the rifle at the hundred yard target. In just a few shots I had a solid zero, so I fired a five shot group using the 103 ELDX load. The group measured just barely over 1 MOA, which isn't bad but not as good as I'd hoped.
I then tried shooting the other two ammunition types I'd brought along. They averaged slightly smaller, but not enough to matter much.
I spent the afternoon shooting a few more targets and feeling out the rifle. I was actually quite liking the feel of the little Howa. The trigger felt great, the bolt was smooth and easy to run quickly. And despite my complaints about the magazine, it ran flawlessly.
I would have liked to see some slightly better accuracy at least, but for what it is and what it costs, I am quite happy with the Howa Mini.
My next trip was a shooting hike into the snowy springtime Rocky Mountains. I'd brought my daughter along for company, to get her out of the house, and of course, to try shooting the little Mini 6 ARC.
I'd taken the liberty of swapping out to a different scope and mounting system mainly because it was so easy to do so. After removing the Nikko Stirling scope and mounts, I dropped a two-piece Remington 700 base on the action, followed by some Warne steel rings to hold my US Optics TS25X. I felt a little bit more confident with this setup; even though it added a bit more weight, I felt it was a good trade-up.
Again I had the rifle zeroed in just a few shots, and in no time we were smacking targets all over the mountain. I was running my Yankee Hill Machine Nitro N20 Titanium suppressor on the rifle, which made it even more pleasant to shoot.
Both my daughter and I had a great deal of fun shooting the Mini, picking out little specks of snow on the opposing side of the canyon for targets. It was a great confidence builder every time the snow would splatter, leaving a dark spot in the moist mountain soil. I stretched the little rifle out as far as six-hundred and twenty yards, and it was still hammering with acceptable accuracy to hit a deer.
Reliability
The Howa Mini functioned flawlessly during my testing, with no malfunctions or issues.
After a few hours playing in the mountains, I was very satisfied with the rifle, knowing that we could have easily taken a deer in these same hills where we hunt every fall.
Everything about the Howa Mini fits well into my activities. The size of the rifle is perfect for doing lots of hiking. Everything worked great on the rifle, and it was very effective at putting hits on target.
I feel like adding the better scope and mounting system surely helped the rifle shoot better, and though I'm quite happy with it, I may do some additional tinkering yet to see if I can squeeze any more accuracy out of it.
Overall Feel
The Mini feels better than its price point, in my opinion. I spent more money on rifles that didn't feel this good. It's comfortable to handle and functions great.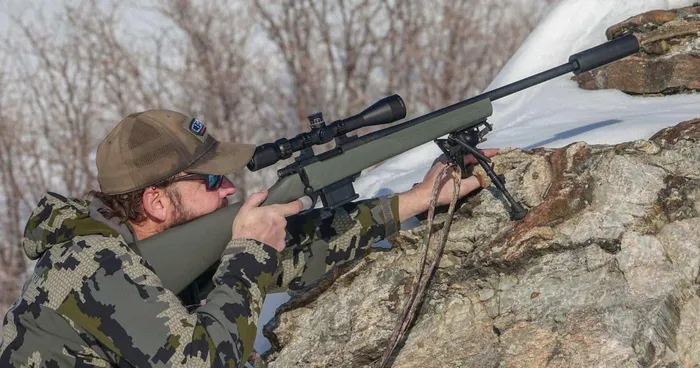 Features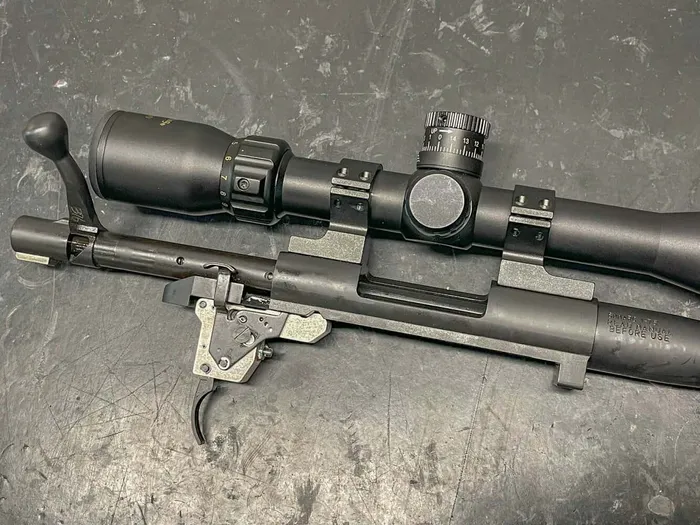 Mini Action
The ultra-short Mini action is lighter and smaller than most rifle actions. It looks like a Model 70 that someone put in the dryer too long.
This smaller action shortens the bolt-stroke, allowing you to repeat faster. The icing on the cake is the ability to use Remington 700 scope bases on the rifle.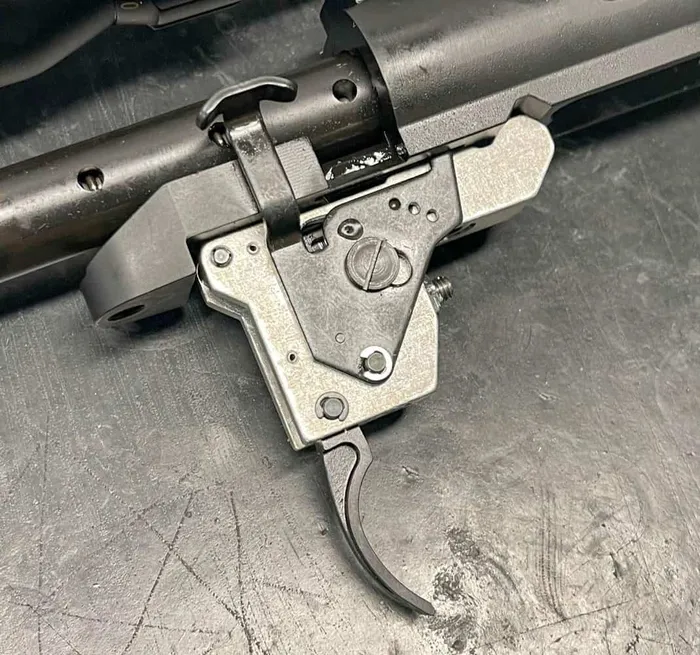 Two-stage Trigger
I love the two-stage trigger of the Mini, and after lightening up the pull weight a little bit, it felt even better. It's not a Jewel or Trigger Tech, but it feels great for a factory rifle two-stage. The safety is a three position that locks the bolt closed in the 3rd position.
Threaded Barrel
Thank goodness the folks at Howa live in this century and provide most rifles from the factory with threaded barrels. Suppressors are more popular than ever, so this should be the norm. I ran my suppressor and a good muzzle brake on the rifle and was quite happy with either option.
Both greatly reduced recoil, making it possible to spot my own impacts.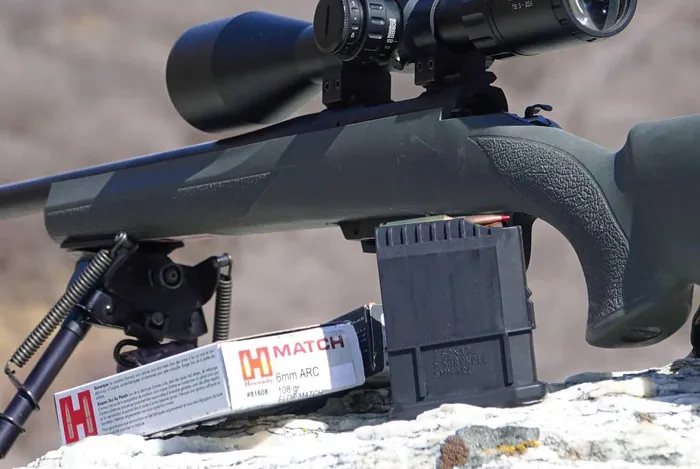 Detachable Magazine
This is the one weak spot for me on this rifle, but I'll admit I may be looking a bit hard at it.
I wasn't surprised to see a plastic magazine and floor-plate based on the rifle's price, but I was hoping for a better one. Regardless, I will happily run this mag until it falls apart and buy another for the $30 or so that they cost.
Synthetic Stock
I was very pleased with the glass filled nylon stock of the Mini, not because I like nylon stocks but because it is one of the better ones I've ever used. And the fact that Howa included a pillar bedding system gives them extra points.
The stock was very rigid and tough.
How We Tested
I intend on keeping this rifle, so I gave it a good wringing out to ensure there was nothing I couldn't live with. I spent a great deal of time tinkering with the rifle and even took it apart on several occasions to see what made it tick.
I ran the bolt just like every other rifle I own, only to find out that I didn't need to. The smooth bolt fed and extracted cartridges with ease, and it has a good strong ejection pattern to get spent cases out of the way.
Shooting the Howa Mini from every different position, loading and reloading it all the while, was great.
Obviously, supported from a bipod was where it shot best, but that is pretty standard. It shot all the different types of ammo I brought just fine, including my 6 ARC reloads. As I write this, I just ordered some additional varmint bullets to see how they shoot for varmints here this spring.
With either scope and mounting system, the rifle functioned great. I may end up shooting this thing myself come hunting season, provided my wife will let me.
Ammo Used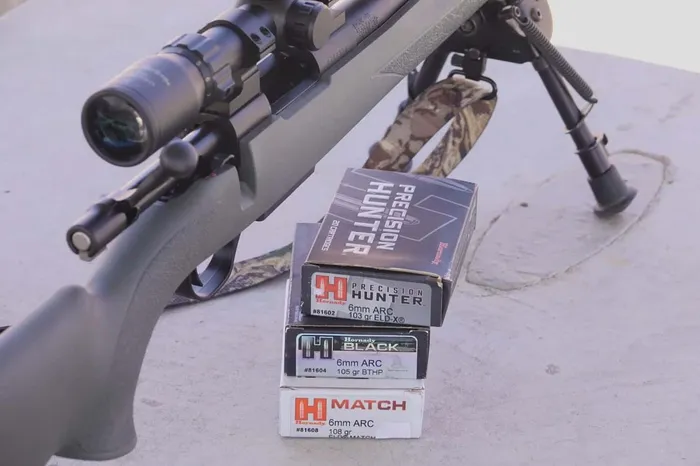 I used all ammunition from Hornady. All three of Hornady's lines of ammunition worked great in the rifle and only made me love the ARC even more.
Score Card
Reliability (10/10)  
The Howa Mini worked perfectly during my testing. I see no reason to anticipate that to change.
Ergonomics (8/10)
I would like a more vertical grip, but I get that this is a pretty entry level rifle so I cant expect too much.
Customization (7/10)
The Mini is a bit of an anomaly so there aren't many things that will work with it. Most unfortunately a different magazine system. It's great that it works with Remington 700 scope bases though. There are a few aftermarket stocks and such for it, which is great.
Appearance (7/10)
It's a generally good looking little rifle, I wish there was a flush mounted magazine option. There are other camo pattern finishes available, I think I'll end up doing a custom Cerakote job on mine.
Value (9/10)
I absolutely think this is an excellent value, for the few flaws I've mentioned I would 100% buy this rifle again. I'm already considering another in perhaps a 6.5 Grendel, but I don't want to get ahead of myself. The scope that comes with it is nothing fancy, but to get a rifle and scope like this for the street price as little as 550 dollars is a good deal in my opinion.
Accessories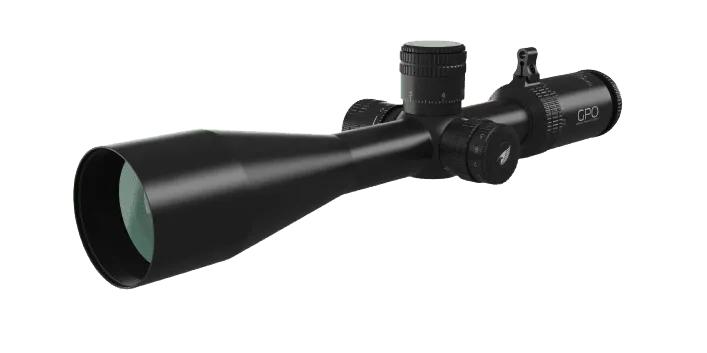 The Nikko Stirling scope that came with the rifle is serviceable, but we all know that the scopes they give away with rifles are typically pretty cheap. Still, I was surprised at the features included with a perceived cheap giveaway scope.
That said I much preferred my US Optics TS25x, but if you want something less expensive there is a great deal on the GPO 4-12×42 which would also make a great companion for this rifle.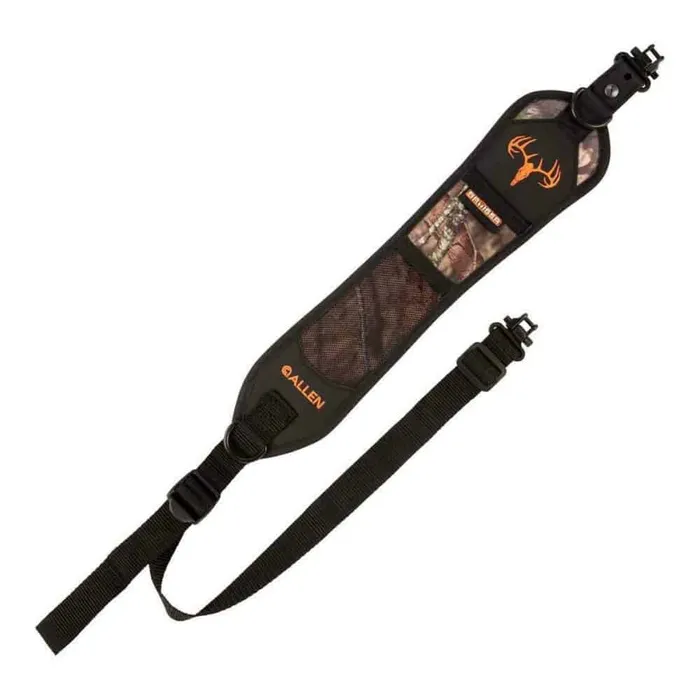 I ran a pretty cheap sling on the rifle. I would have preferred to run something a little nicer like this one from Allen.
The Allen Hypa-Lite Bruiser Deer Hunting Rifle Sling is a durable and lightweight sling designed with the deer hunter in mind. The sling features ultra-durable and lightweight Hypalon construction with molded, low-density foam and non-slip backing.
The front of the sling features Mossy Oak Break-Up Country camo in quiet fabric, plus a stretch mesh pocket for a windicator bottle or grunt call.
If you don't like noise, I would recommend a suppressor like I ran. But if you don't want to run suppressed, I would recommend a good muzzle brake. Not because the 6 ARC has heavy recoil, but because with a good brake it will have none. I like the Timber Creek Heartbreaker.
Alternatives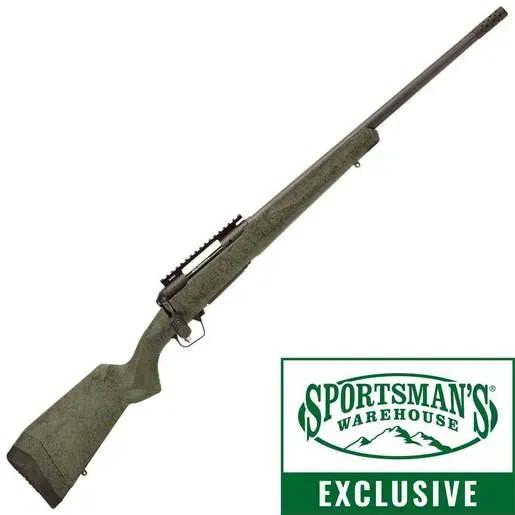 The Savage Switchback is comparable in price, but it is a little longer and heavier as well.
The Savage 110 Switchback rifle offers some noteworthy features that enhance the shooting experience. The AccuFit system provides adjustability in the length of pull, making it suitable for various user heights, while the renowned AccuTrigger ensures a comfortable and smooth trigger pull.
With its customizable design and excellent trigger, the Savage 110 Switchback is an attractive option for shooters who value adaptability and ease of use.

The Axis II is another Savage available in 6mm ARC, it is cheaper still than the Mini, but having played with a few Axis rifles in the past, I don't know that I'd be happy with it.
The Savage Axis II bolt-action rifle is an economical, quality choice for both experienced hunters and beginners. Available in a wide range of calibers, it features a 22-inch barrel with button rifling, providing a smooth finish at a reasonable cost. The rifle also benefits from a custom and precise headspace measurement, resulting in better accuracy.
Notable features of the Savage Axis II include the proprietary AccuTrigger, which is adjustable from 1.5 to 6 pounds, and a floating bolt head design that improves accuracy. The rifle also comes with a reshaped stock focusing on ergonomics, ensuring comfortable and stable shooting.
Conclusion
I have greatly enjoyed my time with the Howa Mini in 6 ARC. I think it fits perfectly into the niche spot I wanted it for.
It's small and light enough for the more petite shooters in my house but still carries the accuracy needed to hunt the big game animals we hunt every fall. And I am pleased with the level of quality from the little Howa, as are both my wife and daughter.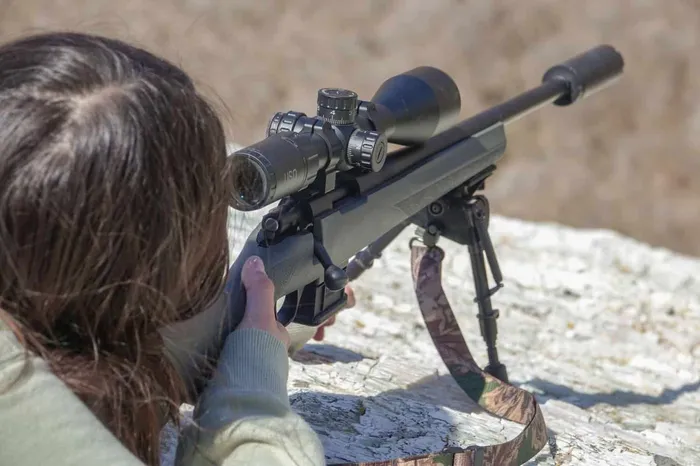 The Howa Mini's extra short action reduces weight and length and makes the rifle extremely easy to haul around and shoot. Whether that be for deer hunting, varmint, or predator hunting, I think the Howa Mini is a great option.
If you find yourself needing something smaller than the average rifle of the gun store rack, you should look into the Howa Mini in whatever caliber fits your fancy.
Drop us a comment below with your thoughts on the rifle.
Explore more