SAR9 Review: A Decent Alternative To the Glock 17?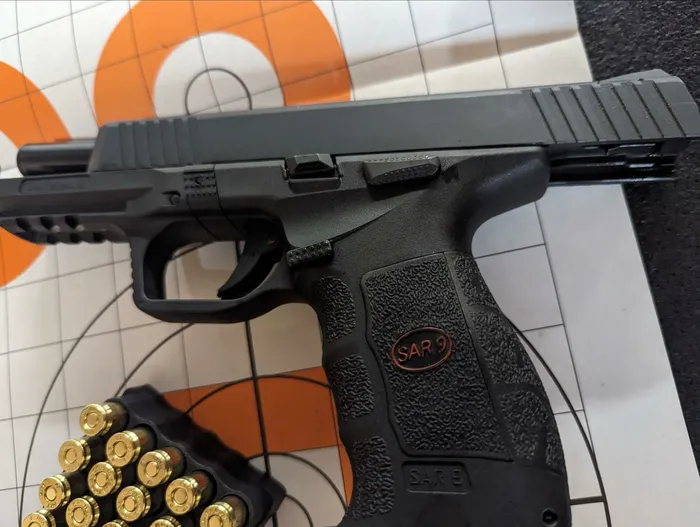 SAR9 Review: A Decent Alternative To the Glock 17?
Introduction
The Sarsilmaz SAR9 is one of those guns I'd seen around a lot and heard good things about, so when the opportunity to do a full SAR9 review came up, I jumped.
I'm always excited to learn about new guns, especially from companies I don't have much experience with.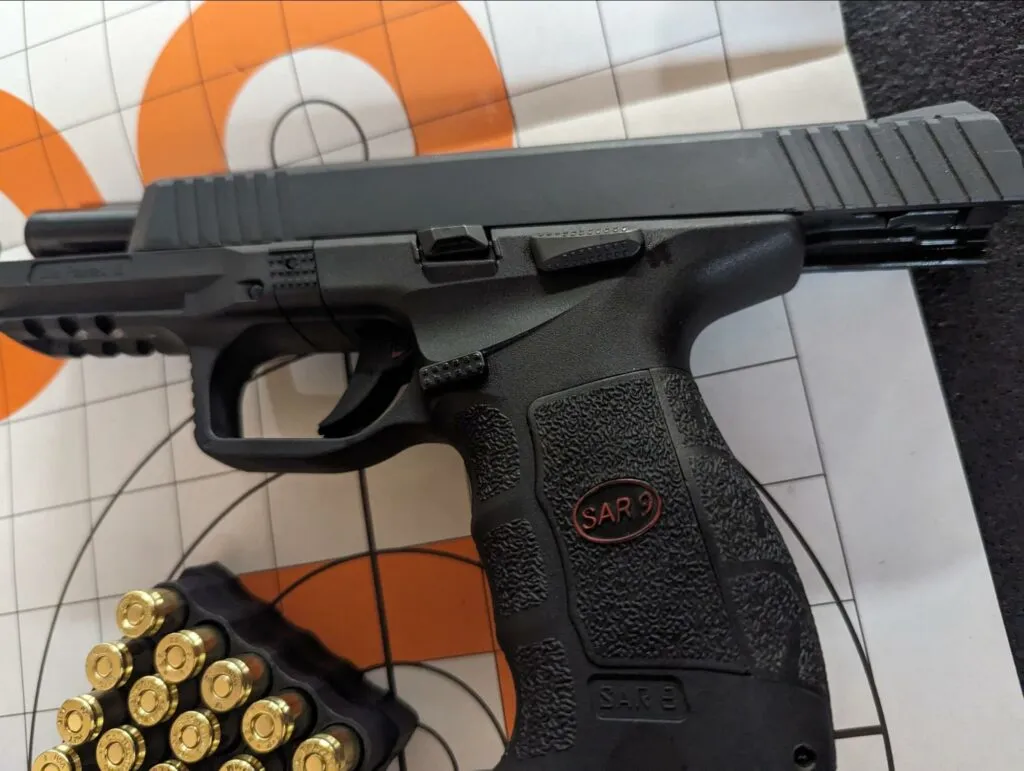 Ostensibly, this gun combines a lot of features and design cues from HK, Glock, and others, as well as a great deal of Sarsilmaz's own design, into something that should be a great budget full-sized 9mm.
Let's see how she does at the range.
Sarsilmaz SAR9 Review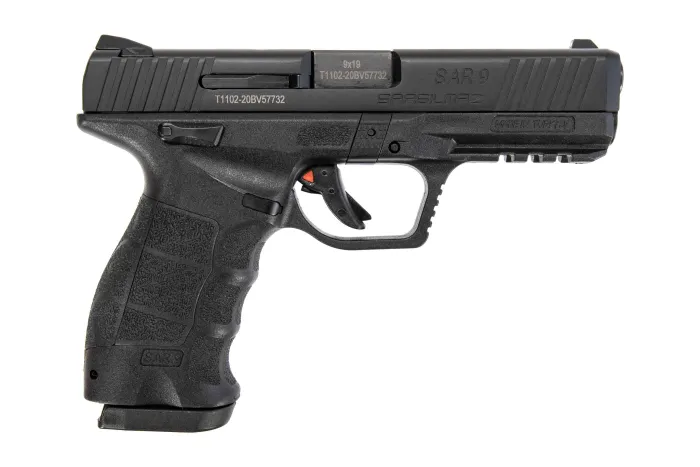 Specifications
| | |
| --- | --- |
| Caliber | 9mm |
| Capacity | 17 rounds |
| Barrel Length | 4.4 inches |
| Overall Length | 7.5 inches |
| Width | 1.14 inches |
| Weight | 27.8 ounces |
Pros & Cons
Pros
Very affordable
Rigorously tested by U.S., NATO, and UN military forces (over 300,000 round torture test)
Good capacity
Upgradeable and customizable
Great for new shooters
Cons
Trigger could be better (long and heavy pull)
Accuracy suffers beyond defensive distances
Testing the Turkish Titan: Reviewing the SAR9
The SAR9 is a full-sized Turkish-made 9mm designed to meet NATO demands for a new sidearm and fulfill requirements from a wide variety of major European police forces looking for new duty guns.
Most people in the US have had limited experience with Sarsilmaz, and most of my testing group had never even heard of them. However, my industry friends have had good experiences with them, particularly in extended reviews.
Here's how things shook out in my testing.
Reliability
We put around 250 rounds through our original test gun, a well-used range rental that had already seen about 1500 rounds down the pipe. That's a relatively significant amount of ammo, and we saw no issues.
The folks at the rental counter (Athens Gun Club, be sure to check them out if you're in the area) also told me that the gun had been one of their most reliable, with many folks buying one after trying it out. At around $350 street price when not on sale, it's hard to knock it.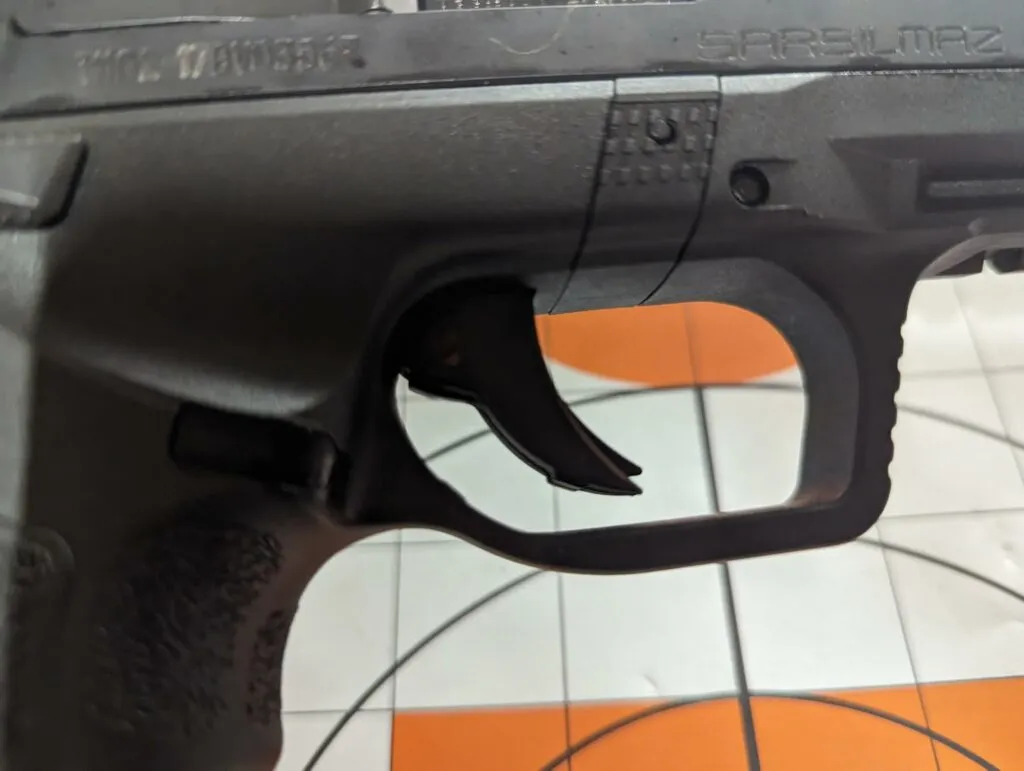 Our new-in-box model came from an industry friend who graciously let me try the gun out before he even got a chance to. Besides needing a little lubrication out of the box, the gun went through 250 rounds without issue.
It is extremely reliable, which is my chief demand in a duty/carry gun.
Accuracy
Accuracy at longer ranges is really where the gun we tested suffered. The trigger is smooth but a bit long and heavy, and the three-dot sights aren't the best I've seen. I shoot $2,000+ pistols regularly (yeah, my job doesn't suck), so this is possibly just snobbery on my part.
With all that being said, groups averaged half an inch worse than a GLOCK 17 or a SIG P320 at 25 yards…but this gun costs half or less than what those guns do.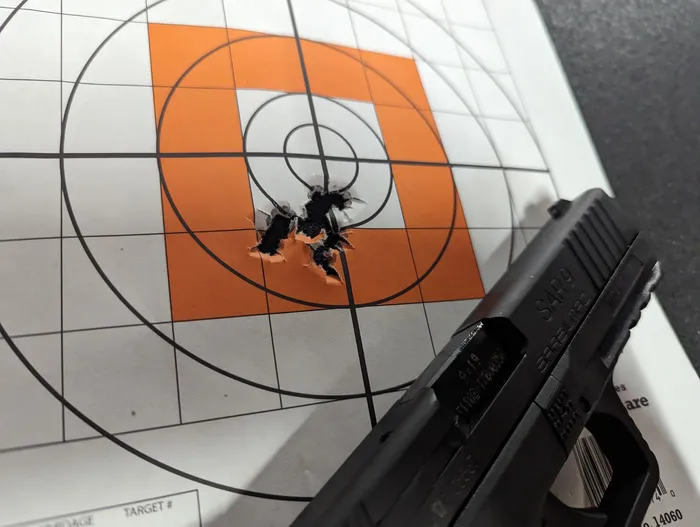 For the price and combat-based shooting, it's exceptionally accurate. At 7 yards, which is about what I call "defensive" distances, groups were just one ragged hole. The very low bore axis helps keep the muzzle flip down, so even rapid double taps at those ranges were only separated by a few inches.
Features
Manual Safety Available
I don't usually go for a manual safety on any handgun that's not a 1911, mostly because I use it as a thumb ramp. Still, the fact that the SAR9 comes with or without a safety (and it's easy to remove if you don't like it) is an excellent feature for those who want one.
Customizable Grip Panels & Backstrap
The SAR9 comes with interchangeable grip panels and the usual swappable backstrap, making this a very ergonomic and customizable gun you can dial to meet your needs and fit your hands. I have a weird combination of big palms and short fingers, so this was great for me.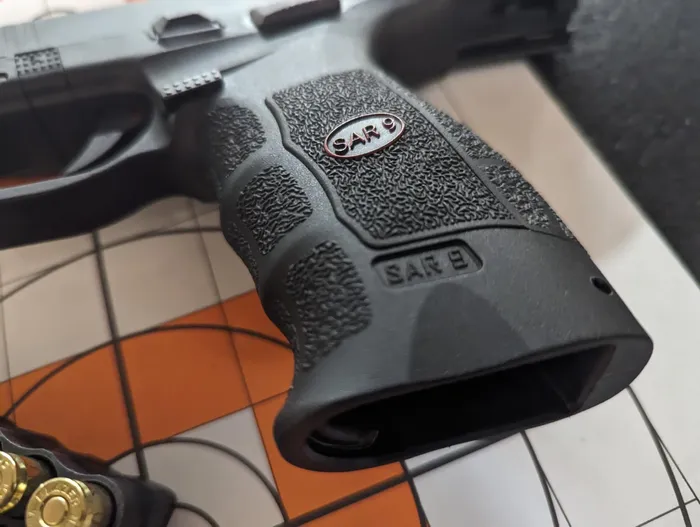 Picatinny Accessory Rail
Lights, lasers, and coffeemakers, if they fit on a short Picatinny rail, you can hang them off the SAR9. I personally would put a light or a light/laser combo on there as this would mostly be a defensive gun for me, but whatever you want works.
17+1 Round Capacity
17+1 is a fairly standard capacity for a full-size handgun, but it is still worth noting that you get many rounds on tap with the SAR9. This is the standard size for a reason and gives you a good balance between loaded weight, overall capacity, and having enough rounds to deal with multiple threats.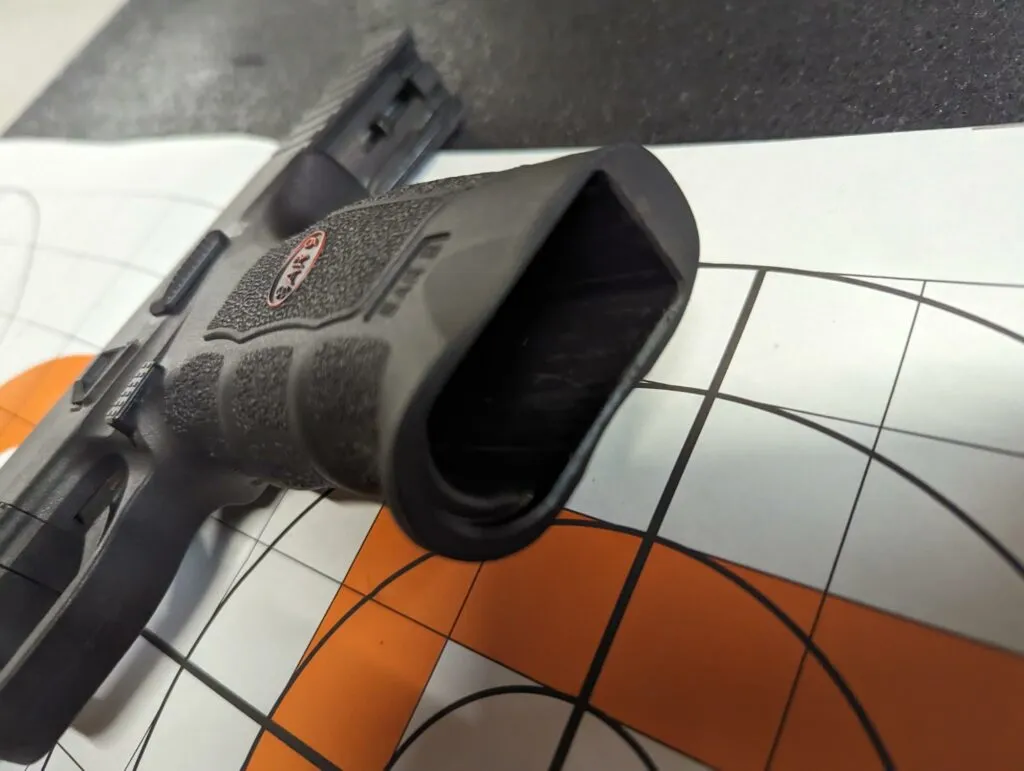 How We Tested
As usual, I rounded up my crew of miscreants, ranging from my wife, who is also a very accomplished gun writer (and a better shot than me with a handgun) to some friends who go to the range basically only when I invite them.
We shot mostly target ammo, with a few mags of good defensive stuff too, and all in all had a great time. The gun fed, fired, and ejected everything we loaded up, and everyone enjoyed the ergonomics and shooting experience.
Ammo Used
We tested with 400-ish rounds of reloads, a hundred rounds of factory fresh Winchester Target & Practice, one box of Hornady Critical Defense 124gr, and half a box of SIG V-Crown. Everything shot well, with the V-Crown producing the best groups over the Critical Defense by almost too little to even comment on.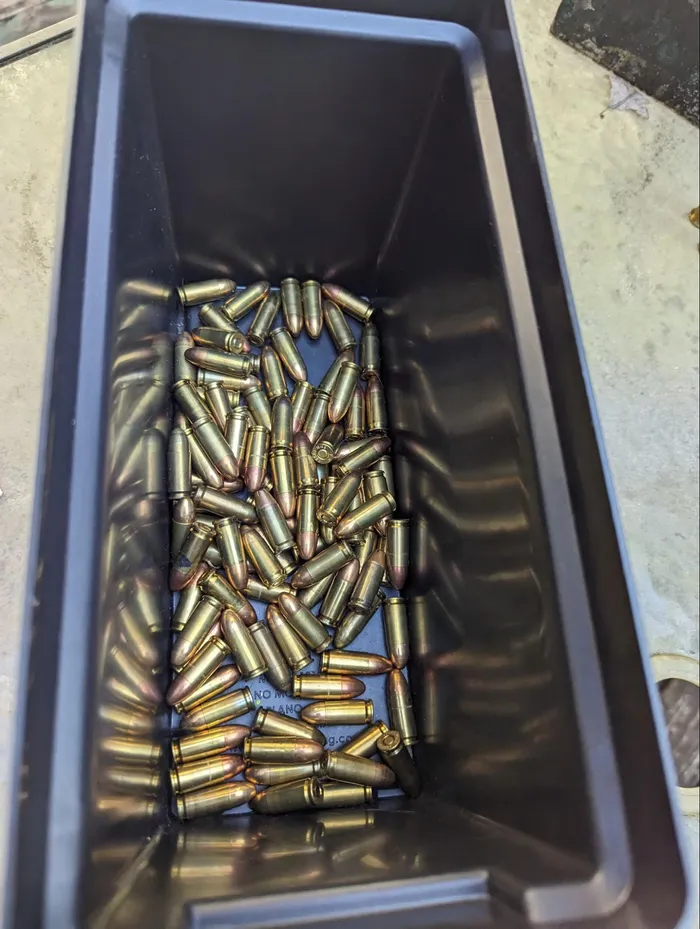 Score Card
Reliability (10/10)  
It's a striker-fired pistol in 2023. It better go bang every time. And it did.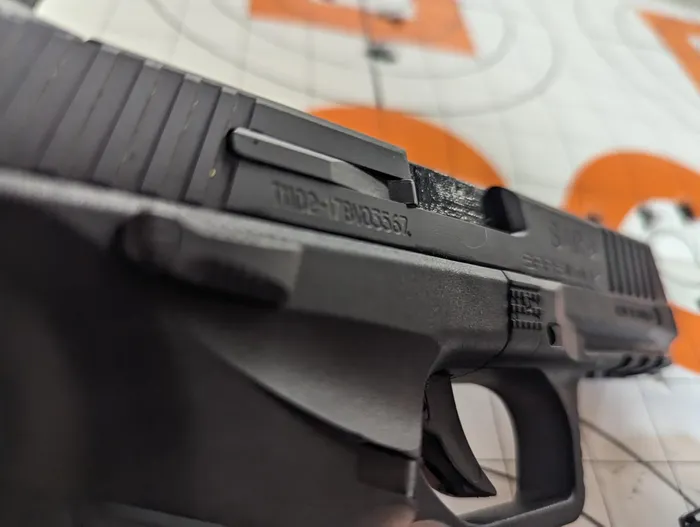 Ergonomics (8/10)
Great for the price, exceptional if you have all the optional grip panels.
Customization (7/10)
There's a decent aftermarket and a few different options for SAR, but definitely not a GLOCK in this department.
Appearance (7/10)
Not really a looker, still better looking than a GLOCK.
Value (10/10)
Because 11/10 isn't an option.
Best Accessories and Upgrades for the SAR9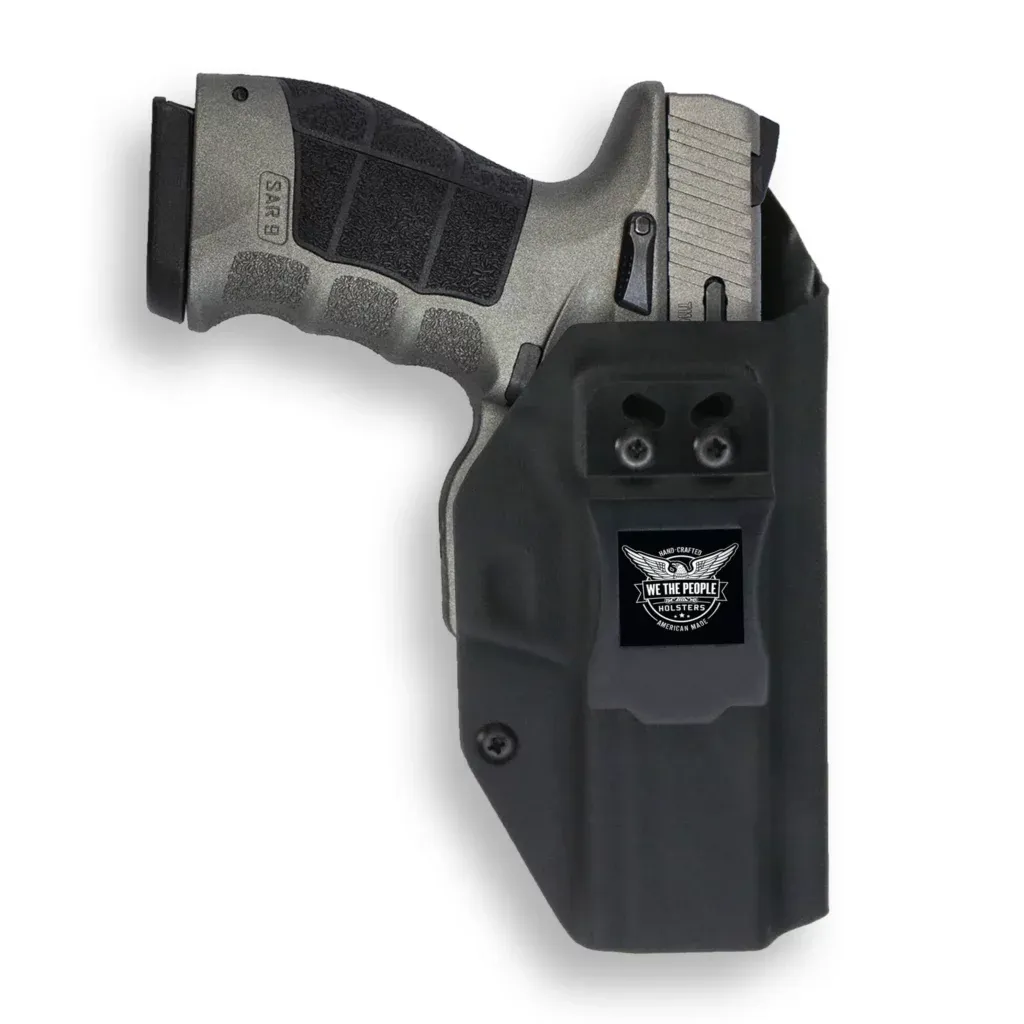 I like We The People holsters a lot, and this IWB holster is what my SAR9 is likely to live in if I ever carry mine. Otherwise, it lives in their OWB holster, which is one of my favorites. Not sponsored by WTP or anything, I just really like their stuff. Galco and others also make fine SAR9 holsters.
We reviewed some We The People holsters in the past if you want to learn more.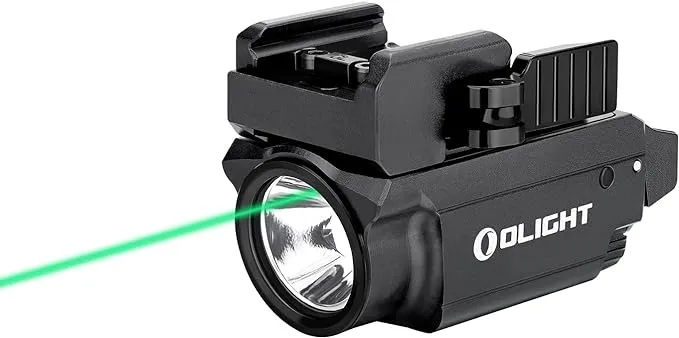 All. Defensive. Guns. Should Have. A Light. I like the Olight Baldr mini, and it fits nicely on the SAR9. This is especially good if you're using the gun for home defense, as the extra weight and bulk aren't really an issue if it's living in a quick-access safe on your nightstand.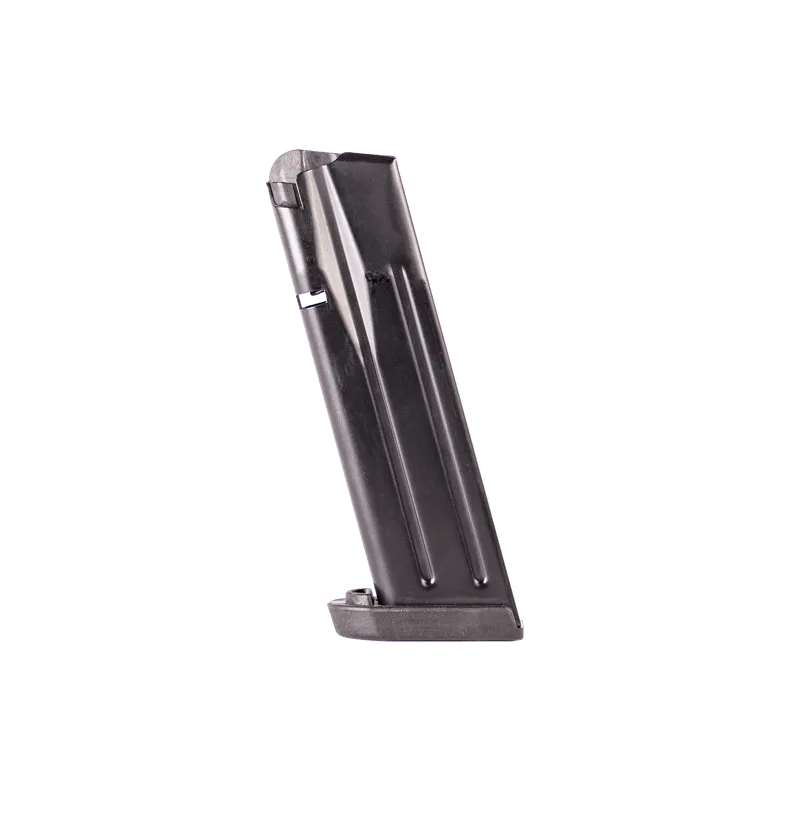 If you're looking for a little more ammo in the mag, either for defense or for competition purposes, then a nice +3 magazine extension is a great add-on. The extra length also makes mag changes easier and helps the mags drop free even if the gun is extremely dirty. And, of course, 17 rounds is never quite enough for a competition stage for something like USPSA. 20 is much better.
Alternatives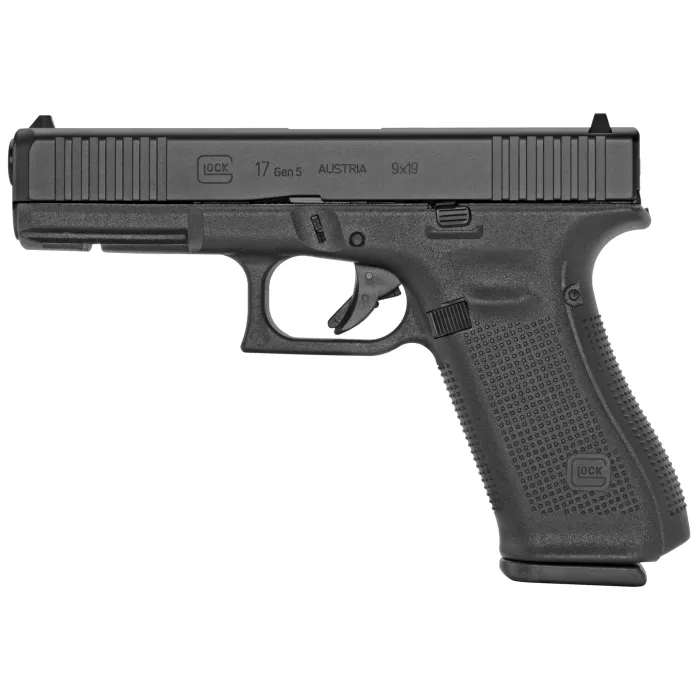 The standard to which all the best full-size 9mm pistols are judged. This is the most popular duty gun for police forces around the world and with good reason. Similar features and capacity, and a reputation for reliability that's been proven around the world.
Check out our Glock 17 Gen 5 review to get our full experience with one of our favorite Glocks.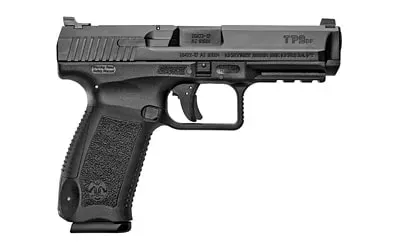 Another Turkish-made full-size 9mm that offers maximum bang for the buck. I have owned both and find them to be very comparable, so maybe give them both a try if you get the opportunity. I personally like the TP9SF just as much as the SAR9, though people I respect have sided both ways.
We got a chance to review the TP9SFx variant, which has a slightly longer barrel. Check out our review for more info.
Parting Shots
Overall, I was very impressed with my time with the SAR9. At this price, most people would be skeptical of an imported pistol without much heritage or reputation here in the US (as was I), but it shot well, shot reliably, and it offers some neat features and innovations to set it above even some of the more expensive competition.
If you're looking for a budget defensive pistol, whether for OWB carry, home defense, or as something to keep in a glovebox in case of a really bad day, this is an affordable option you can depend on.
What do you think of the SAR9? Is it proof that Turkey has more to offer the firearms world than just their shotguns, or are you going to skip this one? Let me know in the comments, I'm always interested in getting opinions from more folks.
Explore more