Stag Arms Stag 15 Pursuit Review: Not The AR-15 You'd Expect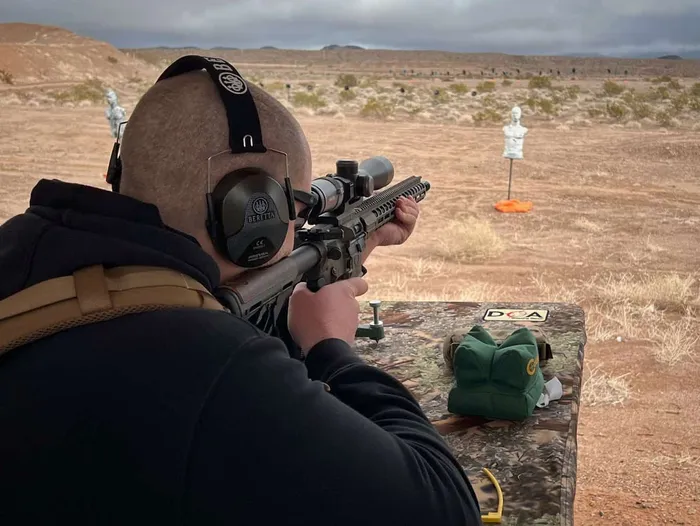 Stag Arms Stag 15 Pursuit Review: Not The AR-15 You'd Expect
Introduction
Stag Arms is not a new player in the firearms space, as it has been pumping out guns since 2003. But, over the last several years, it has seen a lot of change due to being purchased by a private equity firm and moving its headquarters to Wyoming.
It's often a hit or miss when it comes to acquisitions and rebrands, so I was excited to check out the latest and greatest from Stag. I got some trigger time with a Stag-15 SBR chambered in 5.56, and a Stag-15 rifle chambered in 6.5 Grendel.
Stag Arms prides itself on being one of the few major AR brands that offer left-handed configurations for every single product in their lineup, catering to the needs of all shooting enthusiasts.
This inclusive approach is further enhanced by their newer products coming standard with ambidextrous safety selectors, breach charging handles, and other features, ensuring maximum accessibility and ease of use for both right-handed and left-handed users.
I had fun shooting both the rifle and SBR, so let's take a closer look at them as I give my honest impressions and thoughts.
Stag Arms Stag 15 Review
Specifications – Pursuit Rifle (6.5 Grendel)
| | |
| --- | --- |
| Caliber | 6.5 Grendel |
| Capacity | 5 Rounds |
| Barrel Length | 18 Inches |
| Barrel Material/Finish | 4150 CMV – Nitride |
| Handguard Length | 16.5 Inches |
| Handguard Material | 6061 Aluminum |
| Muzzle | Threaded – 1/2×28 RH |
Stag 15 SBR

Specifications – Stag 15 SBR (5.56 NATO)
| | |
| --- | --- |
| Caliber | 5.56 NATO |
| Capacity | 30 Rounds |
| Barrel Length | 10.5 Inches |
| Barrel Material/Finish | 4150 CMV – Nitride |
| Handguard Length | 9 Inches |
| Handguard Material | 6061 Aluminum |
| Muzzle | Threaded – 1/2×28 RH |
Pros & Cons
Pros
Reliable and accurate

Free-float rail system

Upgraded furniture

Quality fit and finish
Cons
No iron sights

Some basic mil-spec controls
Shooting Test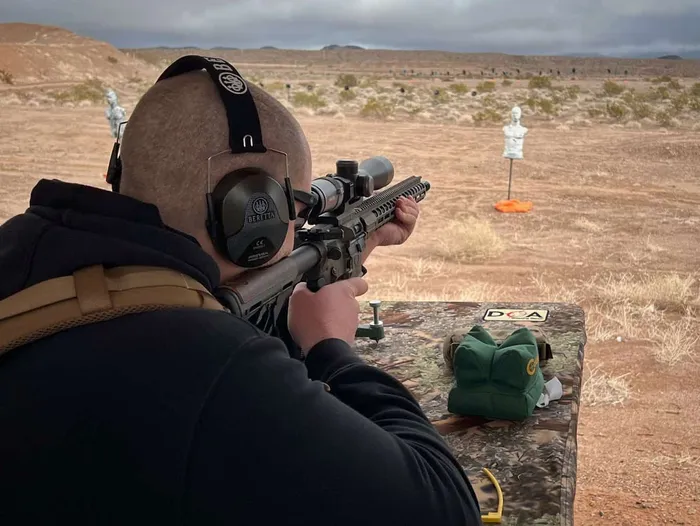 Reliability
The true reliability is going to be difficult for me to speak on since I had a limited time with both models. However, both were being shot ALL DAY long in some moist (off and on rain) and sandy conditions, and I still didn't experience any malfunctions with either.
Through some slow and methodical distance shooting and a quick mag dump, every round went down range with no issue. So far, so good.
Accuracy
Mounted on the 5.56 model was an EOTECH holographic sight and magnifier, while on the 6.5 Grendel model was a Maven RS.1 scope.
Both gave unfair advantages against the targets down range. With the 6.5 Grendel, we were ringing steel easily 100+ yards away (not sure of the actual distance), and with the 5.56, we were honed in more around 50 yards and just kept on beating up those steel gongs.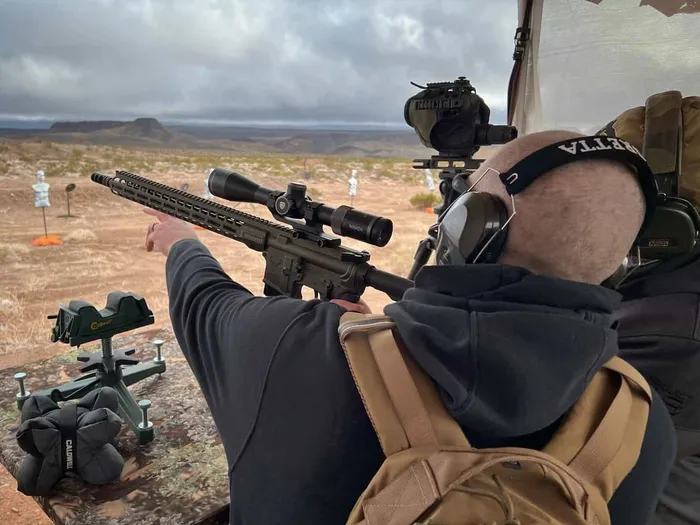 I'm confident that either rifle would remain accurate to a few hundred yards with the right optics ,like we had. You don't have to be a sharpshooter with these to see some great shots being made.
Overall Feel
Not too heavy, not too bulky, and a smooth handguard gives the rifles a solid but average feel in hand.
The handguards are slimmer than some I've recently used, which seemed to improve my control while transitioning between targets, despite not having any sort of foregrip.
One other interesting aspect is that Stag has leather on the stock of their Pursuit rifles which has been a very popular feature.
Features
Free-float Handguard and Rail System
I really like the free-float handguards on both of the firearms. They are Stag's Slimline models and feature M-Lok slots at the 3, 6, and 9 o'clock positions, with a rail on the top extending the entire length.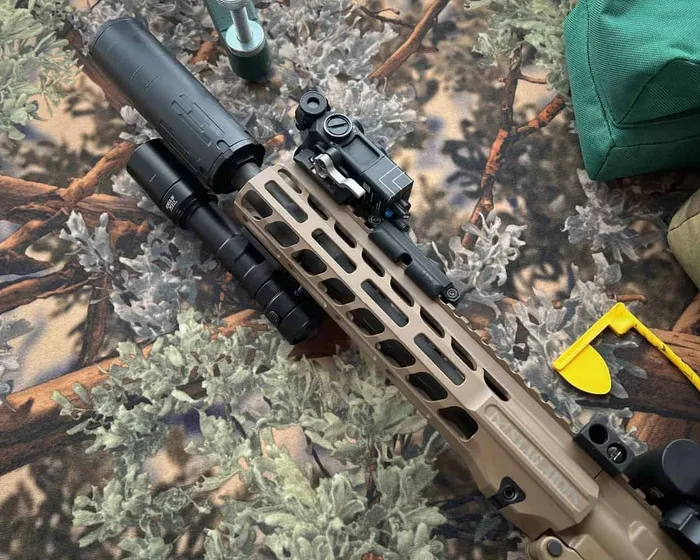 The 6061 aluminum that they are made out of is a great base for a beautiful Cerakote finish. With the finish on point and the smooth/slim nature of the entire handguard, these are ones I would actually run on other rifles.
Magpul Furniture
These days, many companies choose to add Magpul furniture to their builds. It's an upgrade from your basic furniture, without breaking the bank.
On these Stag 15s, the pistol grips, buttstocks, and even the trigger guards are all Magpul furniture.
The buttstocks are adjustable with various attachment points, and the pistol grips are definitely more ergonomic than the basic A2 style.
When it comes to the trigger guard, Stag went with an enhanced version that has a slight flare to it, which, if you like to shoot with gloves or just enjoy a bit more room, is much preferred.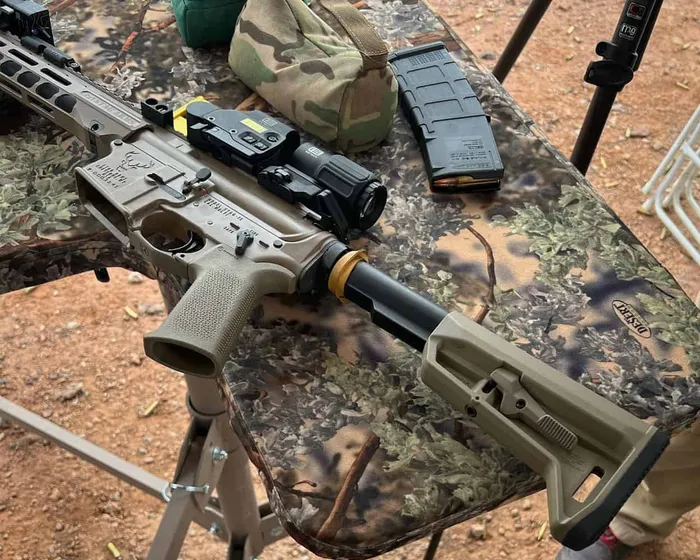 Mil-Spec Controls
I found the controls to be lacking the most with the Stag-15. Thankfully, these types of things are easy to replace.
The charging handle, magazine release, safety selector, and bolt release are all your basic mil-spec parts. They all function fine and get the job done, but outside of your "budget" ARs, I believe you should have  ambidextrous controls on any rifle.
I'd like to note the Pursuit model does have an ambidextrous charging handle and safety, though.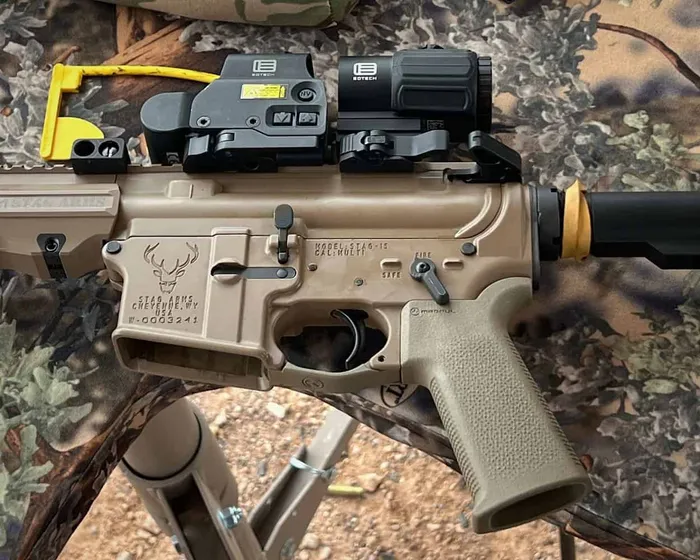 How We Tested
As you can see in some of the photos, we hit the range located in the middle of the desert to shoot these rifles at short, medium, and long-range distances.
With the ammo being supplied, we didn't have to hold back and could shoot as much as we wanted until we decided the next person in line deserved some shots!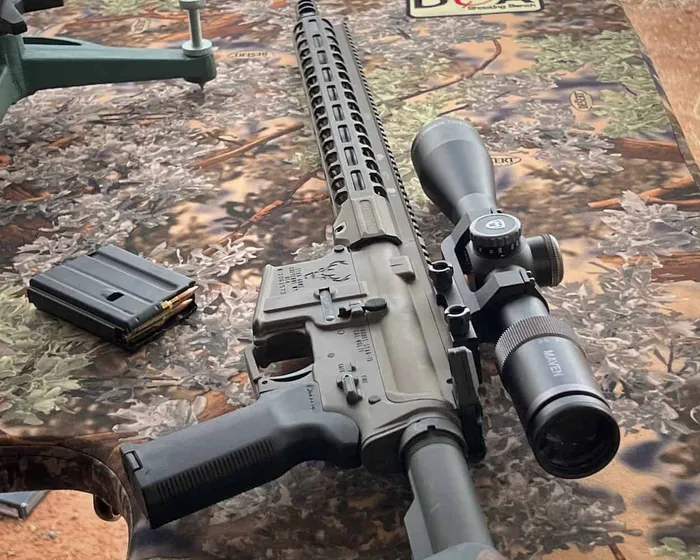 Ammo Used
Nosler supplied the ammo at the booth and did not skimp one bit.
We were able to shoot some of the 70-grain .223 match ammo, 55-grain .223 ballistic tip varmint ammo, and then finally some 123-grain 6.5 Grendel competition match-grade ammo.
I don't have a ton of experience with Nosler ammo, but I was impressed with what I saw that day.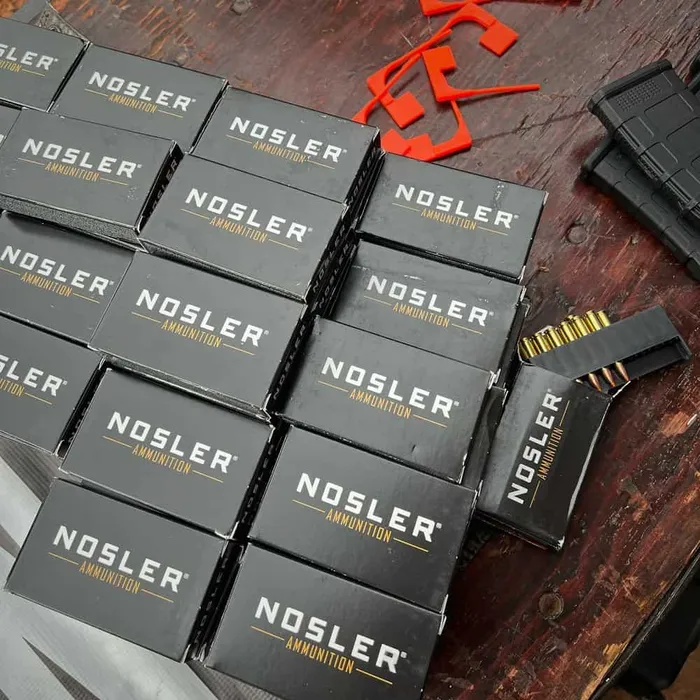 Score Card
Reliability (10/10)  
Both rifles performed flawlessly.
Customization (10/10)
Rail space, M-Lok slots and no proprietary parts limiting you make for an easily customizable firearm.
Appearance (9/10)
Upgraded furniture and various finishes are available to really make the rifles pop.
Value (8.5/10)
For the quality and performance the Stag 15 delivers, the price point seems to be in line with the competition.
Accessories
I will always run my rifles with backup sights.
The reason being, optics can fail, and you don't want to be stuck with no way to aim. The Magpul MBUS line is a staple in the shooting community.
The MBUS Pro Sights are made out of a corrosion-resistant steel, making them slightly more expensive than the polymer ones, but you get that extra durability.
They are low-profile and require no tools to adjust.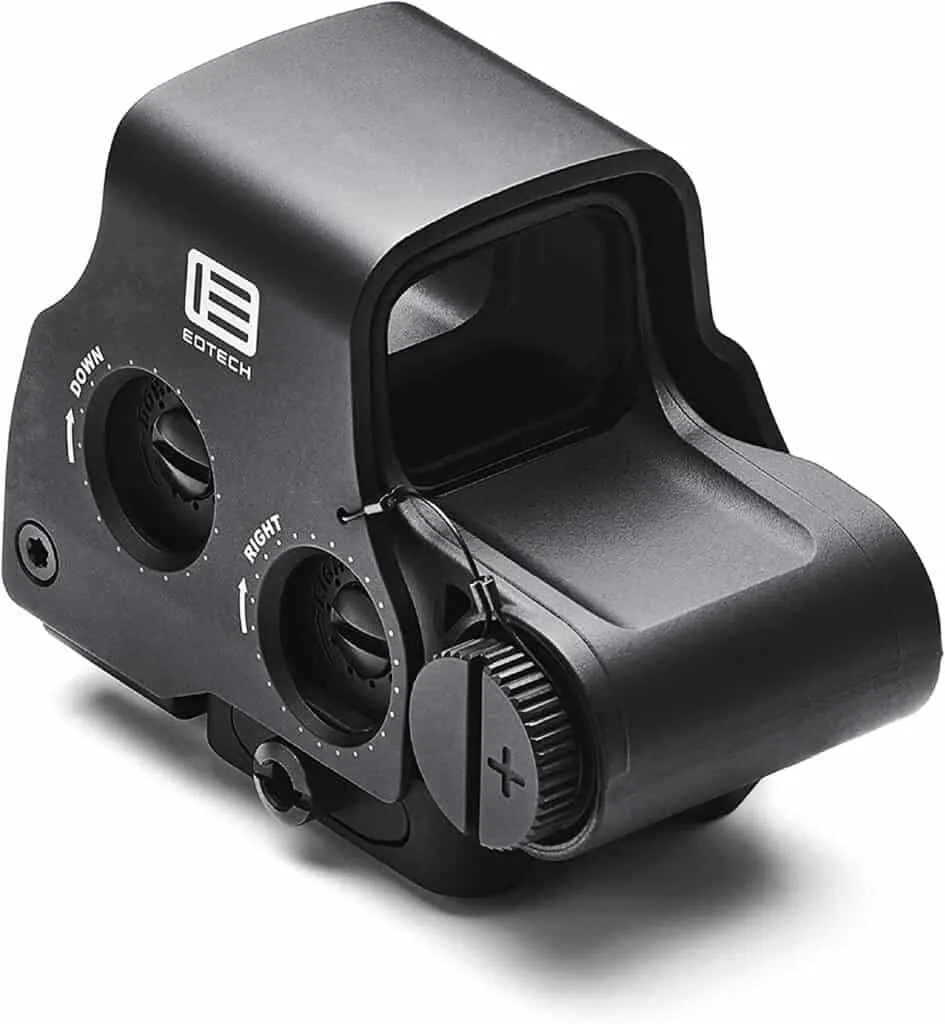 Iron sights are great, but optics can give you a huge advantage.
EOTECH sets the standard for holographic sights, with the EXPS3 being one of my personal favorites.
While pricey, you get what you pay for. You can choose between different reticles and color finishes, but they will all provide you with the same exceptional performance and reliability. They are night vision compatible, water resistant, and give you the ability to truly shoot with two eyes open.
Alternatives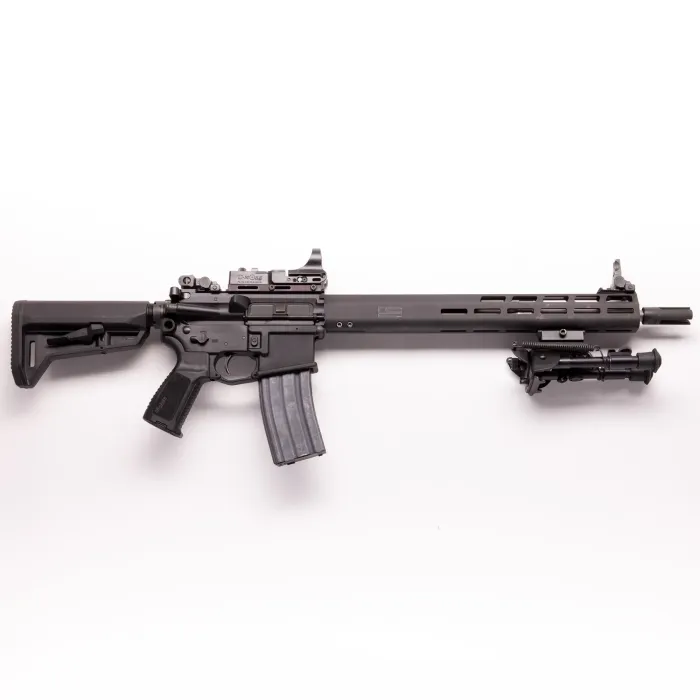 The M400 Tread is a great intermediate rifle. It comes with a free-floating handguard, ambidextrous controls and upgraded furniture. It features a 1:8 twist rate and is very reliable. Best of all, you can find it for under $850 on the right day.  
For more info, check out our SIG Sauer M400 Tread review.

Want to save some money for ammo and that new optic?
Palmetto State Armory's Mid-Length 16" Lightweight AR is a great one to look into. It has a 1:7 twist rate, a chrome-moly vanadium steel barrel, and a free-float handrail. It even comes with Magpul MBUS Sights and furniture.
Coming in closer to $600 when on sale, you'll have plenty of cash money left to treat yourself.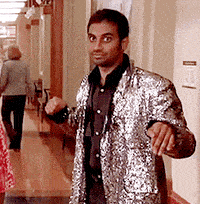 Conclusion
With the Stag 15 line having several models ranging from its standard "Classic" all the way to the upgraded  "Elite," I can see the appeal to almost all of them.
Given some of the alternatives that are out in the market, I don't see a Stag 15 being my "go-to," but I definitely wouldn't be mad at owning one, either.
With how well the two models I got to shoot performed and were finished, I'm excited about what's coming from Stag. I think they are definitely worth keeping tabs on.
Have you had the opportunity to shoot a Stag 15? If so, what did you think about it? What comparable would you recommend?
Explore more