The Search for the Best Glocks [2023]: Why You Should Add One to the Collection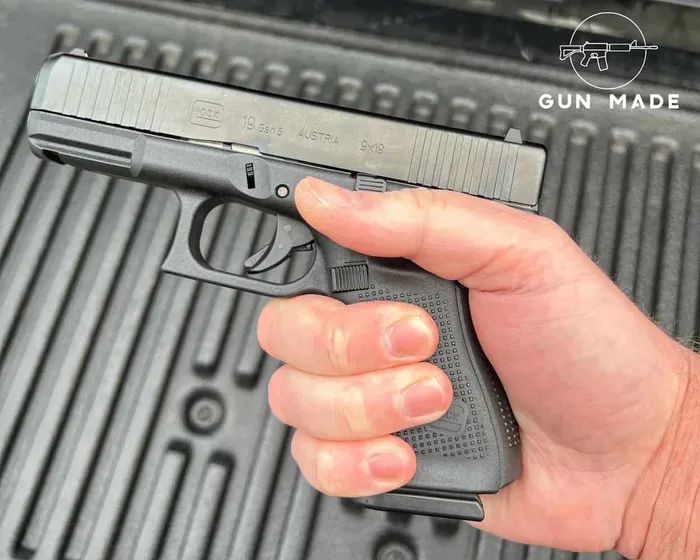 The Search for the Best Glocks [2023]: Why You Should Add One to the Collection
Introduction
If I had a penny for every time I was engaged in a debate of what the best pistol would be… If it turned into what the best Glock is, I would probably be able to give Elon a run for his money.
Seriously, there is never a pistol conversation where Glock isn't brought up.
And that is no surprise. Since 1963, Glock has been delivering pistols that do what you need them to do when you need them to do it. No matter what.
Millions of people from all walks of life with different credentials trust Glock when they have to take care of business. From your local street pharmacist to members of the Secret Service.
But which Glock is the best Glock for you? Well, that's what we're here to find out.
7 Best Glocks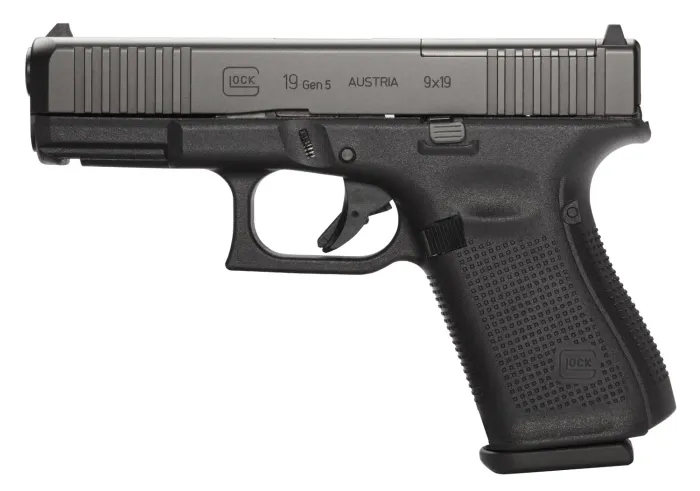 Specifications
| | |
| --- | --- |
| Caliber | 9mm |
| Capacity | 15+1 |
| Weight | 1.4 lbs |
| Length (Overall) | 7.28 In |
| Optic Cut | Yes |
Pros & Cons
Pros
Compact, works with large hands

Adapter plate for different red dots

Multiple magazine sizes available
Cons
Blocky U sights 

Lower magazine capacity than other compact pistols 
Why not start off with the most popular firearm on the market?
No, literally. I don't know about you, but have you tried finding a Glock 19 lately? I have a better chance of finding out where my dad went to get milk.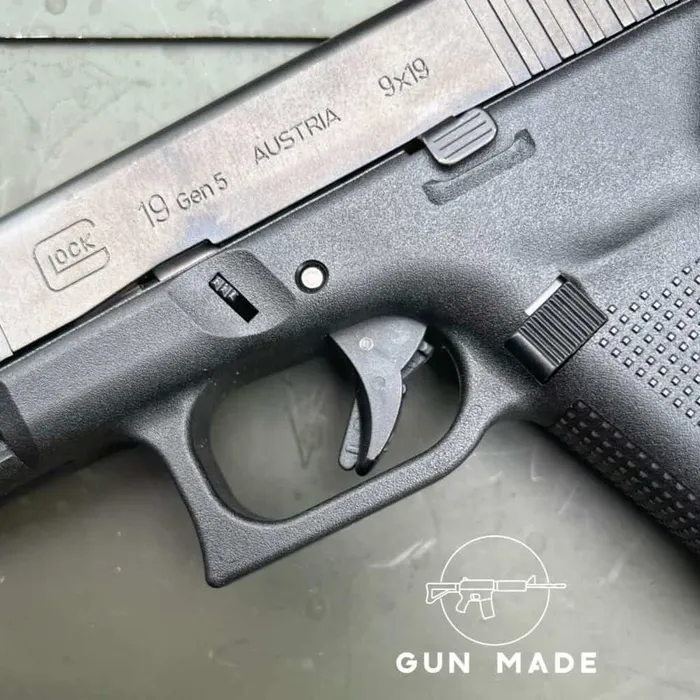 The Glock 19 has been a favorite among shooters longer than I have been alive and will most likely continue to outsell all other manufacturers in the foreseeable future.
I picked it for the best overall Glock for a few reasons, but a major factor is how well it does on the market. These things sell like hotcakes for a reason, whether they are MOS cut or not. Since this version allows for the shooter to add a red dot, that just adds to it.
And, let's face it, Glock isn't known for their iron sights. Those blocky U rear sights take some getting used to. But who needs to get used to it when you can add an optic? It's a no-brainer. Unless you're into stuff like that.
While it may not win a beauty pageant, the Glock 19 MOS will serve you in all areas that a pistol can. Just ask the 20,000,000-plus shooters who use them every day.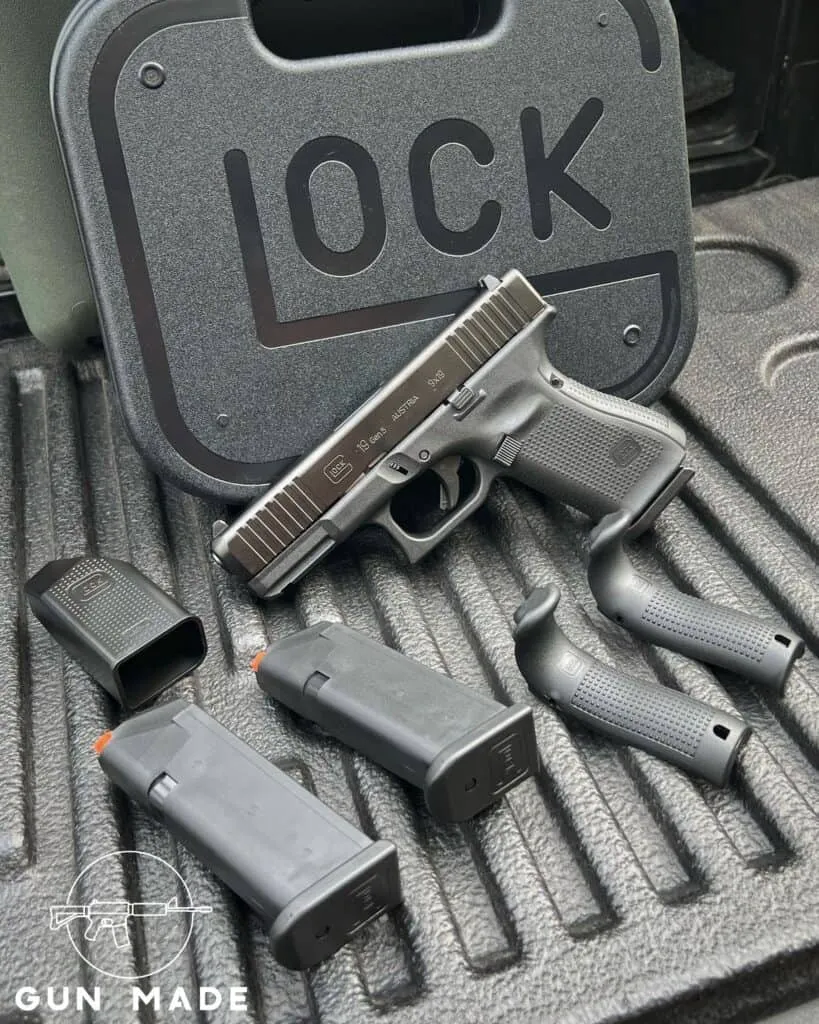 More about this in our Glock 19 Gen 5 review.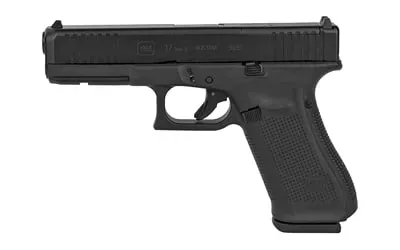 Specifications
| | |
| --- | --- |
| Caliber | 9mm |
| Capacity | 17+1 |
| Weight | 1.5 lbs |
| Length (Overall) | 7.9 In |
| Optic Cut | Yes |
Pros & Cons
Pros
Multiple adapter plates come with MOS pistols

Ambidextrous slide release

Crisp trigger pull
Cons
May be too big for some shooters

No finger grooves

Aftermarket sights are recommended
And now for the second most popular pistol in the firearm industry. The Glock 17.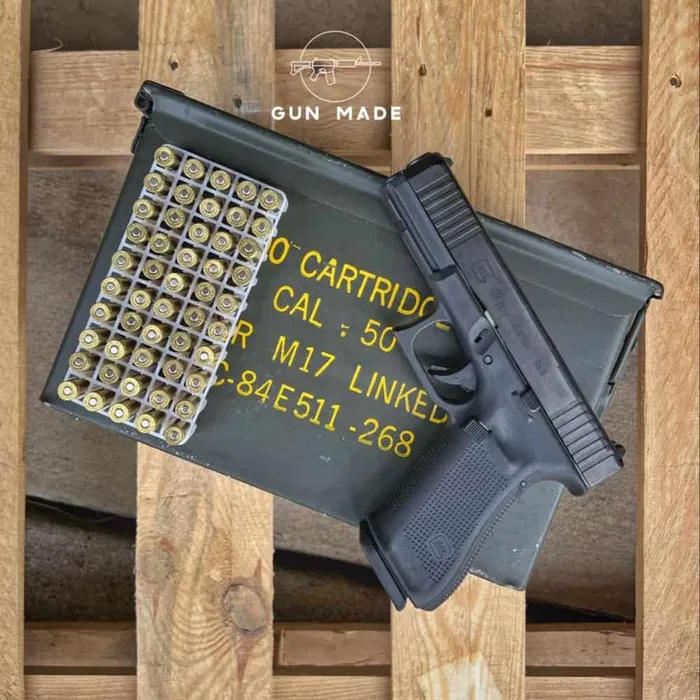 A little bit bigger than the Glock 19, the 17 is a full-size pistol that gives you more size and performance than the G19.
The barrel length on the Glock 17 is 4.49 inches compared to the 4.09 inches on the Glock 19, and it leaves plenty of room on the grip, even with bigger hands.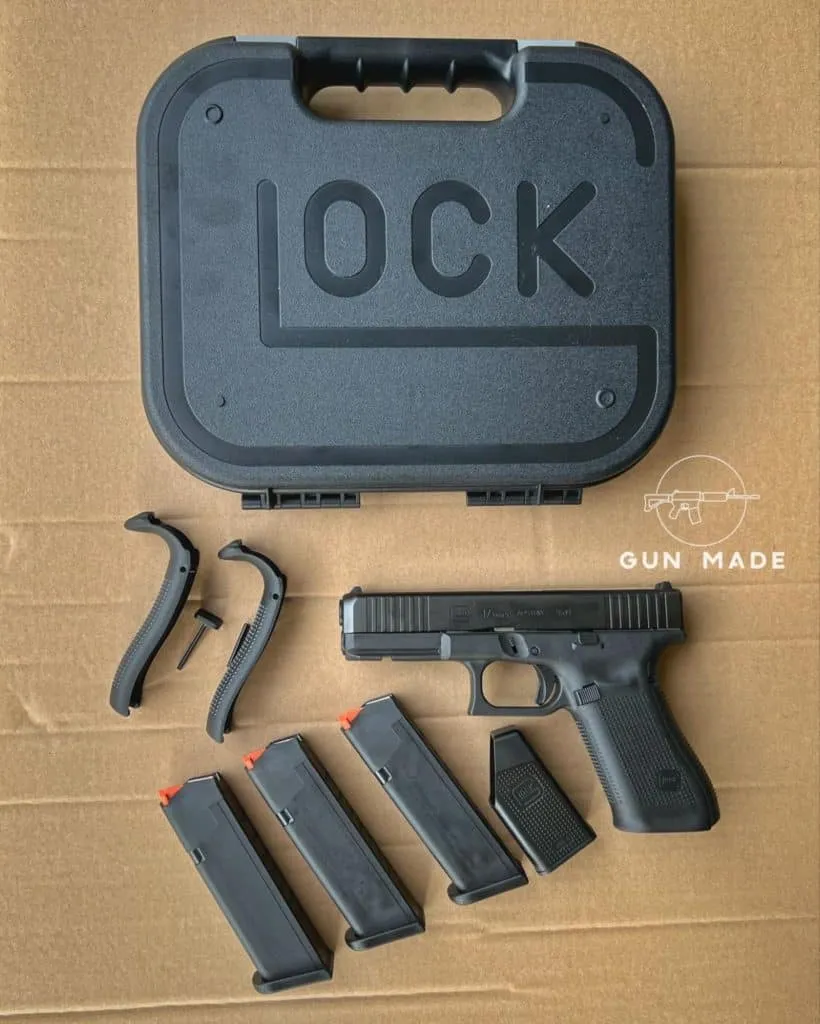 This Glock 17 is cut for an optic as well, and when you match it with the longer barrel, it will aid you in getting those precise shots on target with less muzzle flip.
Since it is the Gen 5, the finger grooves have been stricken from the grip module, but if you like that stuff, the Gen 4 Glock 17 MOS will serve you just as well, with the drawbacks of being non-ambidextrous and no front slide serrations. The former is only a drawback for left-handed shooters, but no serrations can be a bit too much to give away.
If you are looking for a new combat pistol, the Glock 17 Gen 5 MOS is the workhorse to put your faith in. A little bit of a barrel goes a long way, and we can all live with a little less muzzle flip.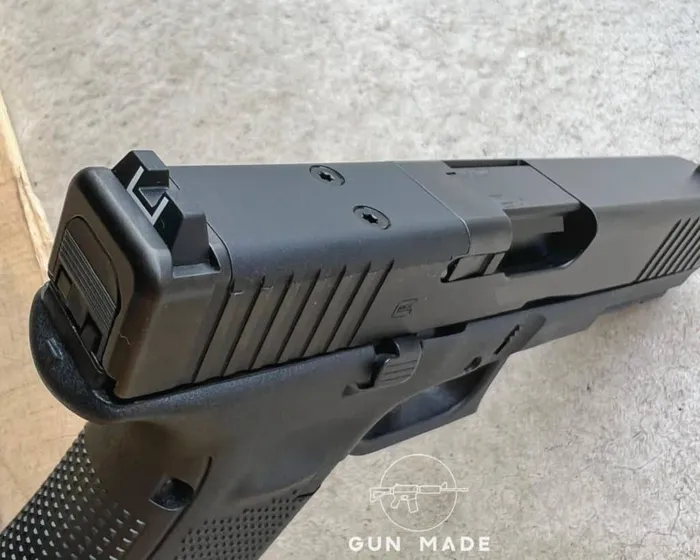 Read more in our Glock 17 Gen 5 review.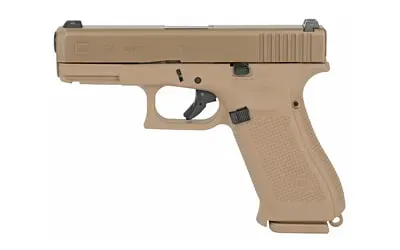 Specifications
| | |
| --- | --- |
| Caliber | 9mm |
| Capacity | 17+1 |
| Weight | 1.5 lbs |
| Length (Overall) | 7.44 In |
| Optic Cut | No |
Pros & Cons
Pros
Coyote Tan nPVD coat

Cross over design 

Glock Marksmen Barrel
Cons
No MOS cut

No manual safety

No front serrations
Very rarely does the U.S. Military change up the firearms that are issued to members of the different branches.
When the U.S. decided to go away from the Beretta M9, they held a competition between eight manufacturers, one of them being Glock. And the Glock 19X was their entry for the trials.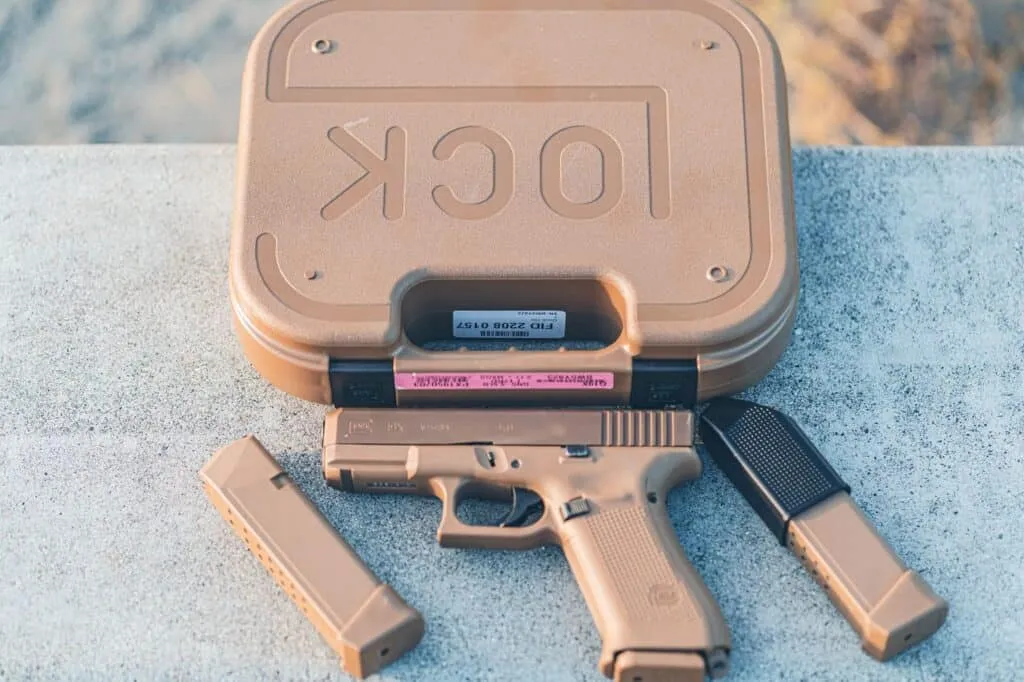 While it didn't win, the reasoning came down to money and modularity at the end of the day. The 19X performed flawlessly, but Sig Sauer's M17/M18 entries were a bit cheaper (when buying in bulk like the military does) and had a more modular platform.
Don't get me wrong; I love this pistol. I have bigger hands, so the Glock 17 frame with a 19 slide was a match made in firearm heaven to me. Not to mention that coyote tan nPVD coating that you don't see on any other Glock from the factory, but we should.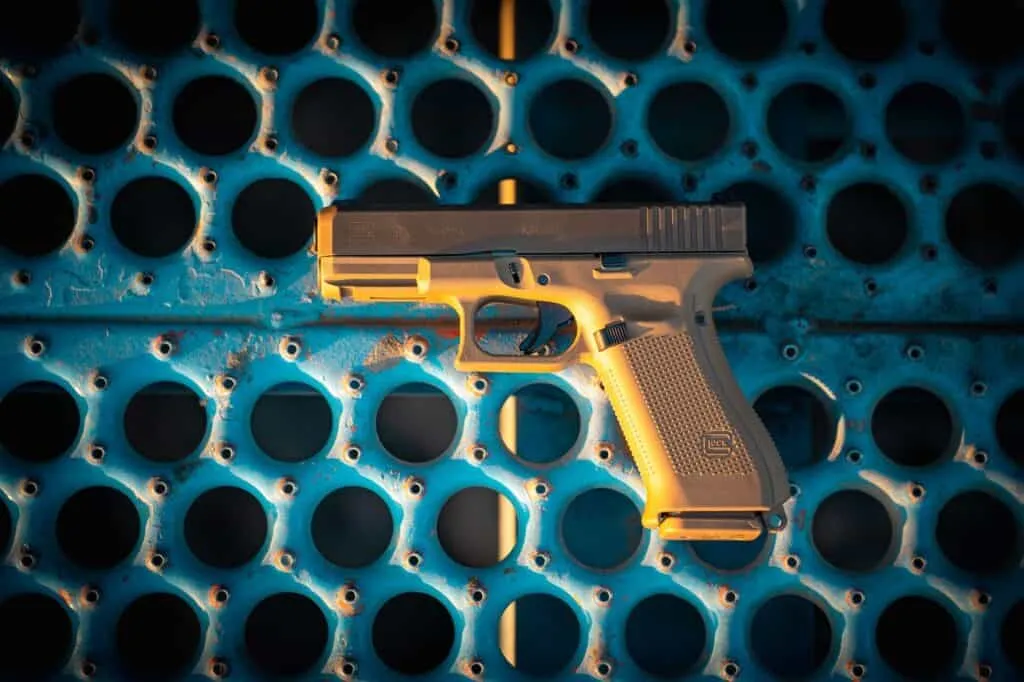 My biggest issue with the 19x is the lack of an MOS cut, which is a huge factor in the Sig Sauer entries winning over the Glock. Since the MOS cut is an option on many other Glock variants, I feel it should also be an option on the 19X.
If you want something similar to the 19x that has everything the 19x should have, get yourself a Glock 45x. Thank me later.
Read more in our Glock 19x Gen 5 review.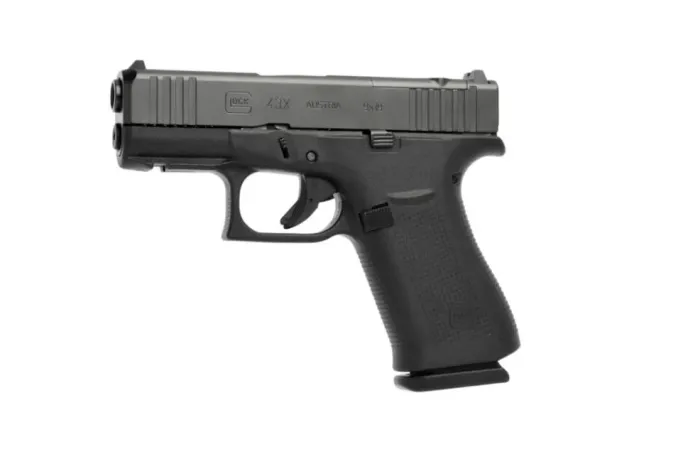 Specifications
| | |
| --- | --- |
| Caliber | 9mm |
| Capacity | 10+1 |
| Weight | 1.16 lbs |
| Length (Overall) | 6.5 In |
| Optic Cut | Yes |
Pros & Cons
Pros
MOS cut

Front slide serrations

Easy to conceal carry
Cons
Shorter barrel = less recoil control

Stock sights could be better
Another crossover design from Glock, but this time they focused more on concealed carry with an even smaller slide on a longer grip. The slide stays the same as the 43, with a bigger grip for those of us with bigger mitts.
It is a wonderful idea. Us folks with larger hands need love too, but we don't want to carry around a 17 or 19 if we don't have to.
It is an acquired taste, though. If you don't like Glock, you probably won't like it. It just seems like a bad idea. But, when you want something reliable that won't have folks wondering if you're happy to see them, then the 43x is one to consider.
And, I love that MOS cut. I don't think firearms should be hitting the market without having that option. Let's face it; red dots are easier to find than those bulky U sights in the rear. And if you're conceal carrying, every second counts.
One of the downsides I found with the 43x is the small magazine capacity that comes with the gun from the factory. A 10-round magazine capacity on a crossover 9mm pistol? No thanks.
That is the only thing that keeps me from carrying the 43x and siding with the P365XL since I have the comfort of two extra rounds. And while many of you will say that it doesn't matter, trust me, it does.
If you're looking for a great concealed carry pistol, take a look at the 43x. I carried one while attending a wedding (just in case I ended up in a Max Payne situation, you know), and I didn't have to worry about printing at all.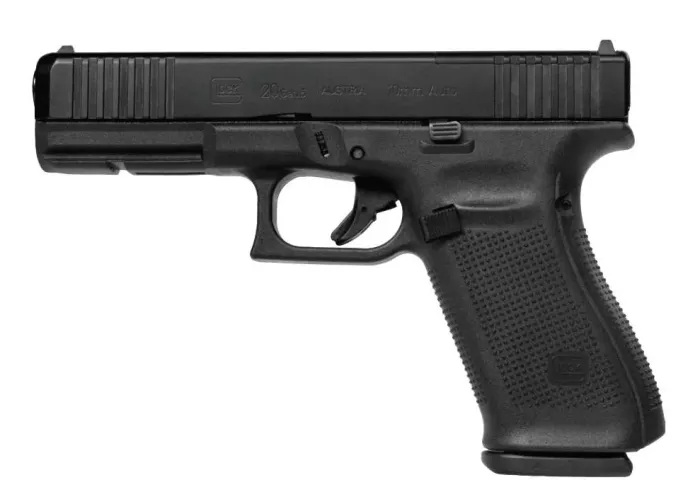 Specifications
| | |
| --- | --- |
| Caliber | 10mm |
| Capacity | 15+1 |
| Weight | 1.8 lbs |
| Length (Overall) | 8.07 In |
| Optic Cut | Yes |
Pros & Cons
Pros
MOS Cut 

Front slide serrations

Great magazine capacity
Cons
Stock sights take some getting used to 

No manual safety

Some may prefer a smaller pistol
Ahh, the big bear round. If I had to be dropped into bear country with one pistol as my backup, it would be the Glock 20.
Why?
Well, there are not that many semi-automatic pistol rounds that will send a bear to the pearly gates better than a 10mm. When you pair that with a pistol as reliable as a Glock, you can breathe a little bit easier.
It is a pretty big gun, but that is to be expected when you're slinging around a pistol chambered in 10mm. It's not meant to be small, but if you want a small 10mm, look at the Glock 29.
They really do have an answer for everything. Maybe I'll add a 10mm to the conceal carry rotation.
Of course, it had to be MOS cut. I do not want to have to rely on those stock Glock sights when an 800 pound bear is trying to make me his dinner.
Having that MOS cut allows you to place that big round exactly where you want it to, so long as your red dot is adjusted correctly. When it counts, you don't want to miss.
So, if you're looking for a pistol that will hold up against game both big and small, and you don't want to lunk around your rifle when you go to relieve yourself behind a tree, get the Glock 20.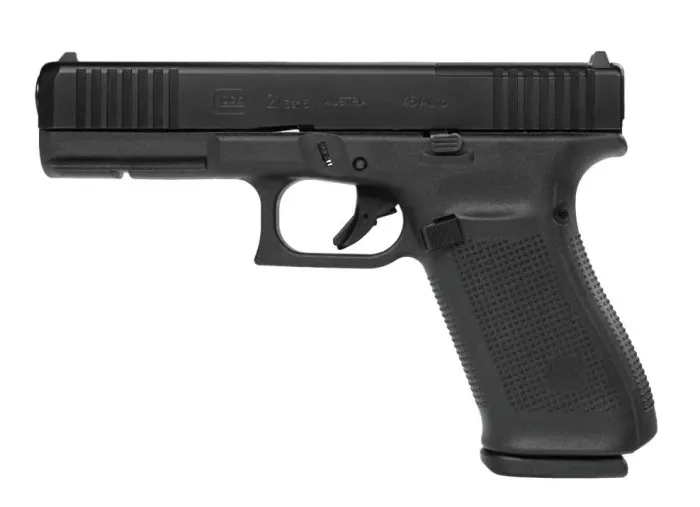 Specifications
| | |
| --- | --- |
| Caliber | .45 |
| Capacity | 13+1 |
| Weight | 1.8 lbs |
| Length (Overall) | 8.07 In |
| Optic Cut | Yes |
Pros & Cons
Pros
MOS Cut

Front slide serrations

Doesn't push like a .45
Cons
No manual safety

Magazine capacity is okay

Aftermarket sights recommended
When you think of a .45, you probably think of the 1911. Come on, it's okay, I'm guilty of it too.
But do you ever think of a Glock? Probably not. But Glock has been a purveyor of fine shooting .45 pistols since 1995, and while the 1911 has paved the way for .45 caliber pistols, Glock is here to step it up a bit.
Enter the Glock 21 Gen 5 MOS. Nothing fancy, it is a Glock, but once you get a good grip on that polymer slide and pull that trigger, a nice little push reminds you that you are now shooting a .45.
But it isn't unbearable. The reason I chose the 21 is because of how well the size seems to make the .45 feel just right.
The .45 isn't a wrist buster by any means, but you can tell the difference.
Another reason why you see this Glock 21 in front of you is because of the MOS cut, much like many of the other pistols on this list. Shooting a .45 caliber pistol with a red dot takes away from the time the shot goes off until you get back on target.
Which is a major reason why people choose the 9mm over a .45.
Let's not count it out just yet.  
Specifications
| | |
| --- | --- |
| Caliber | .357 Sig |
| Capacity | 13+1 |
| Weight | 1.5 lbs |
| Length | 7.3 In |
| Optic Cut | Yes |
Pros & Cons
Pros
Swappable barrels for shooting .40S&W

Adjustable backstraps

Works with some Glock .40S&W magazines
Cons
Ammo may be hard to find

No manual safety

No front serrations
Putting a Sig Sauer round into a Glock makes me feel all warm and fuzzy inside. Almost like it shouldn't be done. But when a new pistol round comes out, you can guarantee that Glock is gonna take a stab at it.
I wonder if they're gonna make a pistol chambered in 5.7…
Hmm, maybe. Anyway.
The reason I chose the Glock 32 as the best Glock for .357 Sig is because of how snappy the little hybrid round can be.
Remember, it's a .40S&W round necked down to a 9mm. So that little snapback can be a little tough to deal with on small barrels.
And there is the longer-barreled Glock 31, but I don't want you to have to carry around a hand cannon. Unless you want to.
I found that the Glock 32 is the perfect balance between compact and being able to hold up to the .357 round. I also mentioned it as the best value pistol chambered in .357 Sig. You can read about that later.
I have not seen any MOS cut Glock 32s, and since the market seems to focus more on popular rounds, I feel we might not see any at all. There aren't any Gen 5 Glock 32s either, so none of them have slide serrations in the front.
Still, it is one heck of a pistol.
How We Chose our Top Picks
Well, it had to be a Glock, of course. That's a no-brainer. So the reliability is there.
I purposefully left out those Glocks that have those super small grips. Even for people with small hands, they're just awful. My girlfriend is 5", 100lbs, and couldn't find comfort on those grips. Let alone someone with big hands.
No one wants a stinky pinky. Small grip Glocks went out of the window. Unless you're into that type of stuff.
I also tried my best to make sure that these picks had optic cuts, or like Glock says, MOS cuts. Red dots are better than iron sights in all ways. So what they run on batteries? Those batteries will probably outlive the life of the gun.
Glock Buyer's Guide
Have you found out which Glock is the best for you? There are some more things you should consider if you are here in search of the best Glock for you.
Let's face it; guns are expensive. Ammo is expensive. We have a very expensive way of life, you and I. Do you really want to invest in something you may end up hating later?
Of course not. Let's talk about it.
Glock, the Block of the Gun World
Of course, they work great. They do what you do when you need them to do it. So what is the big deal? It's like the Toyota of the gun world. It runs no matter what, but you would not want to pull up to the prom in it.
Me, personally, I like to look at my guns. Growing up in a state like New Jersey left guns out of the question for a long time. So, sometimes, it's nice to sit back and look at them.
I do not like looking at Glocks. Don't get me wrong; I love Glocks for their functionality. And if I was dropped in the deep woods with any pistol, I would want a Glock.
But my living room is not the woods, so my Glock stays in the safe for emergencies. And the Sig Sauers, FNs, and H&Ks come out to hang.
That's okay, because Gaston Glock didn't design these guns for looks. He wanted something easy and cheap to produce, reliable, and functional. Like a Toyota.
Different strokes for different folks, I guess? You may not agree, but you might agree.
What Are You Using It For?
Well, what are you? Buying a Glock for concealed carry and buying a gun for hanging out in bear country are two different things, and while 9mm may be okay for most situations, you don't want to stake your life on it against an 800-pound grizzly.
Glock or Sig Sauer?
Do you want something cheap and reliable? Too easy, get a Glock.
There are a bunch of different variations to choose from. There is no doubt that you can find one for your needs, put 10,000 rounds through it, and swap some pieces out and get right back to it.
If you want something reliable, looks good, and can stand the test of time? Get a Sig Sauer.
While there might not be as much of a variety, there is one for you out there. You can still put thousands of rounds through them and look good at the same time.
The Aftermarket Realm
I think I've said it before, Glock has more aftermarket parts than a 1995 Honda Civic. And I say that with confidence.
You can probably turn it into a rocket launcher if you want to.
No, not really, but you get the point.
Being that Glock has one of the most prominent names in the firearms industry, there are hundreds of companies that are looking to fill a gap in the industry with their aftermarket slides, barrels, grips, etc.
If you don't like something, just switch it up. Tailor it to your needs.
If you're interested in taking your Glock to the next level, you should definitely check out our comprehensive guide on the best Glock triggers available on the market.
Glock Talk (FAQs)
What Glock does the military use?
Glock 19 is a favorite in many special forces groups.
What Glock do police officers use?
What is the coolest Glock?
The Glock 18 is probably the coolest Glock, but that's because you can go full auto with it.
Conclusion
What do you think about this fine list of Glock pistols? Did you see one of your favorites up here? You know what to do. Let me know down below.
While Glock may not be the most aesthetically pleasing pistols on the market, they have built themselves a foundation on being one of the most reliable pistols on the market. Put that together with the low price mark on the Glock, and you have yourself a great recipe for shooting.
See you on the range, happy shooting.
Explore more