Best AR-15 Suppressors [2023]: The Element of Surprise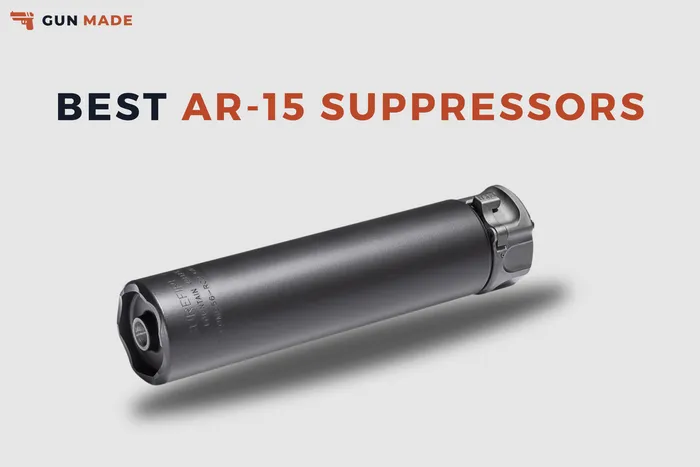 Best AR-15 Suppressors [2023]: The Element of Surprise
Introduction
Admittingly, I have been searching for the best AR-15 suppressor for quite some time. It isn't the easiest thing to find when you understand how costly any mistakes might be.
I can't think of one person who wouldn't mind slapping a can on the front of their AR-15. Not only does it aid with keeping the decibels down a bit, but it also looks pretty damn cool. And for anyone who wants to complete their AR-15 build, a suppressor may be the missing piece.
But finding the best one for your shooting style and build comes with a few obstacles. One, there are a bunch of cans on the market; two, it's pretty expensive to get your hands on one. Not only do you have to come out of pocket for almost a grand or more, but the ATF has to get their hands on it (and some of your money) before you can take possession.
Before all of that, you have to find out which one is the right one for you. And since you can't afford to make any mistakes, you don't want to mess around and end up with the wrong one.
But that's why you have me here! I feel your pain, fine shooter. I am waiting for my suppressor to take its place on my rifle.
All of that aside, let's jump in and talk about the suppressors and find out which may be best for you.
Side Note: "Can" is a slang term for a suppressor, and you will find it often used throughout the text. 
Just a heads up. I know; you probably knew this already.
Best AR-15 Suppressors
I understand you may be in a rush. Maybe you're at the gun store now and need to figure it out quickly. Here's a list.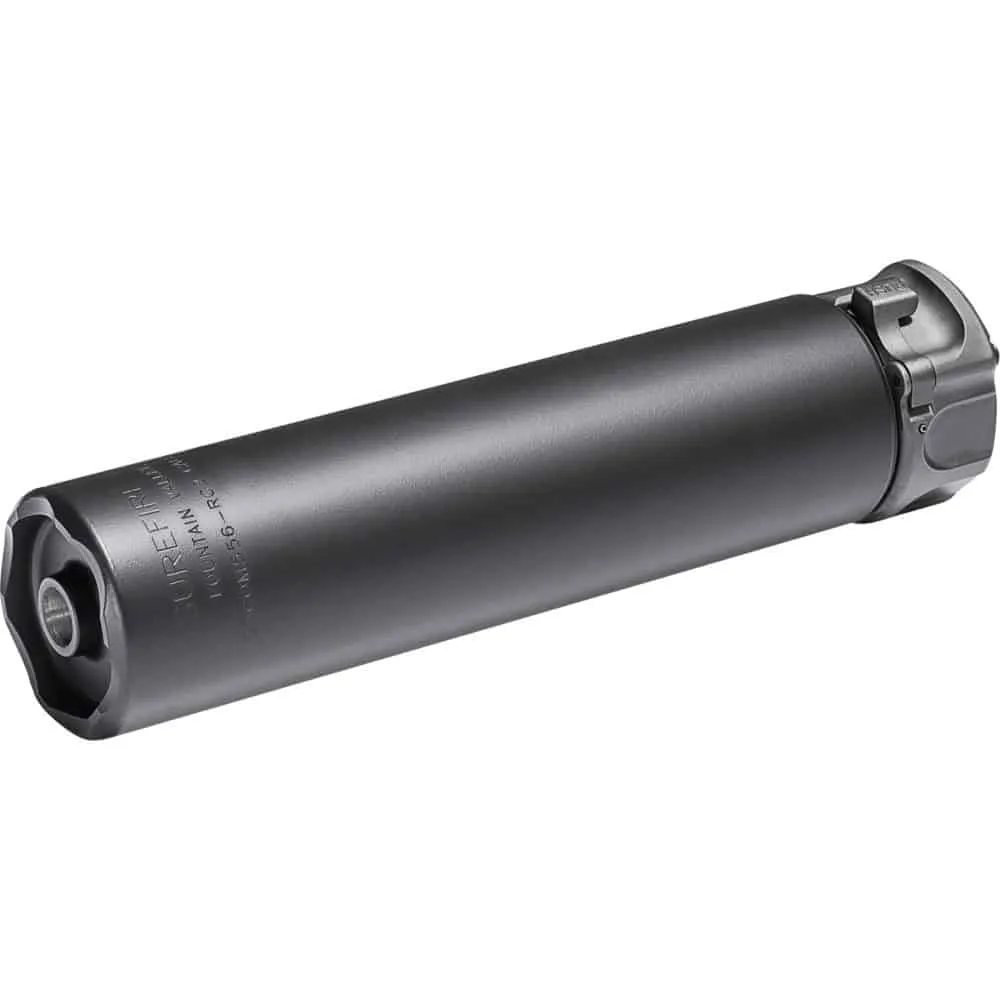 Specifications
| | |
| --- | --- |
| Caliber | 5.56/.223 |
| Length | 6.4 inches |
| Weight | 1.06 pounds |
| Sound Suppression | 32 decibels |
| Construction | High-Temp Alloy and Stainless Steel |
Pros & Cons
Pros
Tested and Trusted by members of U.S. Special Forces

One of the best sound suppressors on the market

Reduces first-round muzzle flash

Surefire Fast-Attach
Cons
Expensive 

Needs a SureFire muzzle device to mount 

And the mounts are also expensive
A suppressor has to be good to win a contract with our military, no?
We'd both like to think so. And in this case, the SureFire RC2 is no exception to the rule. Even those in the civilian sector who want the best from their suppressors use the RC2.
When doing extensive research on this suppressor, I could barely find any complaints about it. The reviews were jumping like an exclusive frat party. Especially with the Fast-Attach system that the RC2 uses. Let me explain.
On SureFire's Fast-Attach compatible muzzle devices, there is an index tab on the device that aligns with a notch inside of the suppressor. Once they are mated together, there will be no left or right movement, so you know that the suppressor is fully mounted. Then, tighten the lock ring. Simple as that.
The Labyrinth seals also work to make sure you don't have to wrestle the can off due to carbon buildup. Ain't nobody got time for that.
SureFire claims that the RC2 will lower flash by 98.3 percent over bare muzzle (no muzzle device), and this claim is true. Muzzle flash with the RC2 is very minimal.
Which will come in handy when you're shooting suppressed with night vision. And those around you who may be running night vision as well. Talk about concussion.
Overall, the RC2 holds the top spot since it is in wide use by folks who rely on their suppressors in foreign lands. If it's good enough for a SEAL team, then it is good enough for us LARPers who run around the woods with night vision and Hawaiian shirts.
I even heard a story of the RC2 having 99,000 rounds put through it, serviced by SureFire, and still running reliably (which the review below also points out). So expect longevity to be more than you'll probably ever need.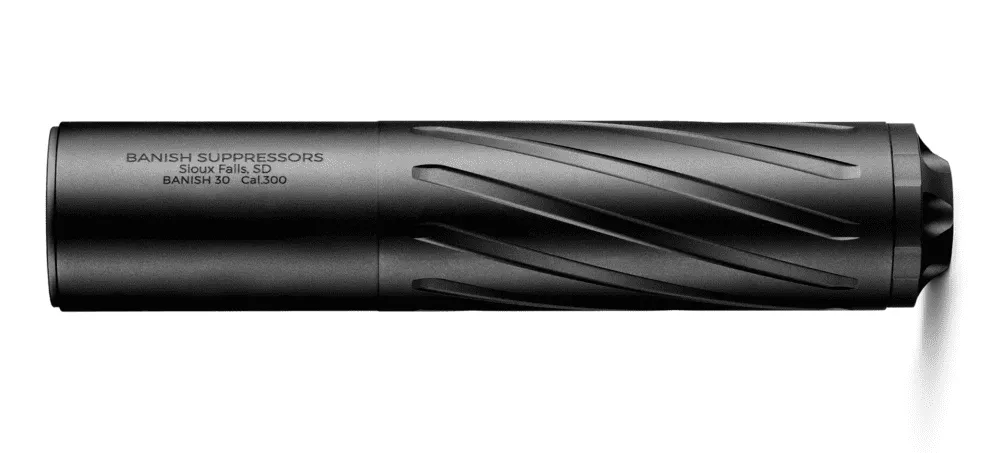 Specifications
| | |
| --- | --- |
| Caliber | .17 HMR – .300 WBY |
| Length | 7 or 9 Inches |
| Weight | 0.7-0.8 Pounds |
| Sound Suppression | 34 Decibels |
| Construction | Titanium |
Pros & Cons
Pros
Works with multiple calipers

Can be used in two different lengths

Easy to disassemble for cleaning

Does really well at lowering the decibels
Cons
Some shooters report issues removing the extended piece

Only works directly threaded to the barrel (screw on)

Doesn't work with pinned and welded muzzle devices
Banish has made quite a name for themselves in the suppressor world. We have mentioned them in numerous articles on suppressors (like this 'best 9mm suppressor' article) and have been thoroughly intrigued by their ability to create low-priced and effective suppressors.
Best of all, they are multi-calibered. Which is a great way to get away from buying multiple suppressors that may spend months in ATF jail.
And it will also keep your money where it belongs and away from the bureaucrats.
Another key feature that I love about the Banish 30 is how light it is. Since it is made from titanium, you won't have to worry about adding a bunch of weight to the front end of your rifle.
All while keeping those decibels to a minimum, which the Banish 30 does well. You can expect to get about 34 decibels of noise reduction from the Banish 30, which is the number I got from Silencer Central. Not sure what barrel length they used to get that number, though.
But, while the Banish 30 may be a great value option, I did not like the direct thread design. Bad news for shooters with pinned and welded muzzle devices. If that's you, this suppressor will not work for you. Keep looking.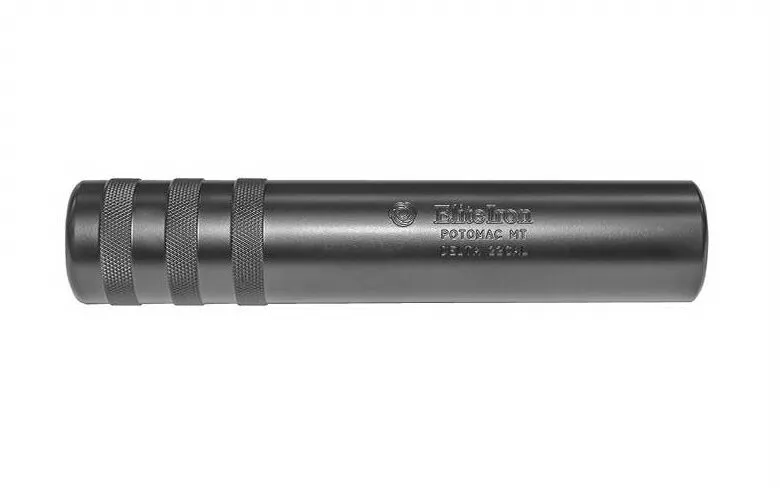 Specifications
| | |
| --- | --- |
| Caliber | 5.56/ .223 |
| Length | 7.5 Inches |
| Weight | 1.3 Pounds |
| Sound Suppression | 37 Decibels |
| Construction | 17-4PH Stainless Steel |
Pros & Cons
Pros
The quietest suppressor on the list

Won't break the bank

Amazing fit and finish
Cons
Pretty heavy

Direct thread design

Won't work with pinned and welded barrels
If you really want to focus on getting those decibels down, there is the Elite Iron Delta.
The Elite Iron Delta is the quietest suppressor on the list as far as numbers go. You can expect to get a noise reduction of 37 decibels on the rifle and a great deal of muzzle flash reduction as well.
Not that Elite Iron went and found a percentage like SureFire, anyway. All I know is it's minimal. Cool?
Anyhow, the only major downside I found with the Delta is the fact that it used a direct thread design instead of a KeyMount or Fast-Attach design like the SureFire RC2. That alone would deter me from this suppressor since I have a pin and weld on my BCM.
Anyhow, due to it being the self-proclaimed "quietest" suppressor on the market, the Elite Iron Delta is perfect for anyone who wants to prioritize lower decibels over the ability to attach the suppressor over a normal muzzle device.
But these folks will most likely have longer barrels that help with sound suppression anyhow.

Specifications
| | |
| --- | --- |
| Caliber | 5.56/ .223 |
| Length | 6.4 Inches |
| Weight | 0.8 Pounds |
| Sound Suppression | 26 Decibels |
| Construction | 17-4PH Stainless Steel and Stellite |
Pros & Cons
Pros
Designed to reduce blowback from rifle

Belt-fed rated 

Easy to mount over regular KeyMount muzzle device

Fairly cheap, superior build quality
Cons
Needs a compatible muzzle device to mount

Not compatible with other calibers like the Banish 30

Some shooters report walk-off (I have not seen this)
If you want a suppressor dedicated to the 5.56 round, the Rugged Razor is your go-to can. There are many things to love about this suppressor, not including the low price.
The mounting system is similar to the one from the SureFire Fast-Attach line of suppressors (like the SOCOM RC2 mentioned above). And the only real difference is the threads on the muzzle device that the Razor locks onto.
Rugged calls it the Dual Taper Locking System. And by their definition, the first taper is designed to create a gas seal and concentric lock up, and the second taper is designed to create a friction lock.
This eliminates the dreaded suppressor walk-off or the damn thing just flying off when you think it's snug.
Besides that, do you remember the first time you fired a suppressed weapon and got so much gas blowback in your face that you tasted it with your dinner? Nothing like the taste of copper, carbon, and propellants to season the chicken. Delicious.
Anyhow, the Rugged Razor is designed to reduce gas blowback before it has a chance to grace upon your teary eyes and runny nose. All without reducing reliability.
Razor does not say how they do this. Maybe it's a trade secret? Who knows. But it does reduce the gas you get back in return when blasting from your favorite rifle. And that's all we need to know. For now.

Specifications
| | |
| --- | --- |
| Caliber | Up to .300 RUM |
| Length | 6.8 Inches |
| Weight | 1.06 Pounds |
| Sound Suppression | 21 Decibels |
| Construction | 17-4 PH Stainless Steel and Stellite |
Pros & Cons
Pros
In use by U.S. Special Forces

This thing is a tank. Built like one too. 

Fast QD mounting system

Usable with multiple calibers
Cons
Pricey

Some shooters report issues with mounting on Dead-Air Keymount Brake

Some shooters report blast baffle loosening when shooting
So you've come here in search of a suppressor that you could throw at your intended target when you run dry, and throw it at his buddies too.
Or maybe something that could survive being run over by a Toyota Hilux. Look no further.
The Dead-Air Sandman S is the most durable suppressor on this list for a reason. Like the old Timex commercial from the 1960s: It takes a licking and keeps on ticking. Never will you have to worry about idiotic mishaps coming from shooting behind the Sandman.
Not only that, but the name is pretty badass, if I may say so myself. The Sandman.
Anyhow, the Sandman S utilizes a QD mounting system that allows for easy on/off with just one hand. Very similar to the mounts used with the SOCOM RC2 and Rugged Razor. I'll link a video for you to see what I'm talking about.
The clicking sounds will let you know when it's ready to rock n roll.
All in all, if you're looking for a hard-use suppressor that will give you a lifetime of reliable blasting, then the Sandman S is the one for you. Not only does it work with different calibers, but it's also belt-fed rated.
She won't give up on you when the going gets tough. Slap on your drum mag and let it rip.
Choosing The Top Picks…
Before I sat down to write this article, I popped over to my local gun store and asked a ton of questions. I went over there with a checklist and talked to the guys who proudly display their high-end builds (with suppressors) behind the counter.
There were a few different answers, but I got to see these suppressors in action along with some others. Of course, I liked the ones that are listed in this article the best. But, they had to be reasonably priced, easily cleanable, and really good at cutting down on those decibels.
Now we're here.
The Buyers Guide for the Best AR-15 Suppressor
Suppressors, the NFA, and You
Everything that is fun is usually illegal or hard to get. That goes for more than just guns.
Suppressors, being as cool as they are, are controlled by the NFA and ATF. Should they be? No. But that's a story for another time.  
This is where that little place we like to call ATF jail comes into place.
When you buy a suppressor, it must be registered with the ATF and NFA, and it will take months to get back to you.
The ATF actually says that it will take 60 days or two months after you submit your Form 1 and $200 dollars of your hard-earned paper. But it has been known to take about double or triple that time to come back.
Why does it take so long? That's a good question, but I have no idea. They would have you believe that your suppressor needs special permissions and all of that unnecessary stuff that keeps the payroll flowing at the ATF.
Anyhow, as I said, you have to jump through a few hoops to get a suppressor.
First, you have to go on to the gun store and take a look at a few different options. Or, if you can't find the one you want after the visit, order one online. Always do your research beforehand; no need to be hasty.
Second, you have to pay for your $200 tax stamp and fill out Form 1 for the big boys and girls in D.C. to do their job. From there, the waiting game begins.
Maybe a few months or so. I won't make any promises I can't keep fine shooter.
They'll send you an email and let you know they received your forms and money, and then you have to just sit back. Wait for them to stop playing hide the rubber chicken. And go pick up something you should have had months ago.
And that is for any suppressor you may purchase. So choose wisely.
Suppressor Benefits
It isn't just for looks and keeping the decibels down fine shooter.
When you put a can on the end of your rifle or pistol, you have the added benefit of keeping muzzle flash to a minimum. We all know how annoying a fireball can be when looking down the sight or optic.
It can also add some accuracy benefits as well. There is less felt recoil, which keeps you and your rifle in a flat position, so you can put more rounds down range and keep those groupings tighter than you would have if you were shooting without a suppressor.
There is a caveat to this, though. They can sometimes reduce your accuracy as well. But more about that in the next section.
Suppressors also have the added benefit of not making you go completely deaf when you're blasting off. Still, make sure you're using hearing protection. It's not a silencer.
Last but not least, you do your neighbors and fellow fine shooters a favor when you use a suppressor. After all, who wants a noise complaint from their Home Owners Association and a visit from the fuzz? Be nice to Mrs. Bertha. Shoot suppressed.
Suppressor Disadvantages
Now, remember when I mentioned the effect on accuracy one gets with a suppressor?
Yeah, you can sometimes lose accuracy when mounting a suppressor as well. There is a little thing called barrel harmonics.
Be warned; it's science time.
Barrel harmonics are the result of thousands of hours from the manufacturer of your firearm.
Your barrel is a well-thought-out and planned piece of machinery. It is balanced, cut, and specced to a specific number for the best performance possible from your firearm. It flexes a certain way after each round, giving you all it can to make sure you can put rounds on target effectively.
When you add weight to the end of that, things start to change. Sometimes, the change is minimal. And your shot might be off by just a hair. Other times, it's a big change.
The former is more likely, if you were wondering.
Second, they are pretty expensive and take a lot of energy to acquire. Not only do you have to pay for the suppressor, but for the tax stamp and paperwork as well. Dollar signs can start to add up fairly quickly.
Left-handed shooters may face a bit more gassiness (literally) since gases tend to come out from the ejection port. We recommend buying a high-quality can that reduces gas blowback or a left-handed AR-15.
Lastly, they add weight to the gun. Which in some circumstances can be more than they're worth. More front-end weight isn't always welcomed when you already have a lot of weight on the front end already—speaking to my long-barreled friends out there.
A lot of folks don't want that. And that's okay.
But, to sum it up, the pros far outweigh the cons.
FAQs
How long does a suppressor last?
High-quality suppressors can last for 45,000+ rounds. A lifetime for more casual shooters.
What is the quietest suppressor for an AR-15?
The Elite Iron Delta is the quietest suppressor on the market at the time of writing this article.
Is 5.56 worth suppressing?
Yes and no. You can't reliably shoot sub-sonic ammo with a 5.56 without hindering the cycling, so you won't be .300 blackout quiet. But you will still have the flash suppression and less felt recoil advantage.
Conclusion
Is there anything we missed? These are the five most impressive AR-15 suppressors on the market (in our findings). Which one would you go with?
If you're in the market for an AR-15 suppressor, I hope this guide helps you in your suppression pursuits. Remember that it's always best to do your research so you don't make any mistakes and end up regretting your purchase.
Hopefully, we soon won't have to deal with bureaucrats making it impossible for us to get our hands on these fine pieces of equipment. Let's see what happens.
See you on the range, fine shooter.
Explore more