Best AR-15 Uppers in 2023: From High-End To Budget Builds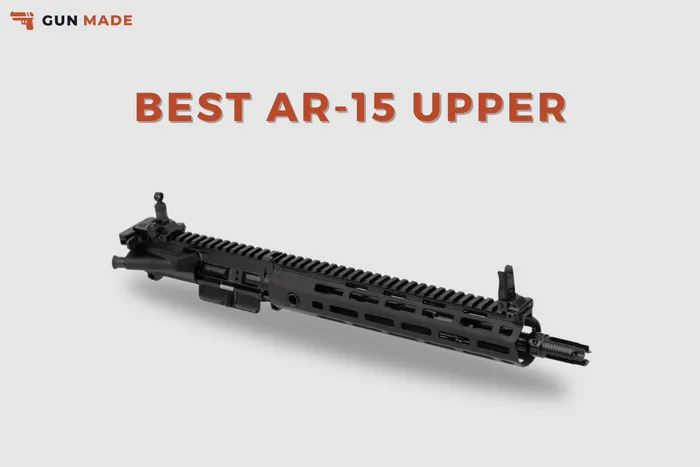 Best AR-15 Uppers in 2023: From High-End To Budget Builds
Introduction
Quick, grab your build checklist. We're about to talk about the best AR-15 uppers on the market and why each one deserves a spot on your AR-15.
I've searched near and far, asked more questions than a kid on a car ride, and conjured up the opinions and experiences of shooters that have been in the game since before I was conceived behind a motel in Newark, NJ.
Seriously. Behind it. The audacity.
So, if you are in the market for a new upper and want to know which one is worthy for your build, you've come to the right spot.
Just make sure you test everything before you trust your life with it. No matter how good they say it is.
Before I bore you half to death, let's jump into this list.
Best AR-15 Upper Reciever (Shortlist)
1. Best Overall – Knights Armament SR-15 Upper
2. Best Value – BCM MK2 Series Uppers
3. Best Budget – Aero Precision M4E1 Upper
4. Lewis Machine & Tool MRP (Monolithic Rail Platform)
Plus some extras at the end. Stick around to find out. Or just scroll down, whatever you wanna do.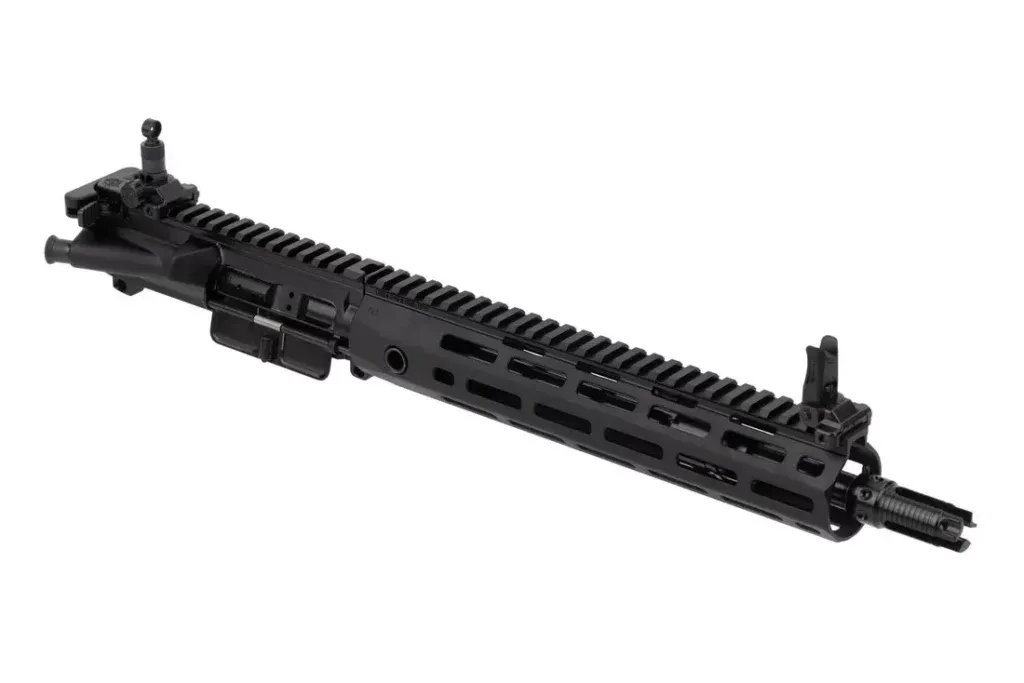 Specifications
| | |
| --- | --- |
| Caliber(s) | 5.56×45 |
| Material | 7075-T6 Aluminum |
| Length | 11.5-18 Inches |
Pros & Cons
Pros
Cold hammer forged, chrome-lined barrel 

Proprietary bolt components make the durability top tier

Can go 20,000 rounds between cleanings 

Sub-MOA accuracy out of the box
Cons
You definitely pay the price for what you get

Gassy
Ahh. So you don't mind spending the extra bread for the market's most reliable and capable upper. You like the finer things in life. You probably drive the higher-trim model of your pickup truck or Toyota 4-Runner.
You laugh at the thought of having to clean your rifle after blowing through five 1000-round boxes of 5.56. Suppressed. Because you can.
Knights Armament has pieced together the most durable and reliable rifles on the market. And the upper is where most of that notoriety comes from.
Proprietary components throughout the bolt carrier group and gas system result in an upper that excels in hard-use roles.
The barrel may even outlast you. Fine shooters have reported 100,000 or more rounds through their SR-15 uppers, and only then will they start to lose a bit of accuracy.
Knights Armament makes mostly all of its products in-house. Barrels, bolt carrier groups, you name it. When you want to give the people a battle rifle fit for the toughest situations, you do it your damn self.
These uppers do come gassy from the factory. Not as gassy as the Sig M400 Tread, but it's enough to notice. You should like it that way, though. It ensures functionality.
The downside of this notoriety is that everyone wants a KAC upper on their battle rifles. And Knights knows that the demand is high, so you can expect to pay a premium if you want to mate this upper to your lower.
And finding spare parts can be hard to find. So I'm told.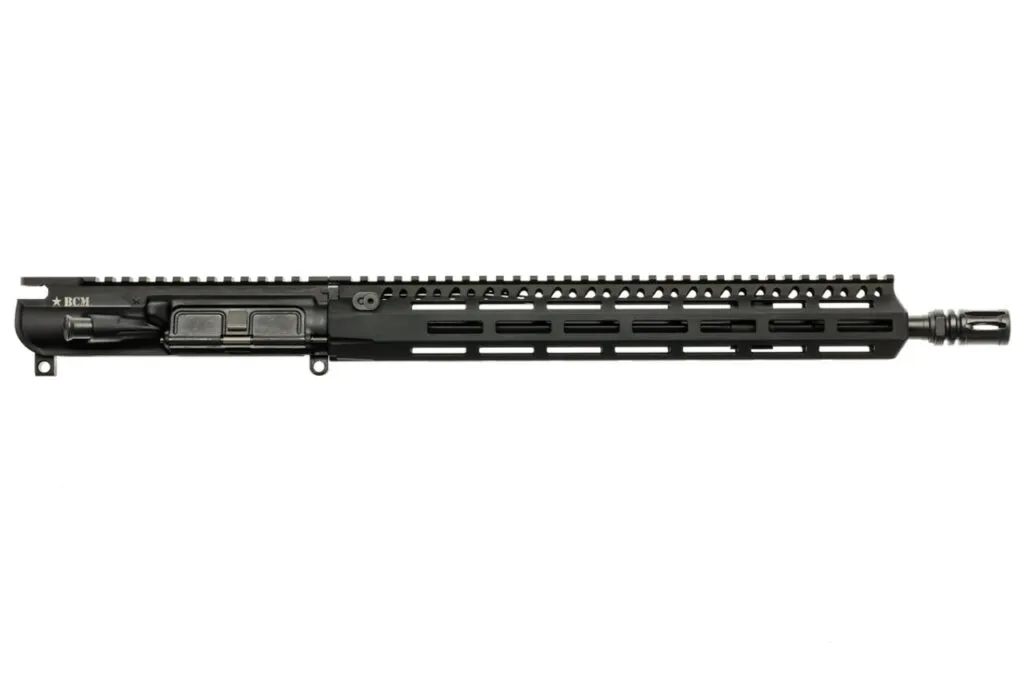 Specifications
| | |
| --- | --- |
| Caliber(s) | 5.56/.300 Blackout |
| Material | 7075-T6 Aluminum |
| Length | 11.5 – 18 Inches (Lowest is 9" for .300BLK) |
Pros & Cons
Pros
Cold Hammer Forged Barrel

HPT/MP Tested

Upgraded designs over the last generation

Different mounting platform options (Picatinny, M-Lok, etc)
Cons
Pricey

Still gets warm under sustained fire like the last generation
So maybe you don't wanna cancel the family trip to Disney World so you can get a new upper. You definitely want an upper that can handle what you're gonna put it through (whether it stays in the safe or lives on the range)
Either way, you cannot go wrong with a BCM upper.
Built on the higher end of the mid-tier spectrum, the MK2 series of uppers from BCM is lighter, stronger, and more capable of flowing with you through your daily shoot, whether you're practicing on the range or dealing with your local Fentanyl dealer.
So what had happened was… Paul and the rest of the team at BCM sat down at the table.
Pondered aliens, Ruby Ridge, and every other phenomenon that's been covered up, and after that, they looked at what was good, bad, and in between with their standard MK1 uppers.
What was weak? What was strong? Keep that, replace this, and make that stronger.
And then, voila, out of the chamber came the MK2 upper.
If you loved the first series of uppers from BCM, then you will definitely love the new generation. Every weak point has been rectified and strengthened. But it still gets hot like the standard generation.
Just do as I did and wrap Goon Tape or hockey tape around it. Win-Win.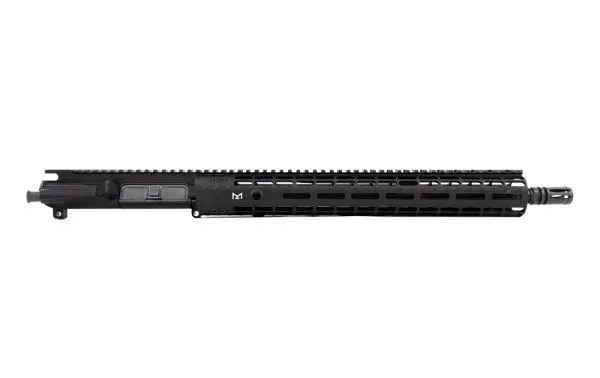 Specifications
| | |
| --- | --- |
| Caliber(s) | 5.56×45 |
| Material | 7075-T6 Aluminum |
| Barrel Lengths | 10.5-16 Inches |
Pros & Cons
Pros
Made with the same materials as higher-end manufacturers

Many shooters call it "BCM for half the price"

And the price is lower than donkey ba… you get the point.
Cons
Some fitment issues have been reported
Who said you had to spend more than five-hundred beans to get a quality upper? Well, definitely not the folks at Aero Precision. You'll get your hands on a complete M4E1 upper for about half of that, actually.
So what? Is it any good?
Why yes, splendid indeed.
So good that shooters compare it closely to a BCM upper. Saying it's "BCM quality for half the price," and they aren't entirely wrong.
Side by side, with my buddy Collin's M4E1 and my BCM Recce MCMR, I could hardly tell the difference with the light off. Being that mine was a 14.5, and his was a 10.5 (I'm talking about guns here), the quality and durability went hand in hand with each other.
So yes, I agree with that sentiment. But that's if you're comparing the standard BCM upper to the M4E1 upper. The new MK2 uppers are above that.
But here's a little something I heard through the grapevine, like Marvin Gaye: Aero Precision actually makes components for some of the higher-end models. Maybe that would explain why the M4E1 rocks as a great budget upper.
Specifications
| | |
| --- | --- |
| Caliber(s) | .204 Ru, .300 BLK, 5.56×45, 6.8 SPC |
| Material | 7075-T6 Aluminum |
| Barrel Length(s) | 14.5-20 Inches (works with other lengths) |
Pros & Cons
Pros
Monolithic (made entirely from one piece of 7075-T6 Aluminum)

A proprietary locking system keeps the barrel in place

Offers five QD sling attachment points
Cons
Pricey

Can be hard to find complete uppers online
LMT is not one of those brands you hear about too often. Aside from when they're arming the New Zealand military, they actually put out some products that should be on your radar if you don't mind spending a bit more for a quality upper.
Especially if you're gunning for a reliable upper that can perform well in the boogaloo or bathroom ops. You know what I'm talking about.
But what is it about the Lewis Machine & Tool MRP that makes it worthy of this list?
You're always asking good questions, fine shooter. Bravo.
Anyway.
First, I'd only recommend this upper to someone who really wants a no-nonsense battle build. It's pricey, built like an Abrahms, and thrives in the field.
Unless you want a tank in your safe that will hold off intruders of all sorts, that's perfectly fine as well. But there are cheaper options that will do that just fine. I truly recommend this only to those who are gonna be LARPing and training on a more consistent basis.
I said that already. Never mind.
Monolithic sounds like a space rock that could tell us all the secrets. But what it means is that the upper is milled from one solid piece of 7075 T-6 Aluminum.
Usually, uppers are made from two pieces and mated together by a slip or delta ring. LMT removes that altogether by making the upper and the handguard all one piece.  
Which removes the possibility of the handguard walking off the upper. Yes, I've seen it happen.
LMT also has a proprietary locking system that keeps the barrel in place tighter than a Seattle man-bun.
And that's tight, my man.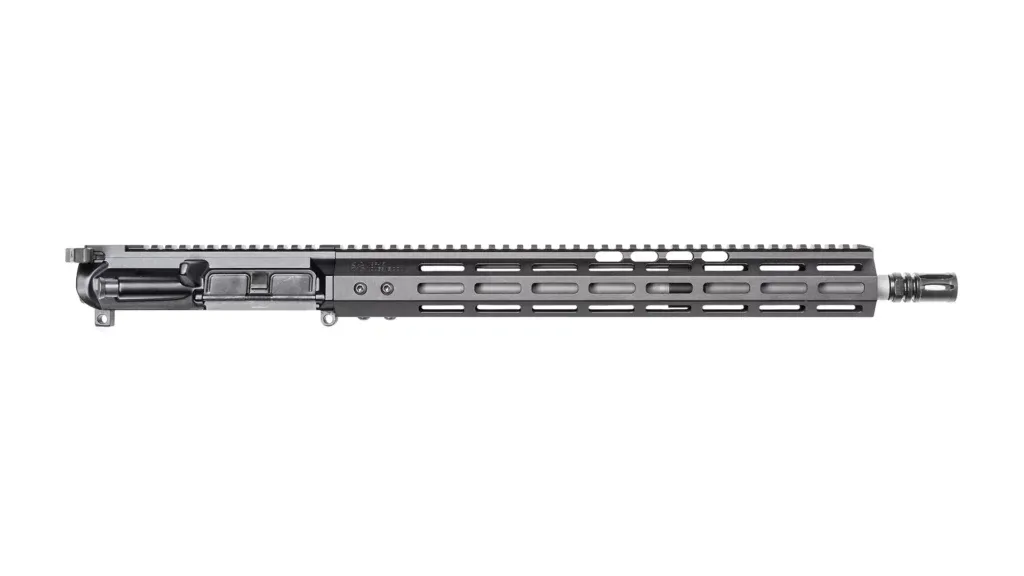 Specifications
| | |
| --- | --- |
| Caliber(s) | 5.56×45, .300BLK |
| Material | 7075 T-6 Aluminum |
| Barrel Length(s) | 7.94 (.300 BLK), 10.5, 16 Inches |
Pros & Cons
Pros
Noveske quality without the super-high price

Polished Match Chamber (reliable feeding)

Comes with a Radian Raptor LT charging handle
Cons
Still kind of pricey, but not too much
Wanna hear a funny story? Of course not, but I'm gonna tell it anyway. Don't worry, I'll make it quick.
I made a trip down to Southern California recently from Seattle. It took me 20 hours to drive down. But that's because Grants Pass was on the way, where Noveske is located.
So, of course, I had to take a detour. But it was three o'clock in the morning when I arrived. So I had to admire the Noveske base of operations from afar. Like the fanboy I am. Since I moving back to the east coast soon, I had to check that off my bucket list.
I didn't get to go inside or talk to anyone from Noveske, unfortunately. One day.
I also felt like someone was going to come out of the woods with a chainsaw when I was driving through Southern Oregon at night. So the name of this upper is very fitting.
So what does the Chainsaw give you?
Intricacy in the small details. Like the feed ramp, which is hand polished to ensure proper feeding to your hand-polished match-grade chamber. And the accuracy of Noveske barrels are definitely worth writing home about.
You can easily ring steel at 300 yards with normal M193 ammo when using the 16-inch barrel (and any of the other barrel lengths if you're a chad.)
It's built for hard use and won't break the bank. Whether it sits in your safe or finds it's home on the range, the Chainsaw is ready for whatever you throw at it.
Just don't
Other Options Worth Considering
There is no particular reason why these uppers have been left out of the main list. I wanted to give you some extra options so that you can have variety while keeping the main list short. Practical to tactical.
These are higher-end options. Just a heads up.
If you haven't heard of Triarc by now, I have some bad news for you, fine shooter. You gotta do your research.
Oh wait, that's why you're here. Sorry.
If you're a fan of building your own upper (or having the folks at Triarc build it for you), then I have good news. When you go to the Triarc website, you can build one and have it sent to your FFL.
From the upper itself all the way to the gas block profile and muzzle device. Everything is totally in your hands and is built exactly the way you want.
I'm trying really hard not to say "Legos for adults" here. But it is what it is.
There is a 10-month lead time at the current moment, though. So you may have to wait a while.
If fit and finish is your thing, and you just love to look at your rifle all of the time, then I have a treat for you.
A supermodel among upper receivers. And part of one of the finest rifles I've ever fired.
Radian. You know, those folks that make everyone's favorite charging handle and stuff like that? You know what I'm talking about.
Yeah, them. They also make one of the best rifles on the market by looks (which is important) and by function.
In a complete rifle, you have one of the softest and easiest rifles to shoot on the market. I'm lucky enough to have friends who own expensive things, so I got the chance to shoot the Model 1 on an open range.
At 50 yards, I managed to get a sub-MOA shot grouping in. Then again, I wasn't firing too quickly, so that's not saying much. But the recoil was so pleasant that my 4'11 100 pound girlfriend turned to me in amazement.
She's tiny. I'm gonna take a wild stab and say you're bigger than she is. I'm sure you'll love the recoil as much as she did.
But, you might have to wait 10 months for an upper from Radian if you don't buy it second hand.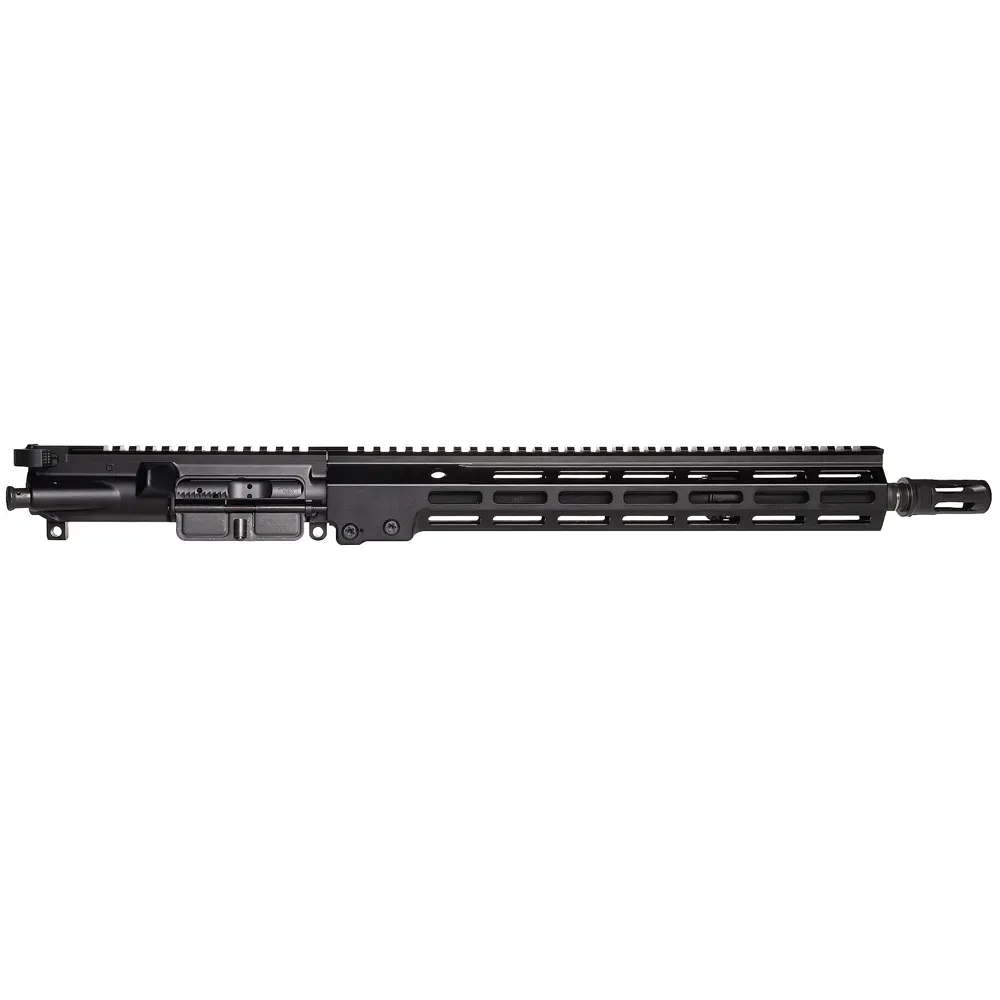 Now I know very well that you've heard about Geissele. They just so happen to make one of the best triggers on the market.
And since they've got more skin in the game than Ron Jeremy, they decided to take what they know and throw it into a rifle. About time. It couldn't have come soon enough.
The Super Duty upper is built with goods all throughout. Including something out of a Crysis videogame called Nanoweapon. A coating that was developed at Picatinny Arsenal and only available through Geissele.
What does it do? Glad you asked.
It enhances the lubricity of the treated products permanently, which in turn enhances the life expectancy. Parts like the bolt carrier group, gas key, and trigger all receive a nanocoating process.
This means you won't have to worry about changing parts so quickly. Not that this may matter to shooters who are looking for a home defense build, but my LARPers and other shooters who need longevity from their rifles, here is one for you.
A cold hammer forged, chrome-lined, manganese phosphate-coated barrel capable of sub-MOA shot groupings is made in-house by Geissele.
Win-Win.
How We Chose Our Top Picks
I've been fortunate enough to shoot these rifles and a few others over the years. Some of them were amazing, others I wouldn't pick over a brick. Seriously.
And I just so happen to know a few guys and gals at a local gun store who have more guns than the dollar amount in their bank account. Every so often, I'm fortunate enough to catch them on a range day. Where they won't let me get away unless I shoot every gun they have.
Flexing, I guess. I'm not complaining. I've been able to shoot many firearms this way.
So, I sat down and conjured up all of the information floating in my tiny brain, enlisted the help of one of my best buddies who is in college for firearms, and came up with a list of the best uppers on the market today.
And that is what you see here.
I didn't want to saturate the list with only high-end and unaffordable uppers. So in the main list, you have everything from practical to tactical. The extras are a bonus.
AR-15 Upper Buyers Guide
If you've come this far, I'm gonna guess that you are actually in the market for an upper. And naturally, you may have some questions about which upper is right for you.
That's why I'm here, fine shooter. So let's answer some questions that you may have.
Which Upper Receiver is Right For You?
If you look back to when you and I were talking about some of the uppers above, I mentioned that some shooters might not need to spend more than a thousand dollars on their upper if they are simply building a home defense rifle.
Versus if they are building a full-blown battle rifle, then that's a different story.
Sure, I always recommend buying quality products that you can't trust your life on. But you should never trust your life on anything unless you test it first. And no, just because it costs a lot doesn't mean that it's fail-proof.
I've seen SR-15s fail too. Things happen. Not every rifle is perfect.
You can get away with using a budget upper for home defense and some range use as well. But if you're building a fighting rifle, I would suggest looking at uppers like an LMT MRP, SR-15, or Noveske.
And if you're looking for something for home defense, you can easily get away with the M4E1 upper or something similar.
But if you are building one rifle for all purposes, and you want to be able to rely on the rifle for whatever may come your way, then you should build something that can do it all.
And my suggestion would be something mid-tier or high-tier. Like the BCM Mk2 upper. The Noveske Chainsaw upper is built for hard use, as the name suggests, and it won't break the bank. Stiff competition right there.
To sum it up:
Home Defense: Keep it under $1000 bucks. Even $600 bucks is fine. Most likely, it'll spend most of it's life in a safe and some time on the range, so you don't have to worry too much about the upper being super durable.
Battle Rifle Build: You better ball out and find what's best. Remember, you may have to bet your life on this rifle one day, and if you cheap out, you might find out the hard way.
Hybrid (Home Defense/Battle Rifle): Go with something mid-tier. BCM, the Noveske Chainsaw, or something along those lines.
Does Price Actually Matter?
In this game of shooting, it does. That's why we have low, mid, and high-tier rifles. Everything from the stock to the muzzle device has its lower and higher tier options.
Just like you have your Rolls Royce and Toyota Corollas in the car industry, quality comes with a price. Even though I'd take a 1986 Corolla over a Rolls Royce any day. If you know cars, you know why.
The higher up you get in the price, the more goods you get with your rifle. Tighter tolerances, better quality control, and better materials.
Like the ADM UIC Mod2. Now that… that is a fine fighting rifle. Their uppers are hard to come by, or else I would have put it on my list. But, with a complete rifle, you get a Criterion barrel, Geissele trigger, Radian Raptor charging handle, and a bunch of other goods that you can look up.
Sounds expensive, right? That's because it is.
Now, if you take something from a manufacturer like Smith and Wesson M&P15, you will see that the high-end parts and materials seem to dwindle down. Still a great rifle, but I wouldn't want to rely on it when the luau kicks off.
Here Is The Most Important Thing
You know what I'm going to say next, right? I'm sure you know what I'm going to say next. It's inevitable. Ready?
Training, training, and more training.
You could have the most expensive rifle with the most expensive kit and everything else with high-dollar signs. And then give someone with years of experience and training an M&P15 with iron sights. Ten times out of ten, he will probably just make you an expensive loot drop.
So what do you do? Buy what you can afford. And train with it religiously. I don't care if you train with a Hi-Point as long as you're training.
Then, when you've pushed your rifle to it's limits, and you think it's time for something better, buy a big-baller rifle. See what you're capable of.
Until then, train hard. All the time. Don't be an expensive loot drop.
FAQs
What are the best upgrades on AR-15?
The first upgrades I always recommend are a sight, sling, and a light. With those attachments right there, you can solve most of the world's problems.
Training is the best upgrade, though.
Is it better to buy or build an AR?
For your first rifle, I would say to buy it. This way you have a working rifle on standby and you don't have to rush to get your build done.
But if you want to build your second, third, or 30th rifle, by all means.
All in all, though, it is definitely better to build.
What is the AR with the least recoil?
In my experience, the Radian Model 1 is the softest shooting AR-15 that I've ever felt.
Conclusion
So if you're looking for an upper for a new build, here is your list. I know that there are plenty of uppers out there that deserve a spot on this list, but I can only recommend what I've shot and know.
Remember to consider your needs before buying an upper. You don't want to buy more or less of what you need and end up regretting it later. You can never go wrong with buying more, though.
Please leave me a comment below and tell me what uppers you recommend. I love learning new things. And I love hearing from you guys.
See you on the range, fine shooter.
Explore more