Best Concealed Carry Insurance [2023]: Top 7 Carriers For Full Protection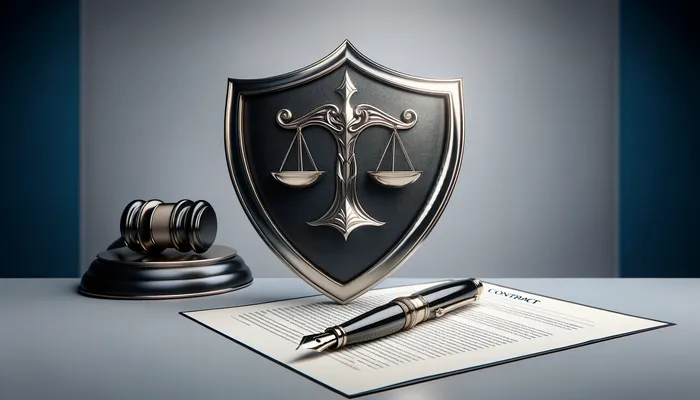 Best Concealed Carry Insurance [2023]: Top 7 Carriers For Full Protection
If you own a gun and want to keep yourself and your family safe, getting concealed carry insurance is a smart choice.
This insurance helps if you ever have to use your gun to protect yourself. It covers legal stuff and helps with costs, making sure you're taken care of in tough situations. It's one of the best decisions a responsible gun owner could make.
After receiving their concealed carry license, most gun owners usually go for concealed carry insurance to take care of the potential legal issues of owning and using a concealed carry for self-defense and home defense.
For those of you new to concealed carry insurance, here are our key conclusions from years of having concealed carry insurance policies for ourselves –
Prioritize obtaining concealed carry insurance for legal and financial protection.
Understand your policy's coverage limits, exclusions, and attorney choice.
CCW Safe is our recommended choice for comprehensive coverage and overall value.
In this guide, we'll look into concealed carry insurance, cover all the important topics, and check out the best concealed carry insurance services and the policies they offer.
What's Concealed Carry Insurance and Why Do I Need It?
Concealed carry insurance is a firearms coverage that offers protection benefits when you use your registered firearm in a self-defense or home-defense situation. It's also called CCW insurance or firearm liability insurance.
Many policies provide coverage for civil court proceedings, such as when an involved party sues you in a self-defense/home-defense incident.
Concealed carry insurance is a relatively new concept because of the rising number of registered concealed-carry gun owners in the US. But that's exactly why CCW insurance is so valuable. It protects you against:
Criminal defense costs – Attorney fees, investigators, lost wages if charged with a crime after a shooting
Civil defense costs – If sued by an injured party or their family members
Civil liability claims – Damages if you lose a civil lawsuit
Bail bond expenses – If you need to post bail while awaiting trial
Without insurance, these costs could financially devastate you and your family. CCW insurance provides vital protection.
EXPERT TIP: Make sure the policy covers both criminal and civil cases. You need protection on both fronts.
Concealed Carry Insurance Is Not Technically Insurance
The "concealed carry insurance" term is a misnomer, and the whole thing is very complex to cover in detail.
For instance, all situations and viable reasons to be sued for self-defense depend on too many variables. That said, the insurance still has its benefits.
Some gun owners believe that their homeowner's insurance is enough protection in case they have to use their weapon in self-defense on their property.
This is not true, and many gun owners pay the high cost for this mishap.
Technically speaking, it's not insurance at all.
EXPERT TIP: Understand exactly what the policy does and does not cover. Ask questions if anything is unclear.
The providers are actually membership organizations that offer shared or subscription legal services, which makes things easier for you in court proceedings. The organizations fall outside the jurisdiction of state insurance regulatory agencies.
The insurance providers simply offer coverage for your legal representation if you were subject to a criminal investigation regarding self-defense.
However, suitable concealed carry insurance is still very viable, if not essential, legal protection for a gun owner to have.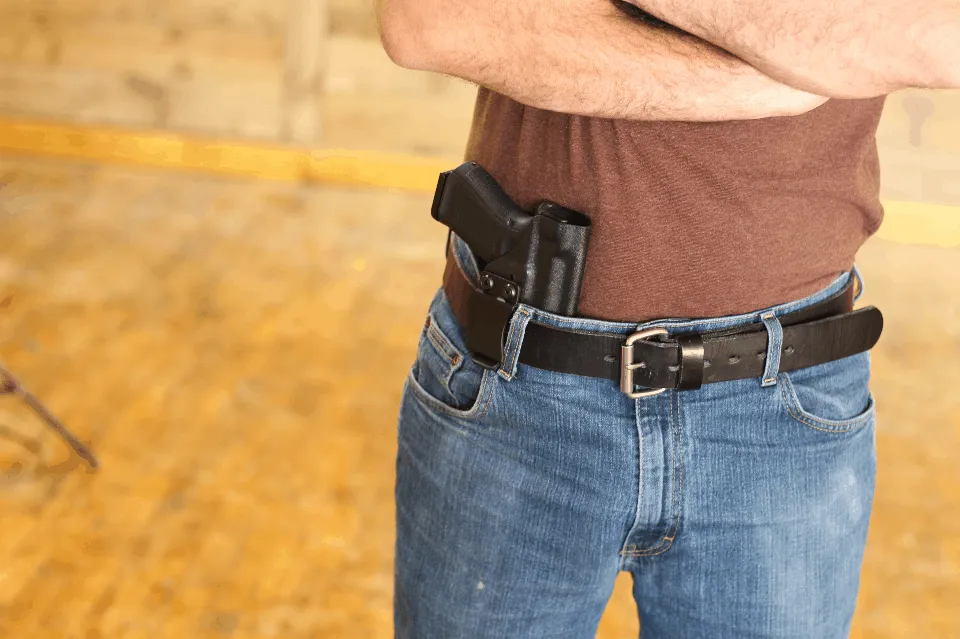 Why Do I Need Concealed Carry Insurance?
There are so many difficulties that may arise from firearms self-defense lawsuits.
The police will investigate you and confiscate your weapon, then you have lawyer retainer fees, bail bonds, and all kinds of prohibitive costs, not to mention the time wasted and work missed because of all the court appearances and proceedings.
There are cases in which no criminal liabilities are found, and the assailant's family successfully sues for damages. This is a nightmare for any responsible gun owner.
That's why you need CCW insurance.
It's a small price to pay monthly against possible legal costs later, and it depends entirely on you and your monthly budget.
Not only do concealed carry insurance policies offer basic CCW protection, but they also offer other services and cover aspects you've not yet considered. In many cases, concealed carry insurance policies may also cover negligent discharge, property damage, firearms replacement, work loss coverage, etc.
There are two things to keep in mind when deciding whether or not CCW insurance is suitable for you:
Is it likely you'd use your firearm in self-defense?
How will a lawsuit financially affect you and your family?
But, it all comes down to this – do you hope the worst-case scenario misses you by an inch, or are you willing to prepare for it?
I'm willing to bet you're a doer.
Best Concealed Carry Insurance Providers
Here's a list of the best CCW insurance providers in the US and the services and plans they offer.
Of course, we're not going to cover everything, as that would take many more pages than we can afford here, but we'll fill you in on all the important bits the CCW insurance providers offer.
Pricing varies according to multiple factors. You can check the pricing and other details on their respective website, or you can check out this handy chart.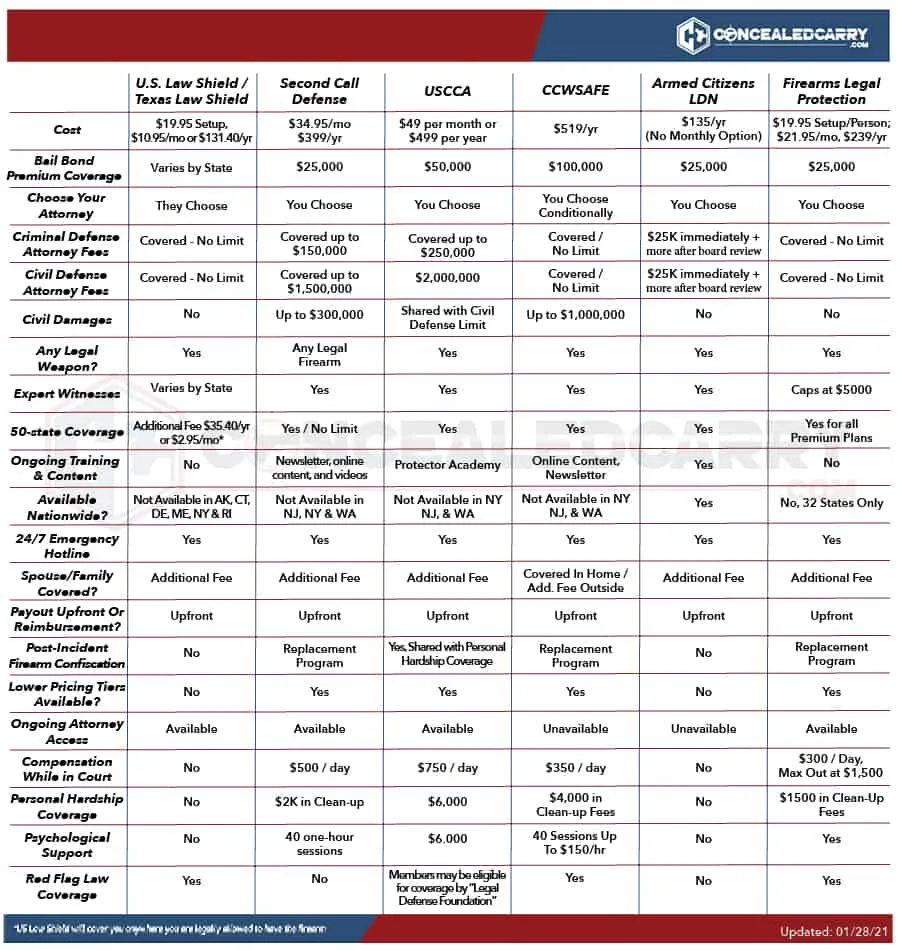 We will just cover the general services, placeholder fees and prices, and coverages and help you narrow down your choice to find a suitable plan and CCW insurance provider for your needs.
We'll start with CCW Safe. I chose this one as the 'best overall,' and here are the reasons:

| | |
| --- | --- |
| Monthly Cost | $14-44 |
| Civil Defense Coverage Limit | Unlimited |
| Criminal Defense Coverage Limit | Unlimited |
| Option to Pick Your Own Attorney | Yes |
| Requirement for Money Upfront | Yes |
| Bail Amount | $500,000 |
| Lost Wages Compensation (Per Diem) | $250/day – $250 |
Pros
Excellent resources and legal coverage
Broad coverage
Unlimited defense budgets
Cons
High-end cost
You choose your attorney, but they must be approved
The constitutional carry plan only works in-state
CCW Safe is one of the best CCW insurance providers because of its unlimited and upfront coverage of legal expenses.
Their policy is to provide as much coverage as you need, not as much as they're willing to budget, and they don't require a reimbursement payment method. There's no limit on the amount of criminal or civil defense you are covered for, and they're both covered upfront.
CCW Safe provides the highest bail bond protection coverage amount available – $500,000, with the option to upgrade to $1 million, policies for constitutional carry states, and they offer a $250 per diem (some offer none).
They also have specialized plans if you're law enforcement or a retired officer, and you're also eligible for up to $1,000,000 of civil damage protection through their basic permit-holder plan, which is pretty generous.
Want to know how well-versed their legal team is? CCW Safe claims that it's the only legal service provider for concealed carry to defend a self-defense 1st-degree murder case successfully. It is morbid and controversial, but I believe it answers the question.
They have a solid selection of attorneys to represent you if you're unfortunate enough to end up in court. One of their attorneys is the same guy who defended George Zimmerman, so I think you get the idea of how professional their team is.
CCW Safe also allows you to pick your own attorney if they approve them. However, this may be a complex decision for some. Sometimes, it's better if they pick your attorney.
CCW Safe offers a self-defense plan for home situations, and they're the only ones to have this plan.
While CCW Safe has very comprehensive and suitable plans, if you want to sign up with CCW Safe, you must have a CCW permit or live in a state where a permit is required. If not, you'll only be eligible for the Home Defense plan. They have constitutional carry plans, but they only work in your state, meaning once you cross the border, you're not covered.
There's no means to customize the plans and coverages, but they already offer three excellent plans. Check out their policies and see for yourself.
I recommend you go for the Ultimate Plan policy from CCW Safe. It covers everyone in your family that resides in your home, including children under the age of 18.
Although they're not as big as USCCA, CCW Safe offers excellent coverage.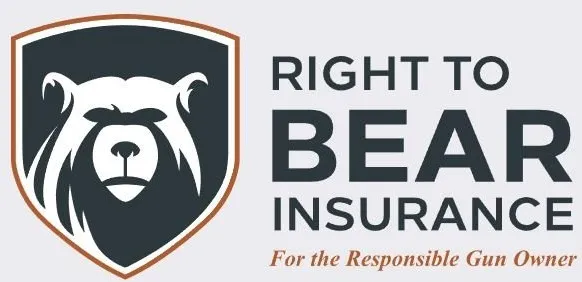 Right To Bear offers an affordable concealed carry insurance policy starting at just $11 per month. The plan provides unlimited coverage for legal costs related to civil and criminal cases stemming from a self-defense shooting. This coverage includes attorney fees, bail bonds, lost wages, and more.
A key benefit is that Right To Bear pays costs upfront rather than reimbursement. So you don't have to worry about covering large legal bills while awaiting payment. The plan also covers you even if you are found guilty or take a plea deal. Additional services like gun replacement and spouse coverage can be added for a small fee.
While not as comprehensive as pricier competitors, Right To Bear provides ample protection tailored to concealed carry holders on a budget. For just $11 per month, subscribers gain peace of mind knowing they are covered for unlimited criminal and civil defense costs. With positive reviews to date, Right To Bear is an affordable option worth considering for legal protection.
EXPERT TIP: Be sure to read the fine print and understand exactly what is covered in your policy. For example, some plans may not cover negligent discharges or accidents. Ask questions upfront to avoid surprises later.

| | |
| --- | --- |
| Monthly Cost | $10.95-21.90 |
| Civil Defense Coverage Limit | Unlimited |
| Criminal Defense Coverage Limit | Unlimited |
| Bail Amount | Basic level offers no coverage |
| Option to Pick Your Own Attorney | No |
| Lost Wages Compensation | Basic level offers no coverage |
| Emergency Attorney Hotline | Available 24/7/365 |
Pros
Most affordable option available
Excellent reviews and customer satisfaction
High per diem rate
Unlimited coverage
Cons
Limited features on low-end
You can't choose your attorney
Don't be confused. US Law Shield is actually Texas Law Shield, but they changed their name. 
As a smaller company competing with more established concealed carry insurance providers, it's one of the most budget-friendly options for CCW insurance policies. 
US & TX Law Shield offers a basic policy with no limit on their civil or criminal defense coverage, and the payments are made upfront, so there's no need to worry about reimbursements on attorneys' fees.
They also offer legal educational online lessons, magazines, and you also get access to their community forums. This is well-rounded in-depth info on the legal system, which can be very insightful for some cases.
EXPERT TIP: Look into training and educational resources offered. Some providers offer these as added benefits.
They offer a $10.95 per month basic membership plan and a two-people $21.95 per month plan, which is fantastic given that you get solid insurance for those prices.
If you're new to guns, you can check out their online Beginner Handgun Course.
However, their basic plan doesn't have lost wages compensation, and there are additional charges if you want to have bail coverage or make your policy available throughout the US.
US Law Shield offers a pick-your-own-attorney policy, as well as defense services for military and law enforcement. If your case is covered, you get a 24/7 attorney-answered hotline.
The organization is pretty popular, as it has more than 600,000 members and it's still growing.
US Law Shield is unavailable if you live in the following states:
New York
Rhode Island
Alaska
Delaware
Connecticut
Maine
Still, US & TX Law Shield offers competitive plans at very competitive prices that might suit your lifestyle.

| | |
| --- | --- |
| Monthly Cost | $9.95-34.99 |
| Civil Defense Coverage Limit | $500,000-1,000,000 |
| Criminal Defense Coverage Limit | $50,000-100,000 |
| Requirement for Money Upfront | Yes |
| Bail Amount | $5,000 |
| Lost Wages Compensation (Per Diem) | $250 per day |
| Option to Pick Your Own Attorney | Yes |
| Emergency Legal Hotline | Available 24/7 |
Pros
Affordable
High customer satisfaction
Lowest defense coverage
Tailored plans
Cons
Limited coverage
The basic level is 'too basic'
Second Call Defense has the widest spectrum of tiering options. It offers self-defense legal protection plans for concealed carry insurance. If you subscribe to their plans, they'll provide beneficial financial assistance when you need to defend yourself against civil or criminal charges for using firearms in self-defense.
It's perfect for those of you who like to have tailored insurance plans and multiple options in their policy and don't need much coverage. They have a variety of add-ons and tiers from which to choose, and you can tailor your plan to fit your needs.
Just like US Shield, Second Call Defense offers various features and services, such as online education programs, newsletters, magazines, etc.
Second Call Defense also offers upfront payments of attorneys' fees, an entry-level plan for $9.95, or a more luxurious option of $34.95 monthly, while the top-tier plan offers $100,000 of coverage for criminal defense attorney fees and $1,000,000 for civil.
If you choose the top-tier option, you're eligible to get a $250,000 maximum in civil damage protection and their lowest-tier option is the least expensive among concealed carry insurance providers. However, it only comes with $10,000 of criminal defense protection and no civil defense protection.
The entry-level is really low in features and services, and it doesn't cover any legal fees for a civil case against you. I personally think that $10 is not really worth $10,000 toward your attorney fees, $2,000 for a retainer, and $1,000 for a bail bond, given the other options.
For a mid-tier offer, the criminal defense coverage protection is pretty sub-par; the same goes for the bail amount, but the price may still be suitable for some concealed carry owners.
Second Call Defense is still alright in my book. They allow you to pick your own attorney, you get money upfront, as well as a nice per diem. It's your standard "get out of jail free card" for a low-cost self-defense insurance policy

| | |
| --- | --- |
| Monthly Cost | $12-44 |
| Civil Defense Coverage Limit | Unlimited |
| Criminal Defense Coverage Limit | Unlimited |
| Option to Pick Your Own Attorney | Yes |
| Requirement for Money Upfront | Yes |
| Bail Amount | $25,000 |
| Lost Wages Compensation (Per Diem) | None |
Pros
The least expensive on this list
Unlimited coverage
Simple membership (no tiers or options)
The Armed Citizens Legal Defense Network, or ACLDN, is a pre-paid concealed carry organization that offers legal service and firearms monetary support in a self-defense case.
It's a very viable legal option that offers "unlimited" coverage at a budget rate.
With the ACLDN you receive up to $25,000 for bail.
The membership costs $135 for your first year and $95 per year after. They also provide you with a monthly educational journal, training, and video lectures on CCW self-defense. It's highly informative and offers a more DIY approach to situations that will definitely come in handy.
There's no decent per diem payment; they don't offer civil damages protection, no financial support when in court, the coverages are pretty sub-par, and the features and services are in no way near the other policies. In a loss of firearms case, you're alone with that, too.
The fine print states that even though it's unlimited coverage, they only cover up to half of their defense fund.
However, it's still a solid choice for basic self-defense insurance because you have the option to pick your own attorney, and this can be a game-changer for some.
There are no complicated tiers for you to choose from because it's a pre-paid legal service. If you're looking for the most budget-friendly option, go for it.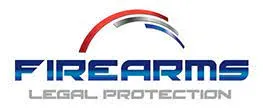 | | |
| --- | --- |
| Monthly Cost | $12.95-44 |
| Civil Defense Coverage Limit | Unlimited |
| Criminal Defense Coverage Limit | Unlimited |
| Lost Wages Compensation (Per Diem) | Depends |
*Note: All individual plans have a $19.95 setup fee applied to the first bill.
Pros
Three highly effective and suitable plans
Impressive entry-level plan
Firearm loss protection
Red Flag laws (Extreme Risk Protection Order) coverage
You don't have to pay upfront fees
Firearms Legal Protection is somewhat overshadowed by the others on this list, but it still offers good coverage. They offer multiple tiers with uncapped attorney fees for civil and criminal defense.
They have a plan with excellent premium features, Red Flag laws coverage, and affordable monthly costs that suit most civilians.
The pre-paid legal services fee for their Individual Basic is $14.95 per month, the Individual Premium is $24.95 per month, and the Family Premium is $39.95 per month or $479 per year. If you're located in Florida, Georgia, or North Carolina, prices may vary.
Suppose you decide to go for the premium plan. In that case, they offer $250,000 bail bond protection, scene clean-up if a self-defense incident occurs, lost wages reimbursement, counseling support after the incident, firearm loss protection, court compensation, attorney of your choice, expert witness fee and investigation fee coverage, and nationwide coverage in all 50 states.
Counseling support and incident cleanup don't seem important to most people, but they're highly recommended. Using firearms takes a mental toll, and counseling helps you with the struggle if the unspeakable happens.
Additionally, if your firearms are confiscated, you're covered as well. The Family Premium also offers spouse coverage and children coverage. But, what really makes this option special is its coverage against Extreme Risk Protection Order or Red Flag laws. 
You can also talk to the attorney without having to pay fees upfront and wait for potential reimbursement.
Firearms Legal Protection also offers a mobile app that allows quick access to your membership benefits and incident report filing.
The only complaint here is that you won't be allowed to pick your attorney. You can only request a different attorney if you feel that the one chosen is not suitable for you.
Firearms Legal Protection is an excellent, well-rounded CCW insurance option for most people. They offer no limits on legal defense for criminal or civil cases, and that's usually good enough for most gun owners.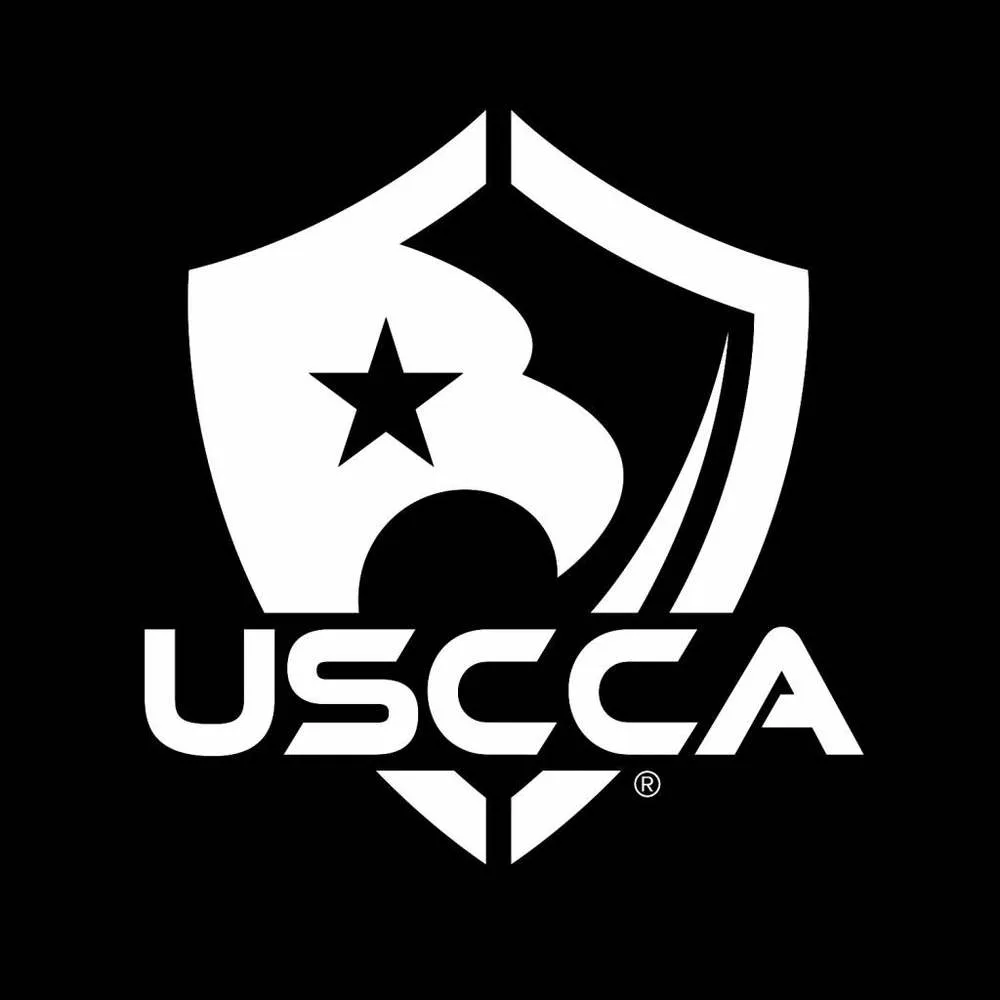 | | |
| --- | --- |
| Monthly Cost | $22-47/month |
| Civil Defense Coverage Limit | $500,000-2,000,000 |
| Criminal Defense Coverage Limit | $250,000 |
| Option to Pick Your Own Attorney | Yes |
Pros
Excellent CCW training program
Highest daily per diem
Choose your own lawyer
Cons
You might have to pay everything back
Expensive
Limited coverage
The USCCA is one of the most prominent concealed carry insurance associations in the US. Their 300,000 members can attest.
It's also one of the most expensive of the bunch.
The USCCA pays with a $250,000 limit towards your criminal suit coverage and, depending on your plan, up to $2,000,000 in civil suit coverage. They also provide upfront financial aid for legal fees and they pay per diem insurance options that can go up to $750 a day.
If you don't want to stay in jail, get yourself some bail. The USCCA offers $50,000 coverage for bail bond funding.
The bad side is that the USCCA is geographically limited, and New York, New Jersey, and Washington state residents are not covered. If you're living in another state, you would still be covered if you were visiting these states.
You choose your own attorney, but if you get upfront payments for a bail bond or attorney retainer fees, they can be deducted from your criminal defense cap. Upfront fees like that can financially drain you if the case is prolonged.
They also offer their members firearms and concealed carry training and resources for self-defense scenarios. These educational programs talk about the importance of avoiding gun fights and minimizing the use of firearms for self-defense when possible. There are also additional benefits like monthly magazines.
But, a pretty big downside to using this provider is that if you get a guilty verdict on a criminal trial, they reserve the right to make you pay back all of the money they spent on you, and this can be very unpleasant for most.
Besides this, the USCCA offer great features, but understandably, they're quite pricey.
Buyer's Guide for Concealed Carry Insurance
What To Look For In A Policy
When choosing a concealed carry insurance policy, you need to consider whether or not a concealed carry insurance policy will fit with your other insurance plans. It's very important to talk to your insurance agent about this and find out more about your state laws on self-defense.
It would be best if you also decided how much coverage costs you're willing to pay, their extent, your budget, whether or not you need expert witnesses, whether or not you travel a lot, or do you only use your firearms for home defense.
Each CCW insurer we mentioned has various plans, and you should decide which one suits you best.
However, there are important points to consider when considering insurance.
Attorney Fees. This is the most important aspect. Criminal and civil defense is expensive, and it's crucial to review policy covers if your case goes to trial. The ability to pick your own attorney is another important aspect you should consider.
Bail Bond. A solid bail bond is what makes a CCW insurance policy good. Consult with an attorney and consider the price of the bail bonds your insurer offers you.
State Coverage. Insurance laws differ from state to state. Be smart and read the fine print where the policy can cover you.
Expert Resources. To protect yourself from the legal ramifications of a self-defense case, you must understand your rights and the law. If the CCW insurance offers you access to informative and well-researched resources like videos, magazines, and newsletters on concealed carry training, then that insurer actually cares.
Coverage Options: The Trifecta of Protection
First up, let's talk coverage. In the world of firearms, insurance isn't just about protecting your precious collection from theft or damage. It's about safeguarding your back when things go south.
Generally, you'll want to look for three key areas of coverage:
Criminal Defense: Just like a reliable backup weapon, criminal defense coverage is something you hope never to need, but you'll be grateful to have it if you do. This covers legal fees if you're ever involved in a shooting and face criminal charges. Remember, even a justified shot can land you in hot water without proper legal defense.
Civil Defense: Here's where things get sticky. Civil defense covers lawsuits for injuries or property damage. Think of it as the body armor for your bank account. It helps cover legal costs if someone decides to sue you after a self-defense incident.
Other Coverage Options: These can include coverage for your firearms against theft, loss, or damage. It's like having a personal security detail for your guns. Also, look for options that cover bail bond funding, compensation while in court, psychological support, and more.
Key Factors to Consider: Not All Policies Are Created Equal
Now, onto the nitty-gritty. When comparing policies, keep your eyes peeled for:
Policy Limits: This is the maximum amount the insurance will pay. It's like knowing the range of your rifle – you need to know how far your policy will reach when it counts.
Deductibles: The amount you pay out of pocket before insurance kicks in. Lower deductibles can be friendlier on the wallet but often mean higher premiums. It's a balancing act, just like choosing between a high-capacity magazine and a lighter weapon.
Exclusions: These are the scenarios your policy won't cover. Read this part carefully. It's like checking the safety on your firearm – you need to know exactly how it works to avoid surprises.
Essential Coverage Elements
Choosing Your Own Attorney: A Personal Defender
One of the most crucial elements in a firearm insurance policy is the ability to choose your own attorney. Why does this matter? Well, imagine being in a situation where you must defend your actions in court. You wouldn't want just any off-the-rack rifle for a precision shot, right?
The same goes for legal representation. Having the choice to select an attorney who understands firearms and self-defense laws – and one you're comfortable with – can be a game-changer. This feature allows you to work with someone who's not just reading from a script but who truly gets your situation.
EXPERT TIP: Choose a policy that allows you to select your own attorney rather than using one appointed by the insurance company. This ensures you get quality legal representation.
Availability of Funds Upfront: Quick Draw Financing
Another key feature to look for is the availability of funds upfront rather than as a reimbursement. This is like having ammunition ready for a firefight instead of waiting for an airdrop.
In legal battles, expenses stack up fast – attorney fees, court costs, you name it. If your policy provides funds upfront, you can focus on your defense without worrying about cash flow. This kind of financial readiness is invaluable when navigating the complexities of a legal situation.
EXPERT TIP: Opt for a policy that provides funds upfront rather than reimbursement.
Daily Allowance or Per Diem During Trials: Keeping You Afloat
Last on our list, but certainly not least, is the provision of a daily allowance or per diem during trials. This often-overlooked element is like having a steady supply line during a prolonged engagement. Trials can drag on, taking you away from work and daily life. A policy that offers a daily allowance helps cover your living expenses while you're tied up in court.
The support system keeps you afloat, ensuring you're not left in a financial lurch while defending your rights.
EXPERT TIP: Look for a daily allowance or per diem coverage to help cover lost wages if you miss work during a trial.
Which CCW Insurance Policy Is the Best?
It depends (lawyers' usual answer to everything, ever).
There's no way to tell which CCW insurance policy is best for everyone because all of us have different lifestyles, families, states, financial status, etc. It depends on so many variables. There are too many individual factors that go into deciding what's the best CCW insurance policy.
The only thing that's best here is signing up for any policy rather than deciding not to get insured at all.
You can't go wrong with CCW Safe. They have solid plans, features, and attorneys that most gun owners can greatly benefit from.
USCCA and US Shield also offer great options as well.
I also recommend you try out USCCA's policies. They cover other forms of legal weapons, not just firearms. So, if you're a baseball bat type of homeowner, knock yourself out.
FAQs
How Does Concealed Carry (Firearm Liability) Insurance Work?
CCW insurance coverages vary and depend on the policy and options you choose. In some cases, CCW insurance carriers provide upfront funds for your legal self-defense cases, and other insurers can only financially compensate you.
It's also very important to read the fine print for offers and benefits before deciding on a concealed carry insurer.
What Coverages Do CCW Firearms Liability Insurance Offer?
CCW insurance groups usually provide specially customized insurance coverages like firearms liability for open and concealed carry, accidental discharge liability, bond payment, income interruption, criminal and civil defense assistance, upfront compensation, state-to-state coverage, etc.
Can I Be Sued If I Use Concealed Carry Weapons in Self-Defense?
Yes. Yes, you can be sued. Even if no criminal malfeasance is found, if you use firearms in self-defense, the aggressor has the right to sue in civil court.
Is Concealed Carry Insurance Worth It?
Yes. If you carry for self-defense, CCW insurance is worth every penny.
When the time comes, you'll be glad you have it because self-defense shooting expenses can go up to staggering amounts of money no gun owner can easily pay.
There are many great CCW insurers that can help you protect your assets during a self-defense case.
Does State Farm Offer Concealed Carry Insurance?
No, they do not. State Farm writes standard homeowners policies, and they do not cover criminal or civil defense costs. The general liability coverage included with their homeowner's policy does not cover the costs.
Does the NRA offer concealed carry insurance?
Conclusion
Just like a gun range needs to protect its shooters from the dangers of lead on the ranges by working with a lead maintenance contractor, you must protect yourself as well with concealed carry insurance
To conclude, I strongly recommend CCW Safe as the best overall choice. Not too expensive, not too complex. Their comprehensive coverage offers benefits to most gun owners and homeowners.
Still, seven insurers on this list have various insurance options and tiers, which many people and their families can benefit from. Besides, their policies and offers change in a couple of years, and we'll do our best to keep you updated.
One of the most unfortunate things you can do is assume you'll never need proper legal representation or strong CCW insurance during a defensive shooting. You'd be surprised how many people regret this mistake. It WILL cost you your job, your home, and your dignity.
Sure, you can go with a public defender or rely on other experts, but many plans and complex tiers go into CCW insurance companies, and it's all for the well-being of the responsible gun owner.
Explore more