5 Best High Capacity Shotguns [2023]: A Buyer's Guide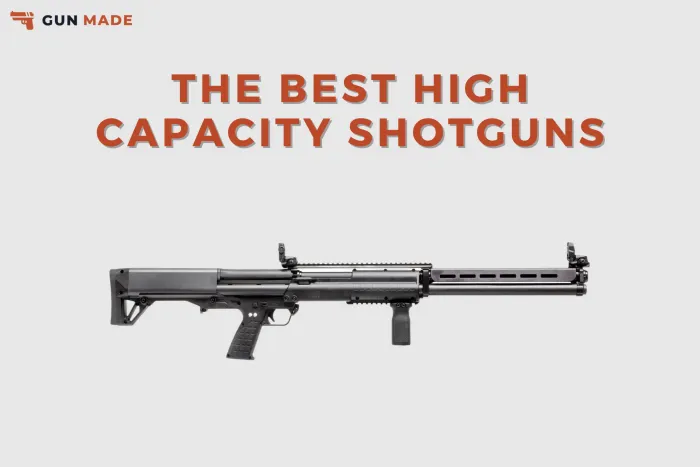 5 Best High Capacity Shotguns [2023]: A Buyer's Guide
Shotguns have plenty of capabilities and many different options depending on what you need them for. You can use them for everything from hunting to home defense and everything in between.
They've filled roles on and off the battlefield and are what your great-grandpa used to keep unwelcome visitors at bay. But they have their flaws. One of them is the magazine capacity.
With more traditional-style shotguns being only able to hold maybe three or five shotshells at a time, you may find yourself reloading quite frequently.
So, if you've ever wanted to know what the best high-capacity shotguns are, I have some good news for you.
We're going to talk about them right now.
From pump action shotguns like the Mossberg 590M that accept magazines to semi-auto shotguns like the Tokarev TBP12. Whatever you're looking for, we're diving into all of it.
Personally, I've always wanted a high-cap shotgun since I saw FPS Russia blasting off two AA-12s at different two-liter soda pop bottles.
Good times. Simpler times.
Let's get into this list of the best high capacity shotguns and find out why we choose them for each respective category.
Best High Capacity Shotguns

Specifications
| | |
| --- | --- |
| Caliber | 12 gauge |
| Capacity | 24+1 (2 ¾ inch shells), 20+1 (3 inch shells) |
| Weight | 9 pounds |
| Overall Length | 38 inches |
| Barrel Length | 9.4 pounds |
Pros & Cons
Pros
Great capacity

Shells eject from the bottom

Dual selectable tubes for different loads
Cons
Heavy

Not cheap, but the plastic feels that way
The KSG-25 builds on the well-known pump-action KSG that made dual tubes famous. Some may argue that the Neostead 2000 made them famous, but when most people think of dual-tube shotguns, they think of the KSG.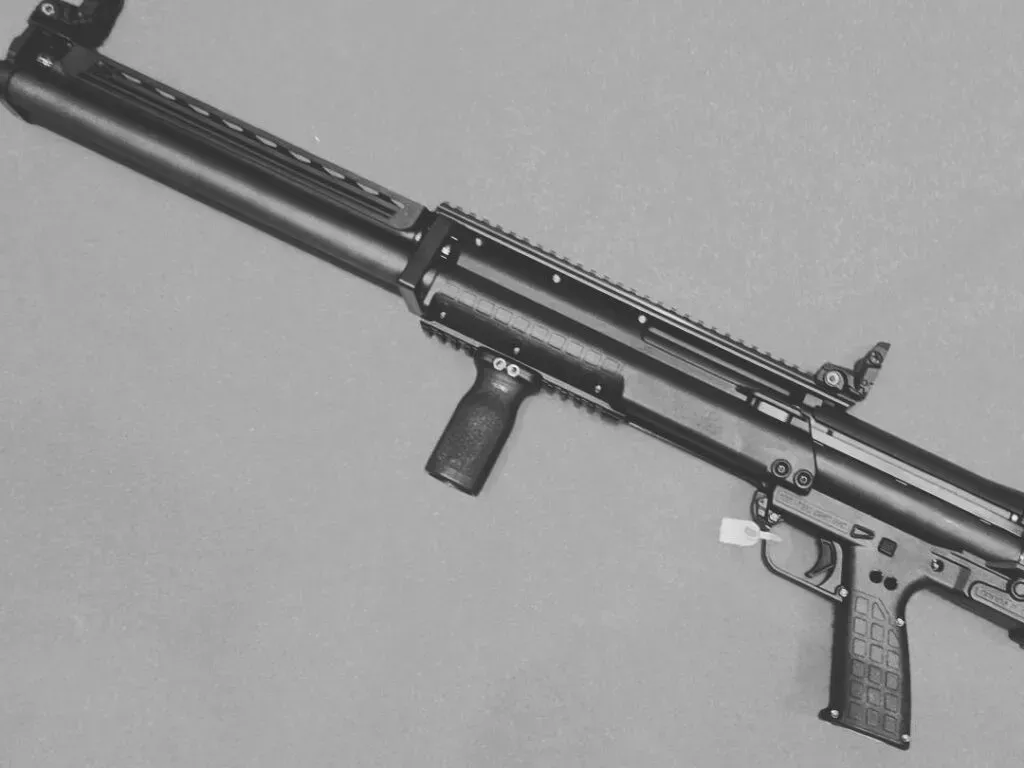 The difference between the KSG and KSG-25 is the amount of ammo one can fit into the 25 while still keeping their boom cannon as compact as possible.
With a capacity of 24+1 when you load 2 ¾ inch shells and still being able to swing it around the house without worrying about clipping the door with your barrel, I see this as a viable home defense weapon.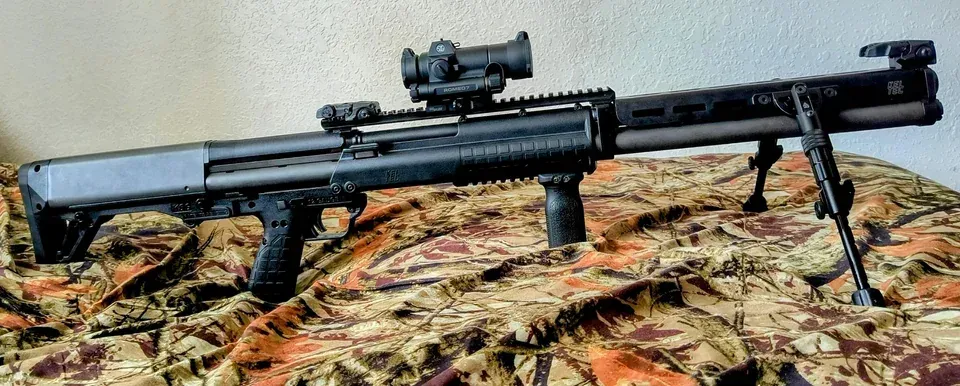 It is a bit heavy, though. At 11 pounds fully loaded, it's not exactly the lightest shotgun on the market. But that's a sacrifice you'll have to make for this much firepower. With that much 12 gauge, I doubt any intruder wants to stick around and find out.
And that's why the Kel-Tec KSG-25 claimed the best overall spot for the best high-capacity shotgun. It's compact, a bit expensive, but still attainable, and will get you out of a bad spot if need be.
Do you disagree?

Specifications
| | |
| --- | --- |
| Caliber | 12 gauge |
| Capacity | 5+1 and 10+1 rounds |
| Weight | 7.11 pounds |
| Overall Length | 28.3 inches |
| Barrel Length | 18.5 inches |
Pros & Cons
Pros
10-round magazine capacity

It can easily be found under retail

Plenty of Picatinny space

Aftermarket magazines for extra shotshells are available
Cons
It takes some breaking in before it runs effectively
The Tokarev TBP feels like a steal for how much you get vs. what you pay. It's a budget shotgun that doesn't give you the budget impression, and is a brand that most of us are familiar with.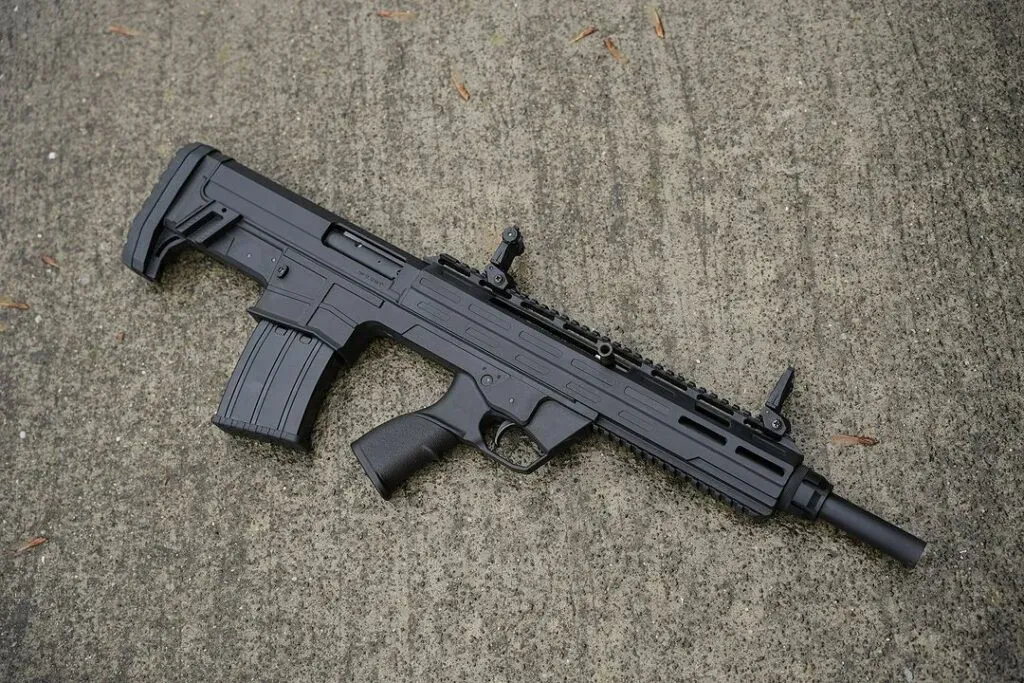 The Tokarev TBP is not your typical shotgun. Some may even confuse it for a Tavor or several other bullpup rifles. However, the TBP slings more firepower than many other bullpups we see on the market.
With as much Picatinny space as most AR-15s and an optional 10-round magazine, the TDP is excellent for those who want an entry-level shotgun that is versatile and ready to do the job.
The best part of this rifle is the number of magazines you can find that give you more boom-boom room. The TBP comes with a five-round magazine and has an available 10-round magazine on the website. But if that isn't enough for you, any T-1919 Shotgun magazines will do.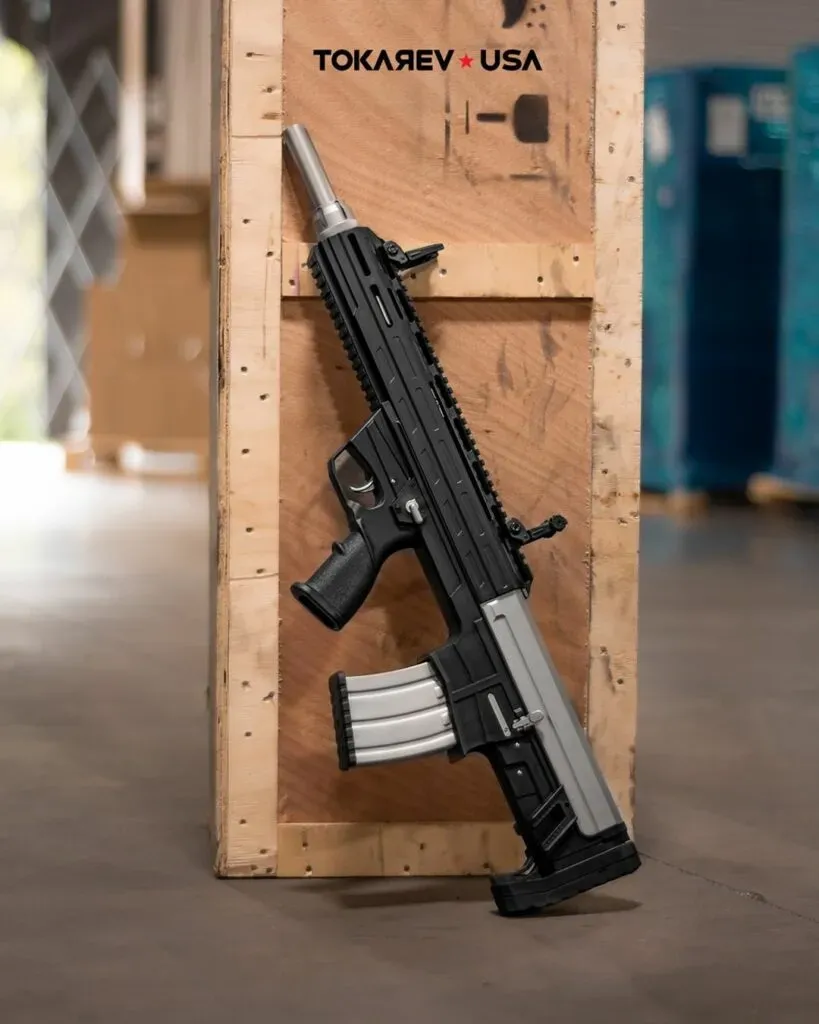 Even the ProMag 20-round drum magazine works with it. It's a hefty kit, but that's alright. Do your pushups and eat your protein.
With all of the features and how well the TBP fits into many different roles, you can see why I recommend it if you're looking for a shotgun that will barely make a dent in the bank account.
Best High-Capacity Pump Action – Mossberg 590M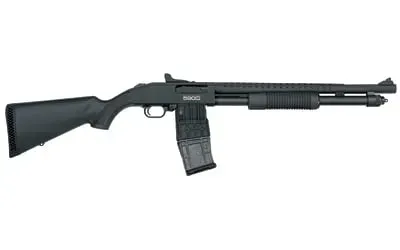 Specifications
| | |
| --- | --- |
| Caliber | 12 gauge |
| Capacity | 10+1 rounds |
| Weight | 7.75 pounds |
| Overall Length | 39.5 inches |
| Barrel Length | 18.6 inches |
Pros & Cons
Pros
Easy to find under retail

Plenty of magazine options from 5-20 rounds

The 590 is a combat-proven platform
Cons
No Picatinny space

Not much room for customization
We think of a few shotguns when we think of proven combat shotguns. You have the Benelli M4, the Remington 870, and one that doesn't usually cross your mind, but it should.
The M1897 Trench Shotgun. The war crime boom stick.
Among those ranks of the finest combat shotguns is the Mossberg 590—a beast of a shotgun that has been clearing rooms since the late 1990s. Eventually, the semi-automatic Benelli M4 replaced it, but not everyone has Benelli M4 money.
That's okay. The 590M houses more rounds and is more reliable than the Benelli M4. Checkmate. Multiple magazines are available for the 590M ranging from a five-round magazine to a 20-round drum.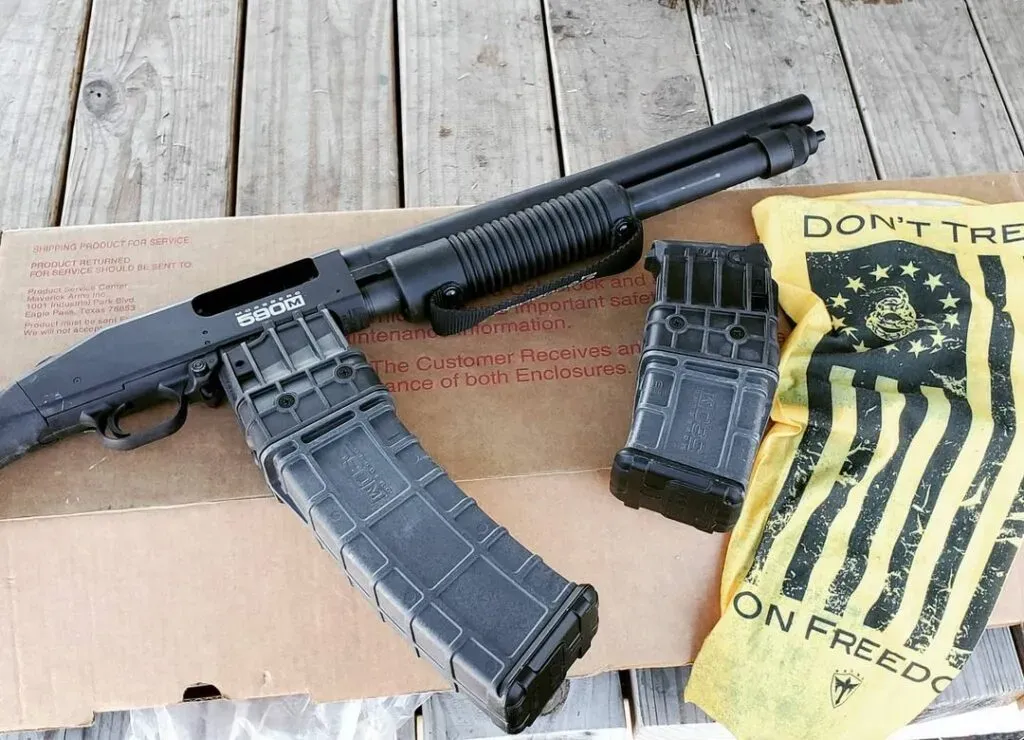 And pump actions are always more reliable than semi-automatics anyway.
One thing I wish the 590M had is Picatinny space. I like to run a red dot on my shotguns in case I want to punch something with a slug. But from the factory, there is no rail space. Don't worry; there are a few aftermarket options out there.
Best High-Capacity Defensive Shotgun – Kel-Tec KSG

Specifications
| | |
| --- | --- |
| Caliber | 12 gauge |
| Capacity | 12+1 or 14+1 (shell size dependent) |
| Weight | 6.9 pounds |
| Overall Length | 26.1 inches |
| Barrel Length | 18.4 inches |
Pros & Cons
Pros
No magazine 

Bullpup design

Fairly compact 

Not that expensive
Another Kel-Tec? We are talking about high-capacity shotguns here. The KSG still qualifies as a high-capacity shotgun, no?
Yes.
And when talking about the best high-capacity defensive shotgun, you can't go wrong with a bullpup and no visible magazines. No risk of snagging on the kid's toys when you're running through the house, getting after the bandit.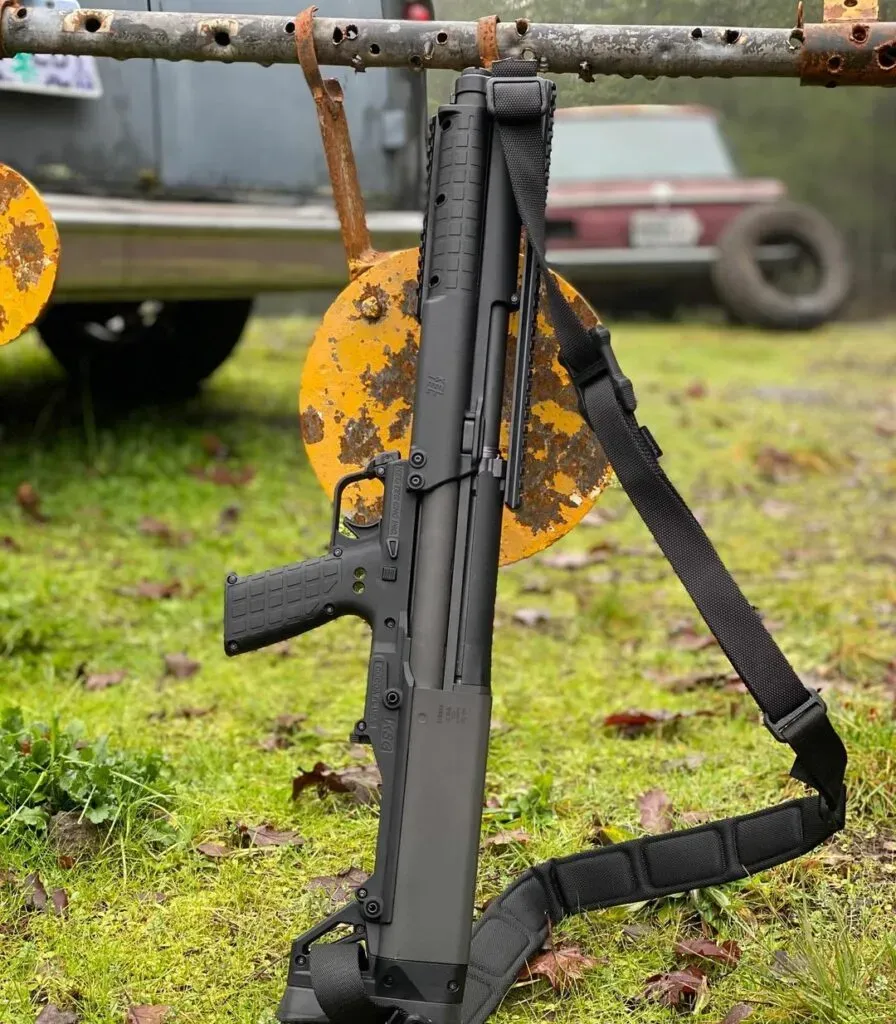 And when you have 15 shotshells, I hope your opponent made good with God before entering your home.
But why is it the best high-capacity defensive shotgun? Good question.
At an overall size of 26.1 inches and weighing around the same weight as your run-of-the-mill AR-15, it's easy to swing around the corners and find out what goes bump in the night.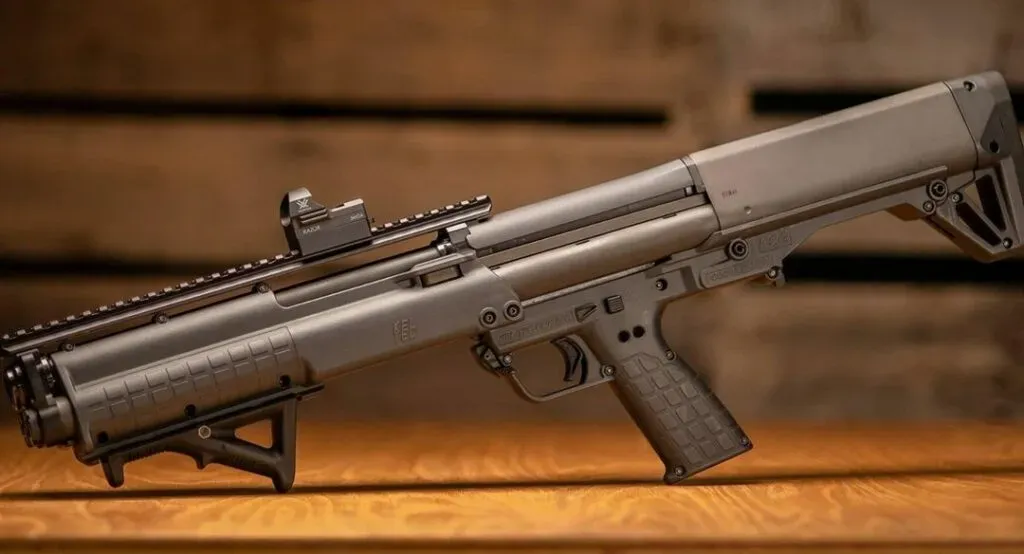 Not to mention the amount of ammo and the ability to house two different loads. Since the KSG has two tubes instead of one, you have more options for what you need to handle the intruder. It takes some practice, but you can switch between loads by the flip of a manual lever.
My only issue with the KSG is how cheap the plastic feels. I admire companies that can assemble a sturdy firearm that wouldn't rattle in a tornado, like the Radian Model 1. But the KSG almost makes me feel like I'm holding a mid-tier airsoft gun.
It holds up well, of course. It won't fall apart, but I still like when things feel like they should. You know what I mean?
Here's a full write-up of the best home-defense tactical shotguns.

Specifications
| | |
| --- | --- |
| Caliber | 12 gauge |
| Capacity | 7+1 rounds |
| Weight | 7.25 pounds |
| Overall Length | 38.75 inches |
| Barrel Length | 18.5 inches |
Pros & Cons
Pros
Picatinny rail for optics

Semi-Automatic (just pull it again)

Fairly inexpensive 

Oversized charging handle 

Quick empty magazine button (or tube)
Cons
Stock followers can produce some reliability issues (easy fix)

Has Picatinny space, but not a lot. 

Cheaper loads can lead to issues as well.
I was going to give this spot to the Benelli M4, but the high price tag and lower tube capacity compared to the 930 SPX Tactical is what swayed my choice.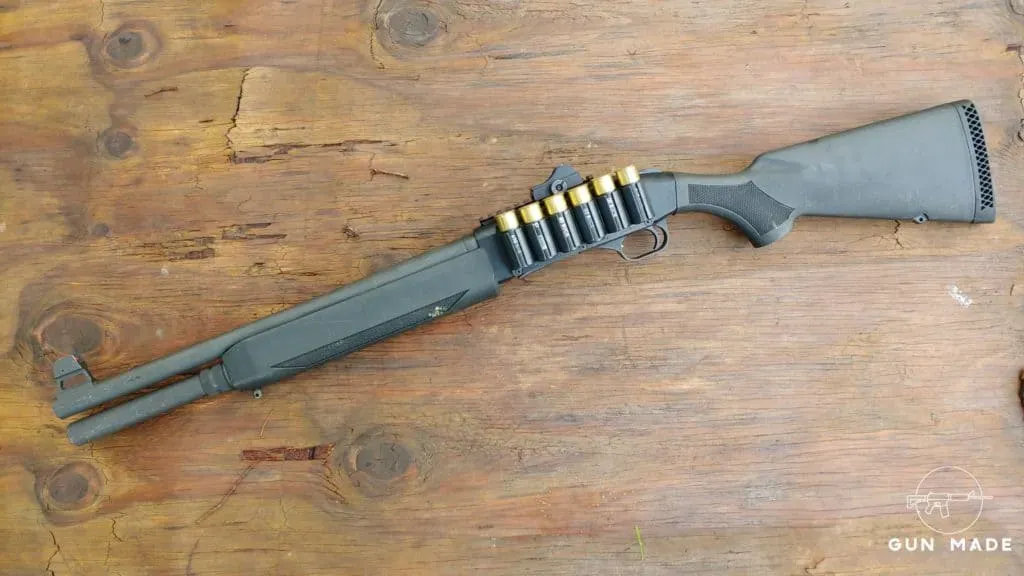 The Benelli M4 is a combat-proven shotgun, but it's heavy. When I think of tactical, I think of door kicking and things of that nature, where you want more in the tube and less weight.
The semi-automatic Mossberg 930 SPX Tactical provides seven in the tube and has Picatinny space for an optic. The fully rifled bore makes precise shots with slugs easier and keeps a tighter pellet spread up close.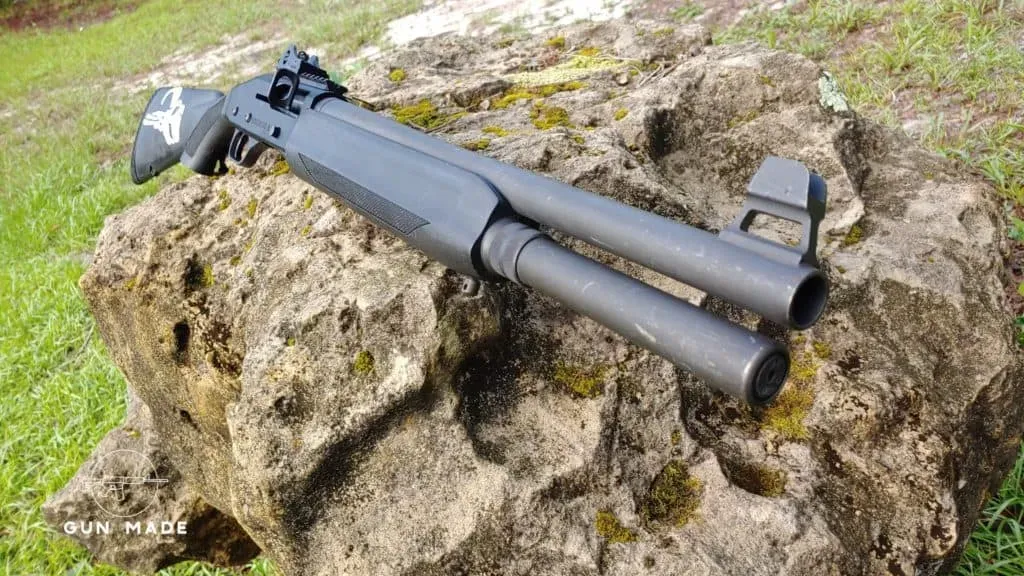 But I have heard that there are some jamming issues on some of the 930 SPX Tactical models. A few shooters told me it had to do with the ammo used and to steer clear of big box bulk ammo. However, I saw it run great using Walmart-bought 12 gauge, with only one failure out of 20 rounds of Winchester Buckshot.
Maybe we were lucky? I'm not sure. I will say that the SPX Tactical likes more powder than a Guns N' Roses concert and does best with 3-dram shotshells.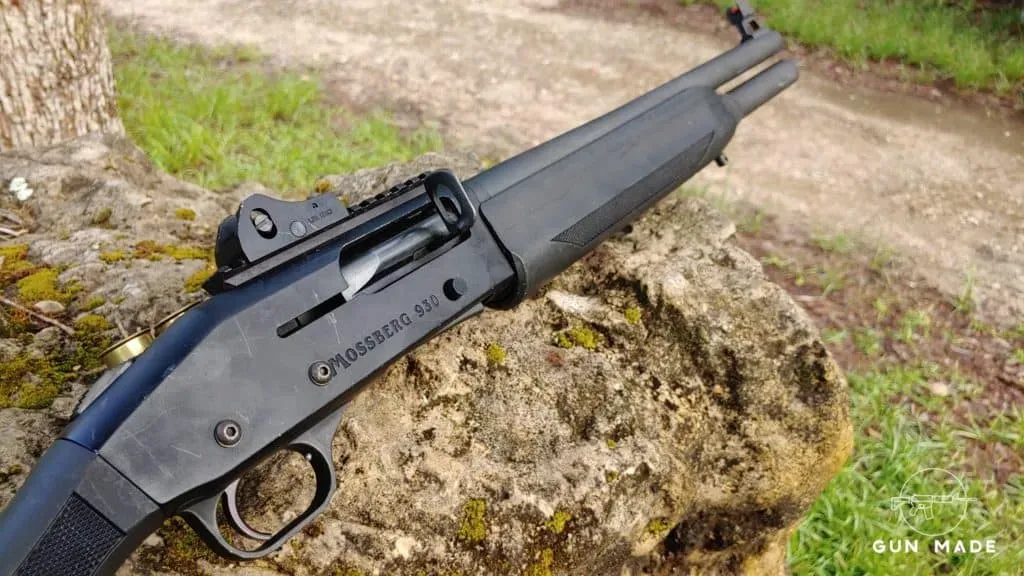 There are more models of the 930, and they are all equally kick-ass, so don't be afraid to look around and see what you like.
We also reviewed the Mossberg 930 SPX Tactical if you want more information.
How We Chose Our Top Picks
When I picked the best high-capacity shotguns, I wanted shotguns that had different magazine sizes available if they were magazine-fed or held more than six shotshells in the tube if it was tube-fed.
They also had to be readily available and within a reasonable price tag. I didn't want you to have to scour the internet searching for a shotgun that is harder to find than my biological father.
I also wanted to have some personal experience with these shotguns as well. Thankfully, I have a big community of shooters around me that own more guns than NATO, so finding opinions from owners and getting my hands on these guns is easy if I catch them on a good day.
In the end, this is the list we have.
High-Capacity Shotgun Buyer's Guide
Before buying your shotgun, you should ask yourself a few questions to determine which one is right for you so you don't buy more or less than you need.
Magazine Fed vs. Tube Fed
If you haven't guessed what the difference is by now, let me explain.
Magazine Fed
Magazine-fed shotguns require an external ammunition storage device like modern AR-15s and other semi-automatic firearms. An excellent example of a magazine-fed shotgun is the Mossberg 590M. There are many different magazine sizes to choose from, and you aren't stuck with one capacity.
For example, you have 5, 10, 15, and 20-round magazine capacities at your disposal with a magazine-fed shotgun. In contrast, with a tube-fed shotgun, you must either suck it up and deal with the five or six shotshell capacity or get a tube extension.
But magazine-fed shotguns take up more real estate, which increases the risk of snagging and things of that nature in a close-quarters space.
Tube Fed
These are your more traditional-style shotguns that you feed through a port on the bottom of the gun. An example of a tube-fed shotgun is the Remington 870, which has been rocking the sand for years.
Tube-fed shotguns tend to be more reliable than magazine-fed shotguns since the big rim on shotshells tends to bully the box magazines, which can lead to feeding issues.
But many will tell you that magazine-fed shotguns are just as reliable. I've only had one feeding issue with a magazine-fed shotgun. And that was the 590M.
As for which one is best…
It depends on your situation and what you're going to use it for.
We all want reliability, so for home defense, I recommend tube fed so you can just pick it up and go while not having a chunky magazine in the way.
That's why my go-to shotgun is an M1897 Trench Shotgun. Well, it will be when I can get my hands on one.
FAQs
Are 14-Inch Barrel Shotguns Legal?
It depends. You're golden if the overall length is longer than 26 inches. But if it's under 26 inches in total, it falls under the NFA and must be "registered" with the ATF, or that agency that loses guns or sells them to the cartel.
They call it a "short-barreled shotgun."
What Shotgun Does The Military Use?
The military uses a few different shotguns. The Remington 870, Mossberg 590, and the Benelli M4 are a few of them. Some members of the Coast Guard use the Saiga-12 as well.
What Shotgun Holds The Most Rounds?
The KSG-25 holds the most rounds of any shotgun.
Conclusion
So there it is. Your list of the best high-capacity shotguns, ready for you to pick one. I recommend the KSG-25 as the best high-capacity shotgun due to its high shotshell count and compact frame.
What do you think? I'm sure you have a few shotguns that you think should be on this list. I'd love to hear about them, so leave a comment and spread the knowledge.
See you on the range, fine shooter.
Explore more