The 12 Best Magazine-Fed Shotguns: Reviews & Buyer's Guide [2023]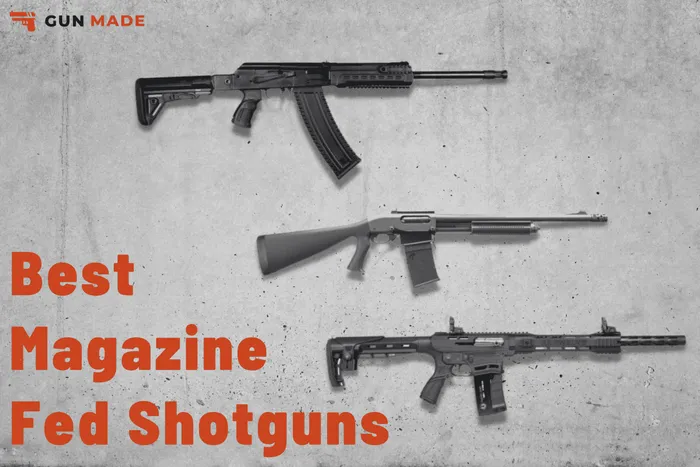 The 12 Best Magazine-Fed Shotguns: Reviews & Buyer's Guide [2023]
Let it be known that there's nothing like a Remington 870 to guard your property with.
Now, jam a whole detachable magazine onto the side and you have yourself the ugliest-looking shotgun known to man, and let's face it, a good old, pump-action, tube-fed shotgun looks cooler than a mag-fed one.
At least, that's what people say about magazine-fed shotguns.
Why You Should Use Magazine-Fed Shotguns
Despite the harsh flak mag-fed shotguns have received over the years, magazine-fed shotguns are an excellent choice for home defense.
As far as I can tell, the negative complaints about mag-fed shotguns are purely because of their questionable aesthetics.
The trusty shotgun has been defending our homes and been our hunting companion since forever, and when you grace it with the ability to eat magazines, well, that means you'll be holding an unstoppable force in your hands.
Mag-Fed Shotguns Offer Higher Capacity…
Magazine-fed shotguns are more effective with the added capacity and can fend off multiple assailants as they come in droves. Think of a doubled crowd-control boomstick.
Some mag-fed shotguns are a redesign of a traditional, manual action firearm with special magazine feed systems, and others are AR or AK-inspired semi-autos and bullpup shotguns.
Some gun enthusiasts joke that the only time you'll need a magazine-fed tactical shotgun is when a zombie apocalypse occurs.
The reason why I think magazine-fed shotguns are a great addition to your arsenal is the ability to keep multiple magazines that can go up to a whopping 25 rounds per mag, with different types of shells. This way, you can quickly switch to magazines for birdshot, buckshot, or slugs.
…and Faster Reloading
This also changes the way you reload, and some may find this faster than tube-fed reloading. A mag-fed shotgun gives you so much more capacity than standard tube-fed boomsticks with 4-foot tubes protruding out of them.
If you prefer the feel of a rifle, mag-fed shotguns offer better ease of use because it's much easier to reload mag-fed shotguns than tube-fed shotguns.
There's no need to thumb-feed a tube mag one by one. Just swap out the spent mag with the paddle-type release in front of the mag, tilt the release back, slide the mag, and you're back in business.
12 Best Mag-Fed Shotguns
If you're convinced you need that added round capacity and you've grown tired of the molasses-slow reloading, you can go for the magazine-fed tactical shotgun to get that edge.
Personally, I think that it's really cool to have multiple magazines by your side, of various sizes, buckshot or slugs, that you can whip out for a quick round change.
On the market, you can find some very cool, high-capacity, semi-auto, tactical shotguns that can quickly change your mind about the mag-fed shotgun.
Truth be told, a lot of folks despise the look of the bulky magazine protruding out of the shotgun. But there's no reason to listen to other people when it comes to taste.
Just try them out, and see for yourself. Maybe you'll form a habit and muscle memory for this novelty magazine feed system.
In no particular order (except for my absolute favorite), I compiled this list of the 12 most reliable mag-fed shotguns that money can buy.
We'll start off with our top pick.
Best Overall Magazine-Fed Shotgun
We based our 'overall best' recommendations on reliability, ergonomics, and ease of operation, so that people would use them without running into bigger problems. I omitted the capacity factors because some may prefer less rounds.
We start with the Remington 870 DM Tactical.

Pros
Super reliable
Easy customization
Ergonomic Magpul furniture
The Remington 870 is the gold standard of shotguns. It went on to become one of the best-selling shotguns since its conception in 1950.
Some might say that putting a detachable magazine on the classic 870 is terrible, but I beg to differ. Sure, the essence of the shotgun isn't shooting it empty and reloading it all over. It's not a rifle.
However, the long magazine is a solid improvement on the Remington 870 DM Tactical (DM stands for 'detachable magazine'), especially if you need more rounds on your trusty pump-action shotgun for self-defense. The carry of additional ammo is far easier than any tube-fed method. No more carrying the weight of belt ammo, right?
The Remington 870 DM Tactical is a 12-gauge, pump-action, shotgun. It has one of the fastest response times among high-capacity shotguns.
It weighs 7.5 lbs. and the overall length is 38 inches. With a 6+1 round capacity of 3-inch shells, an 18.5-inch barrel length, and a Rem Choke barrel with a ported tactical choke, the Remington 870 DM Tactical is quickly becoming a popular mag-fed choice among gun enthusiasts.
The Magpul furniture is a fantastic combination, and most would find this shotgun ergonomic, though it could use a finer pistol grip for my taste. The black synthetic stock is easy on the shoulders and the Picatinny rail offers top-notch customization.
As far as accuracy goes for shotguns, it can do wonders at 30 yards with slugs. It's easily customizable with XS Steel Front Sights, XS Ghost Ring Sights, and Tactical Rails for accuracy.
The reliability is outstanding. This shotgun cycles every shell that's fed with no problem.
I chose this one for the overall best mag-shotgun because of its sheer reliability. Honestly, I praise Remington for their ingenuity. It's rare to see accepted improvements on long-standing, cemented classics like this one.
Overall, it's a jack of all trades in the mag-fed arsenal, and I can vouch for its brilliant reliability and comfort. Remington took the old standard shotgun and made it even more powerful.
You can also find a Tac 14 model on the market, and while this Remington has a lower capacity, it's lighter and better.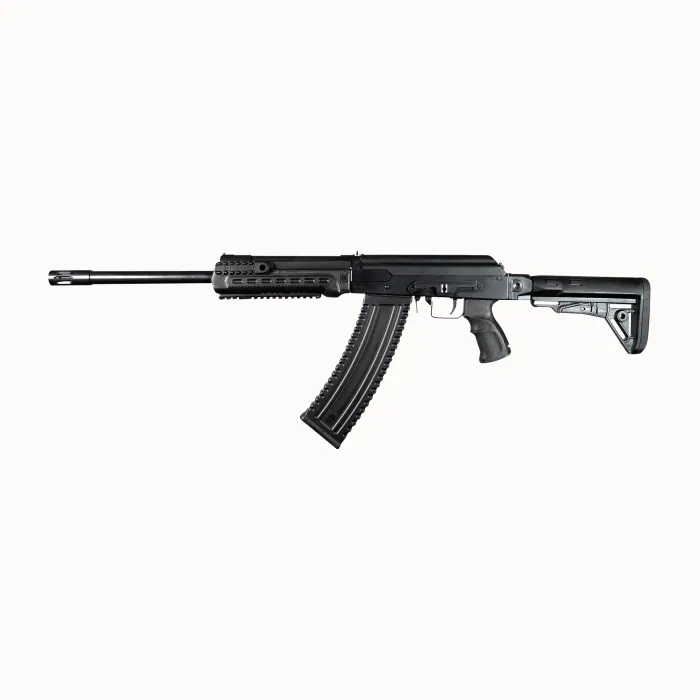 Pros
Flash suppressor
Easily customizable
Collapsable stock
Perfect reliability with slugs
Cons
Tricky magazine change
Expensive
Here's an AK shotgun for all you psychos out there.
The Saiga 12 magazine-fed shotguns forced manufacturers to up the ante, and now everyone is trying to fill the market with AK-modeled shotguns.
But there can only be one true contender to the throne.
Based on the Russian Saiga series, the US-made Kalashnikov USA™ KS-12T is a high-end, 12-gauge, semi-automatic shotgun for home defense, with a collapsible stock and pistol grip for added comfort. It comes with a 42.25" overall stock-extended length and weighs 8.86lbs.
The innovative gas system allows the KS-12T to accept 2.75" and 3" shells from buckshot to slugs, and can hold a moderate 10-round capacity. This autoloading shotgun is definitely not for bird hunting. Standard buckshot and slugs work well with the Kalashnikov KS-12T, and there are also alternative settings for reduced recoil.
The fixed iron sights offer solid accuracy, but you can mount all kinds of aftermarket red dots on the optic rail.
You got an AK-style side-mounted optics rail that can be easily customized with Saiga accessories, chokes, and muzzle devices even if you're on a budget. It's a good idea to use Saiga drum mags with 50 shells. Flash suppressor is included specifically for its muzzle.
On the downside, the KS-12 is expensive, but it has impressive smoothbore firepower and exceptional reliability. Above all, the KS-12T is a solid choice for semi-auto mag-fed shotguns, and it honors the true Saiga 12 design.

Pros
Ergonomic
Ambidextrous safety
Affordable
Top reliability
Cons
Tough recoil
Slightly difficult reloading
Rock Island Armory are known for their VRPA60 and the bullpup VRBP-100 in the magazine-fed business.
I could have gone with the bullpup VRBP-100, but it's not as reliable and customizable as the VR80. Besides, I'm not a fan of recoil shoulder pain.
The 12-gauge, gas-operated, semi-auto VR80 is the second generation of Rock Island's AR-style mag-fed shotguns.
It's 40 inches long, can go up to a 19-rounds capacity, and weighs 8.27 pounds, slightly less than the KS-12T.
It looks similar to an AR-15, it clicks and pops just like an AR-15, and it's easily customizable, just like an AR-15. Feel free to swap chokes, add all kinds of optics on the rails, flip-up iron sights, swap the stock… there's even a metal M-LOK-compatible handguard for extra safety. The pistol grip is quite comfortable as well.
What's good about the VR80 semi-auto shotgun is the ability to swap the charging handle from right to left, which is one of the most ergonomic features for semi-auto shotguns, and it's easier to rack the charging handle. The safety is ambidextrous and provides instant tactile feedback for right and left-handers.
The VR80 has top-notch reliability and can cycle a lot of shells. To me, it feels like it's much more reliable than the other mag-fed Rock Island shotguns. The recoil can be tough on the shoulder, despite the gun being gas-operated, and the reloading is tricky. You need to kind of rip out the mags with some force.
Other than that, it's a joy to shoot this Cali compliant, mag-fed beast if you're an AR-15 fan, and you can expect great rounds with the VR80. Truly, a very affordable and powerful mag-fed fun blaster. 

Pros
Ambidextrous safety
Easy takedown system
Light recoil
AR design
Cons
Some reliability issues
Needs heavy customization
The Akdal MKA1919 Match is a hybrid semi-automatic, 20-inch barrel, 12-gauge shotgun designed around the AR platform. It's a fine choice for competitions, home defense, and hunting.
It has a removable box magazine, with a redesigned extended bolt release, sling swivel studs, locking block, and action block for smooth operation.
The upper receiver is an aluminum alloy with integrated picatinny rails for sights and optics. It has a pistol grip and impact-resistant polymer stock, and the gas system enables an effortless shooting for 2.75-inch and 3-inch shotshells. The recoil is manageable, and the extended bolt release and extended mag release offer faster reloading.
The Akdal MKA 1919 Match shotgun also features an ambidextrous safety, 2 gas rings for heavy or light loads, and an easy takedown system.
Customization for the MKA 1919 is simple, and you can find great deals on AR-15 accessories that can be suitable for this shotgun.
Anyone could feel the ease of use and efficiency with the Akdal MKA 1919, not because it's an AR-15 design, but because the freedom of customization allows a more easy and tactical approach.

Pros
Popular choice (along with the 590M Shockwave)
Ambidextrous slide tang safety
Anti-jam mechanism
Polymer stock
First 12-gauge, double-stack magazine in the world
Mossberg's blueprints and Adaptive Tactical's mags teamed up to create what went on to become a standard in mag-fed shotguns – the Mossberg 590M.
The Mossberg M series (as in 'magazine') consists of the 590M Mag-Fed Pump-Action shotgun, and the 590M Shockwave, which pays tribute to the sawn-off style for those of you who prefer a lightweight, high-recoil kick.
What makes the 590M so popular is the 10-round double-stack magazine. You can operate and quickly swap the increased capacity mags without needing an oversized mag tube which makes reloading so easy. It's designed with an ambidextrous red-dot slide tang safety, dual extractors, and anti-jam elevator safety features. It also offers an ambidextrous magazine release.
It's a mag-fed, 12-gauge, pump-action shotgun with a 10-round capacity that goes boom every time. You can also find detachable box magazines with 5, 15, and 20-rounders. It's an improvement of the popular Mossberg 590 tube magazine shotguns.
The 590M offers ghost ring sights, bead sights, heat shield, and cylinder bore choke for extra accuracy and convenience.
The 590M has a black polymer stock for stability and balance, a matte-blued barrel finish, and a black-oxide finish on the mag. It weighs 7.75 pounds, the chamber is 2.75", and has over-molded steel shell ramps. It's a carefully designed shotgun for accuracy, stopping power, and low recoil.
Maintenance and disassembly is easy with the removable floor plate, and they lock into shape perfectly. The downside is that the mags can get a little expensive.
Besides this, the Mossberg 590M mag-fed shotgun has all the features that secure its place among the best of the best.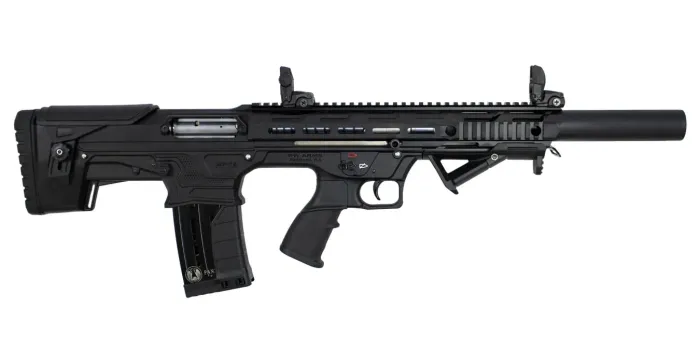 Pros
Excellent stopping power
Updated gas system
Comes with full, modified, and skeet/cylinder chokes
Cons
Low capacity
Slightly heavy (9 pounds)
Fairly affordable
The BP-12 12-Gauge Gen 2 Bullpup Shotgun, produced in Turkey, is an innovative improvement to the original BP-12. Looking for a high-velocity target practice weapon? This is it.
The original was ambidextrous, but now Gen 2 is changed because the top charging handle has been removed to accommodate a slimmer profile and to reduce weight. It's a well-made, close-quarters weapon.
The BP-12 Bullpup has a 20" barrel length, 5+1 round capacity, 3" chamber, and it's a shorter, more compact, and lighter version of the first generation. The upper receiver is 7075 Aluminum and has picatinny rails for optics. It has a more streamlined rail, with a standard and high-velocity gas piston for extra stopping power.
Your purchase comes with two 5-round magazines, front and rear sights and flip-ups, a removable angled fore grip, and a cleaning kit. The picatinny rails along the top, sides, and bottom of the handguard allow easy mounting for optics and accessories, and it also has a side-charging handle for right-handers.
It's a well-made, compact shotgun with detachable box mag, and I think that it can pretty much outperform an AR-15.

Pros
Effective close-quarter combat shotgun
Excellent grip
11-round capacity
Ambidextrous safety
Smooth anti-jam elevator
Cons
Less versatile than the other choices because it only accepts 2.75″ shells
It may be too basic in design for some users 
Tricky recoil
Here's the deadly serious, close-quarters, 590M member of the Mossberg family of mag-fed shotguns. It's highly regarded as the go-to weapon if you want a close-range mag-fed blaster for protection inside the house.
This is a self-defense, home-defense guardian, and I guarantee every homeowner would want one of these. It's like a sawed-off shotgun with the capacity of an AR.
It's called a 'Shockwave' because it combines the legendary pump-action Mossberg reliability with a compact design, which features a Raptor Bird's Head pistol grip to minimize recoil.
The Shockwave has a corn cob forend with a strap to keep your hand in place, but because of the heavy recoil, the screws may be painful. For accuracy, it has bead sight, but you can go for a red dot sight or an XS front sight.
The overall length of this firearm measures 27.5″, which means that it's fully compliant with the BATFE, and doesn't require a Tax Stamp for transfer.
The 590M Mossberg Shockwave pump-action magazine-fed shotgun offers a 20-round operation, but you can easily go for the 10-round for smoother shooting.
You can feel the difference between the detachable box magazines and clunky drum magazine feed. It's a fussy eater, and only takes 2.75" shells.
The Shockwave also has dual extractors, and twin action bars for ease of operation. It also has anti-jam elevator features.
The Mossberg 590M Shockwave is literally a mag-fed pump-action shotgun that thinks it's a handgun. It's not to be used rapidly or taken lightly.

Pros
Excellent reliability
Saiga 12 lookalike
Ergonomic
Good capacity
Amusingly enough, Vepr, or 'вепар' as the Slavic peoples of the Balkan people would call it, stands for 'wild boar', and this name is convenient for this 12-gauge semi-auto mag-fed.
Before Mossberg and Remington went for detachable box magazines, the Eastern Block had the legendary Saiga 12 semi-automatic shotgun. A lot of manufacturers tried to copy the Saiga 12, and many failed. There are so many variations of the AK 12-gauge, but the Vepr 12 is definitely one of the most reliable ones.
This is a 12-gauge, close-quarters beast with an AK functionality, a 19" barrel length, and 8.5 pounds of pure mayhem. It has a pistol grip, Picatinny rail for red dots and flip-up sights, and a folding stock for convenience.
Round capacity goes from 5+1, and 8+1, to 10+, and you can trust your bigger drum magazines for this one because it eats like a wild boar. The Russian manufacturer didn't neglect the basics with this one.
You can also find 20-round drums on the web, if you really want to get serious.
The gun is so popular, it's used in competitions, and YouTube is full of videos and excellent reviews for this blaster.
The Vepr-12 is one of the best magazine-fed semi-auto shotguns you can find on the market.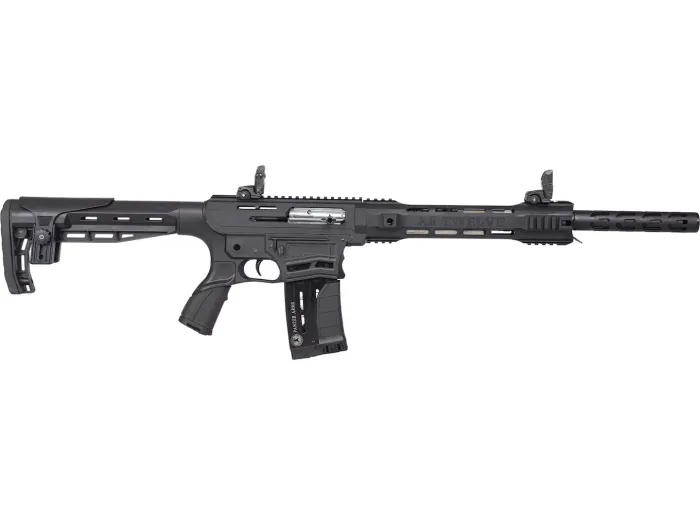 Pros
AR-based shotgun
Excellent ergonomics and weight
1-year warranty
Cons
May not work with light loads
The Panzer Arms AR-12 is an intriguing magazine-fed piece. It's an AR-based, gas-operated, semi-auto shotgun. It mimics the control and handling of an AR.
The AR-12 is a very light and ergonomic shotgun, with an ergonomic pistol grip, removable carry handle, and recoil pad for extra ease of use. The magazine's release button and manual safety is placed the same way as the M16 rifle, so riflemen would find the AR-12 suitable for their muscle memory.
It has a carrying handle, integral picatinny rail for rear sights and front sights, optics, and other accessories. If you purchase it, you get a free detachable front sight, two 5-round magazines, and a cleaning kit. How cool is that?
Aftermarket customization is widely available for the AR-12.
You can easily remove the AR-12 barrel for quick dismantling. The lower receiver, pistol grip, and stock are impact-resistant polymers. The upper receiver is aluminum alloy. This makes for solid handling and comfort.
The chamber allows you to use 3" shells, but this shotgun works best with high-powered loads like buckshots or slugs.
The AR-12 is perfect if you are looking for an affordable semi-auto mag-fed tactical shotgun for sporting and hunting.
Pros
Easy to handle revolving shotgun
Comfortable polymer stock
High capacity 16+1 round
Ambidextrous receiver
Revolving shotgun
Cons
Expensive
Reattaching the magazine is tricky
Another favorite – the SRM 1216.
SRM Arms Inc. went for a revolving shotgun with this model. It's one of the more prominent products of SRM Arms, a small shotgun manufacturer with great promise.
The SRM 1216 is a semi-auto, high-mag capacity, self-loading, 12-gauge defensive shotgun with a synthetic polymer stock, recoil pad, and stopping power that can plow through waves of zombies.
The self-feeding mechanism is a twist (puns!) on the standard tube-magazine shotgun.
It's named 1216 because it uses a detachable, rotary mag that can hold 16 rounds of 12-gauge ammo in its rotary magazine, double the size of any standard mag-fed shotgun.
The polymer lower receiver and steel upper receiver can be set up by both left and right-handed operators. In fact, the controls are fully reversible to suit the left and right-handed. It also has a unique roller delayed operating system for better recoil and fast cycling.
It has four integral tubes with springs, followers, and shell retainers that rotate into place, and it eats standard 2.75 – 3-inch shells. The 1216 comes with a 6-inch, three-way Picatinny rail on the upper receiver which offers better positioning, accessory customization and aftermarket front sights, ghost sights, and whatnot. The flip-up sights are a hybrid of ghost rings and AR-15 irons.
Disassembly is easy with the pushpin and break-open design, which is similar to an AR-style takedown.
Reattaching the magazine can be difficult for some, because you need to angle the mag and press the tube upward into the hanger. Either way, you'll get the hang of it (no more puns, promise). Once you have the mag-fed part figured out, the 1216 is able to tear down a wall.
I normally wouldn't recommend a massive firepower shotgun for home defense, but this one is just too fun to pass up.
Honorable Mentions
These two shotguns are not magazine-fed, but they are high-capacity and are worthy of a mention.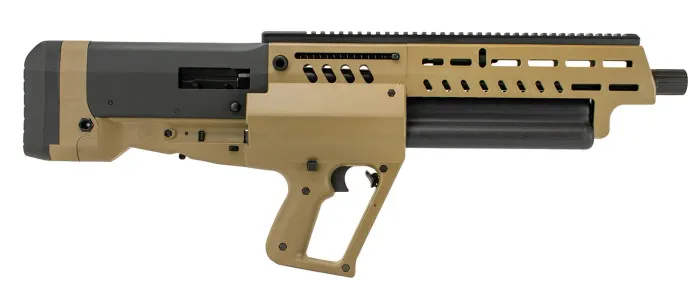 Pros
Gas-regulated bullpup shotgun
15-round capacity
Cross-bolt safety
Versatile
Easy recoil
Full-length Picatinny rail
Can be disassembled without special tools
Cons
Not ambidextrous (for the right-handed only)
Not very reliable
One of the heaviest on this list
Pricey
The Tavor TS12 tactical, smoothbore, 12-gauge, bullpup shotgun. It feeds from one of three individual mags that can hold four 3-inch shells, or five 2.75 inch shotgun shells each. Simply push a button and you can unload the cartridges.
You can expect superb quality from IWI (Israel Weapons Industries) products. This bullpup has a unique patented 'Bullhead' bolt system for that much-needed stopping power. It's one of the best mag-fed bullpup shotguns on the market.
What's unique about this number is that it can automatically load a round in the chamber once the loaded mag is rotated into position. Hooray for rotating magazines!
You can feed it and unload it from either side, attach additional features like sling attachment points, M-LOK-compatible rails, Benelli/Beretta choke tubes, and Picatinny top rails.
The TS12 is perfect for sporting and home defense. It has an 18.5-inch barrel, but the overall length of the shotgun is 28.34 inches.
The downside is that the Tavor TS12 is not a left-hand convertible, but the easy loading system offers loading from either the right or left side. The ejection port can catch some shells, and it really isn't up to par with the reliability.
Other than that, it's gas-operated with integral gas regulation adjustment, making recoil a breeze and easy on the shoulders.
IWI wanted to create a compact, semi-automatic, 12-gauge shotgun. The Tavor TS12 is pricey and somewhat unreliable, but I still think they did a good job.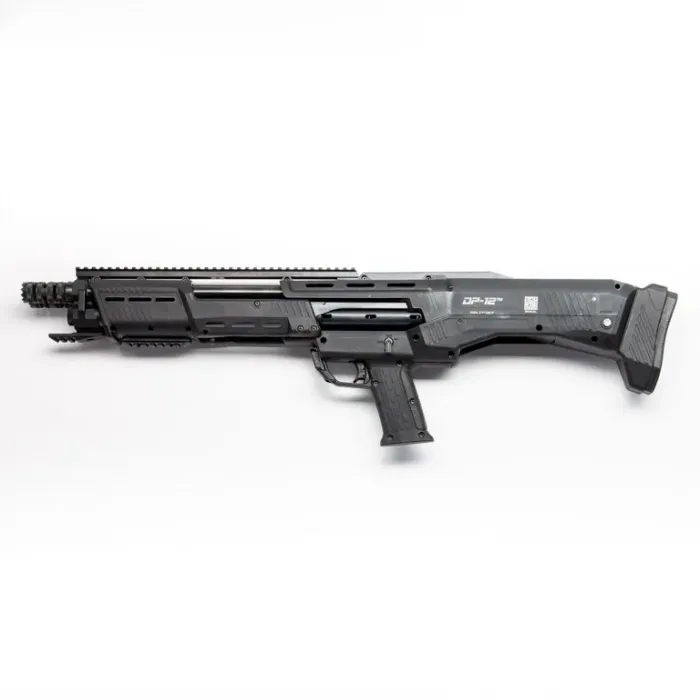 Pros
Ambidextrous
Devastating stopping power
Long-range effectiveness
High capacity 16-round shells
Cons
One of the most expensive shotguns on the list
Aftermarket parts are difficult to find
Introducing the DP-12. A one of a kind, double-barrel, space-age, bullpup shotgun that's not for the faint of heart.
Here's a unique one.
It has a 16-round capacity for 2.75 – 3 inch shotshells, and some say that the manufacturers are going for a 25-round capacity. Check out how it fares against the SRM 1216.
Designed for the ultimate home defense against a zombie apocalypse for gun enthusiasts who are looking for high-end shotgun firepower. It's absolutely insane.
I'm not sure about the reliability of the DP-12, but it's built to spew inferno at 25 yards as fast as it can. The spreader choke tubes are built with Tru-Choke thread patterns, and you can even customize it with accessory optics and door breachers.
For giving you this much firepower, it's actually ergonomically designed for perfect balance with minimal recoil, and it features a cross-bolt manual safety above the grip, with a center loading/ejection port, perfect for left and right-handed gun enthusiasts. It's one of the scariest ambidextrous bullpup shotguns you can find on the market.
Standard Manufacturing Company went for a detail-oriented innovation for the DP-12 and they offer a lifetime warranty.
This bullpup, pump-action shotgun is a heavyweight on this list.
Might as well be considered as a new weapon in the Doom video game.
FAQs 
What to Look For When Buying Magazine-Fed Shotguns
When you want to purchase a magazine-fed shotgun, there's not much to look for besides mag capacity and type, barrel and chokes, and ergonomics, so you really have to try it and feel things out before you consider purchasing it.
What's more, magazine prices aren't usually affordable. Mags are just as important as the mag-fed shotgun, and they're usually overlooked.
You should keep an eye for suitable box magazine shells the same way you'd check out the shotgun.
When going for a magazine-fed 12-gauge, be it semi-automatic or pump-action, you don't have to immediately go for the more popular Mossberg and Remington choices. I recommend you try some options from this list and maybe you'll like the feel of a new mag-fed shotgun.
If high-capacity shotguns are not your thing, you can always settle for the classic shotguns for home defense.
Whatever the case, mag-fed boomsticks offer you unmatched strength, speed, and a unique approach to reloading.
What's the Best Magazine-Fed Shotgun?
There's no confirmed champion of the mag-fed arsenal on the market.
Sure, you can go for the Remington 870, or the 590M Shockwave and call it a day. But some people prefer different feels, features, customization, ergonomics, and some really love/hate how some shotguns click and rattle. In matters of taste, there can be no disputes.
Some people like the AR-style mag-fed shotguns, others go for the traditional feel or polymer stock. Or, if you're looking for heavy-duty self-defense, tactical shotguns might be a good option.
But, as we said earlier, there's a reason why we placed the Remington 870 DM Tactical in the position of "overall best".
It's one of the best mag-fed shotguns. The Remington 870 DM Tactical is just a very reliable piece of firearm that's made under the close eye of a prominent manufacturer, and you can expect nothing but quality. I just feel that many people will find it very handy.
Types of Mag-Fed Shotguns
It's pretty simple. Basically, 12-gauge magazine-fed shotguns can be pump-action, semi-auto, bullpups, AR shotguns, and AK shotguns, and depending on the barrel, they can be single-barrel, double-barrel, though I'm yet to see a triple barrel magazine-fed shotgun.
Design aside, owning a magazine-fed shotgun has its benefits, especially if you're looking for a higher capacity and faster reloading.
Here are the most popular types of magazine-fed shotguns:
• Semi-Automatic Shotgun
• Pump-action
• Bullpup
• AR Shotgun
• AK Shotgun
What Are the Downsides of Mag-Fed Shotguns?
Weight is basically the most common downside. The weight of mag-fed shotguns is often heavy. Their average weight is 7lbs, and more if loaded with 20-rounds of pure 12-gauge madness. This is really off-putting for some.
Another problem that mag-fed shotguns have is the magazine reliability issue. All of these shotguns on the list rely on proper magazines, some are quite unique, and some may be really expensive.
Then you have long-term round storage, where spring pressure in box mags can deform some plastic shells when you forget them for a long time. This is where tube-fed chambers triumph – they just lay quietly for a long time and have no bent shell problems.
What's in Store for Magazine-Fed Shotguns?
The future of Magazine-fed shotguns looks bright.
I'm really looking forward to new innovations and redesigns for bullpups and mag-fed semi-automatic shotguns generally.
Companies like Remington, Fostech, Rock Island, Standard Manufacturing, and Mossberg are the leaders in mag-fed shotguns right now, but that inspires new, smaller companies to compete with their own designs and approaches.
Magazine-fed shotguns are a nice little solution to the low-capacity and slow reloading problems that shotguns face. They are certainly no threat to end the era of tube-fed shotguns, but they offer a very interesting and fun approach.
We can only expect new stuff from the manufacturers, and as we see more products appear, and old ones get reimagined, we can only anticipate really cool improvements of high-capacity quick-reload shotguns.
Conclusion
Apart from the recent hard times we're going through, I say it's better to have ammo and not need it than need the ammo and not have it.
Magazine-fed shotguns offer us a new approach in home defense and it really kicks the fun factor up a notch.
Sure, magazine-fed shotguns will definitely have to wait a long time before they can fully replace pappa's trusty tube-fed shotgun, but there's a good reason why they're becoming more and more popular.
Bigger slug capacity and faster reloading time is something most people are looking forward to. It's no wonder people are having a tough time finding mag-fed Mossbergs and Remingtons in stock.
There's no way in hell I'll be replacing my Remington 870 with a mag-fed shotgun, at least not at this time. But, there's something about the way the mag racks in and gives you the absolute freedom to blast 20 rounds in 15 seconds.
Explore more