Mossberg MC2c OR Review: It's A Pistol, Not A Shotgun!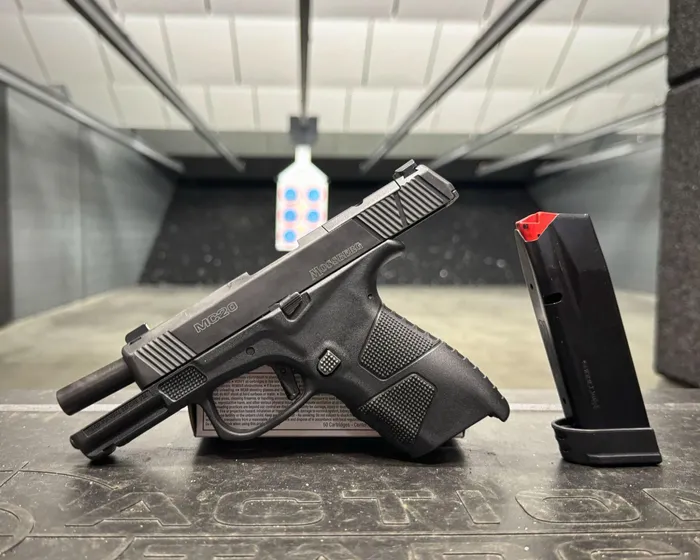 Mossberg MC2c OR Review: It's A Pistol, Not A Shotgun!
More often than not, if you see a Mossberg review, it's featuring one of its excellent shotguns. That's not a bad thing by any means; we love us some Mossberg scatterguns!
But, of course, Mossberg offers so much more than just shotguns. Whether you're looking for a precision rifle, a range plinker, or a concealed carry handgun, Mossberg has options for you.
Today's focus is the Mossberg MC2c, Mossberg's latest attempt to expand its market share in firearms. It's a compact 9mm with a 16+1 capacity that doesn't break the bank.
We'll share with you our initial thoughts, our range results, and ultimately let you know if we think this should be your next concealed carry handgun.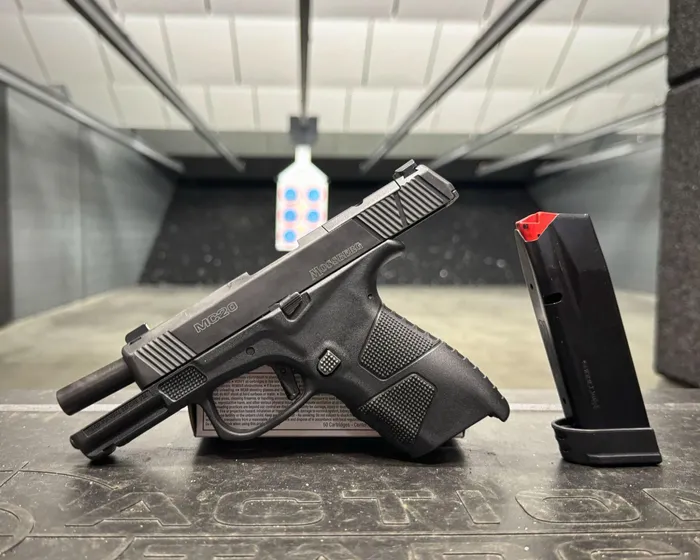 A big shoutout to Mossberg for sending out this MC2c for us to review.
Mossberg MC2c Review
Specifications
| | |
| --- | --- |
| Caliber | 9mm |
| Capacity | 14+1; 16+1 |
| Barrel Length | 3.9 Inches |
| Overall Length | 7.1 Inches |
| Width | 1.1 Inches |
| Height | 4.9 Inches |
| Weight (unloaded) | 21 Ounces |
| Sights | TruGlo Titrium Pro Night Sights / Optic-Ready |
Pros & Cons
Pros
Optics-ready slide with front serrations

Accurate and reliable

Flat-face trigger

TruGlo Tritium Pro sights

16+1 capacity

Triggerless takedown

Textured finger rests
Cons
Not a ton of aftermarket support

Slide stop is hard to engage/disengage in a hurry

Front slide serrations are relatively shallow

Would like to see more of the grip textured
First Impressions
As I took the MC2c out of the box, I was surprised at how well it felt in my hand. The grip texturing could use some work as it doesn't cover more than 50% of the grip, but the width and height make it very comfortable.
A couple of dry fires revealed a relatively light trigger pull (Mossberg states it is around 5.5 pounds, and I'd say that feels about right), and the gun pointed naturally. It almost reminded me of a Glock 19 in that sense, so aiming downrange felt very familiar.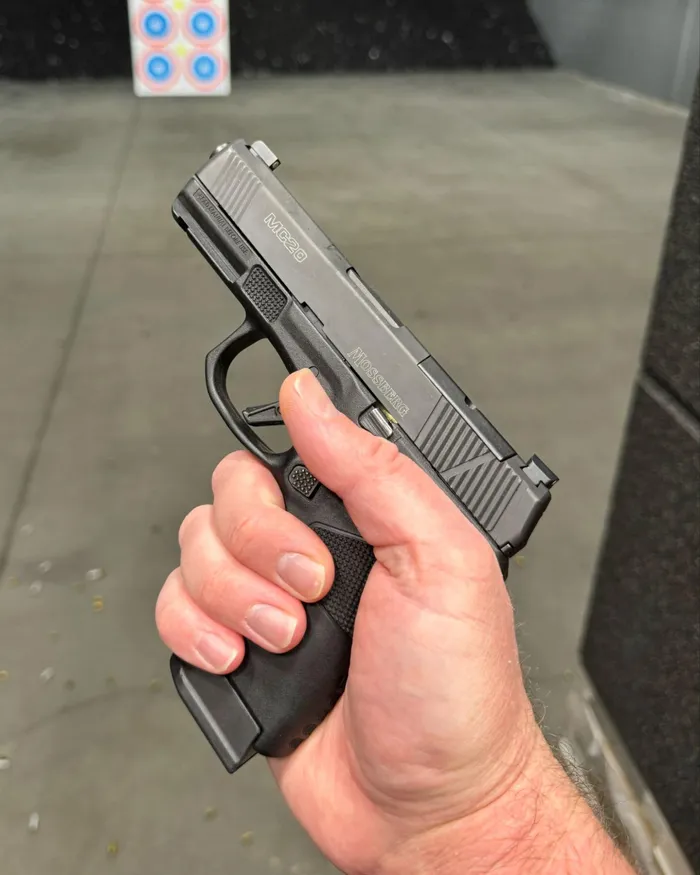 How We Tested
I wound up at the range three times with the MC2c, where I ran some standard shooting and reload drills and dumped a few mags for fun.
I also let one of the guys who works at the range take some shots to get a second hands-on opinion of the gun. We agreed it was a flat-shooting and easy-to-control handgun, but he felt the trigger needed to be more precise.
I would disagree.
Reliability
Over those three range sessions, I put 215 rounds through the gun. I'll detail which exact ammo I put through it in the next section, but the MC2c performed flawlessly with all of it. I experienced no malfunctions of any kind.
Ammo Used
I had one box of 124-grain Hornady Black left, which I supplemented with 115-grain Winchester Target & Practice FMJs and 124-grain Blazer Brass FMJs. I also found a few random rounds in my range bag of 124-grain Federal Punch JHPs.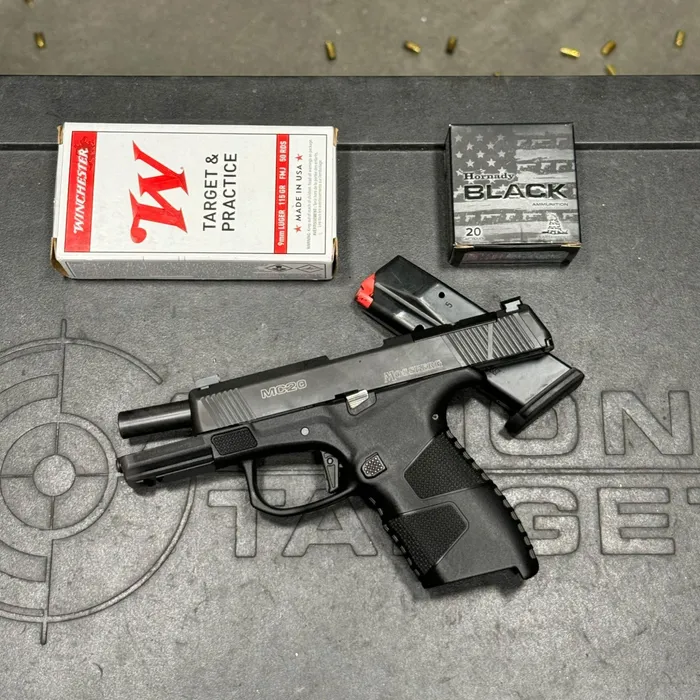 Accuracy
I was pleasantly surprised with my accuracy right out of the gate. I'm admittedly no professional shooter or even semi-professional shooter, but I do hit the range often enough, as you could imagine.
I kept my targets between seven and 25 yards, with some of the targets moving on a pre-determined timer.
Below is one of my first set of groupings as I was going from seven to ten yards. My groupings opened up quite a bit once I pushed towards 20+ yards, but I was happy with the accuracy within defensive distances.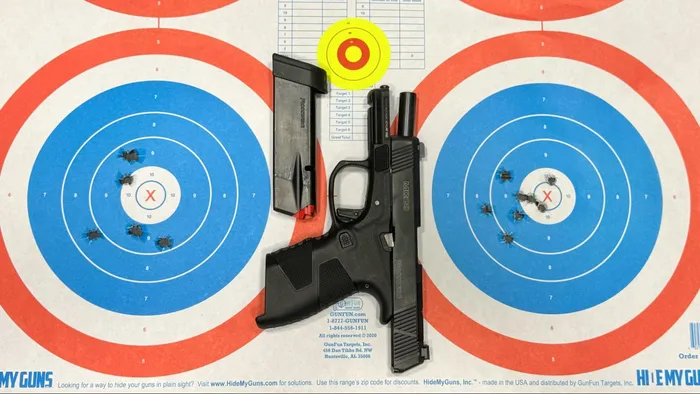 Features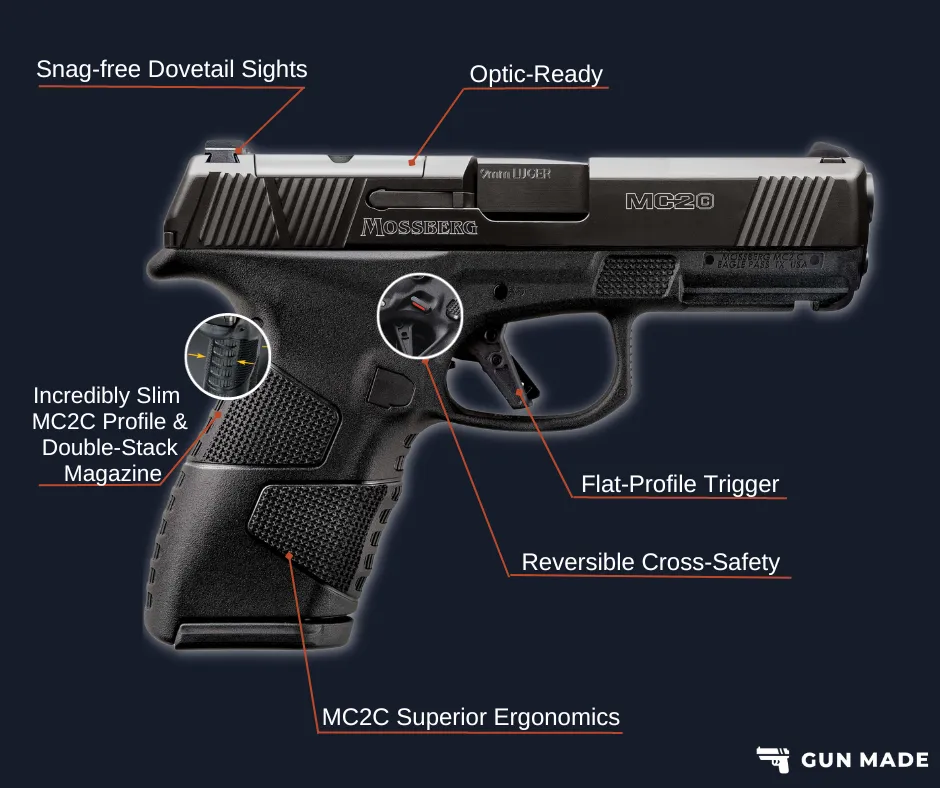 Optics-Ready Slide
Optics-ready slides are becoming the new norm these days, and I love it! All of the MC2c models come optic-ready with a Shield RMS footprint. This particular model also comes with TruGlo night sights installed from the factory, which is a nice touch over the standard white 3-dot setup.
Also, on the slide, you'll notice some forward slide serrations. I am pickier than the average shooter with my front serrations because I press check often. That said, I would have liked to see these serrations be more aggressive.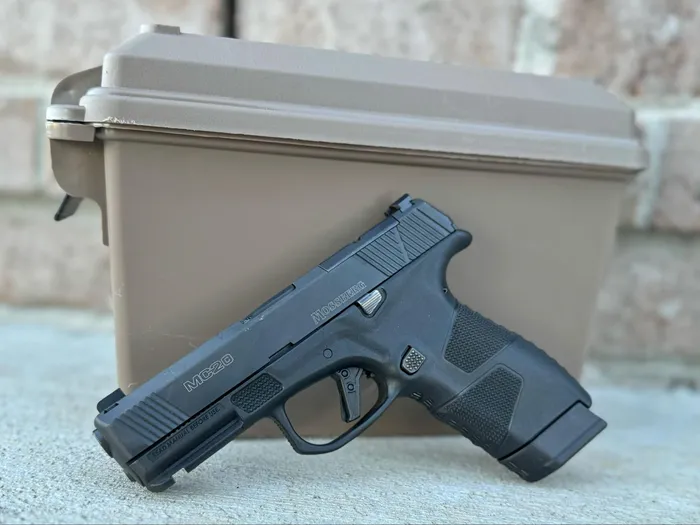 Flat-Face Trigger
A flat-face trigger with an integrated blade safety rests within the standard-sized trigger guard. I found the break to be relatively clean, but the reset was difficult to pinpoint, especially when shooting, instead of just taking your time while dry firing.
The trigger was smooth, though, and repeatable, so I was able to keep my follow-up shots quick and tight. As I mentioned earlier, Mossberg states the pull is around 5.5 pounds, which I have no reason to think otherwise after shooting it.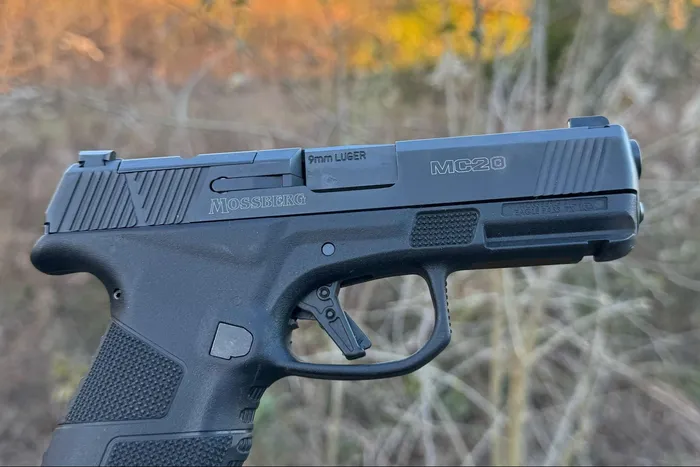 16+1 Capacity
Capacity is the name of the game, especially when you're carrying. When you're away from home, you probably don't have a stockpile of ammo in your backpack, so your magazine(s) are all you have while you're out.
The MC2c comes standard with a 14 and 16-round magazine, which, if you carry with one in the chamber, gives you a total of 17 rounds with a single magazine. Not too shabby. The extended magazine also provides some extra real estate for you to grip.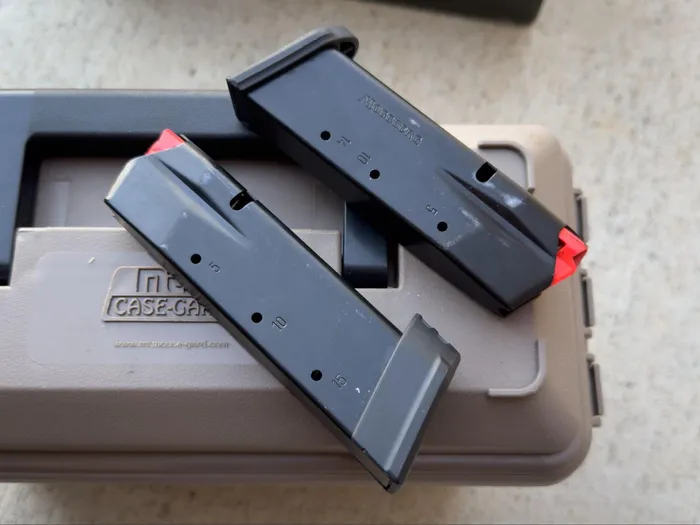 Score Card
Reliability (10/10)  
I didn't have any malfunctions. Zero. None. Goose egg.
Ergonomics (8/10)
Fits my hand great, and the gun points well. The controls could use some work, though.
Customization (7/10)
You can swap the sights, add a light and optic, and find a few holsters out there, but the aftermarket support is lacking compared to the competition.
Appearance (7/10)
It's a rather simple-looking black handgun, and the grip texture design doesn't do it for me.
Value (8/10)
We found the gun reliable and accurate, but the price is a bit high compared to other popular compact pistols that have long proven themselves.
Accessories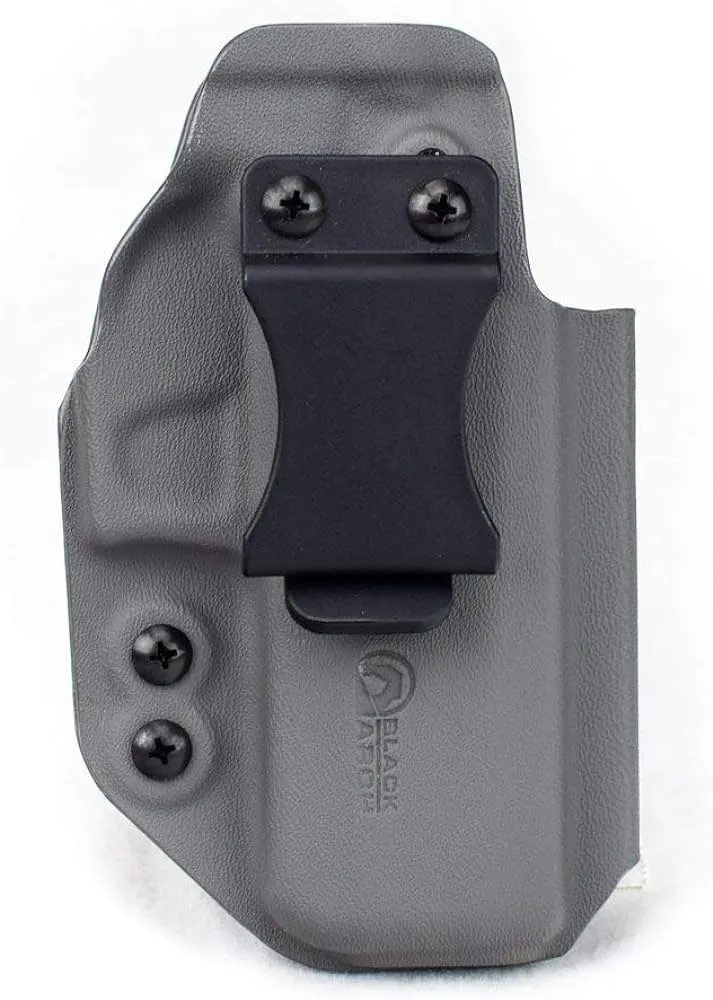 Black Arch makes high-quality holsters in many configurations. The full Kydex Rev-Con is reversible and convertible, meaning it can be switched from left to right and from IWB to OWB.
It features adjustable cant and retention, along with the ability to add a concealment wing. If versatility is what you're looking for in a holster, consider the Rev-Con as a top choice.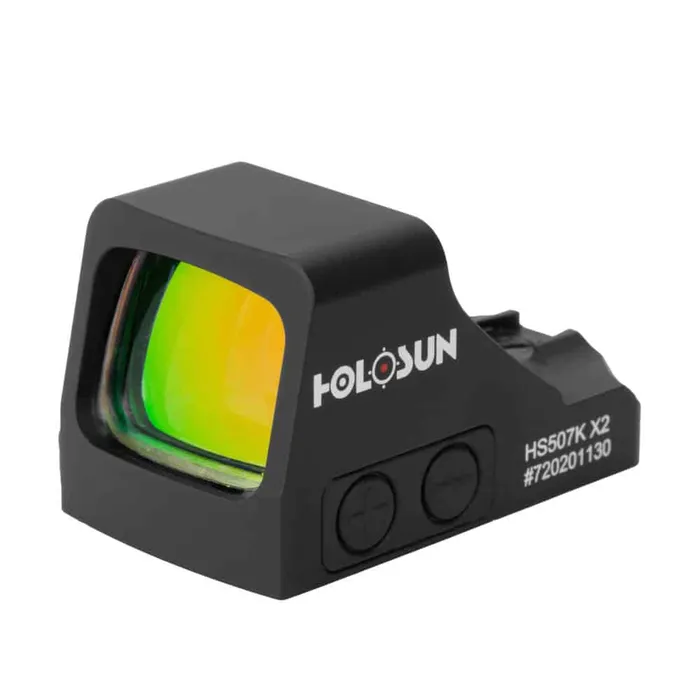 Y'all know I'm a sucker for Holosun optics. The 507K X2 would probably be my #1 choice to mount on the MC2c. It's compact without sacrificing features.
It features Holsun's Multi-Reticle System and Shake Awake technology, in addition to 12 brightness settings (two of which are night vision compatible).
The 7075 T6 Aluminum housing paired with the IP67 waterproof rating makes it durable enough for many scenarios and conditions.
Alternatives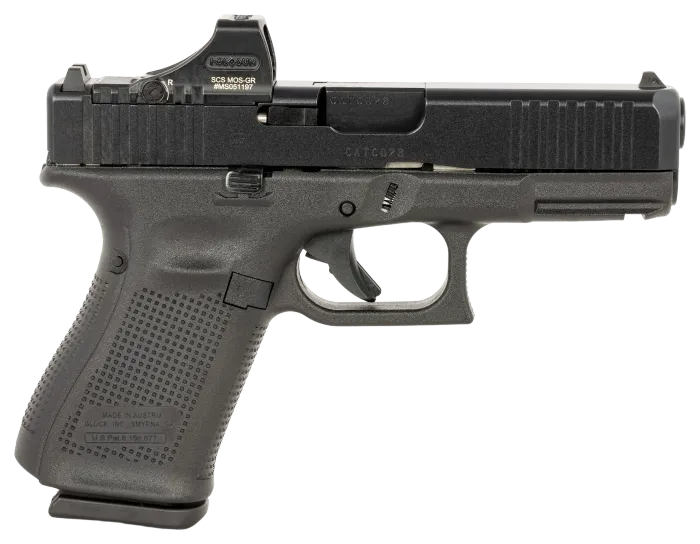 It shouldn't be surprising that the Glock 19 Gen5 MOS is the first alternative. It has that Glock reliability, an optics-ready slide, and an accessory rail. The trigger has been slightly improved over the previous model, and it also has the finger grooves removed from the grip.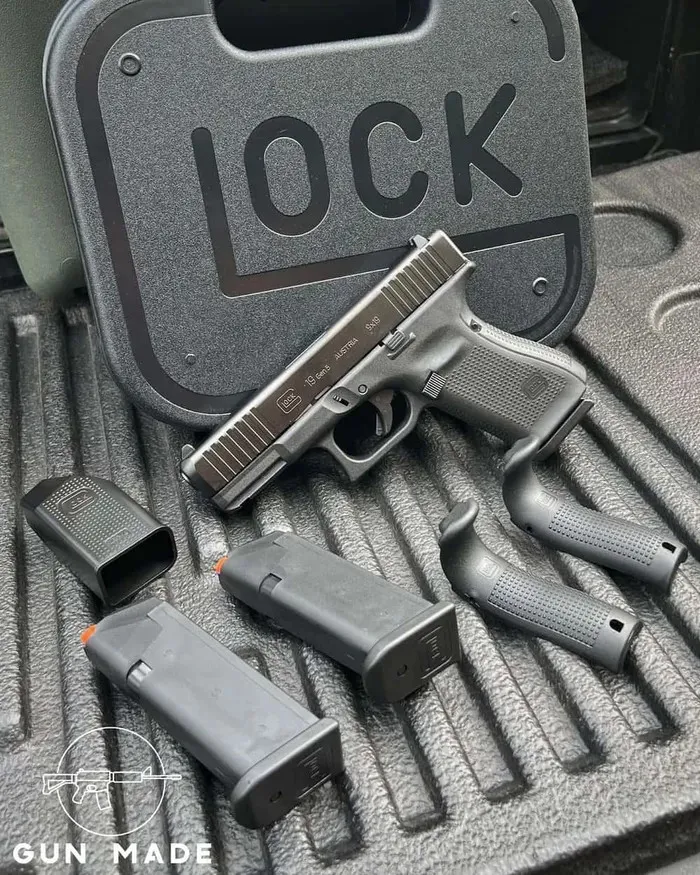 While it has a standard 15+1 capacity, you can use the 17-round magazines from the Glock 17 to increase the capacity. Lastly, there is probably more aftermarket support for the Glock platform than any other, so you'll have plenty of fun accessories and parts to choose from.
In case you're interested, check out our full review of the Glock 19 Gen5. Note: it is not the MOS version, but you can just use your imagination and add an optic cut to the slide.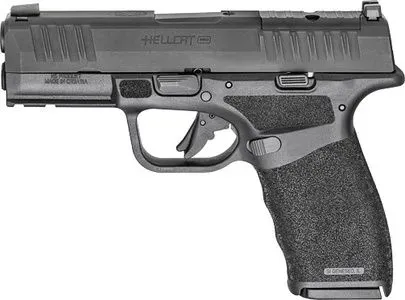 The Hellcat Pro offers more capacity in a smaller package than the MC2c, making it ideal for concealed carry. The standard capacity is 15+1, but Springfield recently released 17-round magazines for it.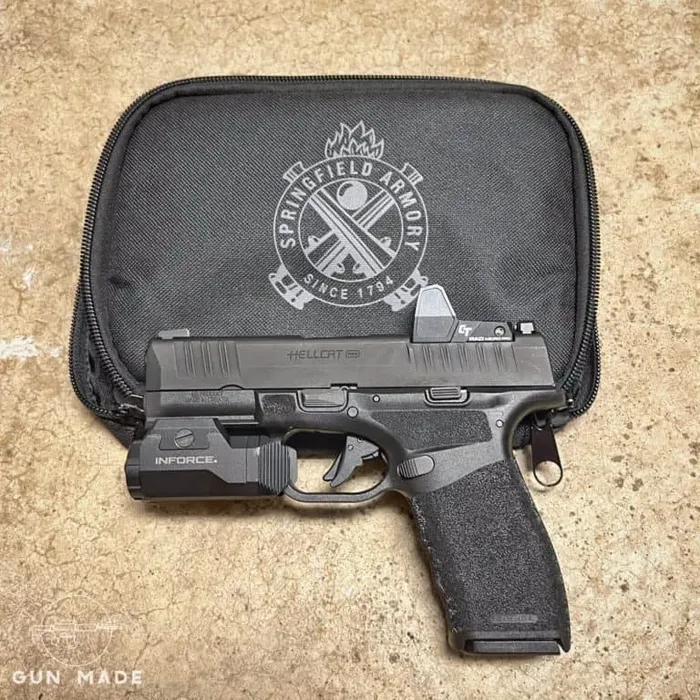 It's optics-ready, has an excellent stock trigger (at least in my opinion), and has one of my favorite grip textures on the market. In addition, you get front slide serrations, an accessory rail, and tritium U-Dot sights that are 10x better than the standard Glock sights.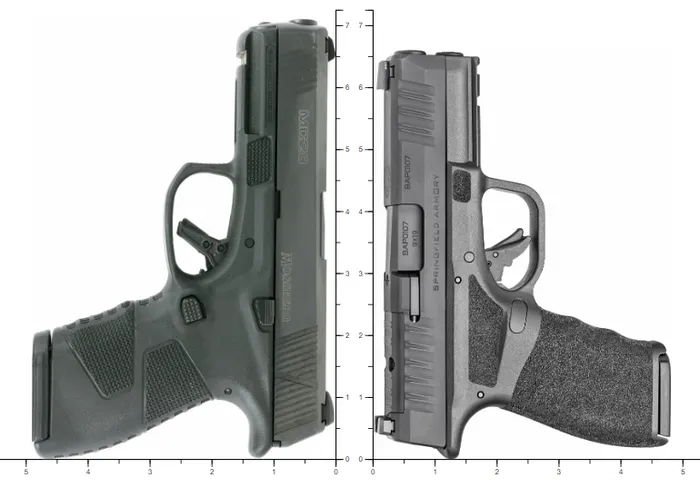 In case you're interested, go check out our Hellcat Pro review.
Conclusion
You've made it this far, so the Mossberg MC2c must've piqued your interest at least a little bit. I don't blame you. I mean, it's a Mossberg PISTOL.
By the end of my testing of the MC2c, I can definitely say I see the potential. Would it take the #1 spot in my carry rotation? No, it would not.
However, I wouldn't be hesitant to carry it, as it proved reliable and accurate. It also offers enough rounds for me to be comfortable carrying it without needing an additional magazine.
I believe Mossberg is on to something with this one, and I'm excited to see what its next handgun brings to the table.
What do you think of the Mossberg MC2c? Would you consider carrying it? Let us know in the comments.
As always, stay safe, train hard, and have fun.
Additional Resources
If you've been following our journey into the world of the Mossberg MC2c, you know we're all about giving you the full picture. To help you dive deeper, we've rounded up some fantastic resources.
Video Reviews
Helpful Links
Best Prices Online: Bag the Best Deals!
We know you're always on the hunt for the best deals. Lucky for you, we've created the go-to spot for the best online prices for the Mossberg MC2c. Check out the Mossberg MC2c Optic Ready on our gun deals search engine for competitive pricing that won't shoot holes in your wallet!
Other Essential Resources: Knowledge is Power!
You need more than reviews and prices to truly understand your Mossberg MC2c. Here are some links to resources that will provide you with a wealth of information:
Explore more