Polymer80 PFC9 Review: More Than A Glock 19 Clone?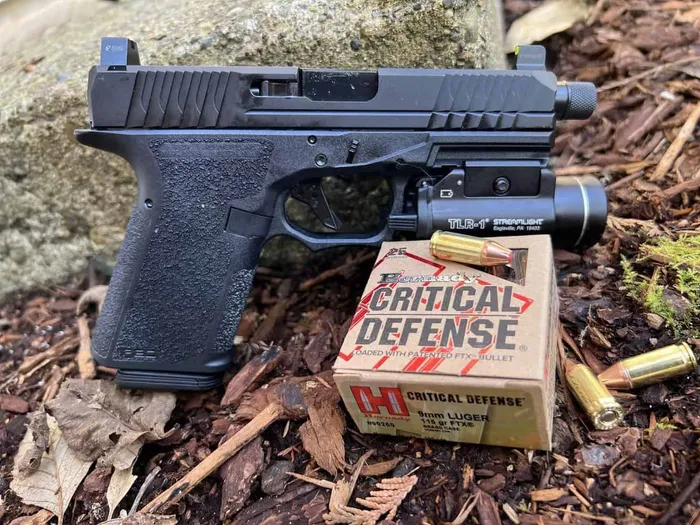 Polymer80 PFC9 Review: More Than A Glock 19 Clone?
Introduction
Ever since the inception of Glock, manufacturers have been trying to improve on the infamous platform that is relied on by hundreds of thousands of professionals. This has given rise to one of the most after-market-supported pistols of all time. The Glock 19.
With all that hype comes a bunch of different clones that offer each shooter something different from their pistol. And people building their own. Which is where Polymer80 got its start. Frames.
Soon after, they started making complete pistols. And today, I got my hands on the Polymer80 PFC9.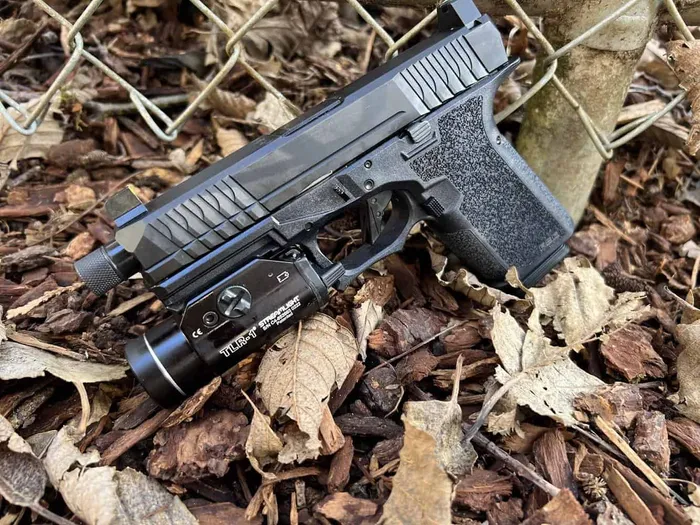 Now some Glock clones really knock it out of the park with their clones, while others fail miserably. But where does the Polymer80 PFC9 fall into place? Will it join the ranks with, say, an MR920 or OZ9?
Or will it suck more than the red-light district?
We'll be talking about all of that and more in our 12 rounds in our Polymer80 PCF9 review.
Let's get started.
Polymer80 PFC9 Review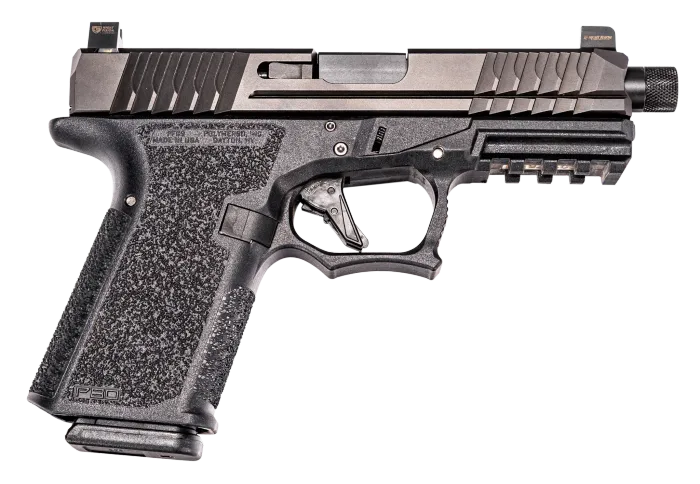 The Polymer80 PFC9 aims to enhance the Glock 19's carry-ability and give shooters a better grip angle and an all-around better feeling from their metal-box pistol. But it goes beyond the grip.
Things like a smoother slide for easier holstering and some slide serrations for easier press checks compared to the normal Glock 19 (Not the Gen 5).
The PFC9 is aimed at shooters who want more than just another Glock 19 that every other Tom, Dick, and Harry keeps in their safe "for a rainy day."
If you want to have the ability to mount a red dot out of the box, I would steer away from this version of the pistol since it does not offer a slide cut for red dots. Which I think is important for any concealed-carry pistol.
But does it do a good job at carrying concealed? More about that in a minute.
Polymer80 PFC9 Specifications
| | |
| --- | --- |
| Caliber | 9mm |
| Capacity | 15+1 Rounds |
| Action | Single Action |
| Barrel Length | 4.02 Inches |
| Frame Material | High-Strength Reinforced Polymer |
| Weight | 1.3 Pounds |
| Overall Length | 6.85 Inches |
Pros & Cons of the PFC9
Pros
19-degree grip angle

Flat face trigger

Front slide serrations are great

Threaded barrel
Cons
I had trouble with the slide not going into battery/stovepipes*

No optic cut (personal preference)

Trigger feels a bit mushy
On The Range…
When I first took a look at this pistol, I was a bit underwhelmed. Aside from the suppressor height sights and threaded barrel, nothing about this pistol jumped out at me and made me want this particular pistol over any other Glock clone.
I did enjoy the red anodized back plate that comes with the PFC9 (I like shiny things) and the aggression of the stippling of the frame itself, but the lack of an optic cut really turned me off. It's 2023, guys. Red dots are the future.
Firing the PFC9 was a bit of an experience in itself. I suffered some issues with stovepipes (brass not ejecting after firing) and failures to go into battery (slide not going forward fully). About three of those failures each. And that was in my first 50 rounds. I had better luck after that.
Maybe it requires a break in period?
Maybe it was the magazine? I thought. But I had really good luck with the Magpul GL-9 up until this point, so I tried another magazine and still suffered the same fate, but only those six failures out of 50 rounds. Getting to 100 was a bit easier.
I started to notice an increase in reliability, and then I was able to enjoy the pistol for what it is. The suppressor height iron sights and low bore axis helped me keep the PFC9 on target and as tight as I could make it.
Overall, it performed well. But there are some things I didn't like, and that would turn me away from this pistol if I had the option. But those are personal preferences. And not many fine shooters would feel the same.
Reliability
I suffered a few failures while shooting this pistol. Out of 100 rounds, I had about three stovepipes and three failures to go into battery.
Now I did have to buy a different magazine than the ones that usually come with this pistol, so I'm not ruling out the fact that the magazines used may be at fault.
Accuracy
The accuracy of the PFC9 was just as good as me. I can't complain about the accuracy. The suppressor height sights are right on, and I hit where I aimed the pistol. Again, the low bore axis of the PCF9 really helps mitigate that recoil.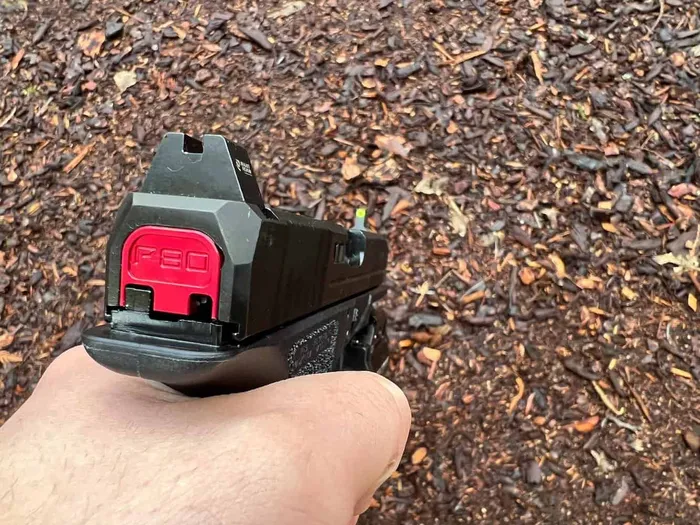 Overall Feel
As a whole, the pistol has a great feeling in the hand.
I even felt that my hand would consume the firearm. It's nice and small. And I'm a huge fan of how low the bore sits. The aggressive stippling on the frame may be a bit much for you fine shooters out there with softer hands. Just a heads up.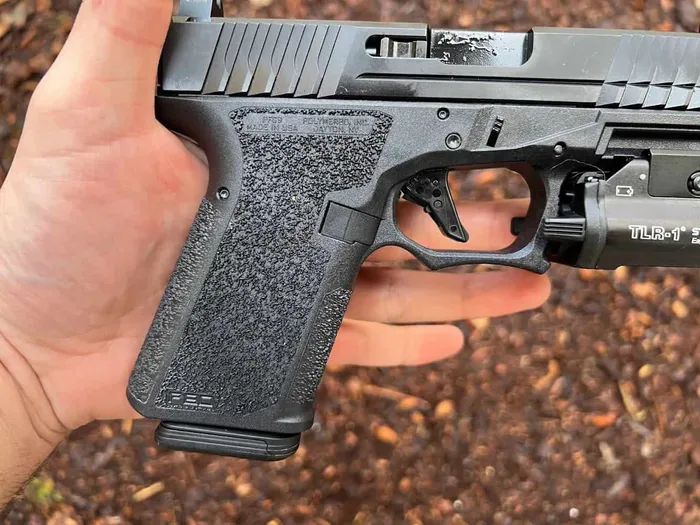 Features
Flat-Faced Trigger
It's a step above a Glock trigger, and it definitely helps with not pulling shots to the left or right. It's attractive as well. The PFC9 needs no help looking snazzy, but this flat trigger definitely helps.
It keeps the same trigger safety as the Glock. And it isn't the best trigger out there. It feels a little mushy and has a bunch of take-up. But that might be a good thing in a stressful situation. The last thing you want is an accidental shooting.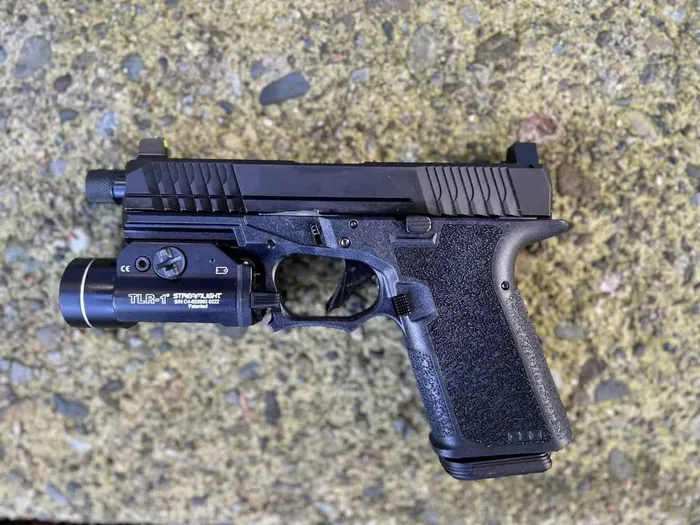 Suppressor Height Sights
Since there is a threaded barrel on this PFC9, Polymer80 threw on some suppressor height sights to top it off, just in case you have a suppressor waiting at home for a host.
These sights have Night Fision tritium in the front and blacked-out rear sights. They did a pretty good job of getting on target and helped me achieve some pretty good groups from 15 yards.
Threaded Barrel
If you're planning on running a suppressor, then I have some good news for you.
No need to go spend an extra $200 beans on a barrel. The PFC9 is all ready for the addition. The thread is a 1/2×28 pitch for those of you who were wondering.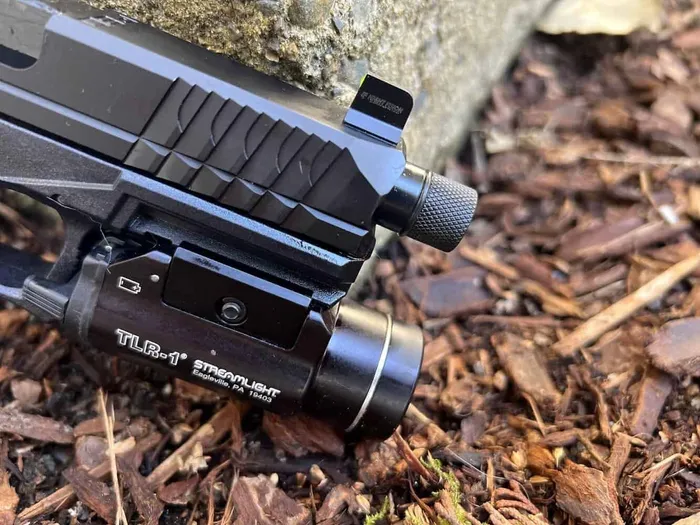 How We Tested
This pistol was sent to me by Delta Team Tactical, so a big shout out to those guys and dolls over there in Utah. They've got an INCREDIBLE selection of P80 parts, so go check out their store when you get a minute.
Unfortunately, I hang my Timberlands up in Washington State, which is going through magazine ban issues, so I didn't have a magazine in the case with the pistol. I had to use a Magpul GL-9 that served me some justice over the years.
Then, it was onto the flat range I went. It was empty, and I got to stretch the legs on the PCF9 all by my lonesome. What a treat that was.
I did some two-to-the-chest and one-to-the-head exercises, as well as some other concealed carry exercises that I could use to put this little concealed carry pistol to the test.
I also did some magazine dumps, which is where I saw some issues, including getting warned by the new Range Safety Officer (I think he was) for rapid firing. Hey, it's all in the name of science, baby!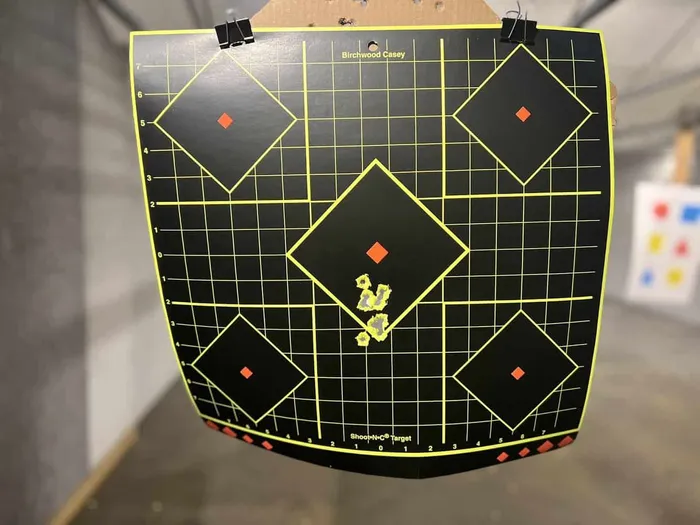 Ammo Used
As usual, we had some help from the folks at Hornady, who sent me some of their fine Critical Defense rounds so I could further see how well this pistol does with personal protection loads.
When we shoot these guns, we don't want to have to worry about ammo-related failures making the gun look bad. So we try and feed them the best ammunition that a fine shooter can get their hands on so the firearm can do what it was made to do.
These Critical Defense FTX loads were in 115 grain and are designed to limit the amount of muzzle flash the shooter would experience while firing in low light conditions. I fired them from my Sig Sauer P320 to ensure they were up to the job.
Of course, I was not disappointed.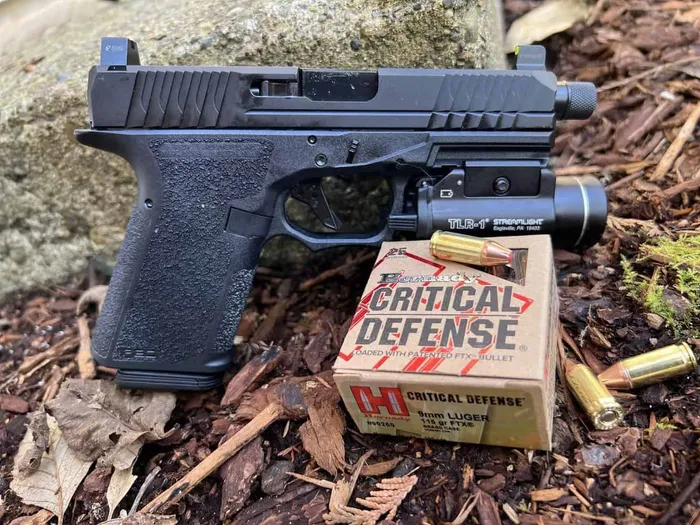 Score Card
Reliability (7.5/10)  
Now, it could have been the magazines, but I did suffer from more failures with the PFC9 than I wish I did.
I had three stovepipe failures and three failures to go into battery out of 100 rounds with this pistol. For a pistol that shadows the Glock 19, that isn't something I want to see.
Ergonomics (9/10)
The PFC9 does feel good in the hand.
The extended tang on the grip lets you get your hand up as high as possible while not having to deal with the dreaded bite that chews up the hands of many Glock owners.
This also allows for you to achieve a low bore axis which in turn helps with lowering felt recoil.
Customization (8/10)
I wasn't too happy that this slide did not have an optics cut. It's 2023. At this point, everything should come with an optic cut. But it does fit most Glock parts, so you could fix that pretty easily.
Appearance (9/10)
It's a handsome pistol. I do like the red anodized backplate. That contrast really made me fall in love with the appearance of the firearm as a whole. But it still looks like a Glock to me.
And Gaston Glock wasn't really going for looks when he made his pistol famous.
Value (7/10)
I do feel like there are better pistols for the price you pay. If you want a pistol ready for hard use right out of the box, this isn't the pistol for you.
Accessories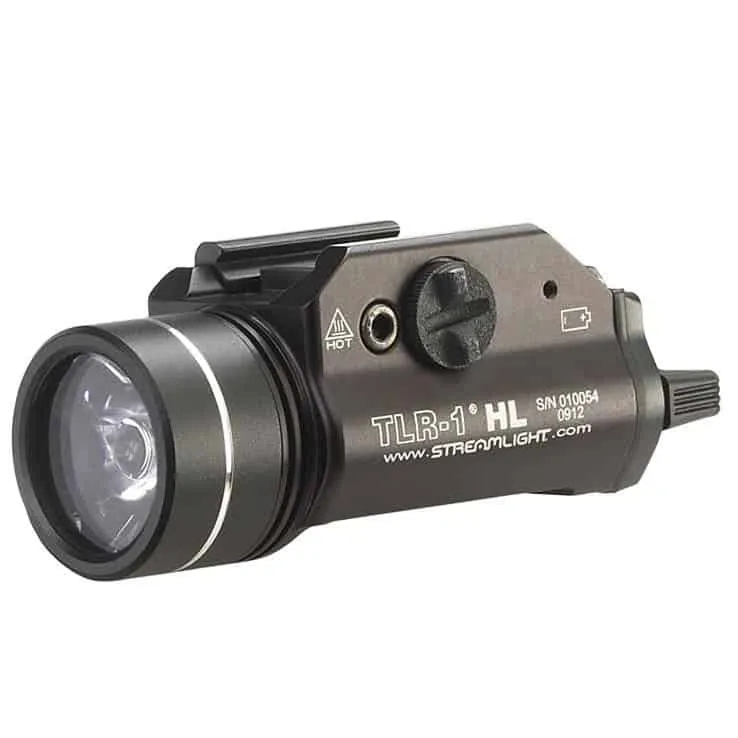 You always need a light. The problem is, the damn things are expensive.
 But if you don't want to go broke on a light but still want to see in the dark, then the TLR-1 from Streamlight is the best option to go with.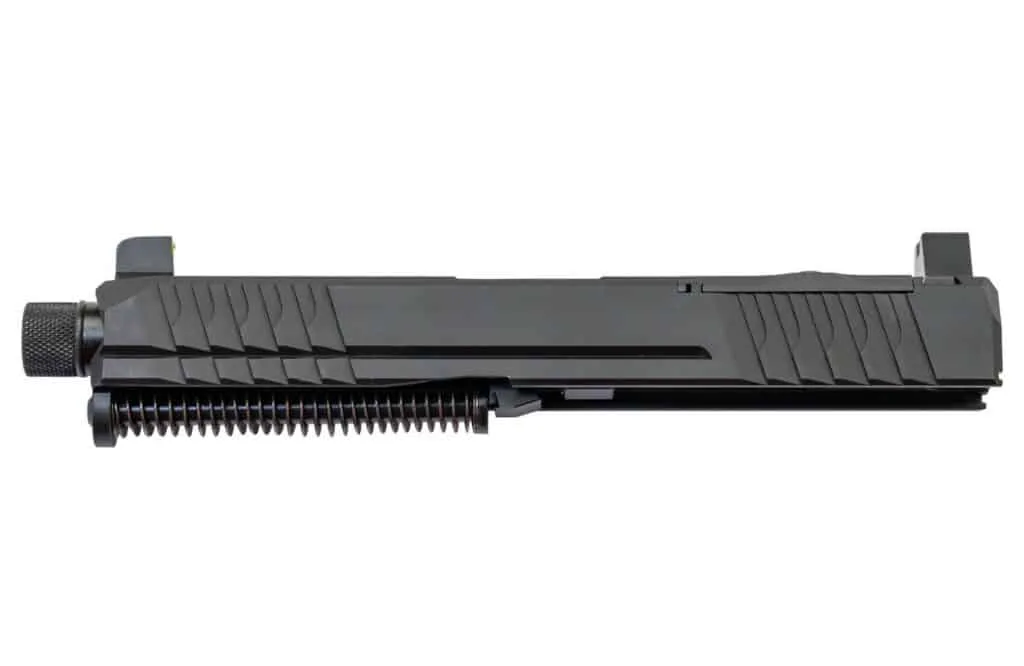 I know that's a ton of money to spend on a slide. Trust me. I was hesitant to even put that in here. But, if you really want the most out of a concealed carry pistol, you need to have an optic cut.
Now I know many of you fine shooters are aces with the iron sights, but we are talking to those novice shooters out there who may be looking for their first concealed carry pistol.
And no matter what anyone says, red dots are easier to aim than iron sights.
To avoid all of this extra expense, I recommend just picking up a PFC9 that already has the optics cut.
Alternatives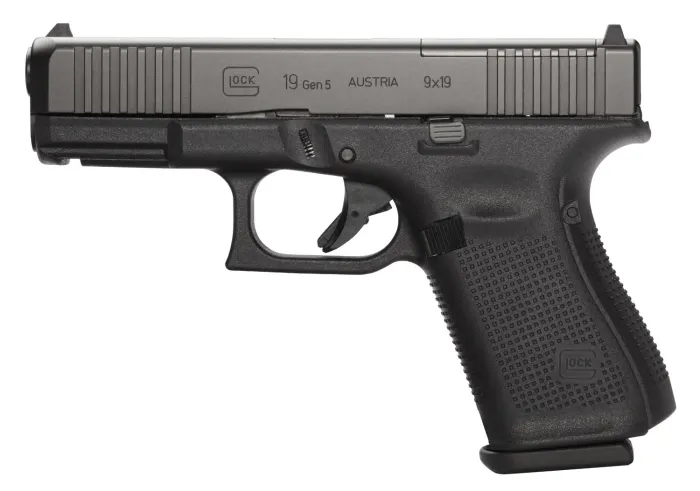 Does this pistol even need an introduction? I doubt it. It is the most-sold pistol in the United States, so you should have heard of it at some time or another. Anyway, the Glock 19 Gen 5 MOS is what all these other pistols are trying to replicate.
A fully functional metal box of a gun that wouldn't let you down even if you threw it off a helicopter and ran it over with a bus.
Okay, maybe don't go doing that. But, if you want something reliable and optics-ready, then there might be a Glock 19 Gen 5 MOS with your name on it.
Here's a review that we did on the Glock 19 Gen 5.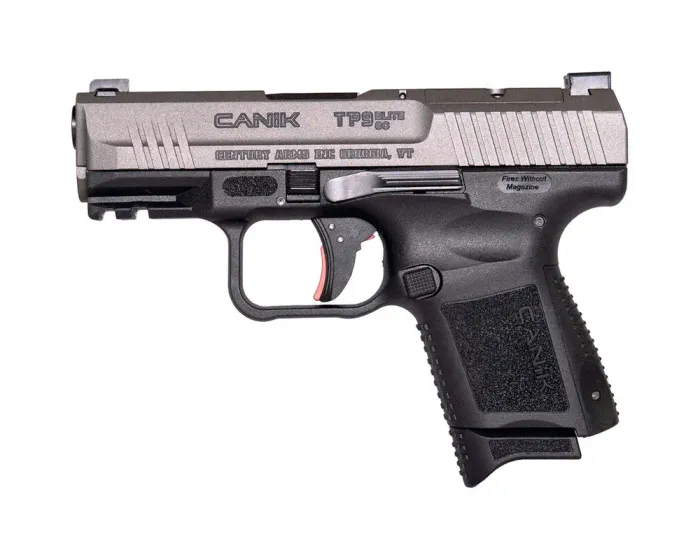 This is a pistol that I spent the better half of 6 months obsessing over. Hell, when you put a pistol this good on the market for under $500 bucks, it's no wonder why so many fine shooters obsess. It's amazing. From the barrel down to the magazine. There are so many good things to say about this pistol.
It's optics cut, the trigger is amazing, and it isn't super jumpy like most 9mm of similar size.
It's so good that it will make most shooters wonder why they need to spend a penny more on anything else. I definitely think it should be on your list of the best 9mm pistols.
It was definitely on my list of the cheapest 9mm pistols.
Conclusion
While 250-300 rounds may not seem like enough to test out a pistol, you can learn a lot about it in a short period of time. Think of it as speed dating, but with firearms instead. Would I recommend the Polymer80 PFC9? For the price, no, there are way better options out there.
But if you want a Glock clone that feels better than a Glock, send it. The frame alone makes it worth a shot. But I only recommend it if it has an optics cut.
Or, you can just buy the 80% frame and build your own pistol! Then you can add whatever you want to it and not have to worry about buying something you might keep in the safe or end up selling.
Thank you for taking this trip down Polymer80 paradise, fine shooter.
See you on the range.
Explore more