Ruger Mini-14 Review [2023]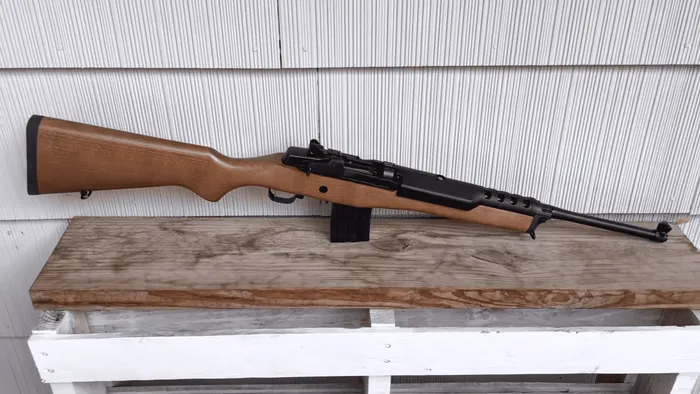 Ruger Mini-14 Review [2023]
There comes a time when firearms engineering goes a bit too far, and this usually results in commercial flops and failures. Other times, bold lengths and ballsy designs yield innovative outcomes.
Well, here's the Ruger Mini-14, or more specifically, the California-compliant Ruger Mini-14 Ranch Rifle with a stainless steel receiver, and I've been itching to shoot it and tell you all about it.
I've heard all kinds of praises and controversies surrounding this renowned semi-automatic rifle, and it's not what the name implies at all.
At first, I thought that Ruger had a 16-inch .22 LR plinker that was popular in the 70s, but no. It's a .223/5.56 powerhouse with a wide spectrum of purposes.
The Ruger Mini-14 is a crossbreed between the iconic M14 rifle (that's based on the M1 Garand rifle) and the AR-15 rifle, and it uses the best of both worlds, which makes it a timeless classic.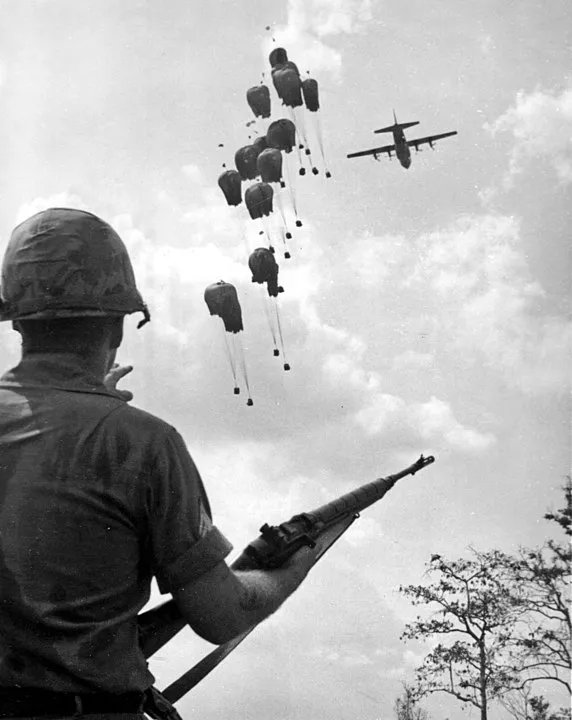 Although it didn't meet military demands, it scored major points on the civilian market. It's designed in such a way that brings together both tactical experts and rural midwesterners, and it has been going strong since the 70s.
In this review, I'll talk about the Ruger Mini-14 and its many models, and we'll take a closer look at its overall performance, how it compares to the AR-15, where it flops, and where it exceeds expectations. I'll also provide you with some aftermarket recommendations, which are abundant and very easy to come by.
Before we move into the main details in our Ruger Mini-14 review, let's touch on some more history.
Ruger's Idea Behind the Mini-14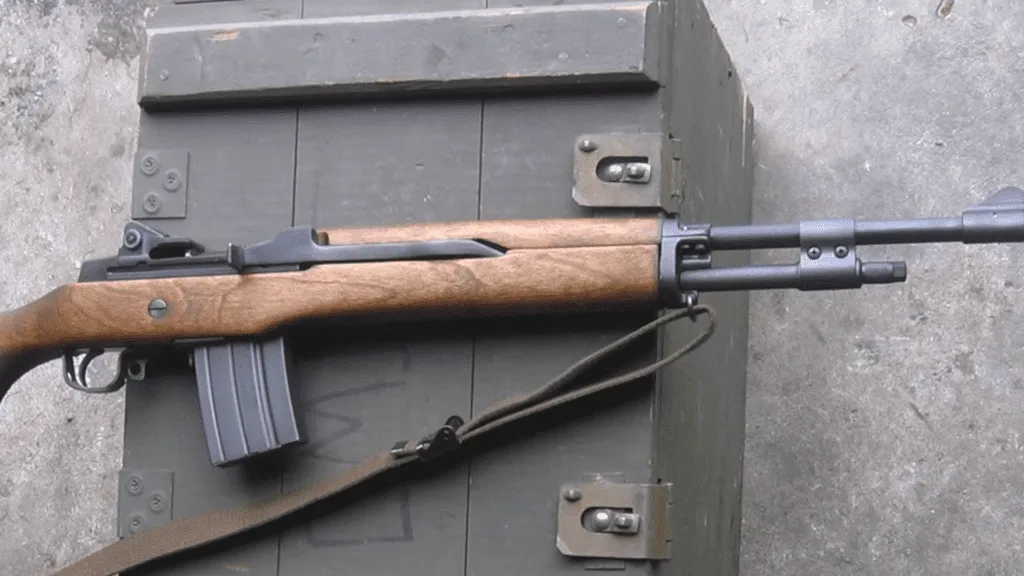 The Ruger Mini-14 was designed by Bill Ruger and James Sullivan around the late 60s, and it was first introduced in 1973 as one of the first .223/5.56 semi-automatic rifles, right after the AR-15.
Sullivan has been in charge of its later development, and since it's so old, it has undergone a lot of changes and reinvention.
You can say that it was basically a "watered down" 5.56 version of the M14 semi-automatic battle rifle, which was chambered in the 7.62 caliber.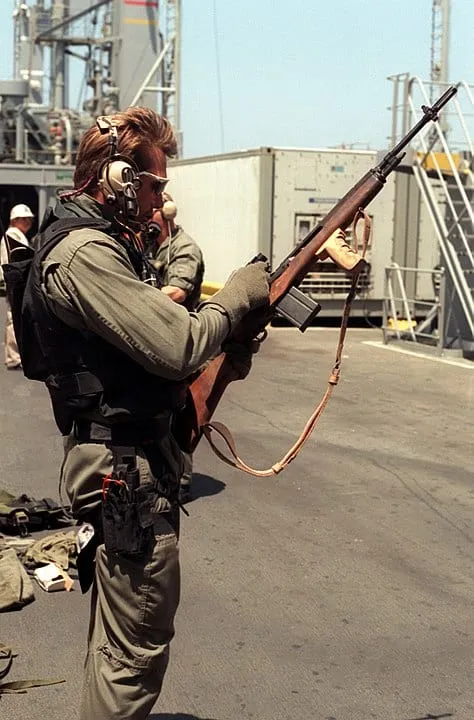 Originally marketed for both military and competition shooting, the Ruger Mini-14 was mainly intended to snatch some military contracts.
Ruger and Sullivan noticed that there were some initial problems that plagued the AR-15, and this was an opportunity for the Mini-14 to step in as a standard military issue. Sadly, this didn't come to be.
Over the years, the Mini-14 was developed into a more customizable lightweight rifle with modern ergonomics and, most importantly, improved overall reliability and accuracy.
These newer 2005 models like the Ruger Mini-14 Ranch and Ruger Mini-14 Tactical all have numerous variations with different round capacities, barrel lengths, and steel or alloy parts the public has the luxury to choose from.
Here, we'll focus on the Ruger Mini-14 Ranch Rifle, which is the most common variant.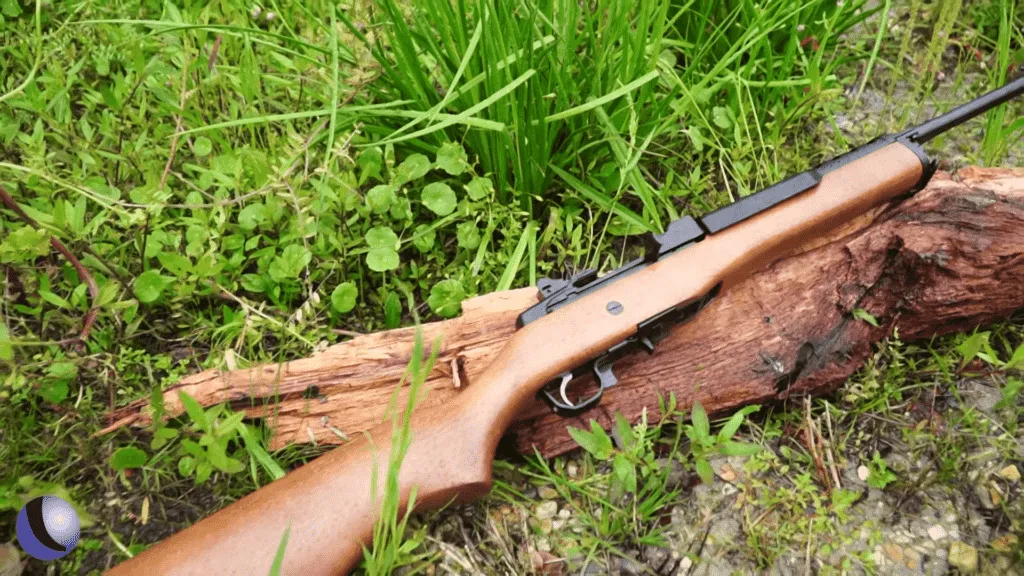 The Mini-14 is officially adopted by some countries in their military ranks and by a handful of local law enforcement in the US. They're cheaper and more accessible, and they're much less "scary-looking" than your regular M-16 rifles.
The Growing Popularity of the Ruger Mini-14
Over the last two decades, modern sporting rifles with detachable magazines skyrocketed in popularity on the civilian market.
The lift of the Federal 1994–2004 Assault Weapons Ban, as well as the wars in the Middle East, further encouraged sales. This, in turn, inspired lots of new and innovative research for the development of military-grade firearms for civilian use.
Then there's the growing popularity in mass media for the Ruger Mini-14 GB Variant, which was popular for its modernized look and was featured in lots of movies and TV shows like The A-Team.
If you can remember, Mr. T himself rocked one with a folding stock. With a little "TV magic," it was video edited to shoot fully automatic, which I assume fueled a lot of common confusion.
Whatever the case, I hope this explains why the Mini-14 is still relevant after all those years.
Fun fact: Sullivan is also known for his significant contribution to the AR-15, the rifle that overshadowed the Mini-14 itself.
The Addition of Multiple Ruger Mini-14 Variants
Since there are about 10 variants of the Mini-14, we'll touch on them, but we won't be getting into too much detail.
Suffice it to say that they all come either with 20-round or 5-round capacities, have blued or stainless steel receivers, and use wood or synthetic stocks.
One of the most notable ones is the Ruger Mini-14 Tactical with a synthetic Strikeforce ATI 6-position folding stock, 16.1-inch hammer-forged barrel, a 20-round capacity magazine, a drilled and tapped receiver for the Picatinny rail, and a flash suppressor.
I recommend this one for a customizable approach to home defense.
There's also one in the .300 AAC Blackout for those of you who are looking for a more powerful caliber.
Please note that the older Ruger Mini-14 from the 70s and the newer make from 2005 are nothing alike. These models still remain true to the original design of the 70s but have vastly improved reliability and accuracy.
The new Ruger Mini-14 models are more compatible with newer optics, have heavier barrels, and are far superior in performance.
You can still find older rifles, but they're not recommended and not as reliable as these new and improved models.
Ruger Mini-14 Ranch Rifle Review

Specifications
| | |
| --- | --- |
| Manufacturer | Ruger |
| Model | Mini-14 Ranch Rifle |
| Caliber | .223/5.56 NATO |
| Type | Rifle |
| Action | Semi-automatic with breech bolt locking system; Fixed-piston, self-cleaning gas system |
| Capacity | 5+1 |
| Trigger pull | ~6.5 pounds |
| Safety | Manual safety mechanism |
| Barrel length | 18.5 inches |
| Overall length | 38 inches |
| Weight | 7 pounds |
| Front Sight | Bladed front sight |
| Rear Sight | Adjustable rear sight |
| Stock | Hardwood |
| Length of pull | 13.5 inches |
| Twist rate | 1:9 inches |
| Receiver | Stainless steel |
| Finish | Stainless steel |
| Accessories | Picatinny rail; Scope rings; 2 complimentary magazines |
The Classic Look of the Ruger Mini-14 Ranch Rifle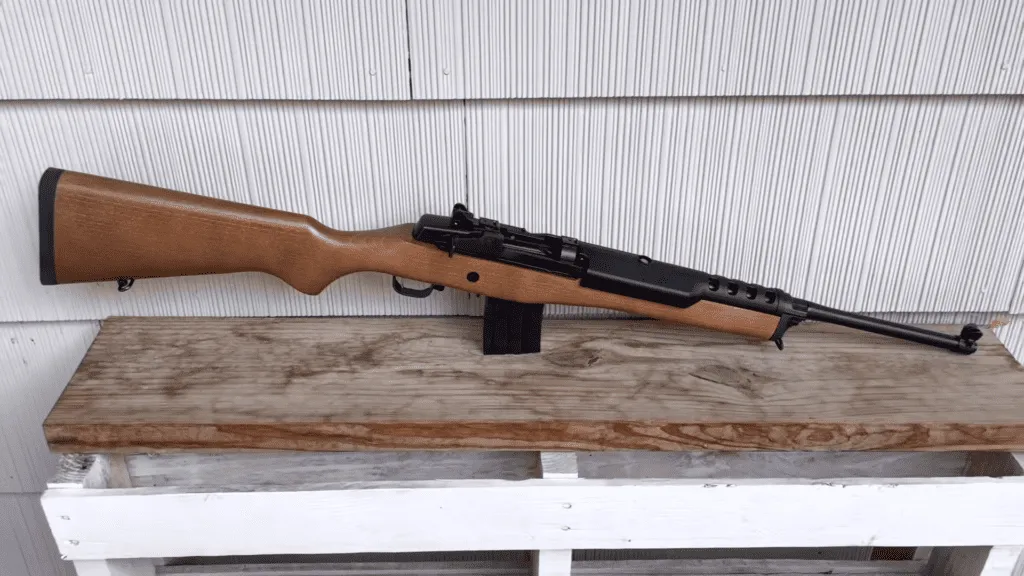 Aesthetically speaking, the Ruger Mini-14 Ranch Rifle is quite a classic looker.
Visually inspired by the M1 Garand or the M1 Carbine, it has those sleek contours and lines that truly adapt the .223/5.56 platform into a compact rifle.
At first glance, the Mini-14 is just plain antique-looking and might be off-putting for some. It strikes a similar resemblance to the M-14 if you stick some 20-round magazines in the Tactical version.
The barrel looks pretty thin, and it doesn't have much weight at the front, despite the reinforced and thickened walls that went through redevelopment since its inception.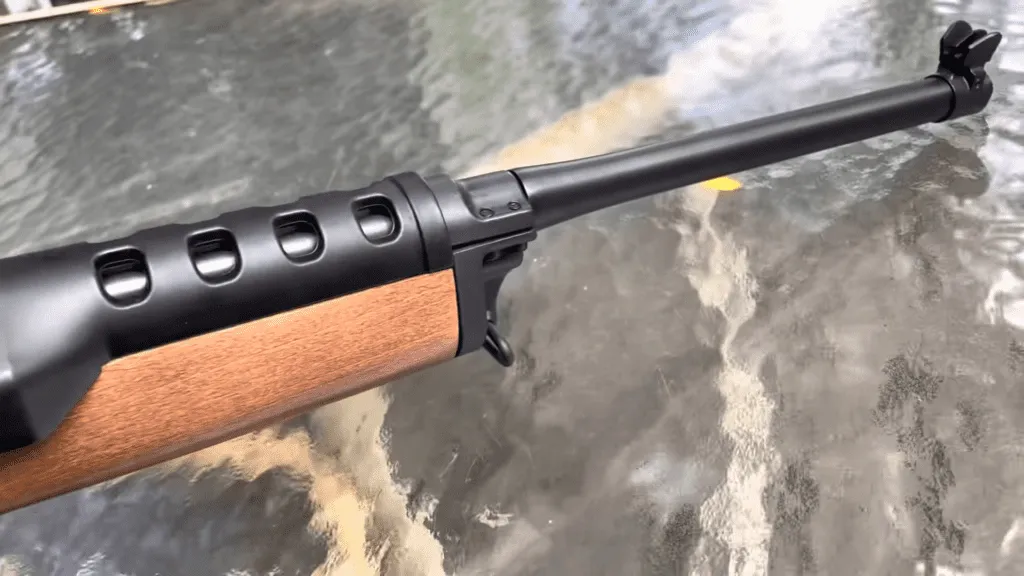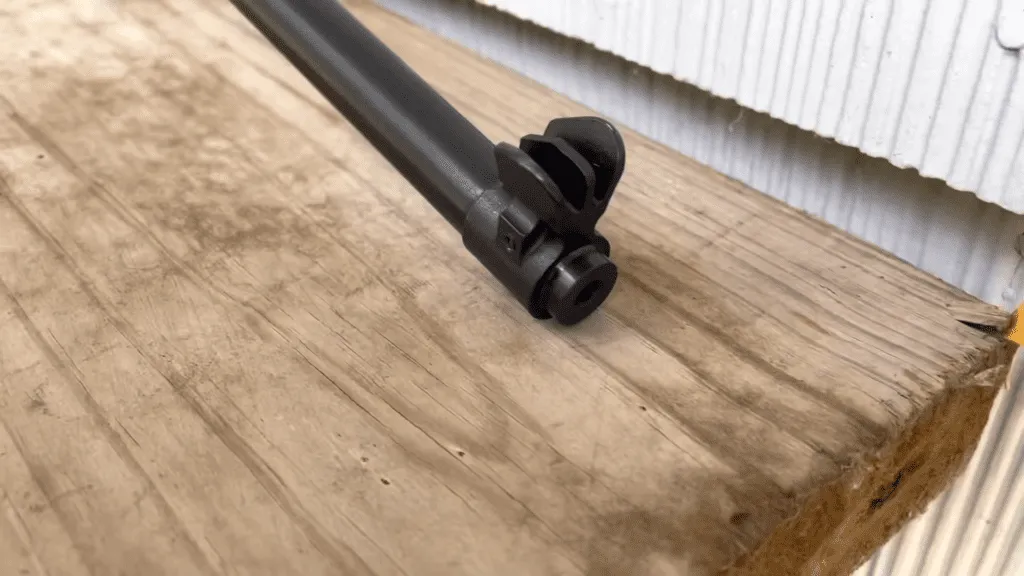 Simply put, it's a low-profile rifle that looks like it's 50 years old. While this may be true, some really like the "outdated" visuals, and it's not as menacing and over-modded as the AR-15 rifle. 
So, if you're looking for simplicity, this is it.
The Stock, Handguard, and Ergonomics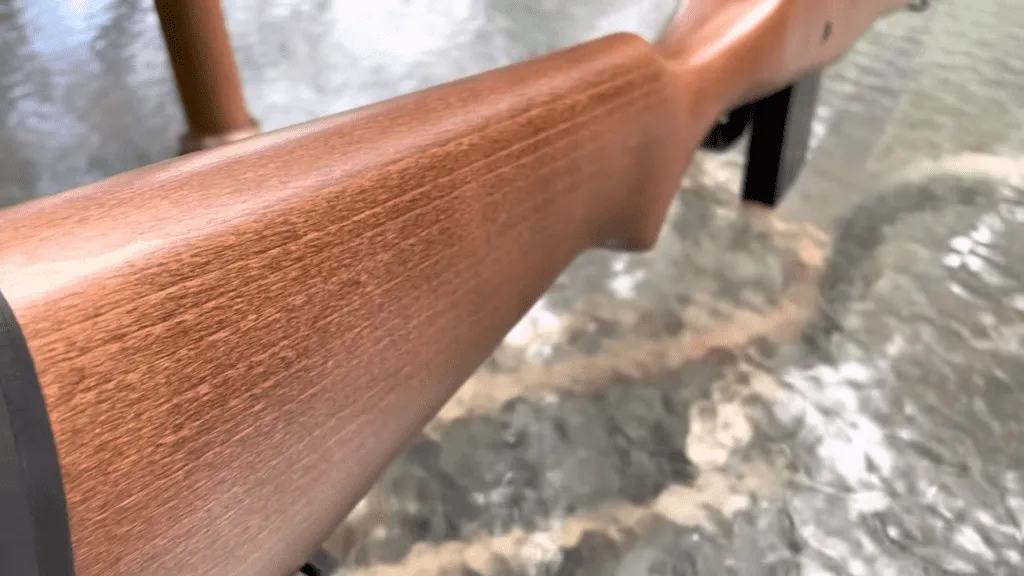 The Ruger Mini-14 has a standard 18.5-inch barrel and overall 38 inches of length. It's pretty ergonomic and beveled for medium hands, and the overall length generally offers better support for most people.
Maybe you expected a pistol grip here. Instead, what you get is a traditional wooden stock that's similar to the cowboy bolt-action rifles.
The stock isn't walnut—it's hardwood, but either way, it feels nice and goes all the way to the front side of the handguard.
Speaking of, the handguard is built into the stock, feels comfortable enough, and offers lots of room for your hand and operating the magwell. There's also a standard rubber butt pad that helps with the recoil.
The 13.5-inch LOP (length of pull; distance from the trigger to your shoulder) might be too long for some, especially if you're used to AR-15s.
No doubt, it might be challenging to handle the rifle or position your eyes on the optics if you're on the smaller/shorter side. That's why Ruger went with the folding stocks on their Tactical models.
There's also a nifty adjustable stock by Choate, or if you're interested, the Mini-14 Tactical .300 Blackout is also a good option, which has a shorter length of pull altogether.
I wouldn't add aftermarket stuff on the already traditional Ranch because it kinda defeats the purpose, doesn't it?
Still no sign of a Youth model with a shorter stock. Maybe one day.
The Bolt Hold-Open and Breech Bolt-Locking System
The Ruger Mini-14 Ranch Rifle isn't designed for speed-reloading, and that's evident in the Garand-style action with a breech bolt-locking system.
It's a fixed-piston, self-cleaning gas system with excellent reliability under harsh weather conditions.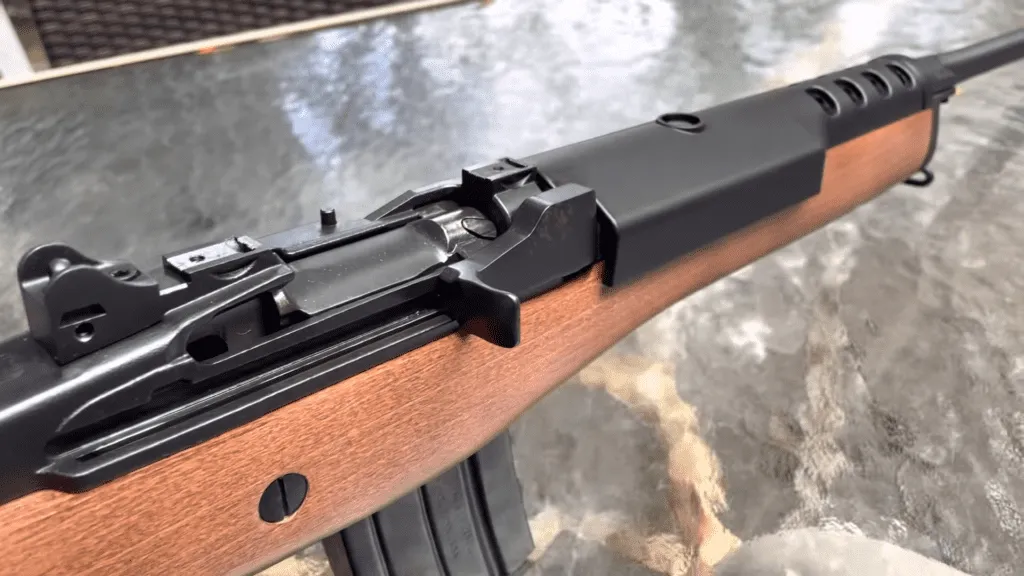 That said, there's no bolt release. However, there is a bolt hold-open button on the top left-hand side of the receiver when you fire the last round from the magazine. The follower pushes a metal part that can catch the bolt in a rearward spot. You can also push the bolt back and press the small metal plunger on the receiver's left side if you want to go manual. Hit the charging handle to release the bolt.
Now that we mentioned it, the charging handle on the rifle is very similar to that of the Ruger 10/22 or an AK-47, ergonomically. Located on the right side, it's a classic metal charging handle, and it's very easy to handle if you've ever had an M14 or M1 Garand before.
It could have been a lot cooler if Ruger designed it for a quick bolt release to further speed up reloading, but no such luck.
Another thing I'd suggest is that Ruger should definitely make a Mini-14 in the 6.5 Creedmoor cartridge, which would really be a solid rifle for long ranges. It's very similar to the SIG Sauer Cross in the 6.5 Creedmoor and the .308 Winchester caliber version. I recommend these long-range machineries for the most serious of hunters.
Trigger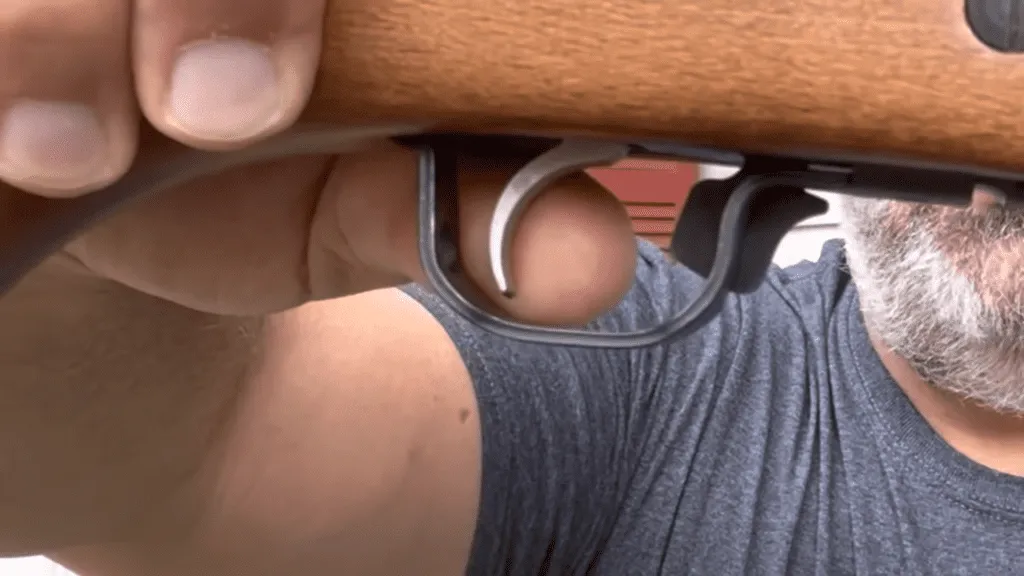 Onto the trigger now.
The Mini-14 has a hammer-fired trigger. It's very heavy and feels like a 6 or 7-pound trigger pull, which is heavier than an AR-15, but it's still manageable. It has a little bit of take-up before you feel some creep, and then it goes into a rolling break.
Additionally, it resets halfway through the first take-up, and the rule set trigger comes back to the wall.
Simply disengage the safety, pull the trigger with just the least amount of take-up (don't mind how heavy it feels), and then you'll hit the wall perfectly. Afterward, you'll feel a near-perfect rolling break.
Even though it's on the slower side, I believe that it's still viable for moving and shooting fast, just not super-fast sub-second split groups; before your hand starts to hurt, at least. You'll be able to pull off 2-3 shots in under a second, as it's light enough for it but also heavy enough so you don't shoot unintentionally.
There are lots of lighter, match-grade triggers for the Mini-14 for enhanced accuracy shooting, and Brownells have a very informative guide on how to properly install them.
Safeties
Since it's based on the M1 Garand and M1 Carbine rifles, the Mini-14's safety inside the trigger guard is sheet metal.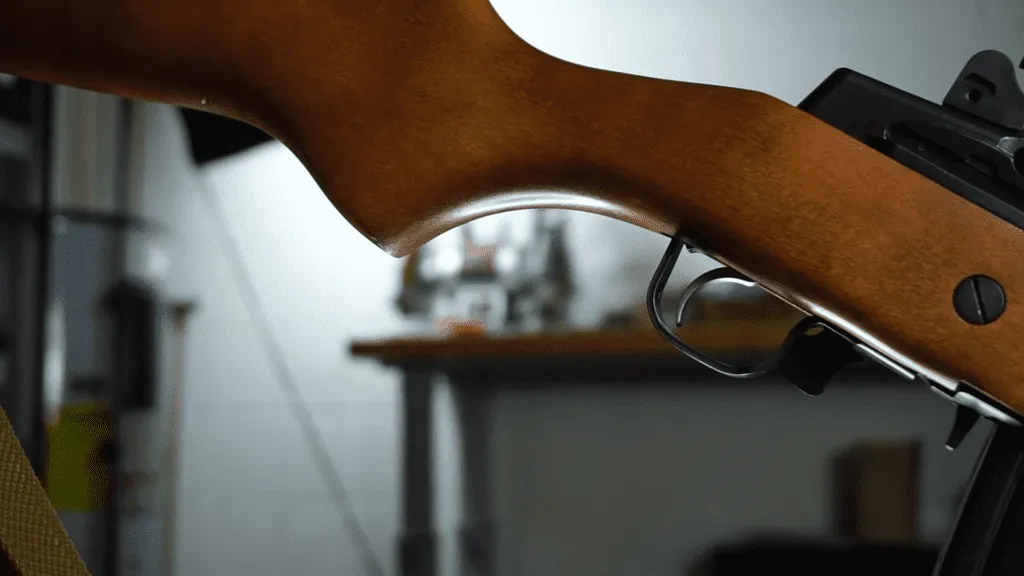 The safety is pretty outdated, but both left- and right-handed shooters can easily use it. Although, it feels like it's better suited for right-handed shooters.
To disengage the safety, first, insert your finger inside the trigger guard to push forward with your trigger finger. To re-engage it, put your index finger in front of the trigger guard and pull the safety back.
This is why I think that it's almost obsolete to have your finger near the trigger inside the barrier guard, and by far definitely not safe for modern standards. I don't think anyone would like to hurt thumbs or have callused fingers.
Overall, the safety feels alright, but it's definitely not a rifle intended for practicing newbies unless you want calluses.
Magazine Release
This California-compliant model feels much like a smoother AK-47, only it's a gripless rifle with a lesser capacity. That being said, it's not easy to reach the magazine release with one hand.
Located behind the trigger guard, you need to use your other hand to push the mag release for the magazine to drop and then insert another magazine. As we said, it's definitely not for fast reloading.
However, inserting the magazine is easy, even though it might take a tiny bit of back-and-forth rocking at an angle for the latch to catch it. That's why it reminds me of an AK-47.
Magazines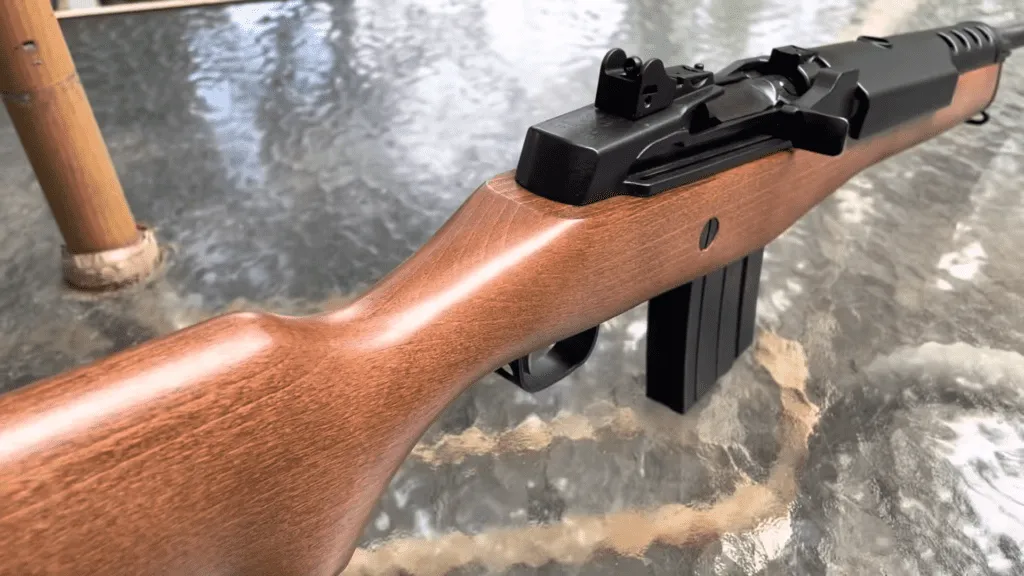 Speaking of magazines, the standard Ruger Mini-14 model takes magazines with a 5-round capacity.
Unlike a drop-free STANAG mag for the AR-15 platform, the Ruger 5-round mag is, as usual, high-quality and well-made. It's durable, sits flushed, doesn't bend easily, and there's not much wiggle room or rattling sounds to hear. Nothing much besides good old Ruger quality that most would expect.
Since what you want with the Mini-14 is to prolong time with extra rounds, there are also the 10-round magazines by John Masen and Triple K.
For even more fun, check out the 20-round capacity magazines by ProMag Industries.
If you ask me, though, I still recommend you stick to 5-round magazines instead of 20-round for the older models because they can heat up very easily in contrast to these newer models with heavier barrels.
As an additional "between you and me," there are manufacturers like KCI and Beta C-Mag that used to make 100-round drum magazines for the Mini-14, but I haven't seen one for years now.
Shooting the Ruger Mini-14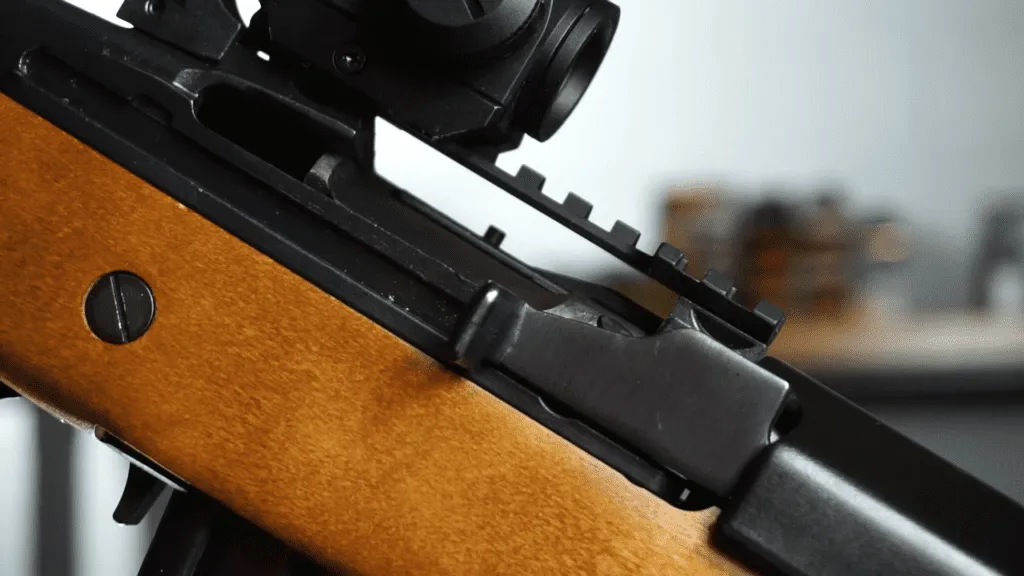 With around 7 pounds of weight, it has an 18.5-inch stainless steel, cold hammer-forged barrel with a 1/9 twist and ultra-precise rifling that's a testament to the improved accuracy.
I had no intention of going through so many .223/5.56 bullets on this one, but I did. I shot over 100 rounds with not a single malfunction or stovepipe.
While shooting most of the leftover Winchester 55-Grain and Hornady Superformance Match 73-Grain boxes, I noticed that the 15-20 ejected casings created a nice little pool with a 3-foot diameter. Inconsistent ammo usually flies all over your right side, so you know that's a good omen.
One of the most praised characteristics of the Ruger Mini-14 is the really low recoil. It's a .223/5.56 platform, but the rifle still just settles right back where it was after every shot. Having said that, the recoil doesn't really let you shoot faster; at least, that was my impression.
Seeing how natural it feels, it almost controls your hand movement. You can tell why it's been a ringer for ranchers and farmers for over 50 years now. A true coyote hunter, though, won't recommend using valuable ammo on varmints.
Overall, the Mini-14 shoots effortlessly, and the bolt sounds very nice when cycling the rounds, similar to the ringing of the Garand.
Nostalgia aside, it offers a well-balanced shooting. I wouldn't recommend it as a practice rifle for the reasons stated above. Anyway, if we were only using iron sights, it does perform better than an AR-15.
If you want to experience the almighty Mini-14 while shooting prone, here's the Harris Bipod Adapter, compatible with both the Ruger Mini-14 and the Mini-30.
Sights and Accuracy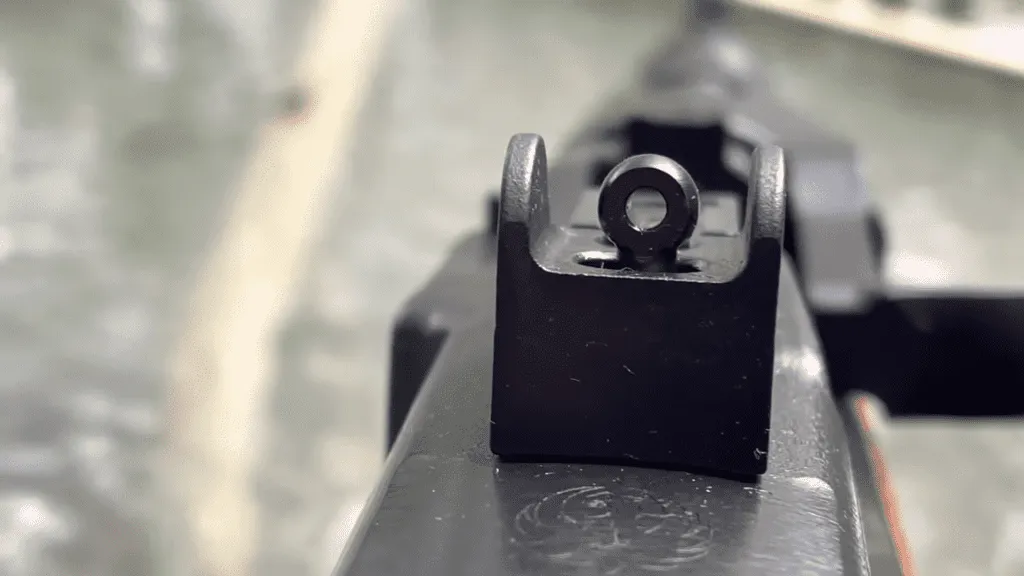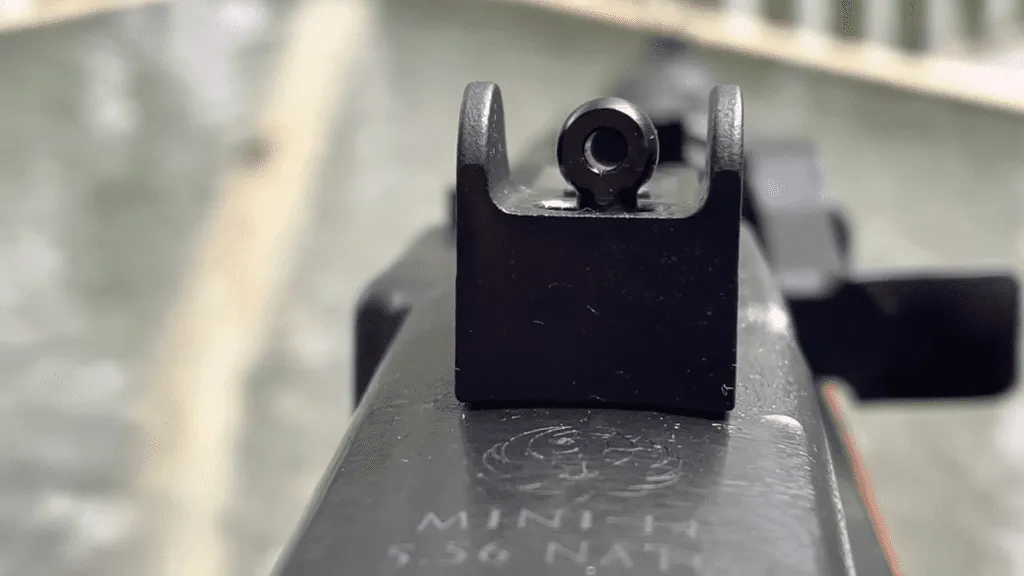 Nothing special to be said about the iron sights. They're just your run-of-the-mill adjustable rear sights and bladed front sights.
Both are windage and elevation adjustable, and both have protective wings that you usually see on older rifles.
Don't expect any fancy precision shooting. They're just right for shooting up to 100 yards, and if you want to shoot at longer ranges, you can check out the Green Meprolight Tru-Dot Fixed Front Sight, which are one of the best night sights that suit most lighting conditions.
Shooting even further, you'll need some good scopes and red dot sights.
Mounting the Optics
As much as I feel that the Ruger Mini-14 is supposed to be shot via iron sights, the drilled and tapped solid steel receiver thinks otherwise.
It's made for mounting Picatinny rails, and the integral scope mount is built right into the well-machined steel receiver.
This is a very positive mounting system with a very stable footing that most would greatly appreciate.
Not only that, but the optic mounting process is very easy, despite how pointless it is to customize a Mini-14.
You can find built-in mounts to the receiver on both the front and rear sides of the ejection ports that accept Ruger optic ring patterns. It's easy to find brands that make quick-detach (QD) variants of this mounting type with screw-on attachments.
This allows you to take them off easily and return to using iron sights. The Ruger rings have a hole below the optics, which allows you to co-witness your iron sights, but you'll be dealing with cheek weld issues if you want to do that.
Any optic with QD rings and weight around the 10-ounce range serves this rifle justice.
Look for 1x-6x magnifying ranges for scopes like the Primary Arms 1-6x Scope.
For red dot optics, I recommend the standard stuff like the SIG Sauer Romeo 5, Bushnell Trophy TRS-25, or the Vortex Optics Strikefire II.
Disassembly and Maintenance
Disassembling the Mini-14 is a piece of cake—it's made to be easily taken apart.
Thanks to the self-cleaning gas system, it really takes a long time before you need to disassemble and clean it again.
You don't need tools apart from a small screwdriver to free up the trigger guard—just stick to the manual, read along as you take it apart, and you'll be fine.
Getting the bolt back in is probably the most difficult part, so make sure you angle and guide the bolt properly upwards with your middle finger.
It's much easier if you move the bolt hold back button and the spring out of the way.
Pros & Cons of the Ruger Mini-14
Pros
Aesthetically pays homage to the Garand
Well-balanced and lightweight
Very low recoil for a .223/5.56 rifle
Exceptionally reliable since there are not a lot of moving parts
One of the most fun rifles to shoot
Abundance of aftermarket parts and optics for the Tactical model
California-compliant model available
Cons
Expensive and hard to come by
Not as customizable as an AR-15
Long length of pull
Awkward safeties
Difficult trigger
FAQs
Is the Ruger Mini-14 a Good Self-Defense Rifle?
Would I choose a Mini-14 over an AR-15 for self-defense or home defense? Absolutely not.
The Ruger Mini-14 is a great rifle, but it's not as near shootable, customizable, or viable for self-defense as the AR-15 rifle.
I would only use the Mini-14 for fun and nothing else. Maybe varmint hunting, but that's as far as this rifle goes. A self-defense rifle must have a tactical edge and easy reloading and maneuvering, and the Mini-14 doesn't have that.
Are AR-15 Magazines Compatible With the Ruger Mini-14?
Sadly, no. William Ruger designed the Mini-14 with a unique proprietary magazine that shares a resemblance to an M14 rifle's mag. Smaller and a bit curved, they're designed for the hold-open action on the last shot.
These 5-, 10-, 20-, and 30-round magazines are only compatible with the Mini-14, and what's worse, they're far more expensive than AR-15 mags. I wish Ruger designed these to be at least compatible with the M-16 rifle's magazines.
What's the Best .223 Remington Ammo for the Ruger Mini-14?
Can I Shoot 5.56-Caliber Bullets in My Ruger Mini-14?
Before you consider shooting 5.56-caliber bullets, make sure you check if your Ruger Mini-14's chamber is compatible with the caliber. Newer models have chambers that can take both .223 Remington and 5.56 NATO-caliber bullets in comparison to the older models that couldn't.
I think that the Winchester 55-Grain bullets do a pretty good job when the 5.56 NATO caliber is in question.
For the 5.56 NATO ammunition, anything from 45-grain to the 62-grain range is a good bullet. For example, the PMC X-Tac M855 62-Grain Green Tip FMJ is a great armor-piercing round or the Prvi Partizan M193 55-Grain FMJ, which is much cheaper in bulk.
Remember, you can shoot .223 Remington ammo from a 5.56 chamber rifle, but you can't fire a 5.56 NATO bullet from a rifle with a .223 chamber. Except maybe if you have a .223 Wylde chamber rifle, in which case both calibers run smoothly.
Are Older Ruger Mini-14 Models Reliable?
No, older Ruger Mini-14 rifles have thinner barrels and are prone to feeding and firing issues, and they're not as accurate as the newer models.
I suggest you steer clear of older models that were made before 2005. Additionally, try to stick to 62-grain ammo or lower because the Mini-14 rifles have barrels with a 1:9 twist rate.
Ruger Stainless Steel or Blued Alloy Steel?
When you can't decide between Ruger Mini-14 models with either stainless steel or blued alloy receivers, you shouldn't worry much because it's a pretty marginal difference.
Stainless steel is slightly more corrosion-resistant than blued alloy steel, but that doesn't mean they're invincible.
Rust and discoloration can easily happen if you keep the rifle in moist and humid places, so if you live in such an area, your best bet are rifles with a stainless steel receiver. It's a small price to pay for longevity.
Is the Ruger Mini-14 Better than the AR-15 rifle?
Although the AR-15 and Mini-14 were first introduced around the same time, the AR-15 clearly overshadows the Mini-14 in terms of modularity, tactical performance, and flexibility in purpose.
However, they are entirely different platforms that have their own unique charm. If you want a more do-it-all modular rifle, stick with AR-15s. However, if you want a stripped-down .223/5.56 platform with a round capacity that doesn't break any rigorous laws, go for the Ruger Mini-14.
We're talking about Mark Twain's "The Prince and the Pauper" here.
Alternative Rifles to the Ruger Mini-14
Being an extremely niche firearm, the Ruger Mini-14 has its advantages as much as it has some downsides.
Although it's marketed as an off-shoot, simplified alternative to the AR-15, it's not exactly for everyone, and the AR-15 is still a better rifle in most home defense and other situations.
Here are some cool alternative recommendations that come close to the handling and feel of the Mini-14 with shootability, reliability, and similarities in mind.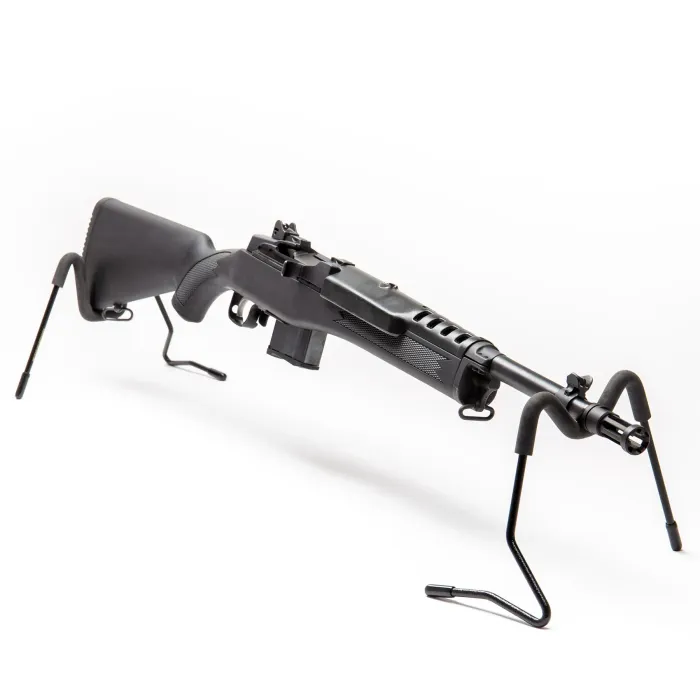 Ruger had the Soviet 7.62×39 cartridge in mind, so besides the Mini-14, in 1987, he created the Mini-30.
The Ruger Mini-30 has all the exact features, only with a different caliber. The Mini-30 pretty much has the same design and features that mimic the Mini-14, only it's a bit lighter.
What's great about the Ruger Mini-30 is that the 7.62×39mm shares similar ballistics to the .30-30 Winchester, and it's a much cheaper round. It also doubles as a nice little deer rifle if you keep the range to 100 yards.
If you want a more far-reaching rifle, check out the Ruger Precision Bolt-Action rifle, chambered in the 6.5 Creedmoor or the .380 Winchester.

If you can find one, the Kel-Tec SU rifle series is a great alternative to the Mini-14.
Kel-Tec are known for their innovative designs, and the SU rifle in the .223/5.56 caliber is a joy to shoot with low recoil, easy handling, and a lightweight design.
What makes it special is its unique fold which allows you to carry it in a backpack.
Slap on a receiver with a Picatinny rail, mount your scopes, and off you go. There's also a California-compliant model as well.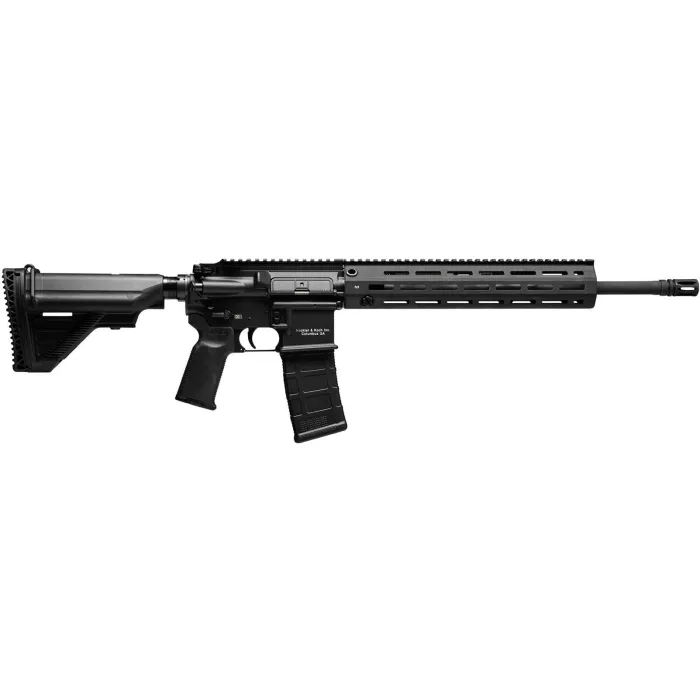 Here's a high-end option that's worth your time. Introduced in 2007, the H&K MR556 is the civilian model of the military-grade Heckler & Koch HK416 assault rifle.
Much like its military grandpa, the MR556 has a gas-piston operating system instead of a direct impingement, and this explains the ridiculously high price tag.
Oddly enough, the gas system is similar to the Mini-14. It's self-cleaning and doesn't run into issues as an AR-15 does.
Don't expect to see full auto or burst firing mode. Instead, marvel at the high-grade steel construction in which cannon barrels are made, so you can bet it's durable and reliable.
Conclusion – An Unbeatable, Barebones Classic .223/5.56 Platform That Still Goes Strong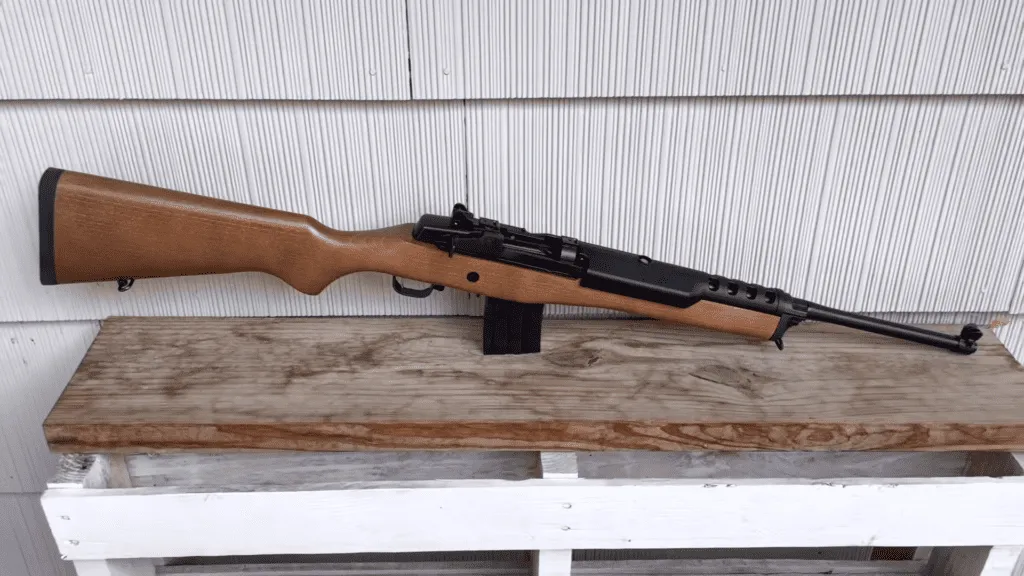 Before the AR-15, wooden stocks reigned supreme. Now that that changed, the Ruger Mini-14 Ranch Rifle still wins hearts with its lightweight, semi-automatic design with bareboned features.
Just like the AR-15 series, the Mini-14 has been through a lot of changes, and some of the variants have accuracy and reliability issues.
It doesn't have a pistol grip, no flash hider or muzzle brake, which is why this 'featureless' 5.56 platform is California-compliant.
Much like a standard MSR (modern sporting rifle), the Mini-14 cannot be used fully auto, but it has a fixed-piston gas system with a self-cleaning moving gas cylinder.
Besides the rifle, with your purchase, you get a Picatinny rail, scope rings, and two complimentary magazines, so I wouldn't really call it an expensive option.
What you're looking at is the honorable .223/5.56 predecessor with an invigorated design, and after shooting one, I understand why it's a timeless semi-automatic classic.
Stay safe, and shoot straight.
Explore more