Springfield Armory Saint Victor Review: An Upgraded AR-15 With a Splash of Color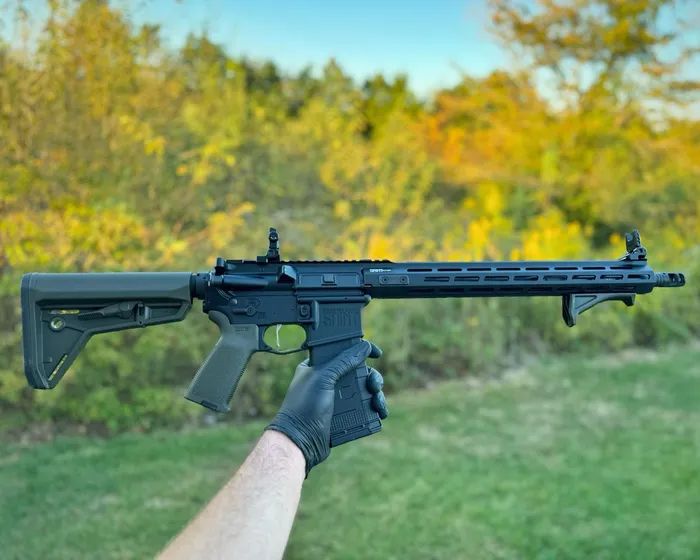 Springfield Armory Saint Victor Review: An Upgraded AR-15 With a Splash of Color
Introduction
Springfield Armory does a great job at providing AR-15 models for everyone, from beginners to competitors. The Saint Victor falls in the middle of the road of the Saint lineup with several welcomed upgrades without tipping the price scale much.
Recently, Springfield rolled out a few models outfitted with Magpul furniture for those of us who like a little splash of color every now and then. There are FDE, gray, and OD Green models, which, by now, you can probably guess which one I went with.  
A huge shoutout goes to Springfield Armory for sending this Saint Victor out to make this review possible.
Let's get into it!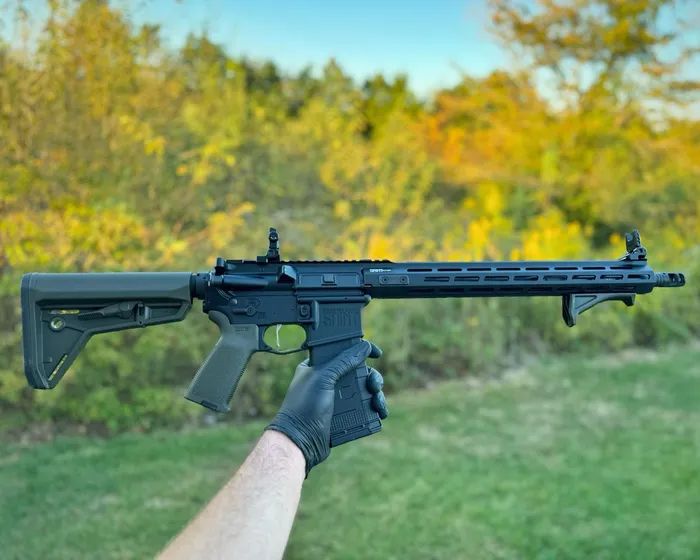 Springfield Armory Saint Victor Review



Specifications
| | |
| --- | --- |
| Caliber | 5.56x45mm NATO / .223 REM |
| Capacity | 30+1 rounds |
| Gas System | Direct Impingement Mid-Length, Low-Profile Pinned Gas Block |
| Barrel | 16 inches, CMV, Melonite, 1:8 |
| Bolt Carrier Group | Enhanced M16 w/ 9310 Steel Bolt, HPT/MPI, Melonite |
| Trigger | Nickel Boron Coated Flat GI |
| Upper and Lower Receiver | Forged 7075 T6 Aluminum, Type III Hardcoat Anodized |
| Buffer Assembly | Carbine "H" Heavy Tungsten Buffer |
| Sights | Low Profile Spring-Loaded Adjustable Flip-Up |
| Muzzle Device | SA Muzzle Brake |
| Handguard | Aluminum Free Float w/ SA Locking Tabs, M-Lok |
| Overall Length | 32.25 – 35.5 inches |
| Weight | 6 pounds 9 ounces |
| Furniture | Magpul, OD Green |
Pros & Cons
Pros
High quality flip-up back-up sights are included

Comfortable free float handguard with M-LOK slots

Muzzle break to reduce felt recoil

Reliable and accurate

Upgraded furniture throughout 

HPT/MPI tested for maximum reliability
Cons
Limited rail space

Charging handle isn't ambidextrous
First Impressions/Unboxing
Overall Feel
I've enjoyed the feel of the Saint Victor since I picked it up out of the box. It's relatively light but still feels robust, and the lack of the full-length Picatinny rail makes it very comfortable to shoot with, especially if you have a thumb-over grip.
How We Tested
Reliability
So far, I have just shy of 450 rounds through the Saint Victor without a single malfunction. Whether dumping mags, running through drills, or simply plinking away, every round has flown down range with its casing ejecting seamlessly.
Ammo Used
I typically don't shoot any steel case or remanufactured, but I do try to shoot a variety of other types through all my new guns. For this gun, I had a nice mix of the following: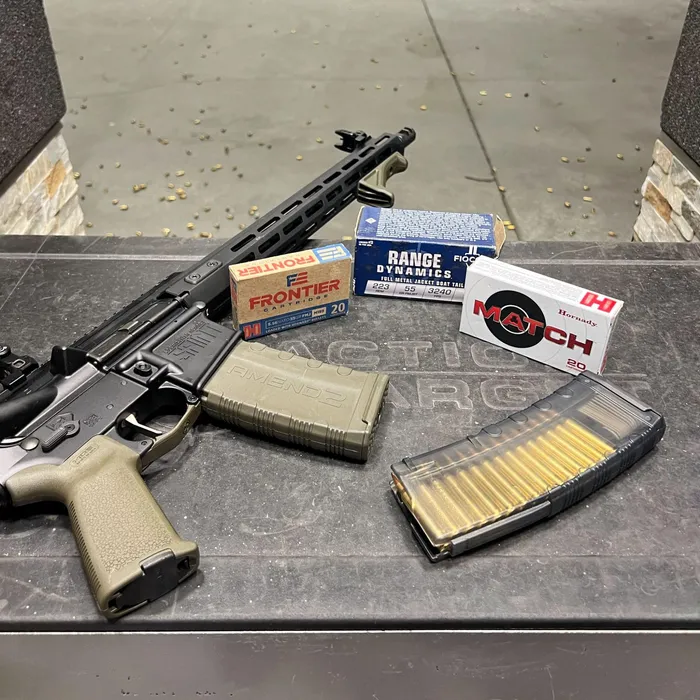 Accuracy
I always start with my iron sights before putting any optics on. Why? Because optics can fail, and your irons will always be there for you.
With no adjustments to the sights, the Saint Victor proved to be dead on at 25 yards indoors. Don't mind the grouping below (I got excited and dumped a mag), but while taking my time and firing from a standing position, all of my shots were landing in the "9" zone for the most part.
Outside at 50 yards, I had no issues transitioning between and ringing the 8" gongs that were set up.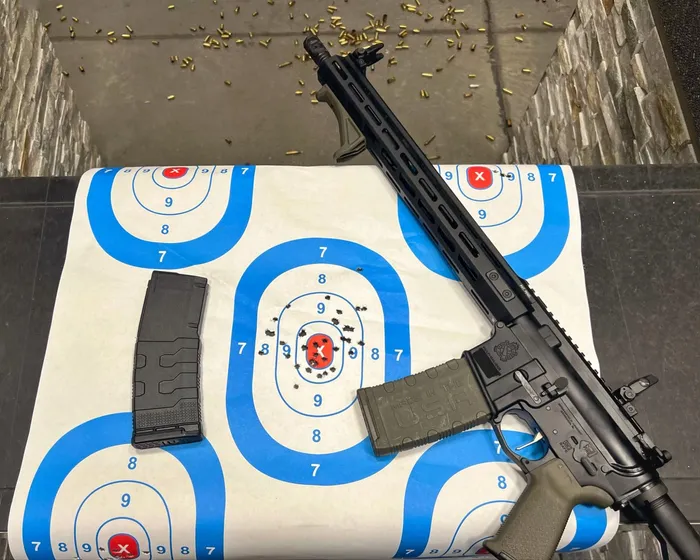 Features
Free Float M-LOK Handguard
Shooting the Saint Victor feels like a dream if you're a thumb-over shooter (where you wrap your thumb over the top of the handguard). While the lack of a full-length Picatinny rail up top does mean less accessory/optic space, it also means maximum comfort when shooting, depending on how you hold your handguard and foregrip.
There are still plenty of M-LOK slots all around the rest of the handguard, so it's not like you only have space for one item and have to call it a day. Foregrips, lasers, lights, bipods, etc., should still work fine.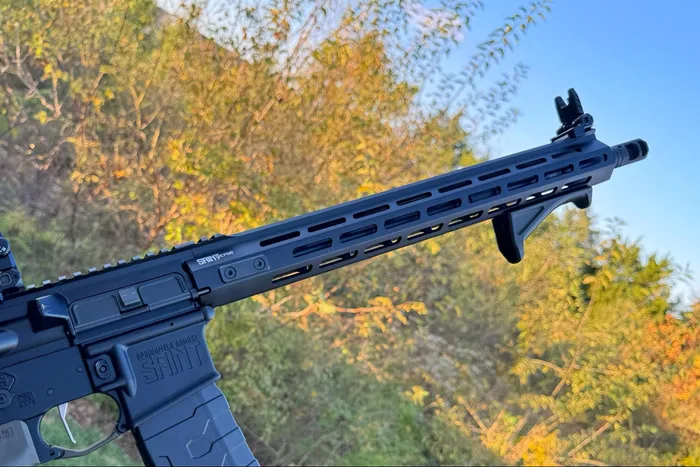 SA Muzzle Brake
With the larger open ports, the muzzle brake helps to reduce the felt recoil. Does it make it non-existent? No, but it does help. The side ports also help direct the gas out and away from the shooter, which I appreciate.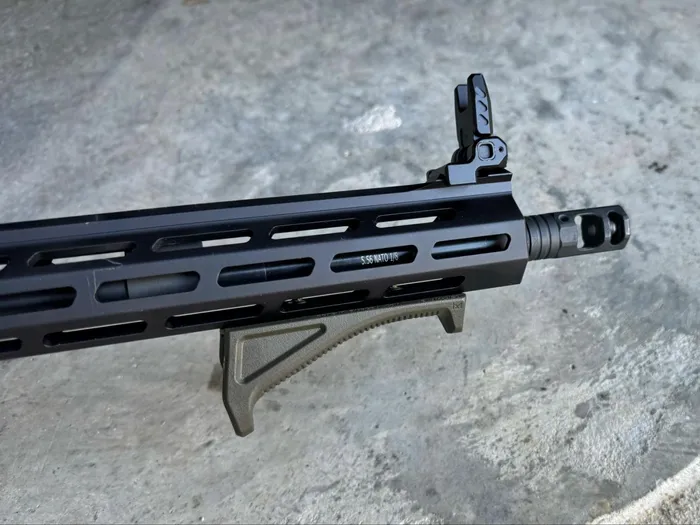 Single-stage Flat Trigger
Many ARs in this price range come with a standard curved mil-spec trigger. They can often be gritty and have a wide range of pull weights.
Springfield, thankfully, decided to go with a single-stage flat trigger that is both smooth and very consistent. The Magpul flared trigger guard helps give you extra room if you like to shoot with gloves or simply have extra large hands.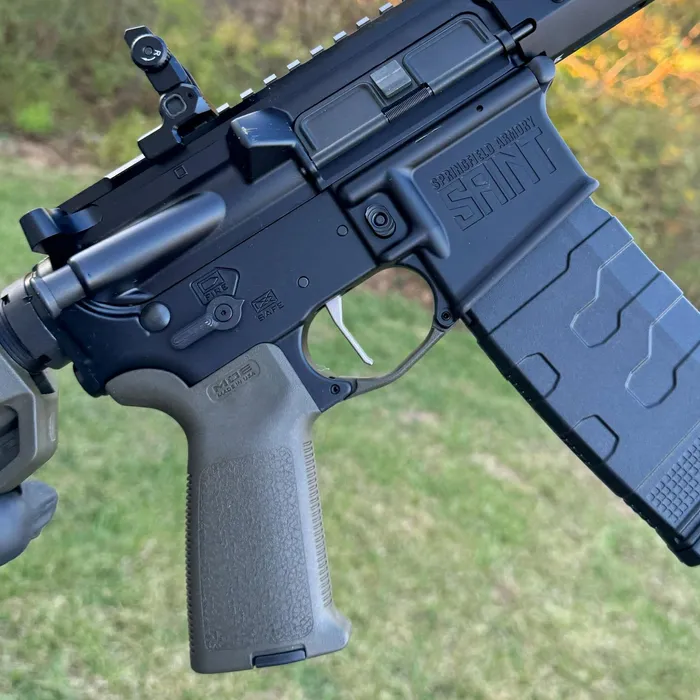 Upgraded Magpul Furniture
Magpul makes some of the most popular firearm furniture and accessories on the market. Springfield now has a Saint Victor model to satisfy your color taste(s) whether you like OD Green (which, why wouldn't you?), FDE, or gray.
The angled fore grip is lightweight and helps to provide an enhanced grip. The MOE grip features anti-slip texturing with built-in storage for things like batteries or a couple of extra rounds. Lastly, the MOE SL stock has a nice angled butt pad, dual-side release latches, and an integral QD swivel sling mount.
All of the furniture together looks great and increases the ergonomics simultaneously.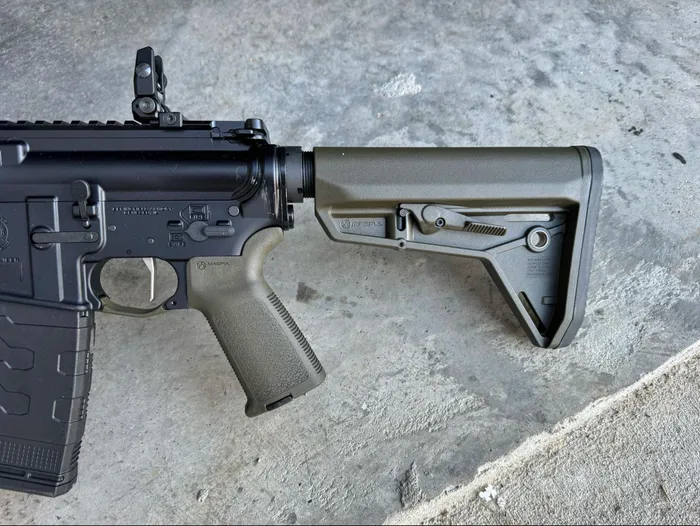 Spring-Loaded Flip-Up Sights
A solid set of back-up iron sights is a must on any rifle, and Springfield's spring-loaded flip-up sights are some of my favorites. They are more robust than other polymer ones on the market, as they are made out of aircraft-grade aluminum.
Of course, the front sight is elevation adjustable, and the rear is windage adjustable. No tools are needed to adjust either sight and the rear features a dual aperture.
Overall, they are a great set of back-up sights.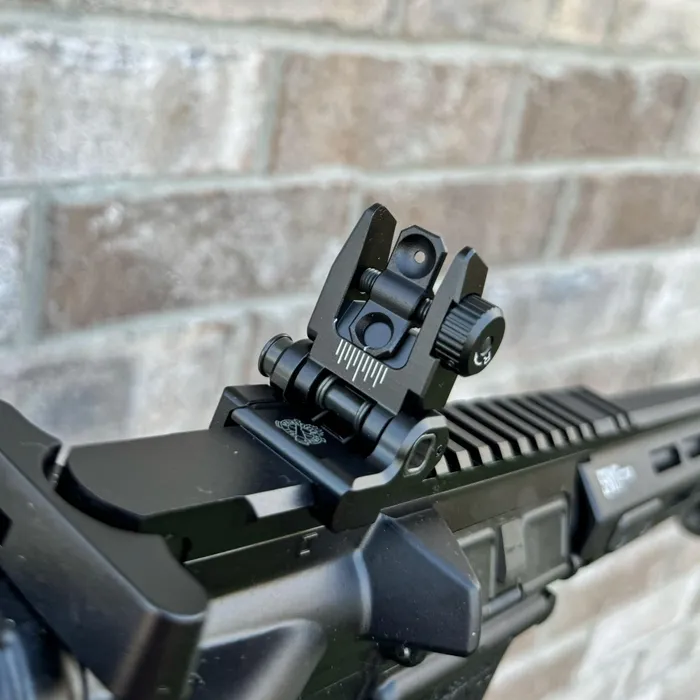 Score Card
Reliability (10/10)  
I've had a whopping zero malfunctions so far.
Ergonomics (10/10)
Being a full-size AR with upgraded furniture and an incredibly comfortable handguard, it's hard not to give this a 10/10.
Customization (9/10)
I can't give it a ten since there is limited rail space up top.
Appearance (9/10)
The olive drab green furniture is a nice touch, and the rest of the rifle has a sleek and clean aesthetic.
Value (9/10)
A simple search on our Gun Made price search engine should yield you plenty of results to buy one under $1,000.
Accessories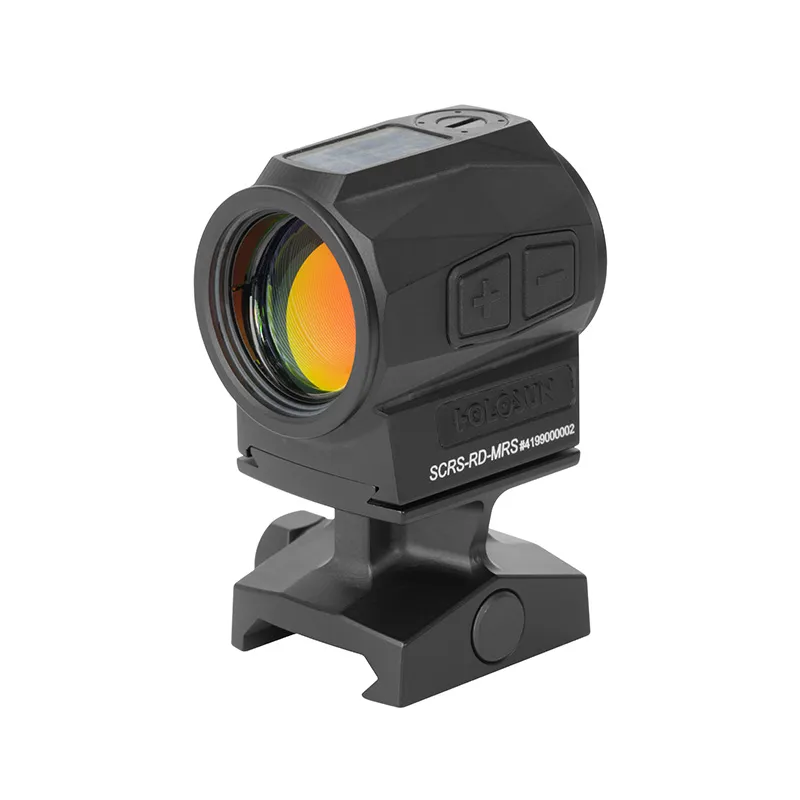 Holosun has been putting out some great products lately, with one of the newest being the SCRS.
You'll never have to worry about changing optic batteries again, thanks to the solar charging capability. It features 12 brightness settings (four of which are night vision compatible), multiple reticle options, and the option for automatic or manual brightness control.
If you want a compact and feature-packed optic, I'd suggest checking out the SCRS, and I also recommend reading our Holosun SCRS review if you want more information on what we think about it.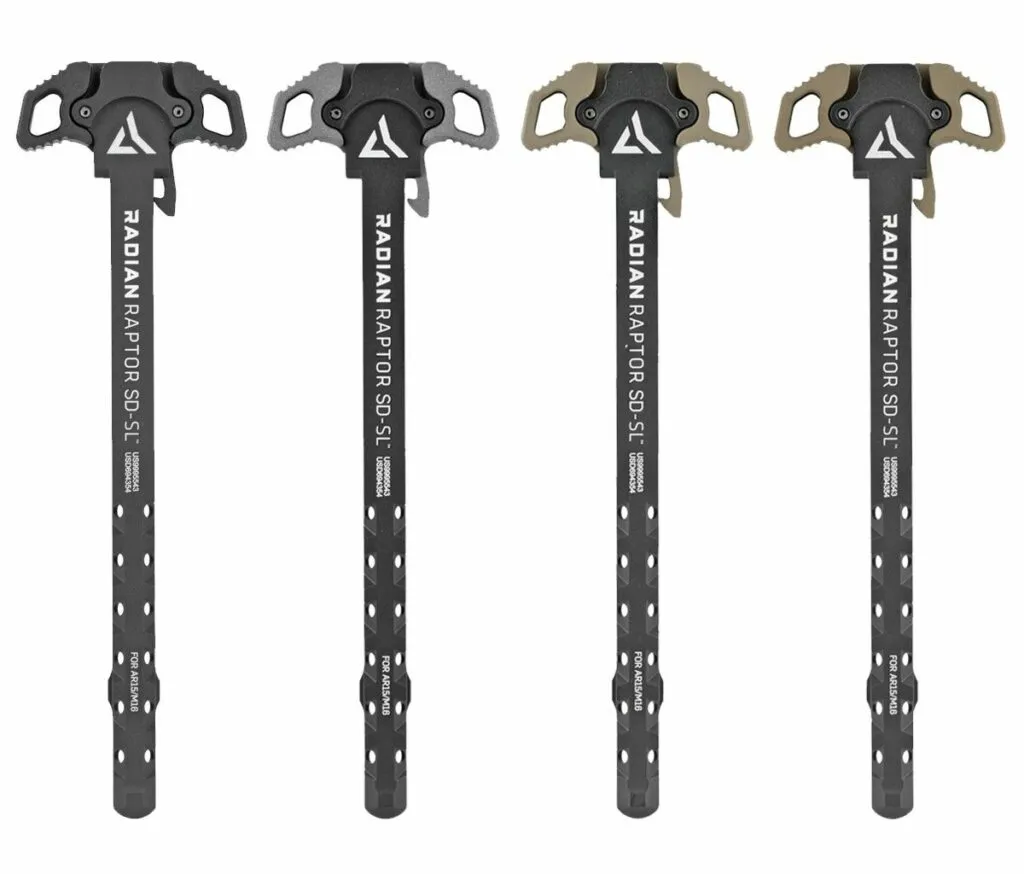 I recommend adding an ambidextrous charging handle to go along with the ambidextrous safety selector on the Saint Victor.
The Radian Raptor is one of the most popular on the market. It's crafted from aircraft grade 7075 aluminum and is MILSPEC anodized. It features deep grooves on the levers themselves to easily manipulate in any conditions, but it maintains smooth edges that reduce snagging.
You can choose from several color options, and you might as well go with olive drab in this case! On top of it all, the Raptor is made in the wonderful USA.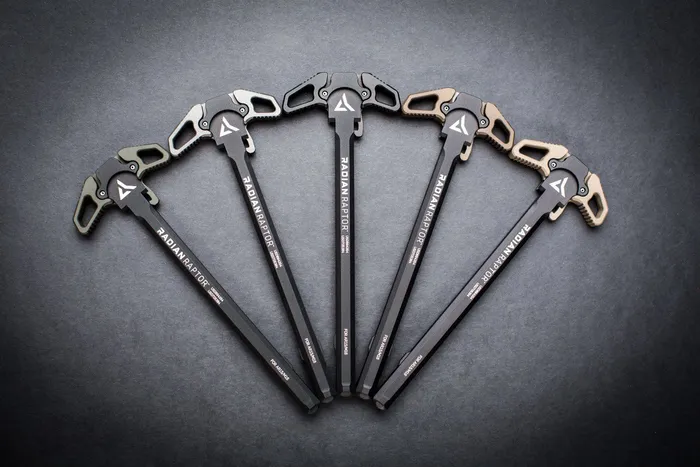 Alternatives
If the Saint Victor isn't quite what you're looking for, take a look at the following rifle.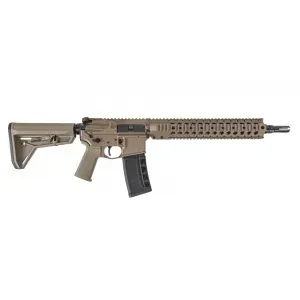 There are a ton of Sabre models to choose from. We reviewed one that featured a 13.7-inch 5.56 barrel surrounded by a quad rail, and loads of upgraded parts, all accentuated by an FDE Cerakoted upper and lower.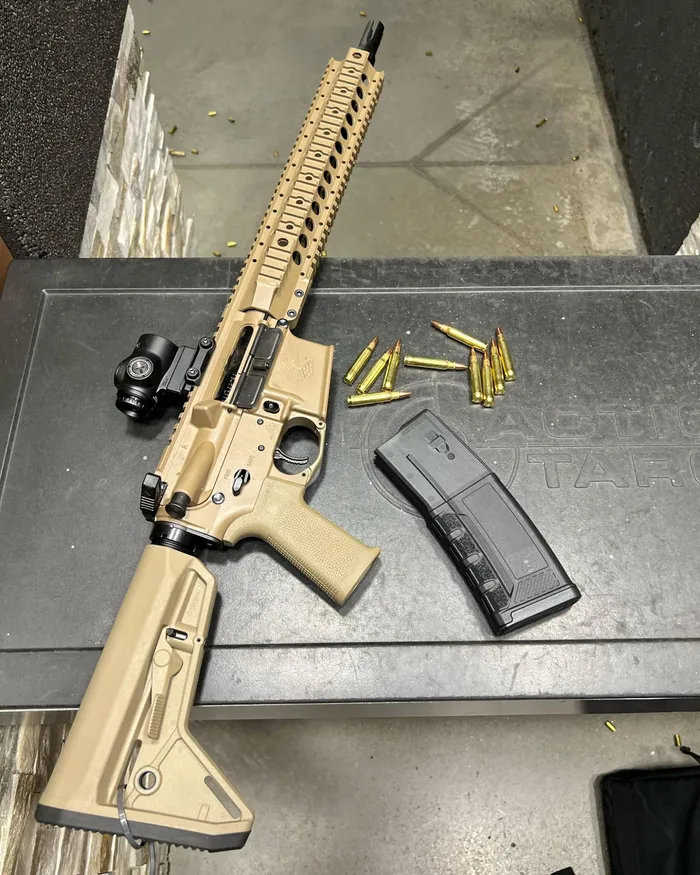 You know that Radian Raptor ambidextrous charging handle I mentioned earlier? This PSA Sabre model comes with one of those from the factory and the Radian Talon ambidextrous safety!
It also features a Hiperfire RBT trigger, upgraded Magpul furniture, and a JMAC GFHC-E muzzle device. Best of all, many of the models come in just under $1,000 MSRP.
Check out our PSA Sabre review for more information on this affordable but high quality rifle.
Conclusion
Are there cheaper ARs? Of course. Are there ARs with higher-end internals and more bells and whistles? You bet. However, for the average shooter with an average budget, the Saint Victor is going to take a lot of work to beat.
If you like a little splash of color, you can go with one of these Magpul models; if not, there are a few all-black models to choose from as well.
As always, stay safe, train hard, and have fun.
Explore more