SIG Sauer Cross Review & Buyer's Guide [2023]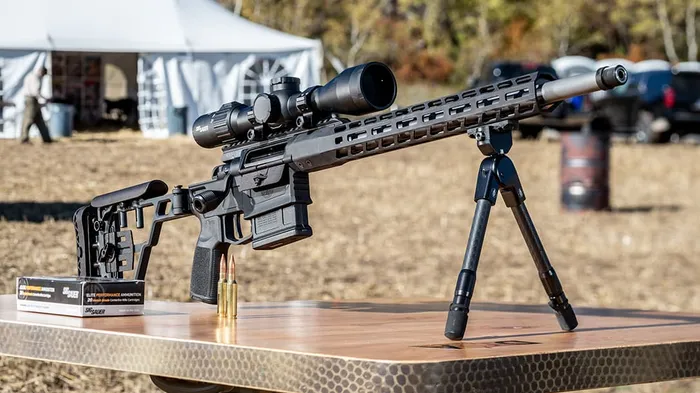 SIG Sauer Cross Review & Buyer's Guide [2023]
Photo by Alex Landeen with Ballistic Magazine
I'm always pleased to hear that a public favorite firearms manufacturer like SIG Sauer wanders into unknown territories of innovation. They're still at it, trying to modify and improve handguns, lasers, ammo, suppressor models, and all kinds of uncommon market items.
Well, guess what? SIG unveiled their very first bolt-action rifle in a long time, and boy did it turn some heads. Enter, SIG Sauer Cross.
It's a very interesting hybrid rifle between the tactical and the hunting niche; it was carefully designed and made to meet the demands of the precision long-range rifle and the seasoned backcountry hunter.
With the Cross, SIG Sauer clearly wanted to bridge a dynamic gap between the tactical and the traditional with the bolt-action touch. Its short action, one-piece receiver, and extension barrel that's invigorated by a modular bolt carrier and three-lug floating bolt head makes it a truly ground-breaking design.
In this guide, I'll cover the basics of the SIG Sauer Cross, what makes this brand new gun so special, some pros & cons, how it works, and who's it for. I'll also add some alternative rifles, mention some good aftermarket scopes and ammo, and answer some frequently asked questions in the buyer's guide section.
But first, there's something we need to address.
Important Update: Safety Recall for the Cross Bolt-Action Rifle
After numerous reports from customers about a faulty trigger, SIG Sauer issued a safety recall of all Cross bolt-action rifles, stating: "consumers should immediately discontinue use of the rifle" because SIG has learned that the rifle can "exhibit a delayed discharge after the trigger [is] pulled," citing safety concerns.
Apparently, the rifle shows a delayed discharge after pulling the trigger. The unfortunate rollback was spurred by numerous reports from customers about a faulty trigger, and this was confirmed by SIG Sauer upon evaluation.
Additionally, I've seen customer complaints about crooked 6.5 Creedmoor caliber versions of the Cross that don't align properly. This is why the manufacturer promptly decided to issue a safety recall and address this potentially dangerous defective trigger.
What Should You Do if You Have the SIG Sauer Cross Rifle?
If you own a Cross, the first thing you should do is make sure you immediately unload your Cross rifle and begin your recall process. Just add your rifle's serial number and continue with the procedure.
SIG Sauer will contact you, arrange your rifle's shipping return, and they'll send you a brand new working one. Don't worry; all shipment and replacement costs are covered by the manufacturer.
You can also call SIG Sauer Customer Service at 603-610-3000.
And now, back to our regularly scheduled programming.
The Manufacturer's Idea Behind the SIG Sauer Cross
The SIG Sauer Cross is a hybrid, hence the name: Cross.
It sees a little bit of both hunting and tactical essential features, and it endures a solid departure from traditional rifle design. It looks like a precision rifle, but functions as a backcountry bolt-action boomstick.
As much as I can tell, the main concept of this really cool rifle platform is to provide a lightweight, modular, extreme precision solution for a reasonable price.
The manufacturer's first bolt-action entry was the SIG SSG 3000 in 1992, but it didn't surpass many expectations from the gun community. The SIG Arms SHR 970 is also another interesting bolt-action model from SIG, but it didn't see much hype either. Now, it's an absolute rarity.
Since then, SIG mostly focused their research and development on semi-auto experiments, and after 20 years (and who knows how many initial blueprints), they came up with a hybrid. I have no complaints.
I assume that SIG has received their fair share of feedback from all kinds of hunters and precision shooters, and the Cross looks like it has what it takes to appease anybody that's looking for a flexible and easily adjustable rifle.
It's suitable for those of you who are looking for a lightweight and easily adjustable rifle for extreme precision shooting at long ranges.
SIG Sauer Cross Overview

Pros
Highly reliable sub-MOA bolt-action rifle
Ambidextrous controls
One-piece receiver for exceptional accuracy
One of the lightest bolt-action rifles you can find (6.8 pounds)
Easy to operate and very comfortable
Suitable for both hunting and extreme precision shooting
Overall great rifle with a reasonable price
Cons
Not a fan of the AR-style bolt-gun design
Known trigger failures that sparked massive recalls
Some feeding issues
Awkward pistol grips
The SIG Sauer Cross can be easily summed up as a compact, lightweight, flexible, and highly accurate rifle that shoots sub-MOA for a very reasonable mid-range price. The safeties are ambidextrous, the construction is lightweight and foldable, and it operates as smooth as butter.
I'm sure that the innovative modular receiver and flexible chassis bolt-action combo will become a thing with SIG Sauer at the helm as a rifle platform trendsetter.
It's available in 6.5 Creedmoor, .308 Winchester, and the upcoming .277 SIG Fury Hybrid cartridge that "defies all ballistic theory by producing more energy on target in a smaller, lighter package," according to SIG Sauer.
Let's start with the bolt.
The Bolt
In order to function with the new, high-pressure performance ammo like the .277 Fury, the Cross has highly regulated mechanisms and internal parts that perform exceptionally.
Personally, I think that the knobby bolt is perfect for a sling, while the short bolt-throw motions offer fine cycling and follow-up shots. Besides, the bolt is snag-free for any hunter's clothes.
The heart of the Cross is an exceptionally strong floating bolt head with three locking lugs. It's in a modular bolt carrier that can be locked into a barrel extension and the interchangeable bolt heads accept all kinds of calibers. Namely, the .227 SIG Fury, .380 Win, and 6.5 Creedmoor.
The bolt action and cycling are rigid, but somehow smooth and feel light, and all of this is propelled via barrel extension systems that are inspired by the AR-15 design. This allows for quick and easy barrel changes, and in turn, expect all kinds of aftermarket options.
The compound curve bolt lever has a 60-degree throw along with the three-lug bolt head, but the head also has one extra set of lugs that function as a backup in case of extreme pressure failures, especially when it comes to the .277 Fury ammo.
The mechanics include a small roller bearing for cocking force reduction because the bolt-throw is pretty short on the Cross. The bolt has two small points on the sides that help with guiding the bolt for smooth operation.
The Barrel and Handguard
When talking about construction, I really, really like how SIG keeps it simple with the stainless steel AR-style stainless steel barrel and free-float M-LOCK handguard (forend) with aluminum construction.
It's a careful combo of solid balance and lightweight material that greatly contributes to extreme accuracy and handling. The full-length Picatinny rail accepts all kinds of optics with 20 and 0 MOA.
The handguard is a one-piece, attached to the receiver, and thanks to the taper lock on the barrel, you're able to attach a suppressor to the barrel. A threaded barrel, washer, and taper for positive/negative suppressor alignment are also included.
The barrel is a foldable, stainless steel pack gun that's perfect for the great outdoors, and it turns from 36 inches to 25. SIG extended the length of the barrel by .3 inches so that the folded .308 Win and .277 Fury models would meet the minimum length requirements for California.
On the first try, you'll probably have a hard time with keeping the rifle stable for precision work due to how lightweight it is, but you'll get the hang of it. It also has lots of rail space so you can mount your optics. If that's a recurring problem for you, you can also rely on some quality rifle bipods.
Overall, you got interchangeable barrels, interchangeable bolt-heads, and this ultimately means always fast and no-nonsense operation for the hunter on the field.
The Buttstock
As for the buttstock, the SIG Cross looks pretty cool with the highly adjustable, skeletonized, aluminum folding buttstock. It's a well-executed design that somehow skates on the tactical/traditional borders, and it works!
The stock folds over the interchangeable bolt handle which allows the gun to keep a slim and folded profile. Also, the Cross has an innovative spring-loaded comb height-adjustable buttstock.
Usually, folding buttstocks are the butt of the joke among hunters and tactical gearheads and they're almost always flawed, are either difficult to operate, or are just really easy to damage. But, not with the Cross.
When you release the rotating locking lever the spring tension makes sure the riser is pushed up and you can push it down with your cheek and adjust the height with your hand without the use of tools.
The adjustable comb, or cheekpiece, works with a positive click for multiple adjustment capabilities. It has solid leverage and tension and just does its job well. You can also grab a Magpul PRS AR stock that also works as intended.
The Trigger
There's something that SIG messed up, and that's apparently the trigger, as of the news update from November 2020. Somehow, there has been a manufacturing error, and that's why the massive recalls were apparent.
The trigger is a two-stage, match-grade trigger with a safe and beveled design with a 2.5 to 4-pound trigger pull. It feels just right if it wasn't for the manufacturing failures.
That being said, the trigger is pretty crisp for a bolt-action firearm.
The Receiver
As for the receiver, The Cross bolt-action rifle has a one-piece aluminum receiver. Most bolt-action rifles need a comfy bedding, but not this one. The receiver has a groove on the bottom of the bolt.
Additionally, you can also grab some AR-style parts like grips, safeties, and detachable mags, so this AR-inspired business really makes sense.
Some of you might have some issues with dirt and debris that can be filled inside of the groove.
This can cause bolt operation problems, but it's mostly nothing to worry about. In the newer models, SIG actually cleared this up and listened to our feedback. They changed the dimensions of the groove, so this won't happen with newer models.
The Cross has standard AR grips, standard AICS-pattern magazines, integral receiver chassis, and accepts all short-action Magpul (PMAG AC) magazines with little effort.
Specifications
| | |
| --- | --- |
| Model | SIG Sauer Cross |
| Caliber | 6.5 Creedmoor; .277 Sig Fury; .308 Winchester |
| Type | Centerfire |
| Action | Bolt-action |
| Safety | Ambidextrous AR-style controls |
| Trigger | 2-stage adjustable match |
| Trigger Pull | 2.5-4.5 pounds |
| Capacity | 5+1 |
| Weight | 6.8 pounds; 6.5 pounds (16-inch barrel version) |
| Barrel Length | 18 inches; 16 inches |
| Overall Length | 38.5 inches; 36.5 inches |
| Overall Height | 8 inches |
| Overall width | 2.9 inches |
| Barrel twist | 1:8 inches (16-inch .308 Winchester version has a 1:10 twist) |
| Grips | SIG AR-style polymer grip |
| Sights | Picatinny optics rail |
| Accessories rail | M-LOK |
| Barrel material | Stainless steel match grade medium contour barrel |
| Stock | SIG Precision (Folding Precision-style stock) |
| Magazine | AICS-style magazine compatibility |
| Finishes | Black anodized |
FAQs
Here are some frequently asked questions about the SIG Sauer Cross rifle.
What Do the Others Have to Say?
Here are some interesting testimonials and review snippets from customers that bought the SIG Sauer Cross.
Alternatives to the SIG Sauer Cross
If you feel that the SIG Cross rifle isn't your type of thing, check out these alternative precision hunting rifles.
Since we're on the tactical page, here's the Ruger Precision Bolt-Action Rifle chambered in the 6.5 Creedmoor, though it's also available in the .308 Winchester. It's a serious contender to the Cross and has been selling like hotcakes since day one. I'm beginning to think that it's one of the reasons why the long-range precision shooting mania has become popular over the years.
It's a bolt-action rifle with an adjustable, skeleton-style buttstock that's compatible with some AR-style shoulder stocks, much like the Cross. This one has a 10+1-round capacity, while the Cross has 5+1 rounds.
The Ruger Precision has all kinds of aftermarket options, but I'm thinking the threaded hammer-forged, chrome-moly steel barrel, RPR Hybrid muzzle brake, aluminum/free-floating handguard, and customization options will be all you need for precision hunting.
The trigger is crisp and has a 2-5 pounds trigger pull, and the average group size is around ½ MOA up to 1000 yards, so expect smooth operation with this one, much like the Cross.
Check out our Ruger Precision 22 LR review for more info on this bolt action rifle.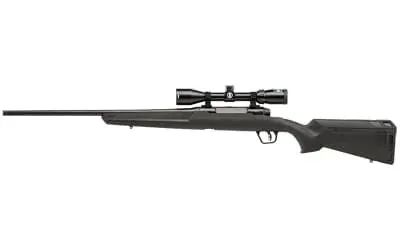 If the Cross is straining your budget too much, here's a classic hunting rifle that feels just right at the 200-500 yard mark. The Savage Axis II XP is a bolt-action 6.5 Creedmoor rifle made for both beginners and veteran hunters who are looking for another main rifle.
It's a straightforward hunting machine that does its job and that's the end of that. There are no fancy features and no extra parts to weigh you down.
The 4+1 round capacity, 22-inch barrel length, and Sporter stock is a standard for hunting deer, and though it's heavier than the Cross with 7.4 pounds, it has a nice price tag.
Check out our best deer hunting rifle for more info on other lightweight options.
In terms of comfort, the grip might be long for some, but it's not a big deal. What's important here is the bolt-action has superb reliability, so you can freely put this rifle on your potential list.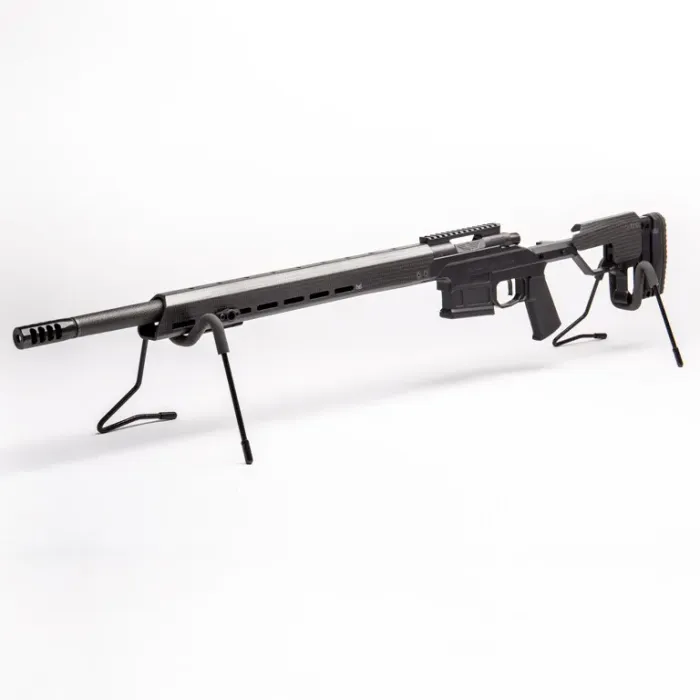 And finally, a premium option that has a higher price than the Cross. I present to you the Christensen Arms MPR Bolt-Action Rifle.
It's one of the best modern precision rifles money can buy and it has an abundance of useful features and impeccable operation that offers extreme accuracy, comfort, and reliability at long ranges. We're talking a whole mile.
It's available in 6.5 Creedmoor and PRC, .308 Winchester, .300, and even .338 Lapua Magnum. There's the standard 22-inch barrel version, 24-inch barrel, and there are modern precision pistol models with 12-inch barrels as well.
The 7075 billet aluminum machined chassis offers durability while the rifle itself is lightweight. It has a V-block bedding for top accuracy, and the bolt, receiver, and muzzle brake have a black nitride finish.
Normally, I'd tell people to steer clear of high-end rifles like this, but there's a reason for the insane price tag.
The adjustable folding stock, aerograde carbon fiber barrel, 20 MOA Picatinny rail, free-floating handguard, AICS-compatible magazines, adjustable comb, and a perfectly-sized, fluted bolt knob will make sure you won't ever have to buy another precision hunting rifle again.
For more 6.5 Creedmoor rifles, check out our buyer's guide and see why it's a popular caliber among hunters.
Conclusion – An Innovative and Promising Precision Rifle That Offers Unmatched Accuracy at Long Ranges
Could it be? Is the SIG Sauer Cross a viable, innovative, and modern hybrid precision rifle that's accepted by both tactical gearheads and traditional elitists? Only time will tell.
What we do know is that the annoying recalls that are still common, but it will fade off in due time. The best part is that SIG Sauer doesn't seem to be discontinuing this rifle any time soon.
What we have here is a crisp, flexible platform at a great price for its many features and functions. What's not to love about a lightweight, ambidextrous, hybrid powerhouse of bolt-action accuracy?
You can easily store it in a backpack for a rifle that won't hit any branches if you're a forest hunter. It feels light and handles smoothly, while the accuracy is without a doubt sub-MOA.
Honestly, a strong contender for one of the best newcomers in rifle innovation that managed to blend tactical and sporting elements with a sensibility that caters to even the most elitist of hunters.
Shoot sharp and stay safe.
Explore more