Stoeger M3000 Review & Buyer's Guide
Stoeger M3000 Review & Buyer's Guide
In this guide, we'll talk about the Stoeger M3000 semi-automatic shotgun. We'll go through its pump-action and semi-auto variants, talk about its features, pros and cons, cover some similar alternative shotguns, and we'll also list some really cool chokes and aftermarket options.
I did some thorough research sessions about its features and how it works, and I saw all kinds of customer reviews that either complain about the recoil or praise its great value and reliability.
But in the end, I'm convinced that it's a well-balanced semi-automatic shotgun suited for waterfowl and turkey hunting, despite the low-end price point which can oftentimes discourage hunters from trying it.
Either way, this Stoeger M3000 review will help you choose whether or not it is a suitable shotgun for you.
Stoeger's Idea – The M3000
The Stoeger is a subsidiary of Beretta Holding Group, so they deal with the newest materials and technologies to outfit their shotguns with quality stocks and components. Truth be told, that's one of the main reasons why they can race neck-and-neck with high-end shotguns.
Located in Accokeek, Maryland, the Italian handiwork manufacturer has very popular over-under shotguns, but it's often overlooked, as many hunters just go for Mossbergs or Benellis.
Don't be fooled. Their Stoeger M3500 semi-automatic line is one of the more versatile and sought-after models, but it's a mid to high-end shotgun with premium features.
That's why Stoeger went for a more affordable option with tailored characteristics. They conceived the M3000 as a reliable and powerful, 'jack of all trades', semi-auto shotgun that's cheaper than a Benelli. This inertia gun feels like a thousand bucks and looks great too.
A Brief History of the Stoeger Inertia Shotgun Systems
Stoeger semi-automatic shotguns are made in Turkey, but they run on the Italian Benelli inertia operating systems
I read somewhere that a Turkish firearms company managed to manufacture a near-exact replica of the Benelli's inertia system. Benelli were very impressed by the replica, so instead of suing them, they decided to actually buy the Turkish company. They went on to continue improving the Stoeger semi-autos.
Benelli hasn't confirmed or denied this story ever since, but their M2000 is a result of that bold business move.
Before we check out the features and take an in-depth look at Stoeger Industries' semi-automatic Model 3000, let me first explain what 'inertia shotguns' are.
What Are Inertia Shotguns, Anyway?
The semi-automatic inertia shotgun was first developed in 1903 by Crister Sjörgren, a gunsmith from Denmark. They called it "the normal", as many thought that it would be a revolutionary new standard for firearms. It wasn't a popular hit back then, but it gained traction throughout the century.
Inertia shotguns use recoil to operate. They are semi-automatic firearms that, when fired, their two-piece bolt stays put, held by a sturdy spring pressure when the shotgun moves backwards from the recoil.
The motion from the recoil moves the spring and forces the bolt back, which in turn ejects the fired shell. The bolt is pushed forward by the action spring, setting up a new shell.
Many manufacturers like Browning, Franchi, and Benelli currently use the ingenious inertia system, and Benelli refined and improved it for many years with their M2000, M3000, and M3500 models. Today, the heated 'gas vs. inertia shotguns' debate is an absolute riot at campfires.
It's a well-known fact that inertia shotguns have a strong recoil, but it's really a subjective thing and there's no real winner here, just preference.
Should I Go for the Stoeger M3500 or the M3000?
The Stoeger M3000 is chambered for 2 ¾- and 3-inch rounds, while the Stoeger M3500 is chambered for 3½-inch shells, so it depends entirely on your preference.
The M3500 is a more expensive option, but it offers faster operation, chambers 3.5-inch shells, and has less recoil.
I really like the M3000 model because the recoil doesn't bother me much, and it's a solid trade-off for more lethality from the 3½-inch rounds.
Stoeger M3000 Overview

Stoeger M3000 Specifications:
| | |
| --- | --- |
| Model | Stoeger M3000 |
| Manufacturer | Stoeger Industries |
| Action | Inertia-operated semi-automatic |
| Caliber | 12 Gauge, 2 ¾-inch, and 3-inch shells with two-shot plugs |
| Magazine type | Fixed |
| Safety | Trigger blocking cross bolt |
| Capacity | 4+1 |
| Overall Length | 47.75-inch |
| Barrel length | 26 or 28-inch |
| Length of pull | 14-⅜-inch |
| Weight | 7.4 pounds |
| Trigger pull weight | 7.12 pounds |
| Stock | Black synthetic pistol-grip |
| Finish | Black Synthetic, Satin Walnut, Realtree Max-5 |
| Sights | Ventilated and stepped/Red-bar/Fiber-optic front sight |
| Chokes | Improved cylinder, modifier, XFT (extra-full turkey), also includes a choke-tube wrench |
The Stoeger M3000 Construction
The Stoeger M3000 is a well-balanced, 12-gauge, 3-inch, Inertia Driven®, semi-automatic shotgun that offers solid control and handling. It takes 100 to 200-rounds to break in.
It's great for hunting turkey, pheasants, and waterfowl. You can go for good 3-inch slugs for deer hunting with the right optic sights.
It also has a tapped barrel so you can easily swap the chokes. Since the XFT chokes are extra full turkey, some folks like to use them as coyote loads, but I wouldn't recommend this because it might cause pellet deformation or some other misfiring issues.
It has an IC (improved cylinder), drilled and tapped receiver for weaver-style scope bases, modifier, mercury recoil reducer for the buttstock, sling swivel studs on the stock, an XFT choke, shim kit for easier adjustments, and a wrench.
You might expect a heavy trigger, but the 7.4-pound trigger pull is decent enough for both rookie and seasoned hunters. The trigger guard is enlarged, perfect for gloves.
Besides the Black Synthetic pump-action variant, you can also check out the TrueTimber DRT or the Realtree Max-5 Camo of the same shotgun, if you're looking for a camouflaged finish.
The SteadyGrip, black synthetic stock can handle any weather and muddy situations, and the matte or TrueTimber/Realtree finish doesn't glare so you won't scare off game.
The ventilated and stepped rib and fiber-optic front sight works great under low light conditions and ensures solid precision and quick target acquisition.
I suggest that you replace the red-bar sights with green ones when hunting waterfowl because the red contrast might scare off game.
Heavy and Light Load Shooting
Regular waterfowlers like this one have a tendency to malfunction with lighter loads, but the 18.5-inch choke system makes sure it has no problem with most loads.
However, I suggest you get yourself some Remington Hypersonic 3-inch 12-gauge shotshells, Remington Buckshot 3-inch magnums, or Fiocchi Speed Steel. It feeds like a charm.
While shooting, you might experience some odd patterns and central thickening because of the chokes, but it's not out of the ordinary.
The recoil is a bit too strong for a 7-pound inertia shotgun. This is where gas-operated semi-automatic shotguns fare better because of increased recoil suppression. The recoil pad is soft enough not to hurt your shoulders, but boy does this thing kick. Here's a little demonstration.
There have been some claims that this half-price semi-auto can rival a Benelli M2, but this is not the case. The Benelli has less recoil, durable and precise components, and is regarded as one of the most reliable 12-gauge, 3-inch chamber shotguns you can find. That's why they cost over a thousand dollars.
However, by all means, I have no intention of criticizing the M3000's reliability, all thanks to its trustworthy Inertia Driven System, because gas-operated shotguns usually add unnecessary weight.
I've seen some customers complaining about the cycling, recoil spring defects, and how the ejection hole remains open. I recommend you thoroughly lube up your shotgun if you want to avoid cycling problems.
Stoeger M3000 Aftermarket Accessories
You know what cost-effective means, right? More aftermarket accessories!
Not only is the M3000 available in many finishes and variants like the Defense or Liberty models, but you also get to pick different barrel lengths, from 18.5-inches to 30-inches.
Take advantage of that price tag and take a look at one of the most essential aftermarket customizations for the M3000, like the Leupold VX-3i Rifle Scope. It's a waterproof, shockproof, and fogproof rifle scope under $500 if you're looking for longer-range hunting.
The Bushnell Trophy Shotgun Scope with Circle-X Reticle 1.75-4 x 32mm is a suitable choice too, if you're looking for something with more magnification.
Here's the snag-free GG&G Charging Handle if you're looking for a decent charging method or the corrosion-resistant GG&G 12-Gauge Follower for more control and reliability.
Pros & Cons of the Stoeger M3000
Pros
Surprisingly good value for the money
Has no problems with most shotshells
Reliable Inertia Driven System
Lots of aftermarket customization options
Light trigger pull for a semi-auto shotgun
Cons
Heavy recoil
Some reliability issues with cycling, extractor, and firing pin components
What Do the Others Say?
Here are some testimonials from hunters that bought and tried the shotgun:
Here's a customer who unfortunately received a faulty product:
Here's a great comparison with the Mossberg 930:
FAQs
What's the Best Waterfowl Choke for This Gun?
Where Is the Safety Located?
You can find the safety right behind the trigger. It's a push-button style safety.
Is the Stoeger M3000 Suitable For Deer and Black Bear Hunts?
If you're using buckshot or rifled slugs, you can down a deer or a black bear.
Remember to check your state's laws and regulations for bear hunting because some states don't allow certain slugs and shotguns to be used for hunting.
Check out our best deer shotguns list for more info.
Alternatives to the Stoeger m3000
If you're looking for something with less recoil and unmatched reliability, check out these similar semi-auto and pump-action shotguns in the 3-inch and 12-gauge range.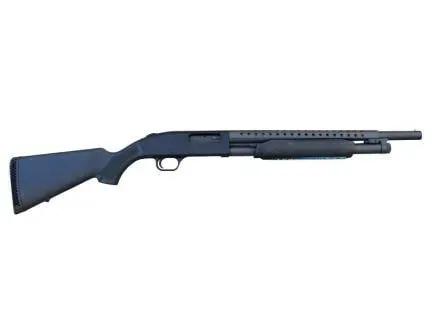 The first thing that came to my mind was Mossberg.
The Mossberg 500 is pump-action, and the 930 is a semi-auto. It's a 12-gauge hunting shotgun, chambered in 3-inches, and weighs 7 pounds.
If you're going for a more reliable cycling, ventilated rib 26-inch barrel, and accu-set chokes, go for the Mossberg standard. It's a slightly more expensive option, but they are becoming hard to find.

Now, this is the ultimate all-rounder.
When looking for a jack-of-all-trades pump-action shotgun for sporting activities, you won't go wrong with this classic.
Similar to the M3000, it's chambered in 3-inches, it's cost-effective, and it eats all kinds of ammo. Works like a charm with the Federal Power-Shok 12-gauge, Winchester Deer Season, or the Remington Nitro Magnum 3-inch shells.
You can also check out the Remington V3 3½-inch VersaMax if you want to shoot light and heavy rounds without the recoil and mishaps.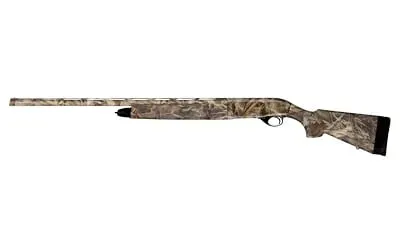 If you're a first-time buyer, and you're looking for a reliable turkey or waterfowl shooter, take a look at the Beretta A300 Outlander with synthetic stock.
Almost like a budget version of the Beretta 391, it's a very straightforward, weather-resistant shotgun with reliable cycling and handling. It has an adjustable shim for easy customization.
The spacers allow you to adjust the stock length if it feels uncomfortable on your shoulder.
It's not inertia-driven, though. Instead, it operates on a very reliable gas system, and it also has no problems with most waterfowl target loads.
With a great price and reliability to boot, this great gun is a fine contender to the M3000.

The 28-inch barrel, ventilated rib, and red fiber-optic front sights are the staples of a Franchi classic, offering solid handling and customization options.
The slim forend profile and the recoil spring which is located around the mag tube are designed according to experimental, yet effective Franchi blueprints that are focused on efficiency, easier reloading, and simpler cycling.
The internal weight inside the stock makes the gun well-balanced for increased handling.
You also receive three choke tubes with your order.
Go check out our Franchi Affinity 3 Sporting review for additional information!
Conclusion
Despite the heavy recoil and sometimes faulty components, the semi-auto M3000 shotgun is an affordable alternative and a great contender to the semi-auto inertia shotguns on the market today. It's a well-rounded shotgun, for sure.
You can almost always find it in stock during these harsh times, and it's a really affordable, strangely overlooked semi-auto shotgun that's great for upland hunting and waterfowl.
It offers the same characteristics that a Franchi or Benelli inertia systems have, but it's much cheaper and opens an aftermarket window.
When it shoots straight, it's the greatest gun ever. But, when it malfunctions, folks just get angry at a $500 dollar price-tag shotgun that fails to cycle.
It's surprisingly reliable for a gun at this price range, and Stoeger Industries has definitely outdone themselves with this one.
The gun might have a "Made in Turkey" engraving on its stock, but the ducks don't need to know that.
Explore more