Taurus GX4 Carry T.O.R.O. Review: Shooters Asked & Taurus Listened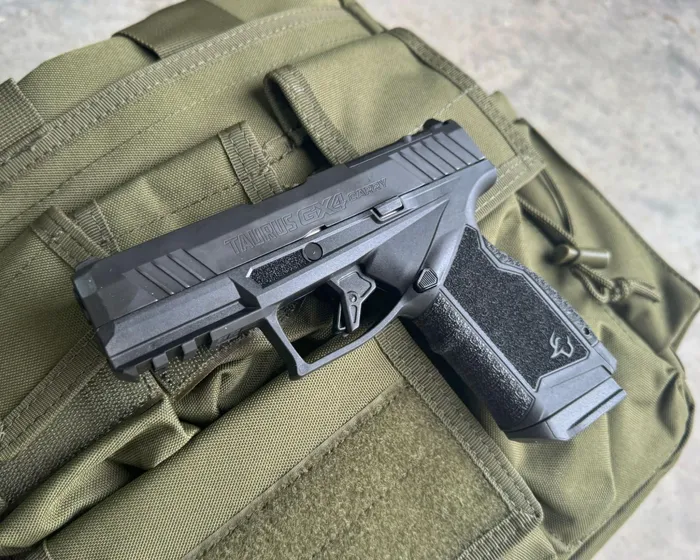 Taurus GX4 Carry T.O.R.O. Review: Shooters Asked & Taurus Listened
Introduction
The concealed carry market is becoming more competitive each and every day for manufacturers. In an effort to capture more of that market share, Taurus continues to listen to its consumers, adding or combining features into its handguns.
The new Taurus GX4 Carry T.O.R.O. (Taurus Optics Ready Option) is a perfect example. It builds upon the previous GX4 models by adding an accessory rail and bumping the capacity up to 15+1.
Capacity and customizability are crucial in a concealed carry gun, and that's what the GX4 Carry delivers.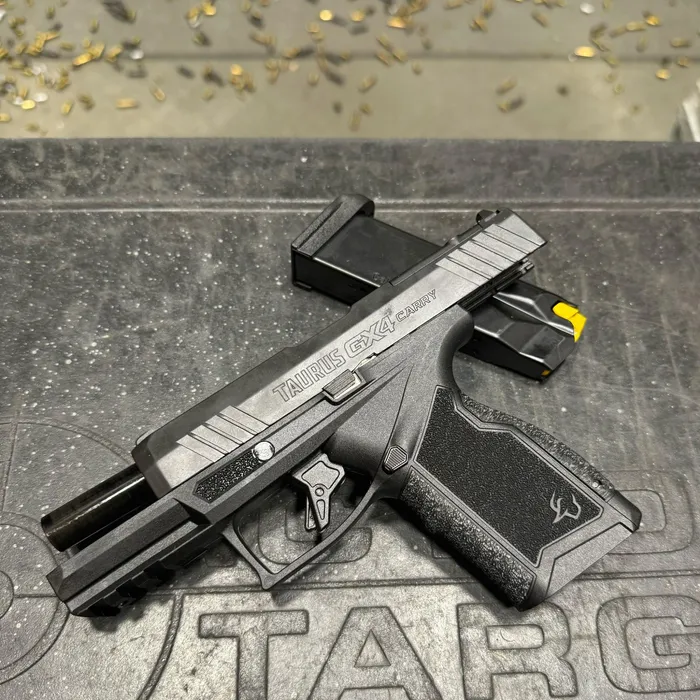 For total transparency, Taurus did send the GX4 Carry to us to review, but we do not get to keep the gun, nor did we get paid to write this by Taurus.  
Taurus GX4 Carry Review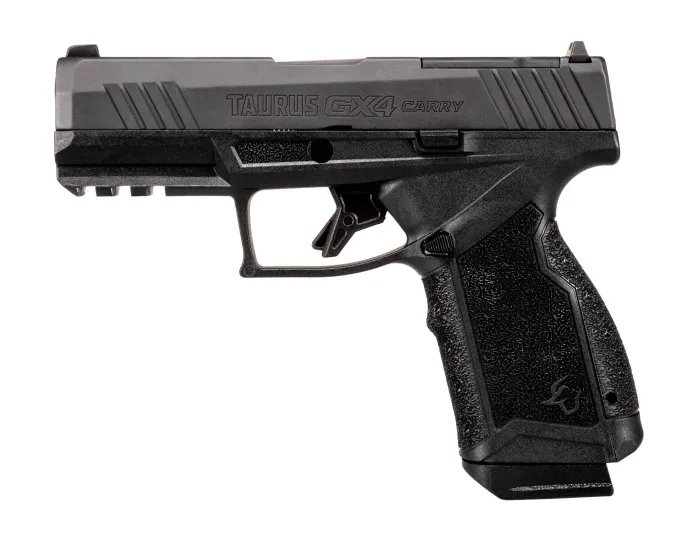 Specifications
| | |
| --- | --- |
| Caliber | 9mm |
| Capacity | 15+1 Rounds |
| Barrel Length | 3.7 Inches |
| Overall Length | 6.56 Inches |
| Overall Width | 1.08 Inches |
| Overall Weight (unloaded) | 21.5 Ounces |
| Frame and Barrel Material | Stainless Steel |
| Slide Material | Alloy Steel |
| Frame Finish | Matte Stainless |
| Barrel Finish | Satin Black DLC Coating |
| Slide Finish | Gas Nitride |
Pros & Cons
Pros
Improved ergonomics and great grip texture

Optic cut slide

Accessory rail

15+1 capacity

Reliable and accurate

Clean and crisp flat face trigger
Cons
Lack of ambidextrous controls

Not a large amount of aftermarket support (yet)
Unboxing
Right off the bat, I want to praise Taurus on the pistol case. I'm unsure if it's just this model or all moving forward, but it's a huge upgrade from the simple cardboard box in which I've received other Taurus pistols.
Inside the case are two 15-round magazines, additional backstraps, a keychain, and the typical lock and literature.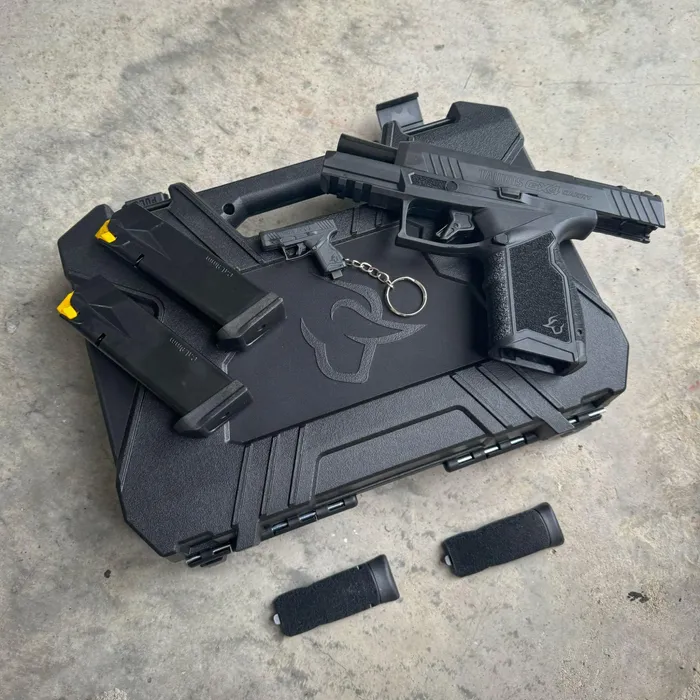 Overall Feel
The GX4 Carry feels surprisingly nice hand, and the gun is very well-balanced. Once the magazine is seated, there is more than enough grip space, even for those with extra large hands.
The interchangeable backstraps can help custom-fit the grip to your hand, but I kept the one that came installed as it felt great out of the box.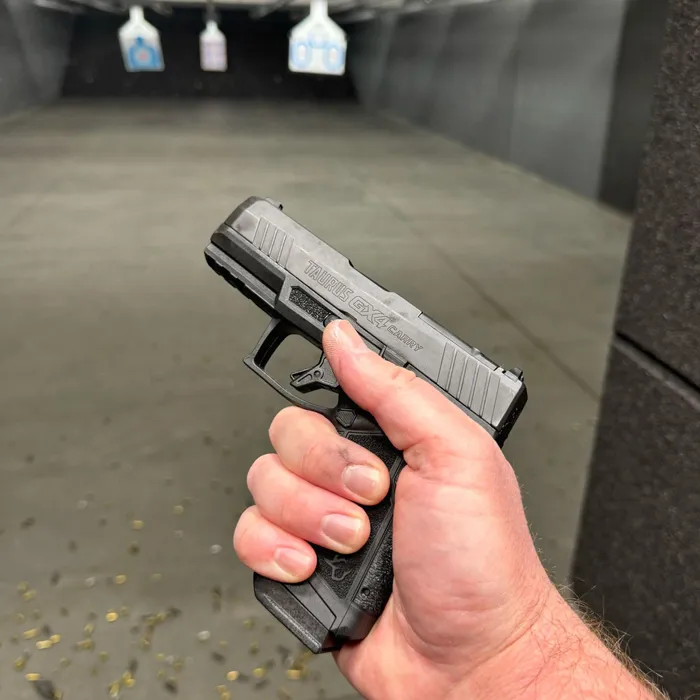 How We Tested
After some dry firing to get a feel for the trigger, I hit the range a couple of times with some target and defensive ammo. I ran several shooting drills such as the Mozambique and 1-reload-1, in addition to dumping a few mags for fun.
Reliability
This gun is not picky with the ammo you feed it. I put 175 rounds through it over a couple of range trips and didn't experience any malfunctions.
Ammo Used
Most of the 175 rounds were 124-grain Blazer Brass FMJs, supplemented with a box of 115-grain Hornady Critical Defense FTXs.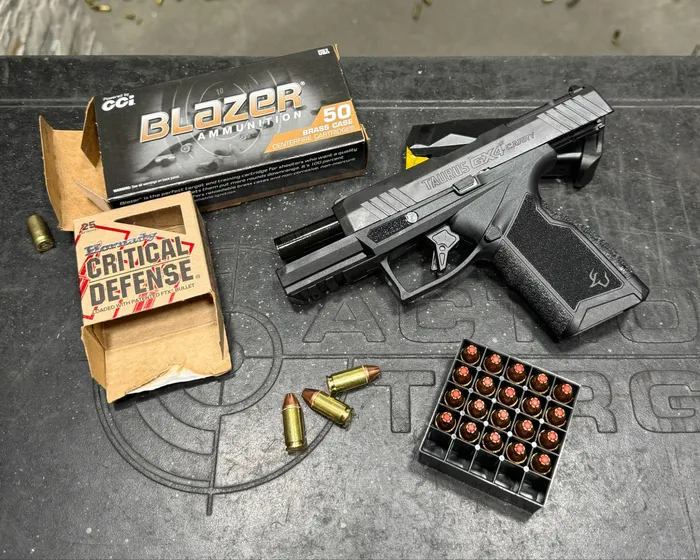 Accuracy
With the clean pull of the flat face trigger, a sizeable grip, and a well-balanced frame/slide, it was easy to stay on target with tight groupings. Put a paper plate anywhere within 25 yards, and it will not be safe!
Of course, each shooter has their own proficiency level, but 25 yards with fist-size groupings is good for me. I would say that the gun can stand to outshoot my abilities.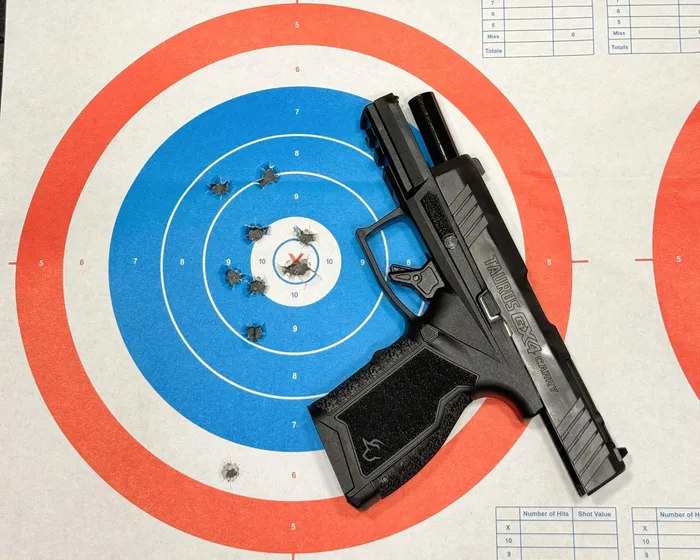 Features
Enhanced Ergonomics
I'm a big fan of the grip on the GX4 Carry. It's grabby, tall enough for my whole hand to fit, and the supplied interchangeable backstraps let you customize it to your hand. There is also a small trigger guard undercut to help you achieve a high grip if you would like.
While the controls all work fine and are placed exactly where you'd expect, I found the slide stop lever too close to flush, and I had to search for it a few times. There are no ambidextrous controls here, but the magazine release is at least reversible.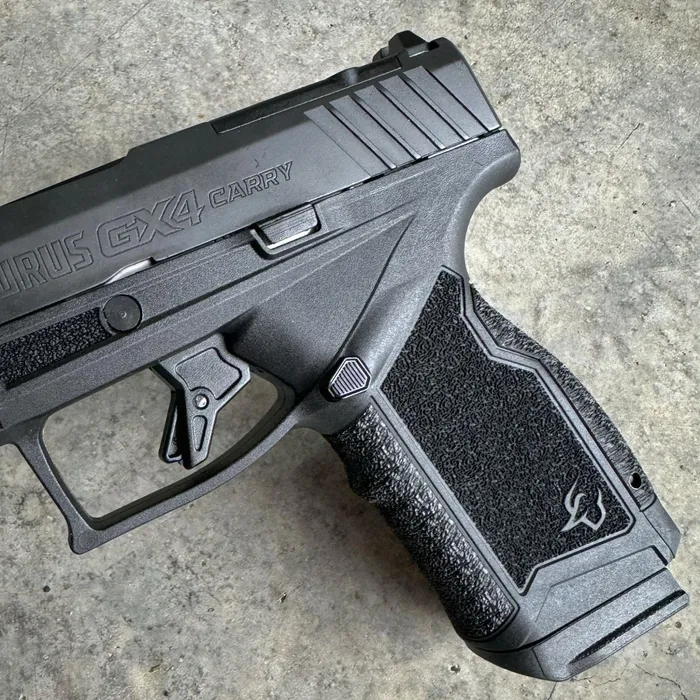 Optics Ready Slide & Accessory Rail
Thanks to the optics ready slide and Picatinny accessory rail, you'll be able to add all of your favorite optics and accessories. The prior GX4 pistols don't have an accessory rail, so this model significantly opens up the aftermarket options.
The slide is cut from the factory in a Holosun K-series footprint, giving you plenty of options for optics. Also on the slide, you'll notice front and rear slide serrations and standard height iron sights. Taller sights would have been appreciated, but that's not a big deal.
Flat Face Trigger
I'm a sucker for a flat trigger. The GX4 Carry thankfully comes with one, which has a nice clean break and quick reset. It's serrated for additional control and you'll also notice a trigger safety. Overall, the trigger is significantly better than some of the older Taurus triggers I've experienced.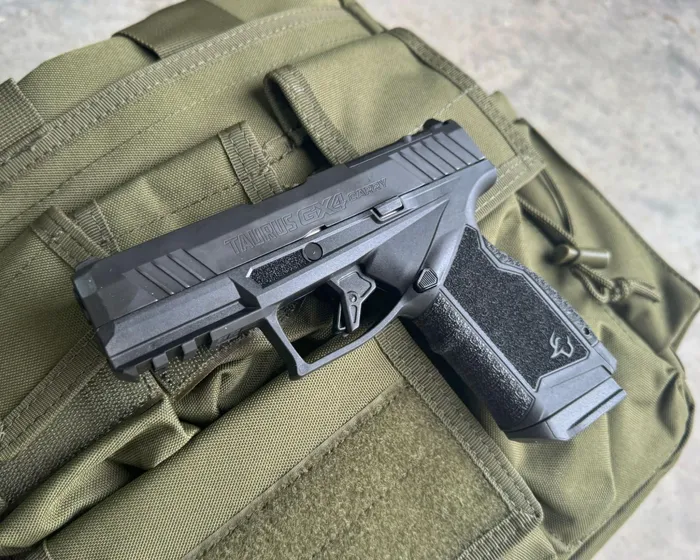 15+1 Capacity
Thankfully, pistol capacities continue to grow while the pistols continue to shrink. A 15-round magazine is pretty standard these days, but it's still a pro in my book. The more rounds, the better.
These steel mags have tons of witness holes and a bright yellow follower for quick empty mag indication. There are also magazine and grip cuts to help with reloads.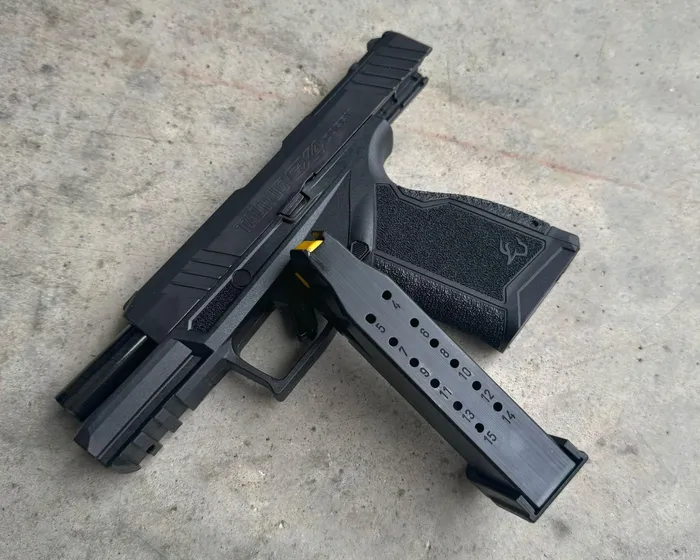 Score Card
Reliability (10/10)  
No malfunctions or issues arose during my testing.
Ergonomics (8/10)
It feels great in hand, is well-balanced, and the controls are laid out as expected.
Customization (8/10)
The accessory rail, optics ready slide, and interchangeable backstraps let you make it your own.
Appearance (7.5/10)
It's a bit blocky without any standout aesthetic features. However, guns aren't just for show.
Value (9/10)
With an MSRP of only $504.99 and being able to find it for lower than that, the bang for your buck is HIGH.
Accessories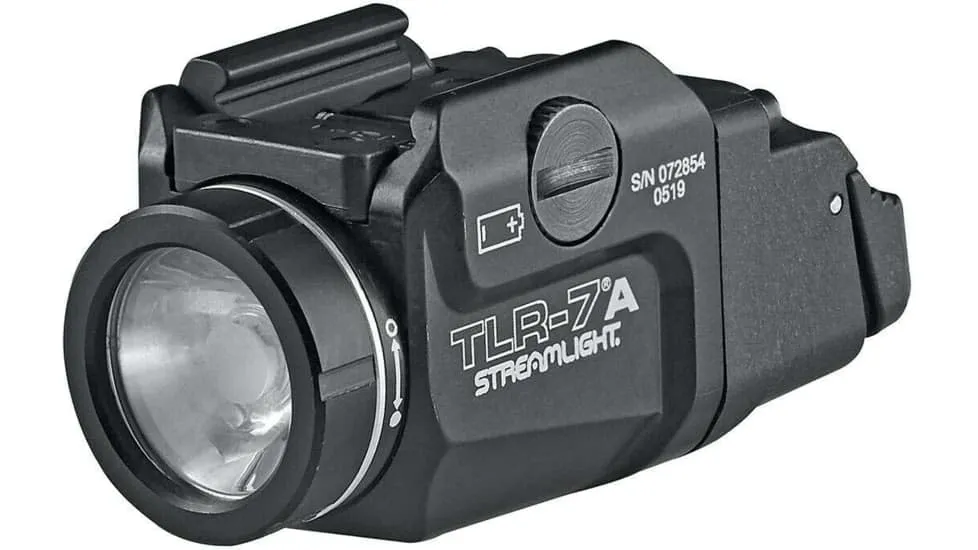 The TLR-7A is small and compact without sacrificing output or battery life. It puts out 500 lumens for up to one and a half hours, running off of one CR123A battery.
With ambidextrous real paddle switches, a user-enabled strobe function, and a safe-off feature, it's versatile enough to fit many scenarios, from carrying to home defense.
It's made out of anodized machined aluminum, is IPX7 waterproof rated, and is backed by a limited lifetime warranty. It should last you a very long time.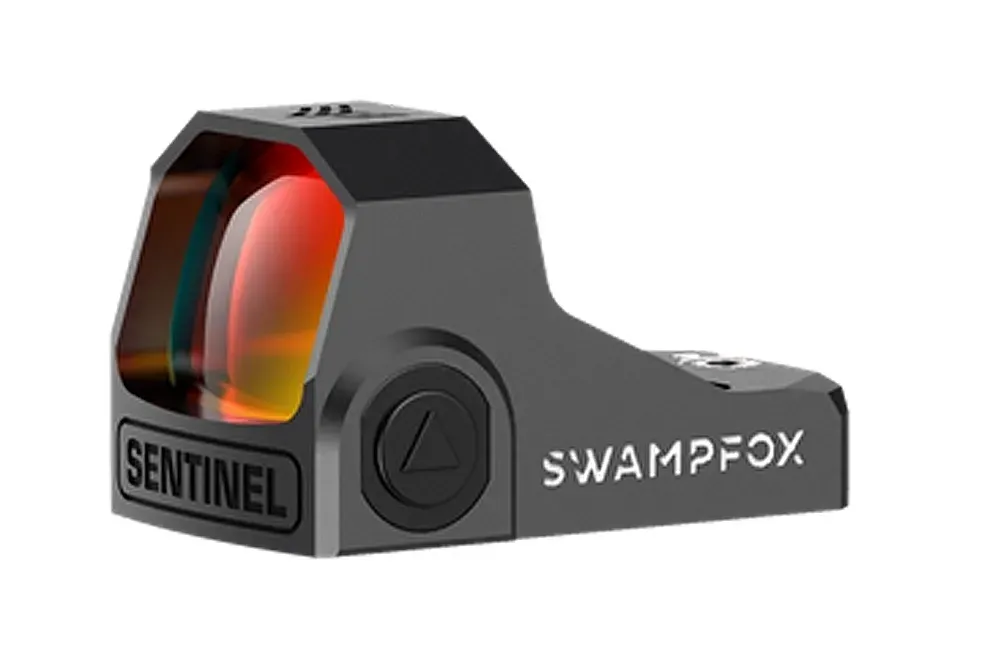 Keeping the budget-friendly theme in mind, the Swampfox Sentinel is a great "micro" red dot that doesn't break the bank.
It features a crisp 3 MOA dot that you can order in red or green, with ten illumination settings. You can also choose between manual brightness or auto brightness.
Durability is at the forefront of this optic as it's made out of 7075 aircraft-grade aluminum and is IPX7 waterproof rated. You can even purchase an additional shield to beef up the durability more. Just make sure to order the shield that corresponds to your exact optic, as they differ for the auto or manual brightness models.
Alternatives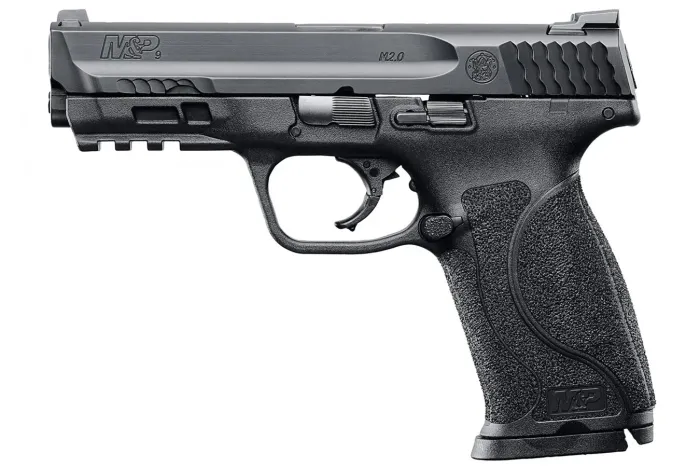 This is one of those guns you don't have to change anything on besides adding an optic if you want.
It features a flat face trigger, optics ready slide, tall sights, and a Picatinny-style rail to mount your favorite lights and lasers. Thanks to its 18-degree grip angle and interchangeable palsmwell grips, the ergonomics are on point.
Grab some solid defensive ammo, pick a holster, and you're good to "carry on."
Also feel free to check out our S&W M&P9 M2.0 Compact review if you want more information on this 9mm handgun!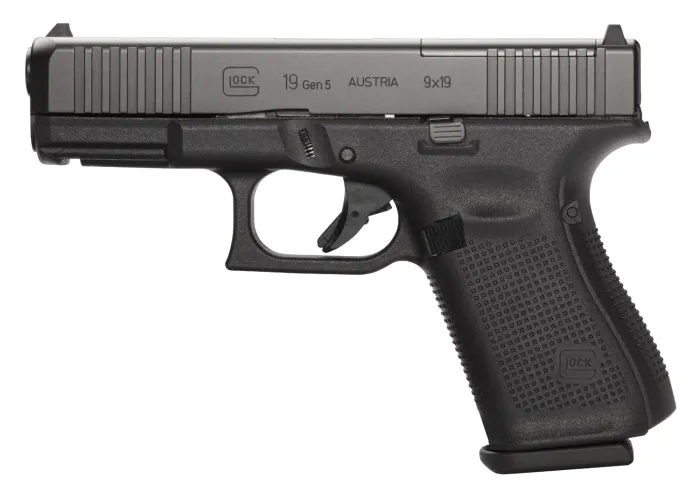 Not much introduction is needed here. The Glock 19 Gen5 MOS is Glock's latest iteration of its compact 9mm, which everyone and their neighbor seems to own.
The Gen5 updates include forward slide serrations, an improved trigger, and the removal of the finger grooves on the grip. The MOS (Modular Optic System) model then gives you the optics ready slide.
Glock has more aftermarket support than any other pistol platform (I think), so the customization possibilities are endless.
Check out our Glock 19 Gen 5 review for extra information and more photos from our hands-on review.
Conclusion
I was pleasantly surprised with the Taurus GX4 Carry overall. It proved reliable and accurate, and the fact that it can host your favorite lights and optics gives it a huge leg up over some of the previous Taurus models.
Especially given the lower price point, it's definitely worth checking out if you're in the market for a new compact 9mm.
Have you had the opportunity to shoot the GX4 Carry or a previous GX4 model? If so, what did you think of it/them? Let us know in the comments below!
As always, stay safe, train hard, and have fun.
Additional Resources
For those interested in diving deeper into the specifics of the Taurus GX4 Carry, we have put together a couple of resources that would provide a wealth of information. Whether you are looking to understand the technical specifications or seeking guidance on how to handle the Taurus GX4 Carry, these resources will serve you well.
Explore the features, specifications, and design of the Taurus GX4 Carry on the official Taurus website. This page provides detailed insights into what makes the GX4 Carry a standout choice for personal defense.
For a comprehensive understanding and safe handling instructions of the Taurus GX4 Carry, the official manual will be helpful. It provides important safety guidelines, operational instructions, and maintenance tips to ensure that you are well-acquainted with your firearm.
Explore more