Walther PDP Review: The Best Pistol for the Money? [2023]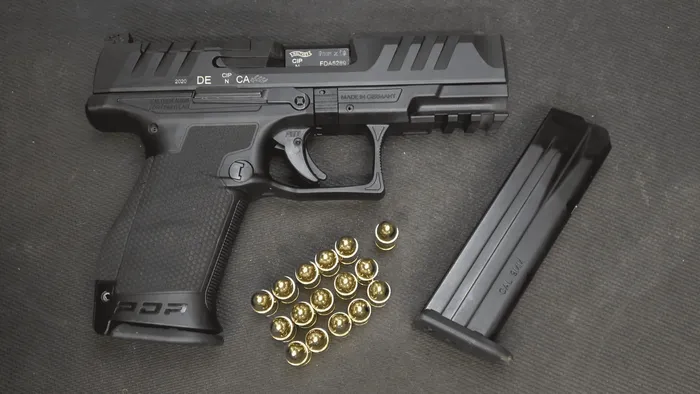 Walther PDP Review: The Best Pistol for the Money? [2023]
Don't panic, but it seems that Walther is completely replacing the beloved Walther PPQ handgun. The PPQ (Police Pistol Quick Defense) has been Walther's semi-automatic vanguard for a long time and one of the most popular handguns in their arsenal.
Now, the Walther PDP series steps in to succeed the former champion that has kept its unwavering reliability and use.
This is a big business move by Walther because they're actually replacing their flagship pistol with a newer one that's advertised to be more modular. Call it merciless natural selection, but I guess it's time to move to greener pastures.
In today's review, I'll talk about the almighty Walther PDP, or the "Performance Duty Pistol," which I had the chance to shoot a while back. Among all the variants, I chose the optics-ready variant with an 18+1 round capacity and a 4.5-inch barrel.
It's a brilliant duty pistol, designed to be as ergonomic and customizable as possible, and there's also a compact version for self-defense.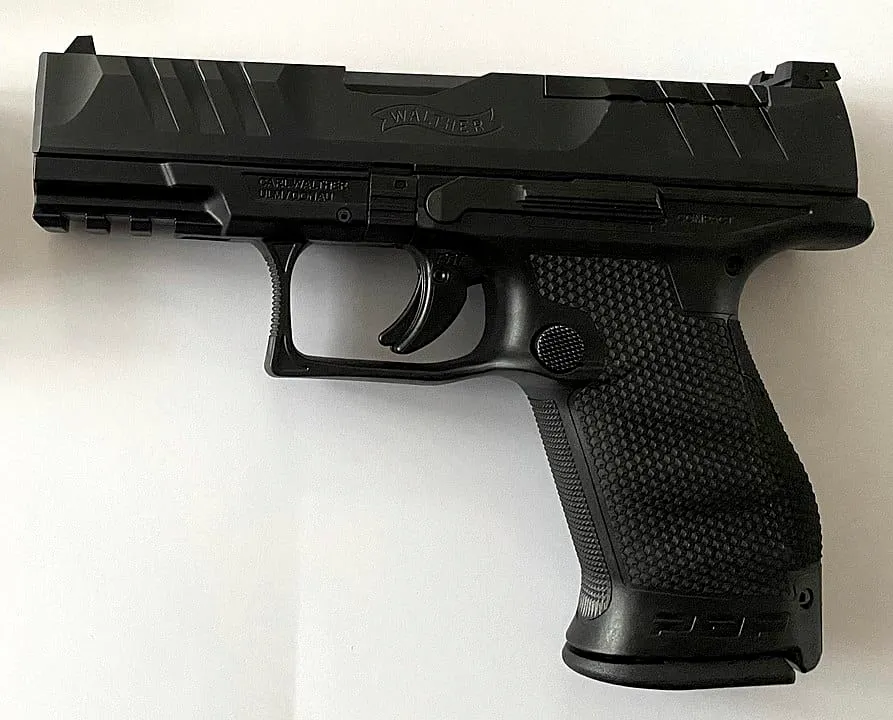 I'll highlight its main features, what's new and what's improved, what makes it stand out from the rest, and I'll also recommend some very suitable aftermarket options and holsters. After all, it's Walther's most modular edition yet.
Let's see what Walther's colossal new addition has to say for itself in our Walther PDP review.
Walther's Idea Behind the PDP Handgun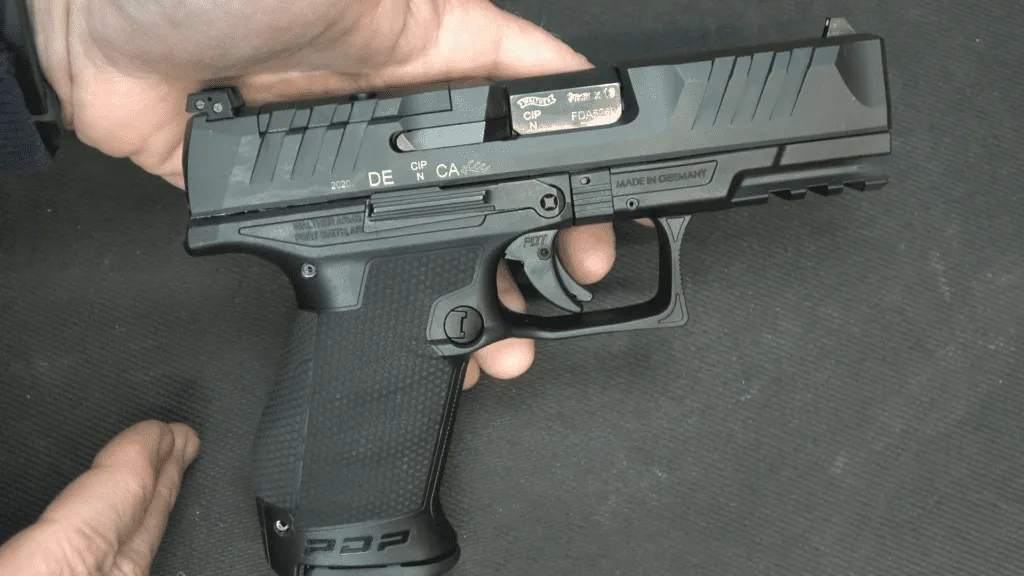 Walther Arms is a German firearms manufacturer that was founded by Carl Walther in 1886.
For more than a century and a half, their business model almost exclusively focused on handguns. Walther's models have long served as a regular standard among German law enforcement and civilians, and that's in no small part thanks to James Bond movies.
Their pocket-sized, steel-frame wonder, the Walther PPK, is still cherished by many, despite being almost a hundred years old.
I don't mean to knock on this quintessential spy gun, but Walther has been riding on the back of the iconic Walther PPK for almost a century. It's no wonder they accumulated a budget for all kinds of full-sized, compact, and sub-compact handguns with Walther-quality triggers.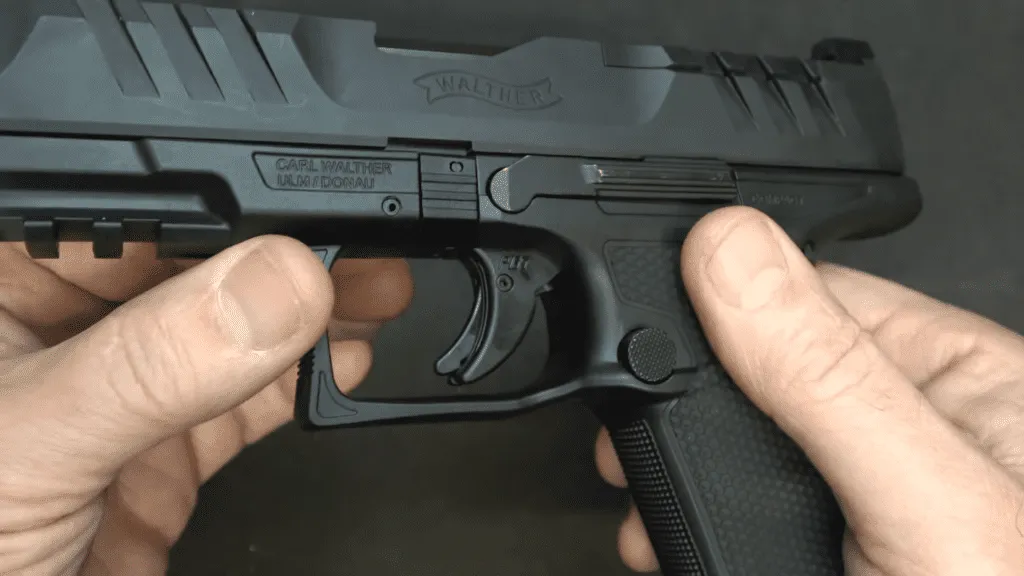 Fast forward to 1997, they introduced the Walther P99 as a part of their PP line.
Then in 2011, they came up with a better, new, and improved model, the Walther PPQ. It was designed on a similarly-inspired blueprint, and it reigned supreme as Walther's racehorse among the striker-fired 9mm duty pistols.
Finally, around February 2021, amidst heavy crisis and political turmoil, Walther released the new PDP (Personal Defense Pistol) to everyone's surprise.
What's New With the Walther PDP?
Walther sped up the evolution further with their "pinnacle of Walther engineering and innovation," the PDP. The idea was to create a near-perfect semi-auto gun, an upgraded PPQ, which is destined to remain "in power" for almost a century, much like the PPK.
Nobody expected a newer model of a copy (of another copy of a copy) to come out, especially from a well-established German firearms manufacturer such as Walther, but here we are.
Hence, the Walther PDP is advertised as an upgraded PPQ, albeit with very similar and almost identical characteristics and specs.
It offers a wider modularity range, a milled and drilled slide for optics, better ergonomics and grips, a slightly improved trigger mechanism, and a higher capacity that somehow perfectly balances shootability in self-defense, competition shooting, and law enforcement duty use.
I'm guessing the popularity and need for more modular, optics-ready (red-dot-sight–ready) handguns pushed Walther to create a modern model. With so many striker-fired competitors on the market, Walther understandably went all-in with this move. They even added an array of color options to boot.
It shares the same old reliable engineering with the Walther P99 and the Smith & Wesson 99 blueprints for short recoil-operated handguns with a locked breech. Amusingly enough, both of those 9mm semi-automatics were introduced in 1999, the year of the nines.
Anyway, let's see if the PDP truly is a pinnacle of striker-fired evolution.
Walther PDP Review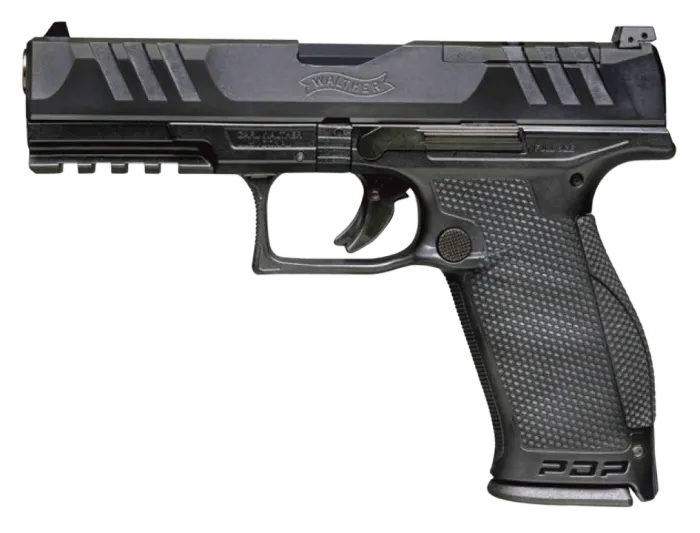 Specifications
| | |
| --- | --- |
| Manufacturer | Walther |
| Model | PDP Optics Ready Full Size |
| Caliber | 9mm |
| Type | Semi-automatic |
| Action | Striker-fired |
| Capacity | 18+1 rounds |
| Trigger pull | 4.8 pounds |
| Safety | Integrated trigger; Ambidextrous slide release |
| Barrel length | 4.5 inches |
| Overall length | 8.5 inches |
| Overall height | 5.7 inches |
| Overall width | 1.34 inches |
| Weight | 25.4 ounces |
| Grips | Polymer "Performance Duty Modularity" grip texture |
| Front Sight | 3-dot sights |
| Rear Sight | Windage adjustable |
| Frame | Polymer |
| Slide | Polymer with 'Super Terrain' serrations |
| Accessories | two magazines, three interchangeable backstraps, one speedloader |
| Finish: Black | Black |
Grips and Ergonomics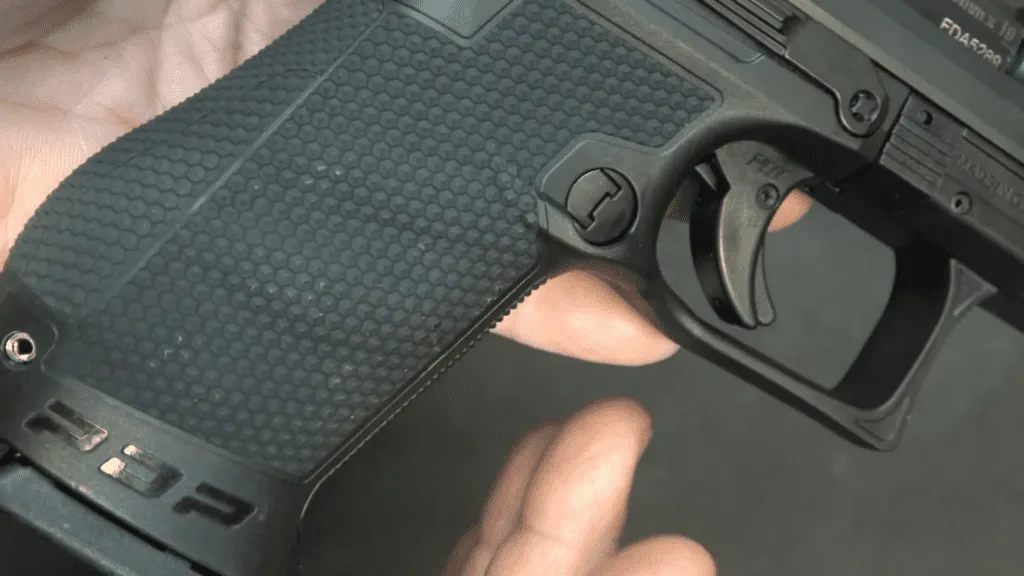 We'll leave the PDP's aesthetics aside because there's not much to talk about. It's sleek, it's shiny, it's modern-looking, and that's good enough for any 21st-century handgun.
I personally think that beauty pageants are pointless, so let's start with the grips and ergos, one of the three most focused-on elements of the new new.
The grip texture, also known as "Performance Duty Texture," was developed by Walther with a tetrahedral design.
Despite that many would call it aggressive, for me, it's just right and wraps around the backstraps perfectly (there are three of them!). It's made without any abrasive enhancements for the ultimate, modernized grip.
Tiny ripples assume the duty of finger grooves, and there's basic checkering on both the front strap and the front side of the trigger guard.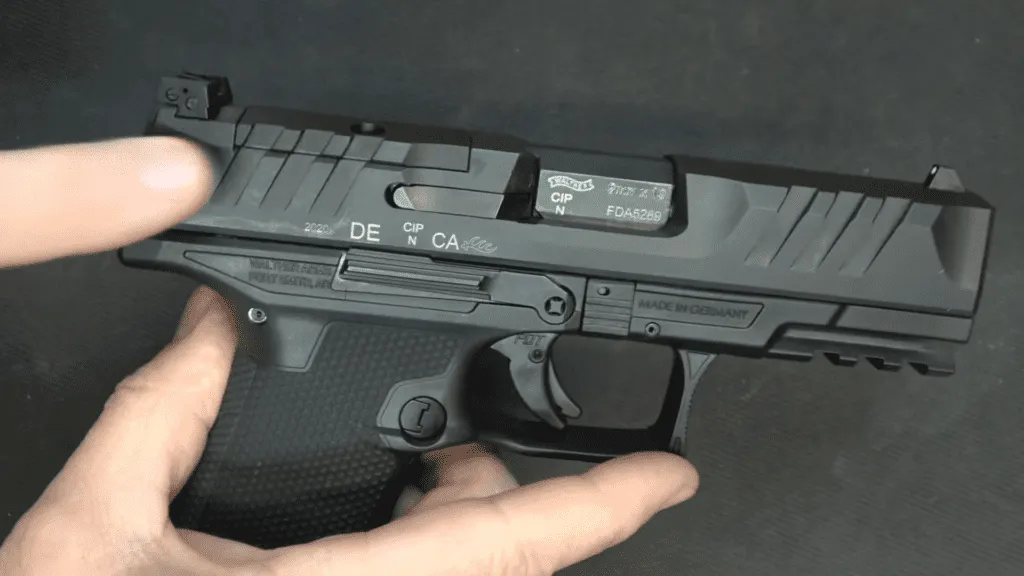 Ergonomically speaking, the angles, overall grip contours, and pinky pressure support are designed to suit handguns with proper aiming and target acquisition methods with red dot optics.
Walther calls this optics-ready setup "RDS Ergonomics," and as far as I can tell, the PDP Compact model has slightly different contours. It reminds me of the PPQ Q4's grip frame, as it has a similar beavertail profile.
Slide
The slide is an optics-ready Picatinny rail with a wider, bulkier frame and a bit more aggressive serration patterns than the PPQ.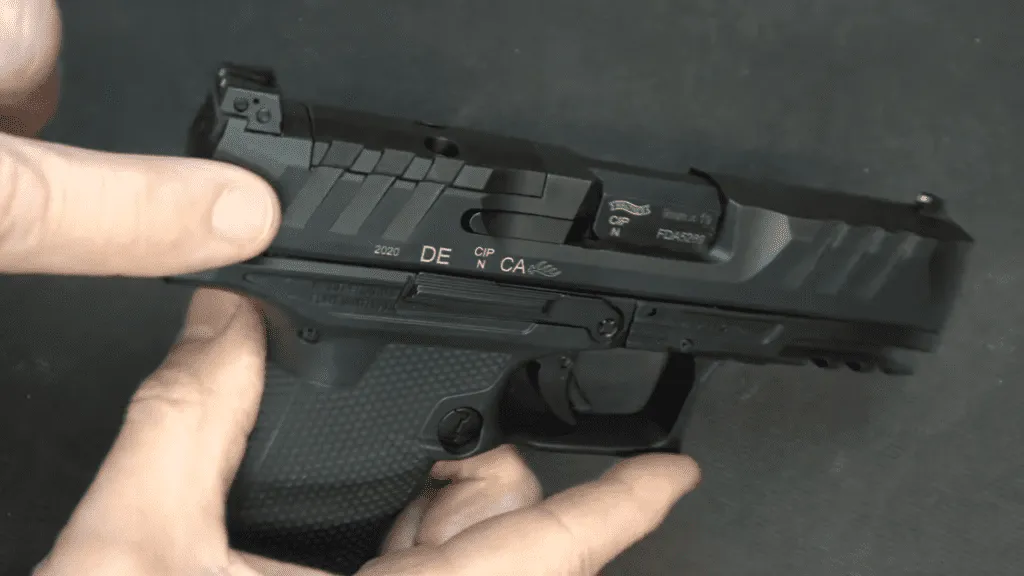 The grooves are cut on the slide in a "Walther Superterrain-Style" above the surface for an even more positive grip. This makes sure your fingers dig into the slides for an already smooth racking.
It's no Smith & Wesson M&P Shield EZ, but it's undoubtedly one of the smoothest slides I've ever racked. Every PDP and PPQ slide frame works, and you're free to tailor the lengths to your needs.
Sights
The PDP has standard polymer, white 3-dot front sights. In contrast to the PPQ, which only has windage-adjustable rear sights, the PDP's rear sights have a white outline, and both are windage- and elevation-adjustable.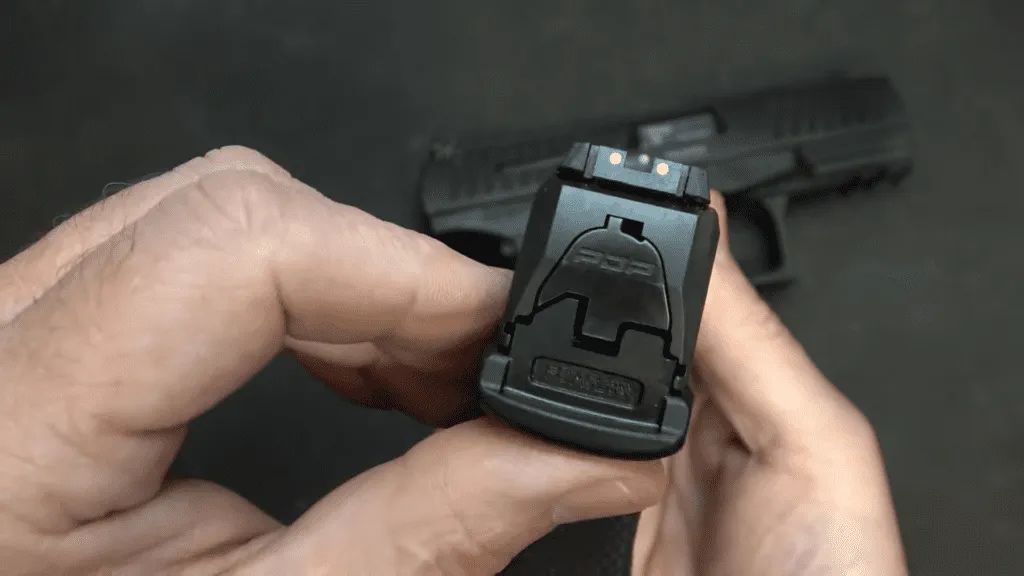 Walther could've made them a bit brighter, like tritium tubes, for instance, which is a more fitting sight system for a duty and self-defense pistol. That said, make no mistake—they designed it to be compatible with every Glock sight there is. The sights are the second-most advertised improvement by Walther.
Like I said above, the slight flair in the ergonomics and gripping work well with red dot sights. This ensures your accuracy and eye positioning are on point when you're in a fast-firing drill or a stressful situation.
All of the Walther PDP models in the series are red-dot–ready and maximized. It's obvious that these BUIS sights are made as backup-iron sights in combination with red dot optics like Vortex Venom Red Dot Sight or my personal fave, the Holosun HS507C-X2.
The PDP's factory sights are designed to co-witness with your red dot sights. Compared to the PPQ model, the optics sit pretty low on the Picatinny rail. That's yet another reason why Walther did this manufacturing jump.
So, if you're planning to buy a PDP, make sure you have a couple of hundreds for a quality red dot optic.
Trigger
The new striker-fired PDT (Performance Duty Trigger) might be the only reason for some to go right ahead and snag the PDP.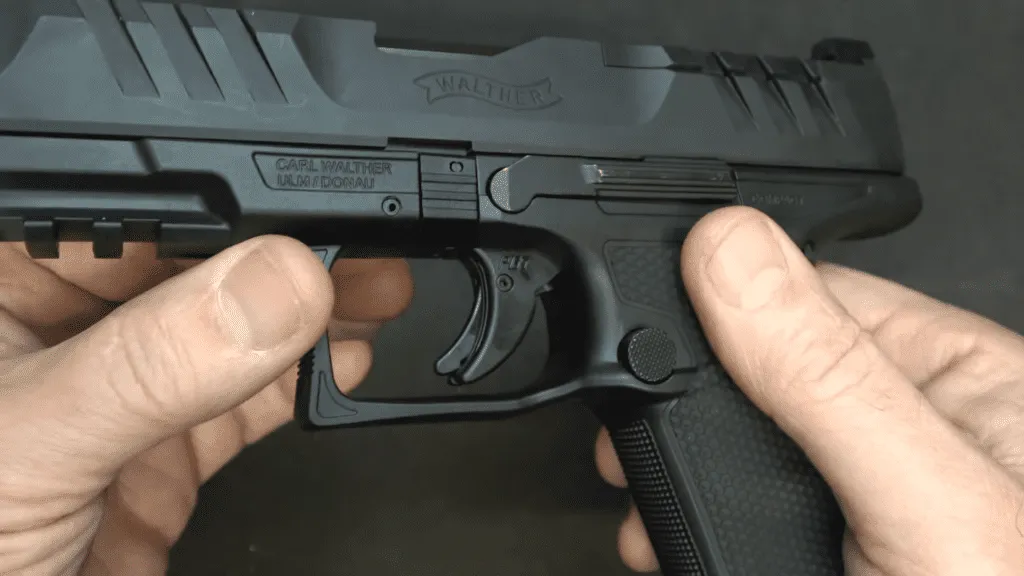 It's Walther's most innovative trigger system yet, and what's great is that the PDP and PPQ triggers are cross-compatible.
The striker-fired trigger is already built on the PPQ's "Quick Defense Trigger" blueprint. It's very similar in looks, but it has a significantly shorter reset and take-up.
Not only that but here's a much more solid wall before the trigger break, offering a very reliable and predictable trigger operation.
They further shortened the length of travel, improved the tactile trigger break in a very distinct, audible reset, and thus perfectly calibrated the trigger feel in an almost competition-like manner.
No doubt about it, it's a small improvement, but upgrading an already classic trigger system into something smoother for the general population is a very notable endeavor. I don't know how much budget they invested into engineering, but kudos to Walther for that.
Safeties
Like the PPQ, the ambidextrous slide-lock lever of the PDP can be easily reached, and the slide-stop lever is small enough not to cause any snagging problems, as can be seen in the Compact model.
Simply put, it's a carefully designed control system with some beveled engagements on the side. The slide-stop lever is serrated and sits high enough not to cause you any trouble.
Hats off to the reversible magazine release. It seems that Walther really went for a "people's choice" with the PDP.
New Chamber and Magazines
One of the first things you'd notice is that the PDP has a slightly longer grip than the PPQ because it carries 18 rounds rather than 15.
But, get a load of this.
There's a new and unique chamber called the "stepped chamber" that's used by the PDP and only a handful of other guns. Much like the PPQ, this innovative new chamber is up to date with the SAAMI (Sporting Arms and Ammunition Manufacturer's Institute) standards.
What's new is that Walther tapered and necked down the upper part of the magazine, which makes it easier and smoother to insert the cartridge in the barrel's rifling, thus remaining properly aligned. Walther states that it makes the handgun much more precise.
Keep in mind that the PDP has many different dimensions, internal spacing, and riflings in comparison to the PPQ, but that doesn't stop it from utilizing those spare 18-round PPQ mags you have lying around.
Shooting, Accuracy, and Ammo Recommendation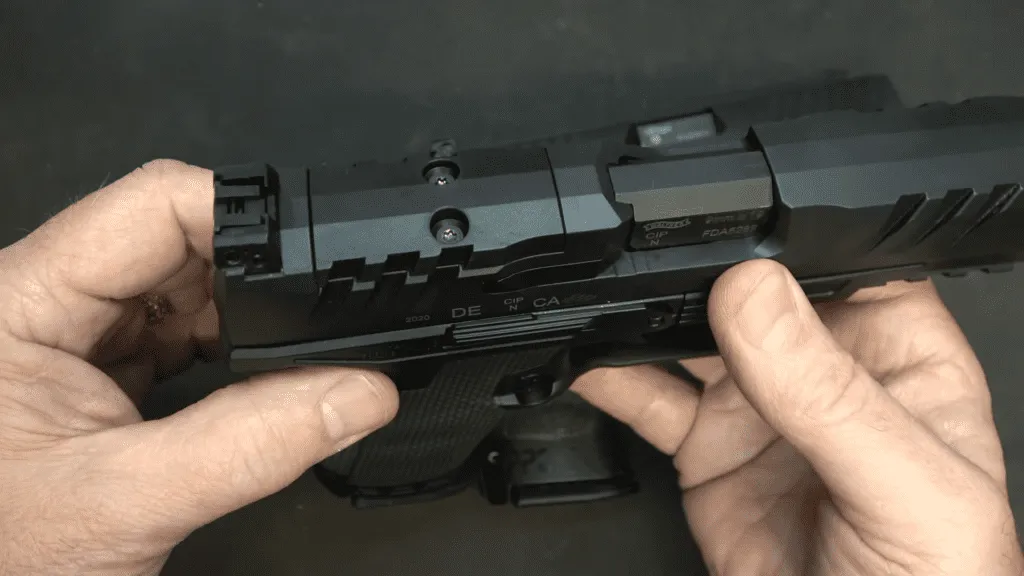 The PDP uses a captive recoil spring design and is the same for all three models: 4-inch, 4.5-inch, and 5-inch models.
This is because of their modular goal to easily swap out the barrels and slides among frame sizes.
Note that the PDP slide is just slightly heavier than the PPQ slide, allowing for slightly more control of muzzle flip, but nonetheless, it's still present. In my experience, I actually noticed very little muzzle flip on my PPQ, and it is indeed controllable.
According to the PPQ manual, you need to steer clear of +P ammunition if you don't want to wear off your Walther's internals in a couple of years.
Simply put, shooting the Walther PDP feels like shooting a much lighter PPQ.
I used Hornady 124-grain XTP, Winchester USA 147-grain FMJ and some leftover CCI Blazer Brass 115-grain. I rounded up some 5-shot groups at around 20 yards, and the Winchesters came close to the bullseye out of the three with a 1.88-inch average.
Not my best score, but I hope you do better than that.
Disassembly and Maintenance
The PDP's disassembly process is super easy and exactly the same as the Walther PPQ, or a Glock 19 for that matter.
First, make sure you point that thing at nothing and no one.
Release the magazine and pull back the slide to check if there's a bullet in the chamber.
To release the striker, simply slide it forward and pull the trigger on an empty chamber.
Then, pull the slide back ⅛ of an inch and, at the same time, release the two pull-down tabs.
If you did it properly, you have released the slide off the handgun.
Take out the recoil spring and the barrel, and you're done.
I use Ballistol, but you can check out our list of best gun cleaning kits. Make sure you oil and clean it regularly, and I guarantee it'll 'sing' for a long time.
Pros & Cons of the Walther PDP
Pros
Improved trigger system and ergonomics
Deeper slide serrations than the PPQ
All models are optics ready
Highly customizable
Compatible with some PPQ parts and magazines
18+1 round capacity
Excellent accuracy
Grip texture offers decent handling
Takedown is relatively easier than a Glock
Cons
Might be pricey for some
Trigger guard flare near mag release is big and uncomfortable
Moderately snappy recoil when compared to other similar models
FAQs
Is the Walther PDP a Good Self-Defense Handgun?
The Walther PDP is similar to the Walther PPQ, but it has a slightly better and crisper trigger system, and the muzzle flip is about the same. The grip textures and contours of the PDP are well-suited for medium and large hands.
However, when concealed carry and self-defense are in question, I think that the PDP Compact model outshines the models. The 15-round capacity is superb for CCW, and the snag-free contours and straightforward controls make it an excellent target practice and self-defense handgun.
Is the Walther PDP Interchangeable With the Walther PPQ?
Yes, the Walther PDP and PDP Compact models are compatible with PPQ M2 magazines. PPQ magazines are very reliable and popular among competition shooters, which is why they're almost always available and in stock.
Keep in mind that the PDP full-size handguns can only use the 18-round capacity PPQ mags.
Using a PPQ on a PDP frame and slide should match according to their length, so consult your gunsmith first. While it's viable and possible to use a PDP slide on a PPQ grip, Walther does not advise you do this.
Additionally, Glock 17 and Glock 19 sights are compatible on the PDP.
Please check out Walther's compatibility chart for more info on compatibility with different variants like the PDP FS and M2.
Is the Walther PPQ Discontinued?
Yes, the Walther PPQ handgun is discontinued and has been replaced by the improved Walther PDP as of 2021.
However, the Q4 and Q5 variants of the PPQ will continue to find their way to the gun store shelves, according to Cody Osborn of Walther Arms.
Alternatives to the Walther PDP
If you feel that the Walther PDP isn't for you, check out these alternative handguns that are similar in function, ergonomics, and price range.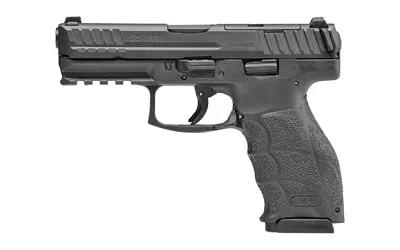 Speaking of Germans, the Heckler & Koch VP9 is another full-size handgun with excellent reliability. It's heavier and costs more than the Walther PDP, but it's easily one of the most well-made striker-fired pistols.
H&K has greatly improved the already impressive trigger mechanism on these newer models with its short reset, short and lightweight take-up, and crisp break, which makes it a fantastic option for competition and duty purposes.
Many will greatly appreciate the intuitive controls and safety lever on the trigger, convenient grip texture, and the ambidextrous slide and mag release.
You bet that H&K will throw in two interchangeable backstraps and two magazines with a 17+1 round capacity for that high of a price. A slightly heavier H&K VP9 optics-ready model is also available if you're willing to put some cool sights on it.
We like it so much, that we did a full HK VP9 review for you as well.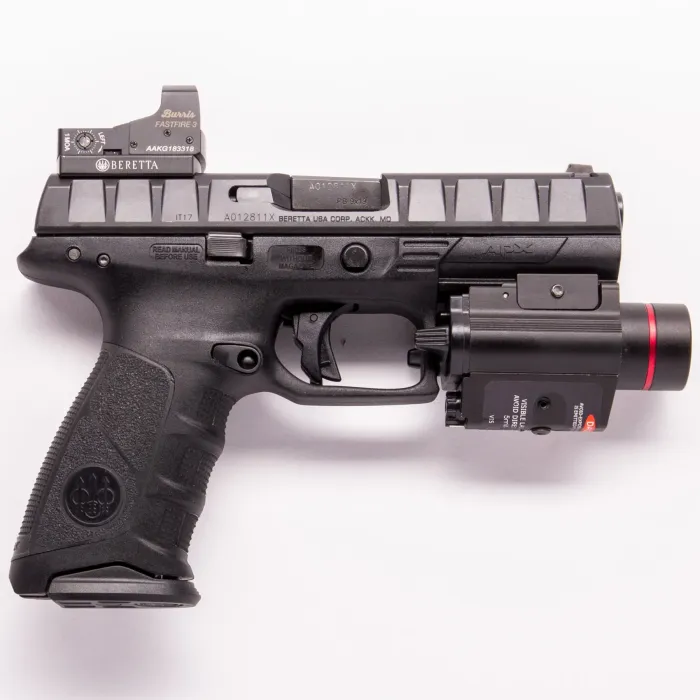 Looking for something more well-rounded but much cheaper? Here's the Beretta APX 9mm with a 4.25-inch barrel length.
The Beretta APX is a smaller but heavier pistol than the PDP, and the ergonomics consist of relatively aggressive grip textures and checkers that resemble high-end 1911-style handguns.
The trigger and overall function work in a similar fashion to the Walther PDP. Expect a 6-pound trigger pull with an audible and tactile reset. It holds 16 rounds, but there's also an APX model with a 17+1 round capacity.
The ambidextrous slide release is a bit tougher than the PDP, but still manageable and intuitive, and the magazine release is also easy to operate.
As for the sights, they're your run-of-the-mill standard three-dot white sights, but they're larger than the PDP, so that's a major advantage.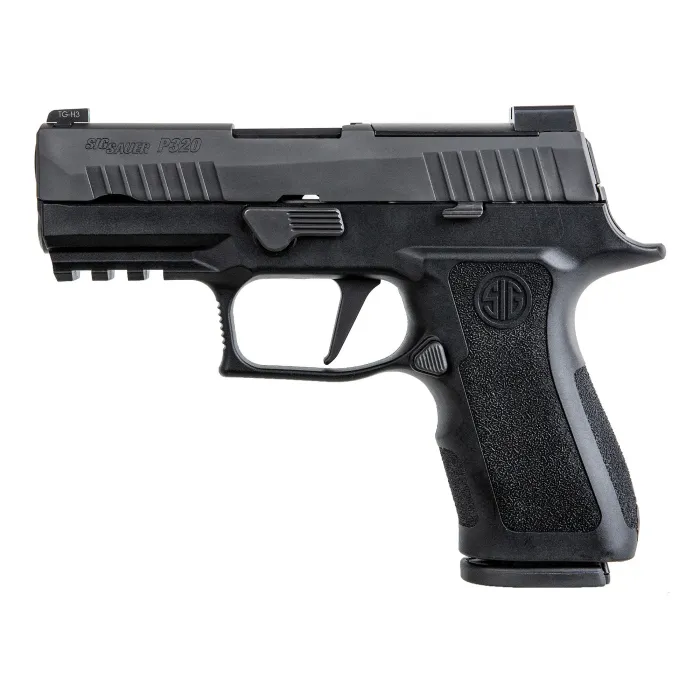 Did you know that the Beretta APX was a considered contender for the US Army service pistol contract as a sidearm? Guess who won that one.
Besides being a Military pick, the SIG Sauer P320 is also the people's favorite. It's a double-action, striker-fired, polymer service pistol in the 9mm cartridge that's built from the ground up.
The P320 has a longer barrel than the PDP with 4.7 inches, so it's quite heavier. It's supposed to be modular with all the right features and a low-recoil shootability for competition shooting and self-defense. It also has a striker safety, and the slide catch lever is ambidextrous.
I really like the smooth and crisp trigger, and the stainless steel frame with a nitron-coated slide and M1913 Picatinny rail is just too good for that price.
Conclusion – The PDP is a Worthy Successor to the Walther PPQ
Ever wondered why people go for barebone Glock handguns and still burn more than $500 dollars to reach the Glock standard when there are guns like Walther PDP, Beretta APX, and HK VP9?
To be honest, I'm still shocked to hear that the PDP will replace the PPQ. I have nothing against this decision, but the PPQ was seriously doing just fine, and somehow, I'm really glad Walther didn't botch their spearhead platform of striker-fired 9mms.
Both are fantastic pistols with all the right features, and one has to ask themselves if they truly require competition-grade modularity with fancy optics. That's entirely up to you to decide.
All I know is that the Walther PDP line, in all its variants, is a very promising new handgun in this post-pandemic era. The PDP even won the 2022 NRA Women Golden Bullseye Award for Handgun of the Year.
As you can see, it's not much of a newer model as it is fine-tuning an already legendary classic that is the PPQ. I always say, "if it ain't broken, don't fix it," and Walther did it not just because they could, but because they catered to the whim of a handful of people who knocked the PPQ.
They improved the trigger, pumped up the capacity, fine-tuned the handling, and made the ergonomics and grip texture better suited for medium and large hands. There's the Compact model to save the day if you have tiny digits.
Seeing that the PPQ will remain discontinued until further notice, I bet that the prices will skyrocket. This is Walther's ultimate gamble, and we'll see how it pays off in both civilian and military sales.
Stay safe, and shoot straight!
Explore more