ATC AR Gold Adjustable Trigger Review: A Sleek AR Upgrade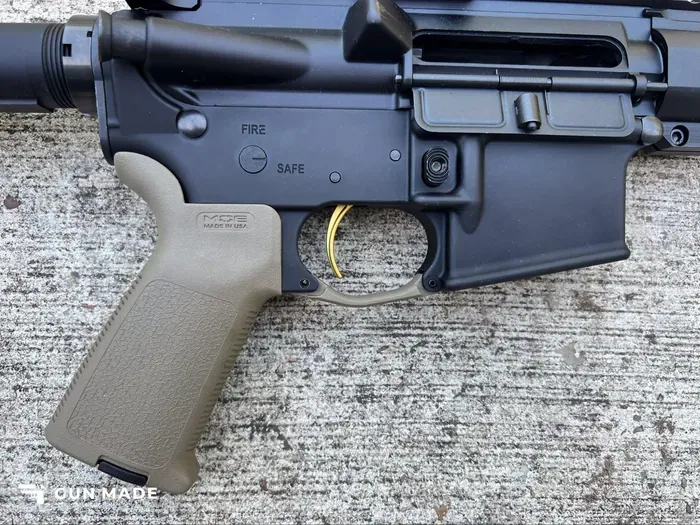 ATC AR Gold Adjustable Trigger Review: A Sleek AR Upgrade
Introduction
The modularity of the AR platform is one of its defining features. It has helped AR-style rifles to become the most popular firearm in the United States, with at least 30 million in circulation.
This modularity means that the customization of AR-style rifles is often straightforward. Combine the rifle's modularity with the platform's popularity, and you have the recipe for a robust aftermarket.
The genesis of the AR platform as a military rifle means that most off-the-shelf rifles come with functional but unspectacular mil-spec triggers.
Soldiers in the field need a trigger that will function every time under the most demanding conditions. Mil-spec triggers accomplish this mission but don't compare with a quality aftermarket trigger for refinement.
One of the quickest ways to improve the quality of a shooter's experience with an AR-style rifle is to replace the mil-spec trigger with a high-quality aftermarket option.
American Trigger Corp (ATC) is one of the many companies that produce aftermarket triggers for the AR platform. It's AR Gold Triggers are designed to meet the needs of hunters, competitive shooters, law enforcement, and the military.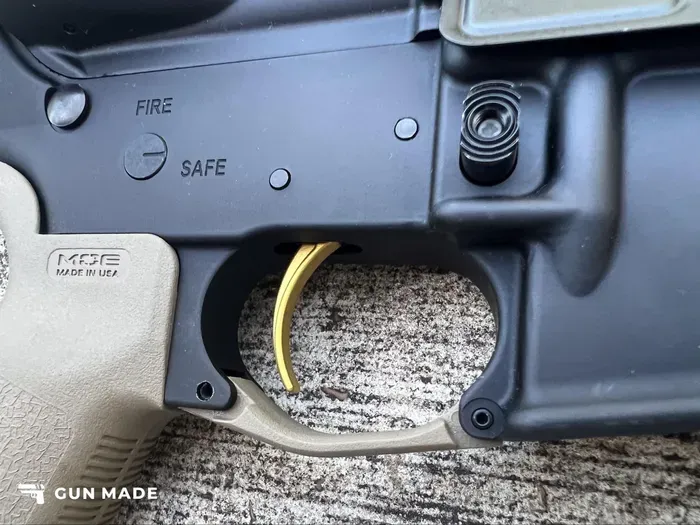 What do we think about the AR Gold Trigger? Does it perform well enough to justify the cost? Keep reading to find out.
ATC AR Gold Adjustable Trigger Review
ATC AR Gold Adjustable Trigger For Sale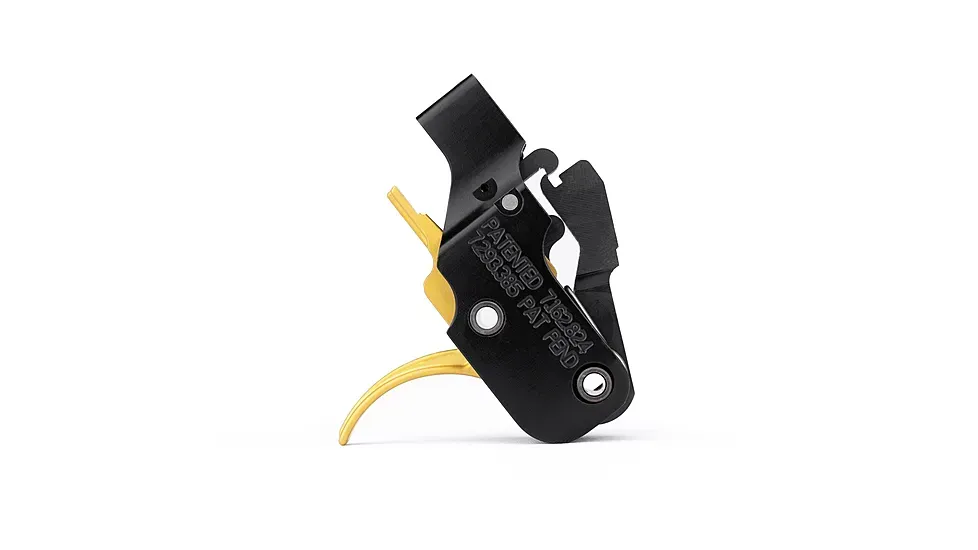 Specifications
| | |
| --- | --- |
| Pull weight | 3.5 lbs. |
| Platforms | AR-15 and AR-10 |
| Weight | .375 pounds |
| Trigger style | Curved (flat also available) |
Pros & Cons
Pros
Crisp trigger break and short reset

Adjustable pull weight 

Drop-in module makes it easy to install

High-quality manufacturing results in consistent, reliable performance
First Impressions
Out of the box, the AR Gold Trigger makes a good impression. The trigger is packaged in a quality box with protective foam. ATC also includes .154-inch trigger pins and a couple of stickers.
The trigger is gold colored, hence AR Gold. Sometimes, you grab a part for your gun and immediately can tell it isn't going to stand up to regular use; this is not that part. The AR Gold Trigger looks and feels high-quality from the moment you get it out of the box.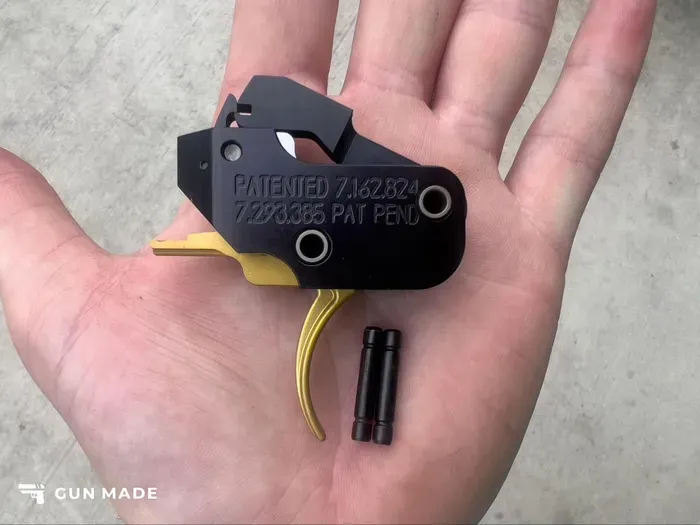 AR Gold Trigger Configurations
The AR Gold Trigger is a cartridge-style trigger. Cartridge-style triggers are generally easier to install than a "standard" mil-spec-style trigger and require very few steps. ATC provides support for getting your trigger installed, including videos, but there are plenty of videos on YouTube too.
AR Gold triggers are available in several configurations. You can select between models with a curved or flat-blade trigger.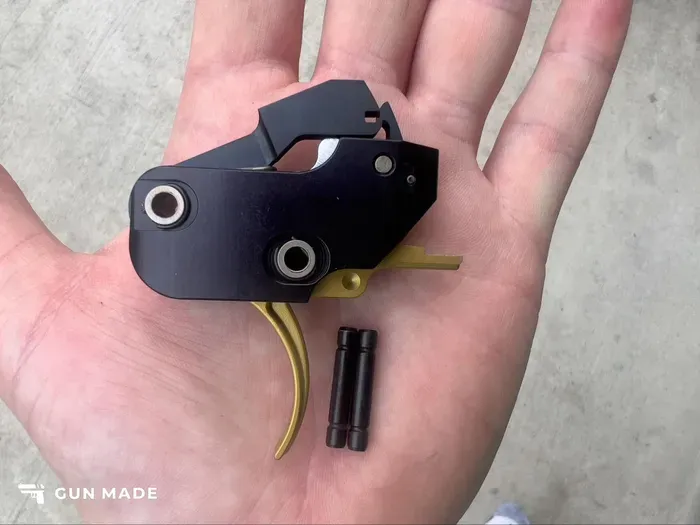 The triggers also come in an adjustable or fixed pull-weight configuration. From the factory, the triggers come with a stock 3.5-pound pull weight and a very short reset.
How We Tested
I decided to put the AR Gold Trigger into my Palmetto State Armory AR-15. I had recently been shooting it using a standard mil-spec trigger, and it was time for a much-needed upgrade.
I didn't feel that shooting simple stationary targets would demonstrate the quality or features of the trigger effectively, so I decided to take advantage of my local range's various shooting bays to use the trigger in fire and move-type activities.
I ran several drills that demonstrated the effectiveness of the trigger, especially when compared to a standard mil-spec trigger. First, I ran a modified version of the box drill. For this drill, I used a single target and moved both laterally and vertically to four corners, creating the shape of a box. I fired while stationary and moving at the four corners of the box.
Another drill that I used when testing the AR Gold Trigger involved holding the rifle at the low ready position, then firing two shots in quick succession and returning to the low ready. The AR Gold Trigger excelled at this drill. The light and consistent trigger pull combined with the short reset allowed me to quickly and effectively engage the target.
Of course, with a trigger with such a light pull and short reset, I also had to do the obligatory mag dump. That was a very satisfying and, with the cost of ammo these days, expensive experience.
The AR Gold Trigger was impressive. The light trigger pull and the short reset made this one of the best triggers I have ever used. I have yet to use the AR Gold Trigger in a competition, but it will be my go-to competition trigger from this point forward.
Reliability
The AR Gold Trigger was reliable during my time with the trigger. I did not test it in the most grueling of environments, but a quick Google search will find examples of people using it in much more rigorous environments and the users having zero issues, just like I did.
Ammo Used
I tested ATC's AR Gold Trigger with various ammunition types, from Hornady, Winchester, and Federal. The trigger had zero issues with light primer strikes, and everything went boom every time I pulled the trigger.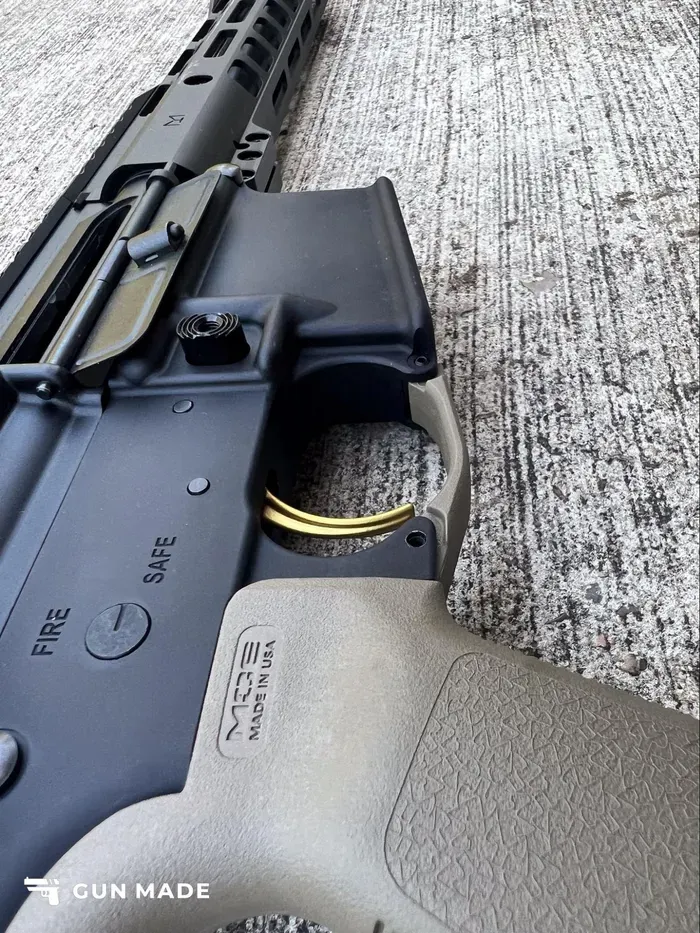 Upgrading your AR-Style Rifle
Once you have a trigger for your AR-style rifle and decide you want to keep customizing it, check out some of the guides that we have to help you get the most bang for your buck.
Last Words
Replacing the stock, mil-spec trigger on your AR-15 is one of the quickest ways to upgrade it. Selecting the right trigger can be daunting simply because of the many options available for you, the end user, to choose from.
American Trigger Corp's AR Gold Trigger is one of, if not the best options. It is a high-quality single-stage trigger that is straightforward to install, even for new shooters.
It is manufactured to high standards and is in spec even if your lower isn't. This improves the trigger's reliability and helps ensure that your trigger functions flawlessly.
The light trigger pull combined with a short, crisp reset makes the trigger a dream to shoot and allows you to get on target and stay on target faster and more accurately.
While it is more expensive than some other triggers available, the quality and performance justify the premium you pay.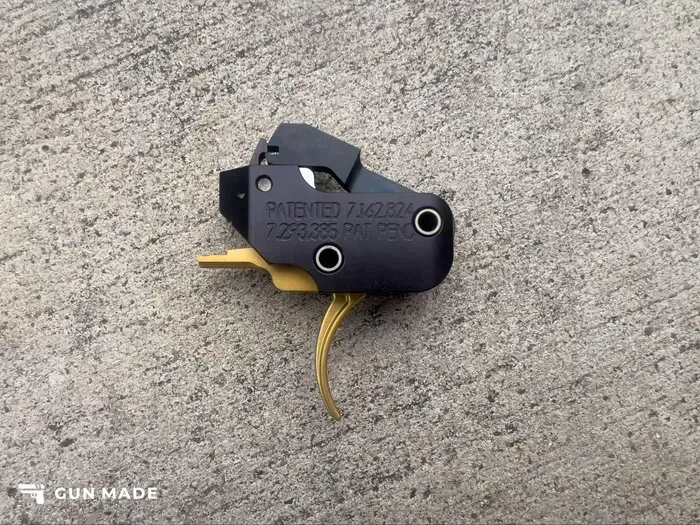 It's one heck of a trigger, and putting one in your AR-style rifle is an immediate quality of life and performance upgrade over a stock trigger.
If you are in the market for a trigger, try an AR Gold Trigger and shoot confidently.
Explore more