Hi-Point YC9 YEET Cannon Review: Balling On A Budget 9mm Pistol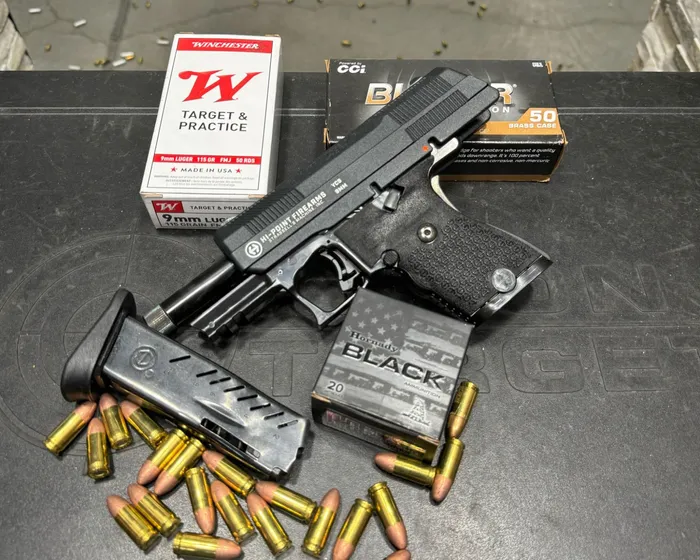 Hi-Point YC9 YEET Cannon Review: Balling On A Budget 9mm Pistol
Introduction
I'm coming back to you all today with another Hi-Point review. I have to admit, I love reviewing budget firearms. You usually never know what you'll get, unlike if you're reviewing, say, a Glock.
However, with this being my fourth Hi-Point, I have started to expect what I will get…an extraordinarily affordable but reliable firearm.
The YC9 and YC9 YEET Cannon are the same pistol, the only difference being the words YEET Cannon engraved on the slide. So I'll often be referring to this YC9 as a YEET Cannon, even though it doesn't have it engraved, simply because it sounds way cooler. Got it? Good!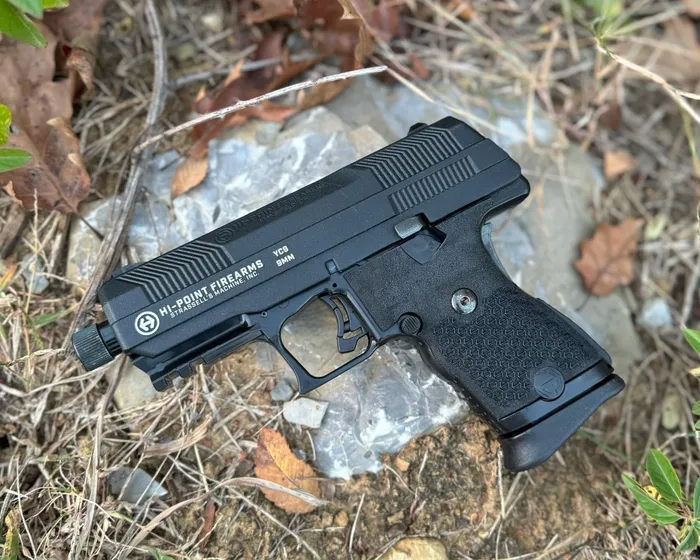 With the welcomed upgrades from the original C9, such as an optics-ready slide, accessory rail, and an additional two rounds in the magazine, I was excited to get my hands on this budget blaster. A huge shoutout to Hi-Point for sending me this YEET Cannon for testing and evaluation!
Hi-Point YEET Cannon Review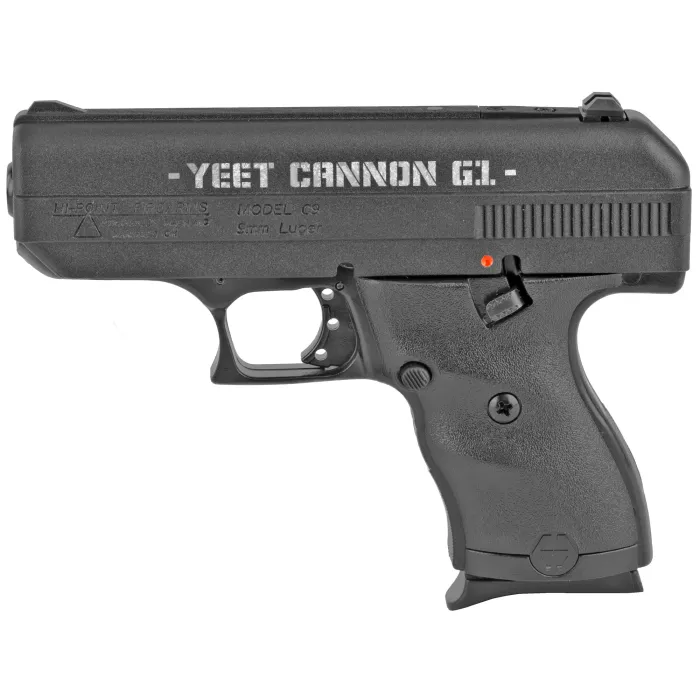 Specifications
| | |
| --- | --- |
| Caliber | 9mm |
| Capacity | 10+1 |
| Barrel Length | 4.12 Inches |
| Threaded Barrel | ½ x 28 |
| Overall Length | 7.6 Inches |
| Weight | 34.2 Ounces |
| Rear Sights | Fully adjustable & Red Dot Ready |
| Front Sights | Replaceable (Compatible w/ Glock) |
| Finish | Black Powder Coat |
Pros & Cons
Pros
AFFORDABLE – VERY AFFORDABLE

Reliable and surprisingly accurate

Ergonomic and comfortable grip

Accessory rail 

Optics-ready slide with adjustable sights

Threaded barrel with included thread protector

Lifetime, no-questions-asked warranty

Made in USA
Cons
Lower capacity than comparable-sized pistols

Magazine feed lips are rather sharp

Shallow slide serrations

Magazine release/slide stop is sometimes hard to manipulate

Lack of ambidextrous controls
First Impressions & Unboxing
Hi-Point sends these YC9s out in the most basic of basic cardboard boxes. But within those boxes, there are a surprising number of "extras" included for such a low price.
In the box, along with the gun and magazine, is a rear peep sight, some basic tools to help with accessory installation, and a trigger lock. I wouldn't have been disappointed if it was even just one magazine and the optic mounting base at this price point.
Picking it up out of the box, it's not as heavy as it looks. It also feels much less "cheap" than the original C9. Overall, it feels pretty good in your hand and only a little bit top-heavy.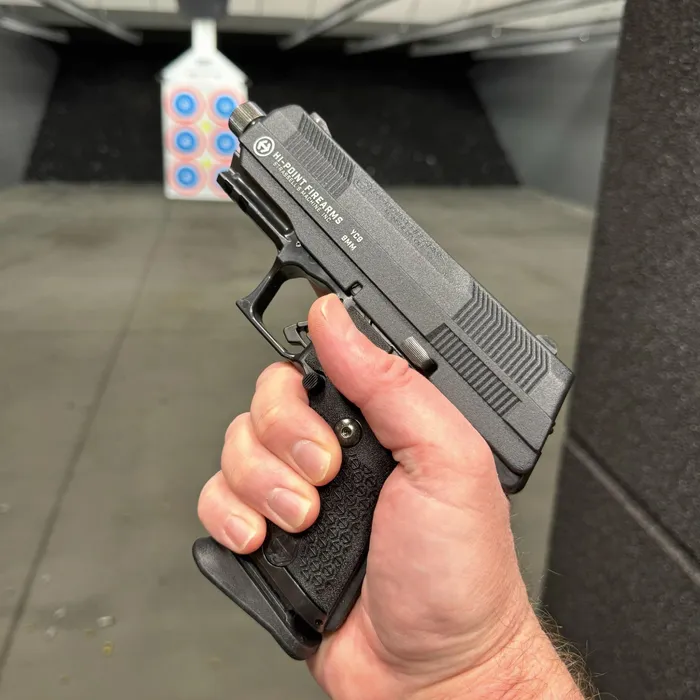 How We Tested
I spent very little time dry firing the YEET Cannon because I was too excited to get it to the range, and the trigger is far from impressive, so I was just ready to shoot with it.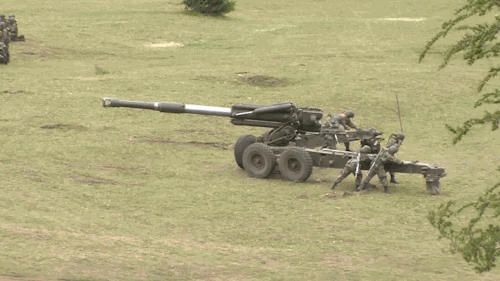 Basically the same type of cannon, right?
I brought it with me on two separate range trips and ran some drills like the Mozambique and a modified dot torture. I found the trigger was consistent but with quite a bit of over-travel and a poorly defined reset. The trigger is better than the C9s, though, but it's still nothing to write home about.
Reliability
Not to my surprise, I had zero malfunctions while testing out the YEET Cannon. It didn't matter if I was using cheap FMJ range ammo or expensive JHP defensive ammo. All 200 rounds went bang and had their casings ejected successfully.
Ammo Used
I ran three types of ammunition through the YEET Cannon that included: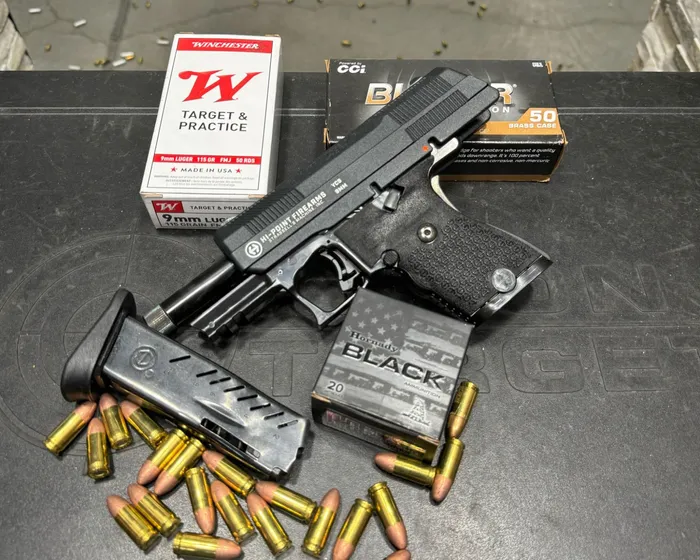 Accuracy
I had low expectations from an accuracy perspective, given my less-than-ideal groupings with the C9 previously. Thankfully, I was able to shoot much better with the YEET Cannon than the C9 and wound up having groupings like the one below from 10-15 yards.
This was even after I took the rear sights off to check out the optic mounting options and re-installed them.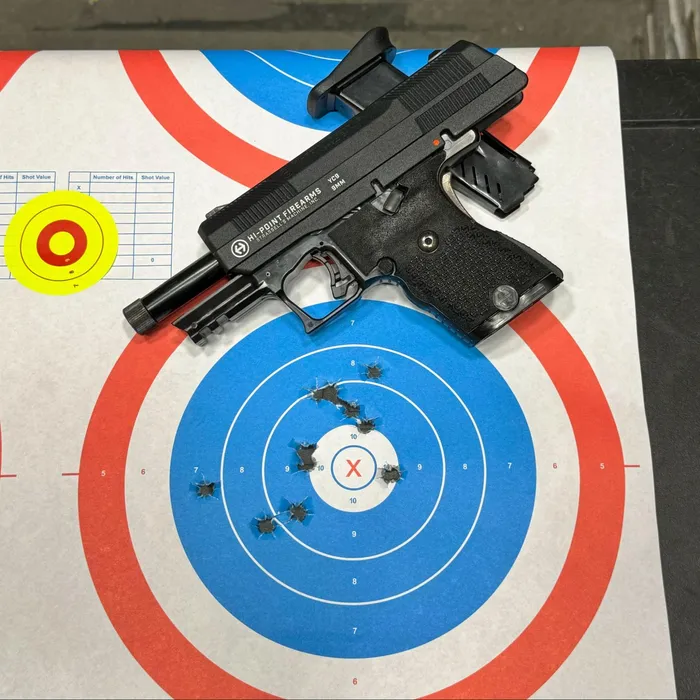 Features
Before we really dive into the features, I'd like to remind you again of the low price point that the YEET Cannon falls into. This is not a $500+ pistol, so keep that in mind as we go along.
Comfortable Grip
The grip has been vastly improved from the earlier C9. The texturing on the sides that was added provides ample grip surface area, and the upgraded front and rear texturing on the grip is better as well.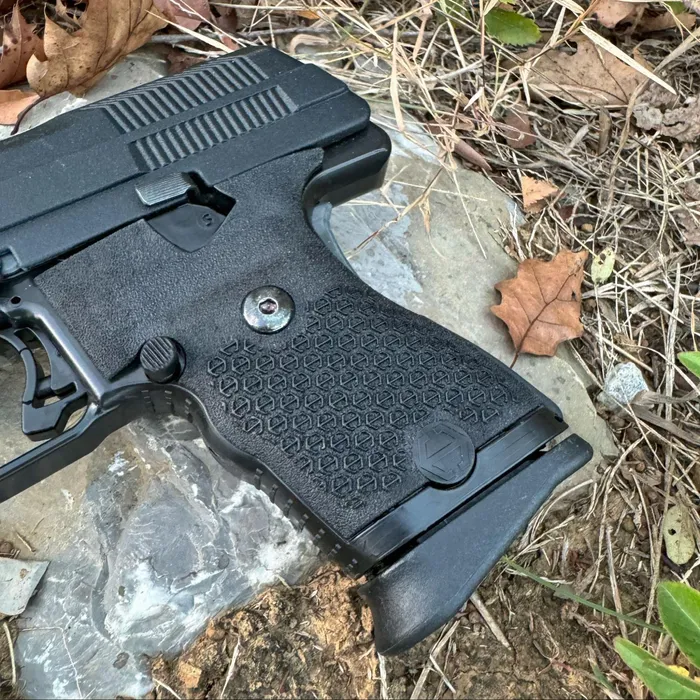 With the pinky extension on the base plate of the magazine, I was able to achieve a comfortable grip even with extra large hands. The grip is one of my favorite features of the gun.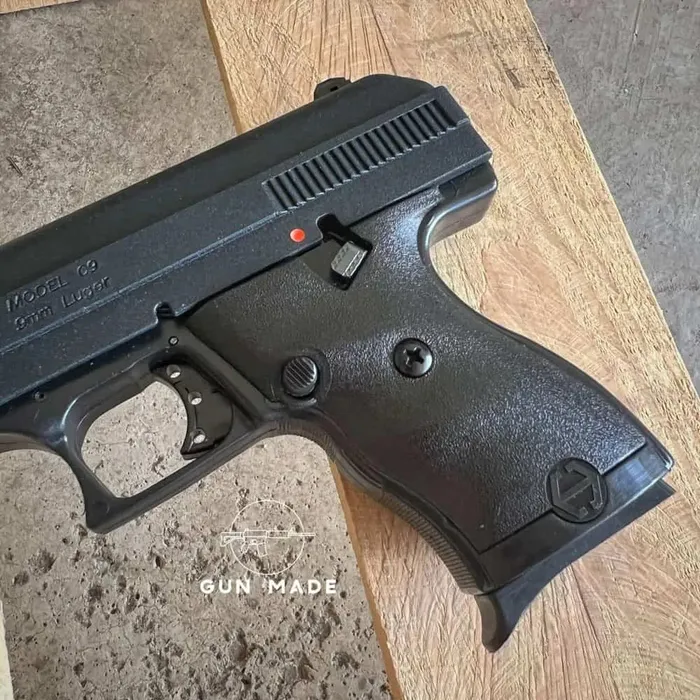 Adjustable Sights & Red Dot Ready
The front and rear sights are a very basic but adjustable 3-dot setup. The contrasting red and yellow sight colors are simply painted on, but they get the job done. You can remove the rear sights to mount your optic, and the front sight can be removed and replaced as well.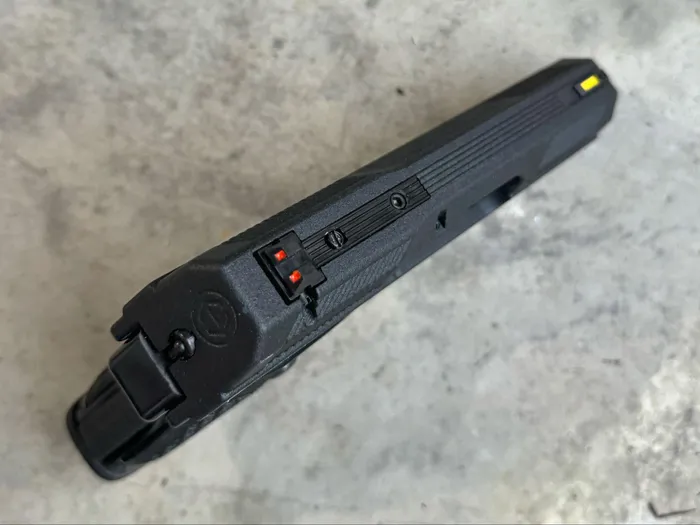 If you decide to mount an optic, there is an included Picatinny-style rail, or you can order optic plates online. For fun, I added a Holosun AEMS, and let me tell you, it looked pretty ridiculous.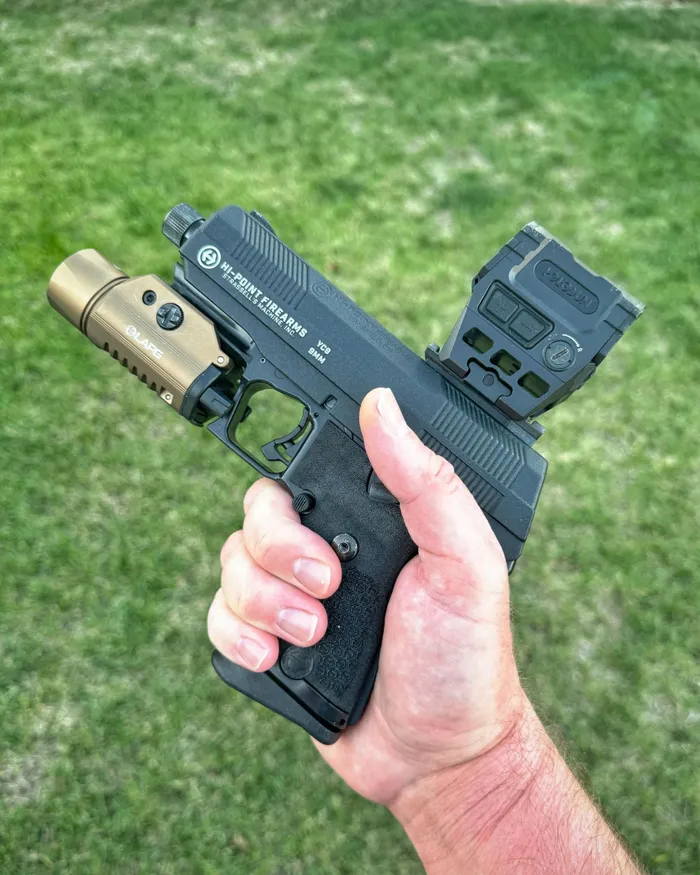 10-Round Magazines
Given that this gun is not a micro-compact, I would have expected to see more than a 10+1 capacity. Actually, even if it was a micro-compact, I expect to see more than a 10+1 capacity these days.
I found the feed lips uncomfortably sharp, where simply reloading several mags at the range left my thumbs a little sore. Maybe I'm just being a baby, but it's still worth mentioning.
On a positive note, though, it does hold two more rounds than the original C9. It also has witness holes to see how many rounds you have left.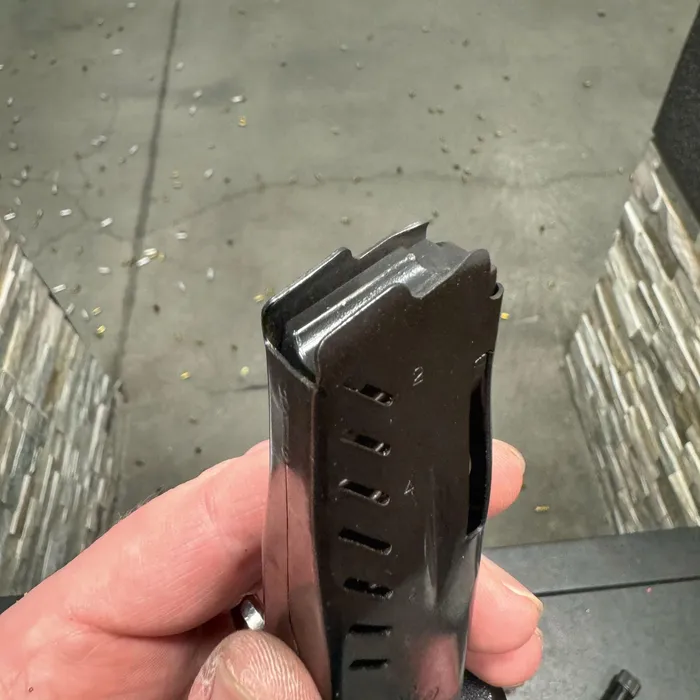 Threaded Barrel
Hi-Point does offer YEET Cannons with non-threaded barrels, but why not have one to really make this a "Gucci" gun?! It almost begs to have a suppressor added for even more fun.
It's your standard 1/2×28 threaded barrel, and it comes with a thread protector installed as well. It's another one of those surprising features for such an affordable pistol.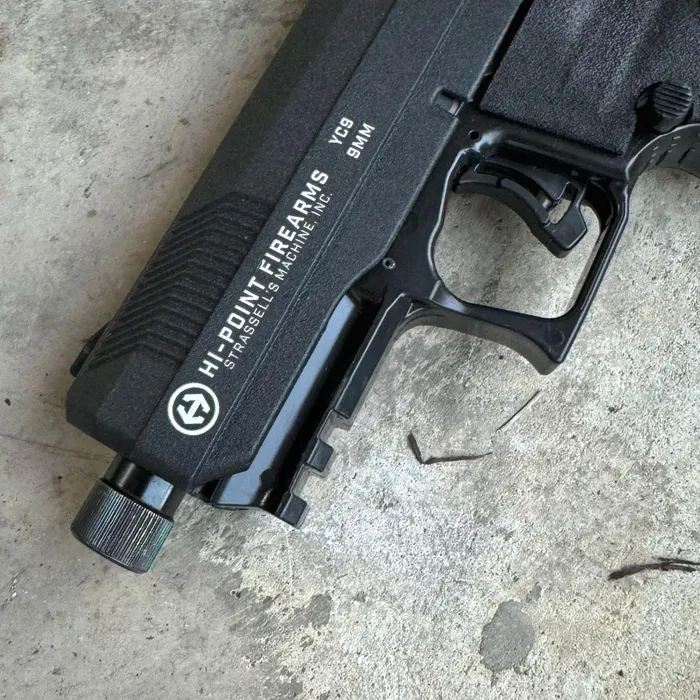 Score Card
Reliability (10/10)  
Being my fourth Hi-Point, I'm not surprised anymore. I had zero malfunctions.
Ergonomics (7/10)
It's blocky and a bit top-heavy, but the grip feels nice in hand, and it still feels relatively well-balanced when shooting.
Customization (8/10)
Now that it's red dot ready, has an accessory rail, and a threaded barrel, it's quite customizable. However, I can't put it at a nine or ten as there aren't many make/model-specific accessories or holsters for the YEET Cannon.
Appearance (6/10)
It's significantly better than the prior YEET Cannon, but it's still far from sexy.
Value (10/10)
With an MSRP of only $229-$236 (the $7 upcharge is if you want the words YEET Cannon on the slide), it's hard not to give this a 10/10, given it has been 100% reliable for me.
Accessories
If you're going with a Hi-Point, you're probably budget-conscious, which is all good! So, I'll stick to budget accessory recommendations this time around.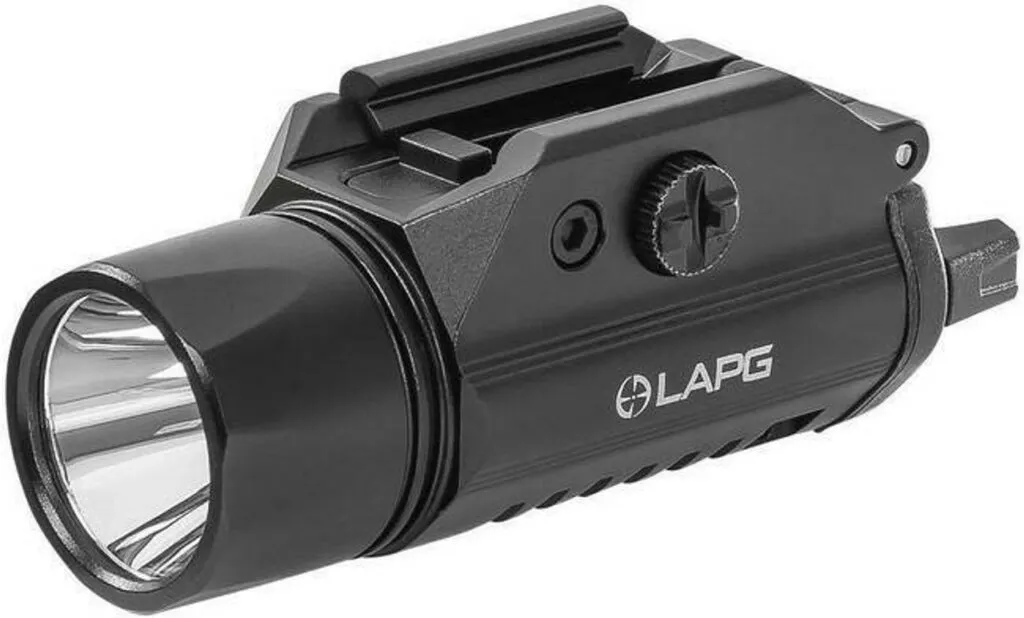 Think Streamlight TLR-1 on a budget. The LA Police Gear XWL looks like a TLR-1, has ambidextrous switches like the TLR-1, and even fits most holsters that accommodate TLR-1s. However, you can find the XWLs for almost half the price.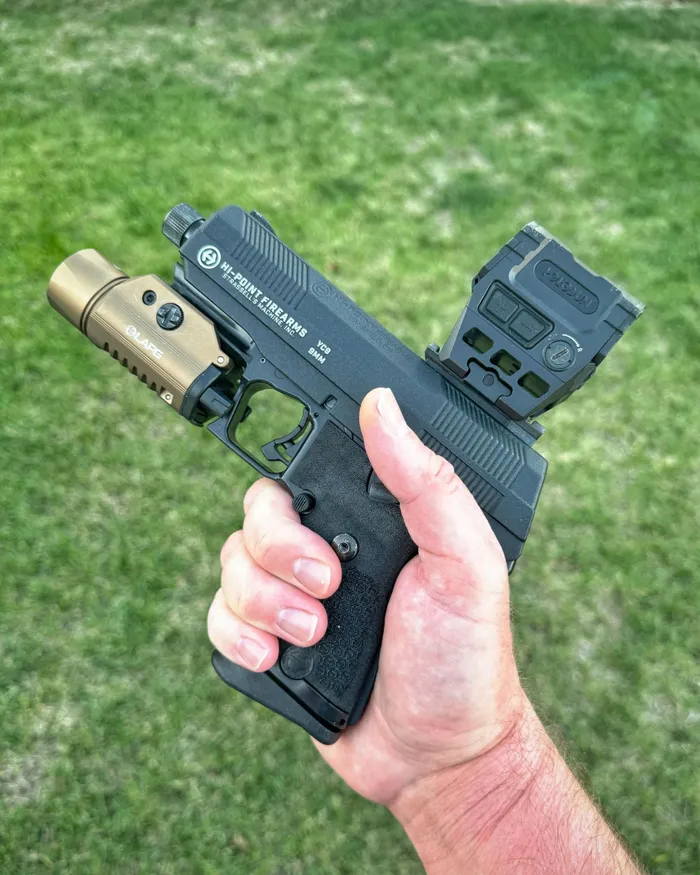 It puts out 800 lumens for up to an hour and a half, so it's not a dim light by any means. It also features LAPG's patented SlideRail, which allows you to position the light anywhere on your rail, down to the millimeter.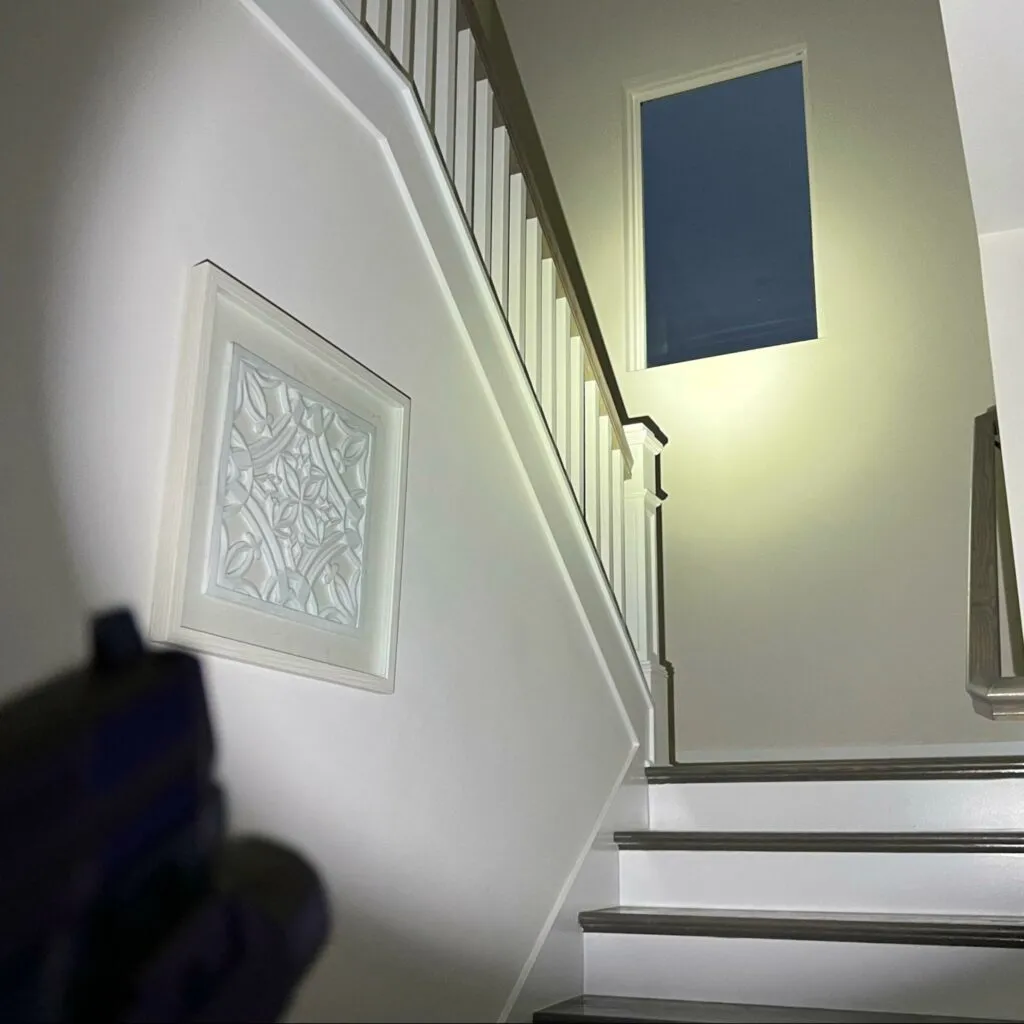 Check out our LAPG SlideRail XWL Light review for more information.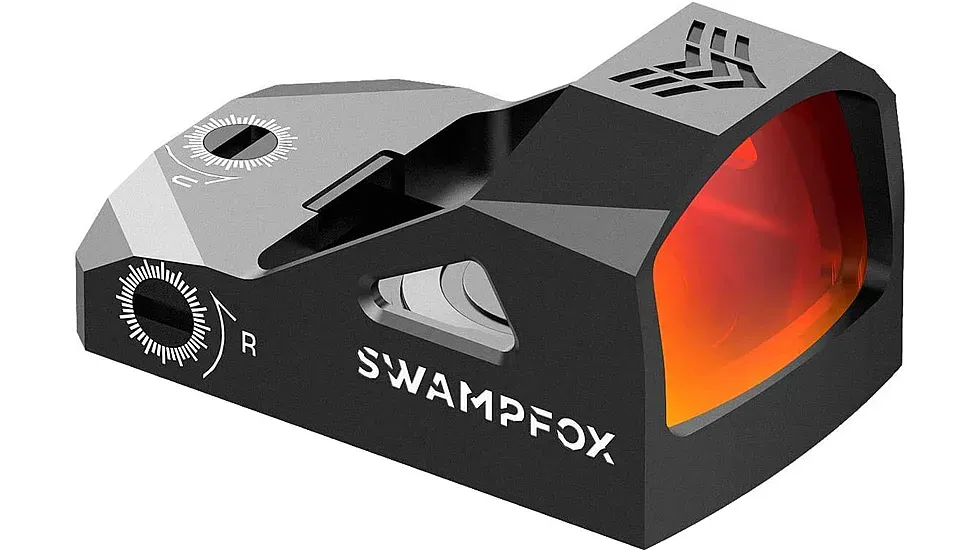 The Swampfox Liberty is an affordable and compact red dot that can be paired with a Picatinny mount that will allow you to attach it to your YEET Cannon. The mount is sold separately, though, so be sure to add one to your cart before checking out.
The Liberty features Shane N' Wake technology, a top-loading battery, and ten illumination settings (two of which are night vision compatible).
Alternatives
Again, considering the budget theme, both of these alternatives can be found at or under $400 most days (at least at the time of writing this).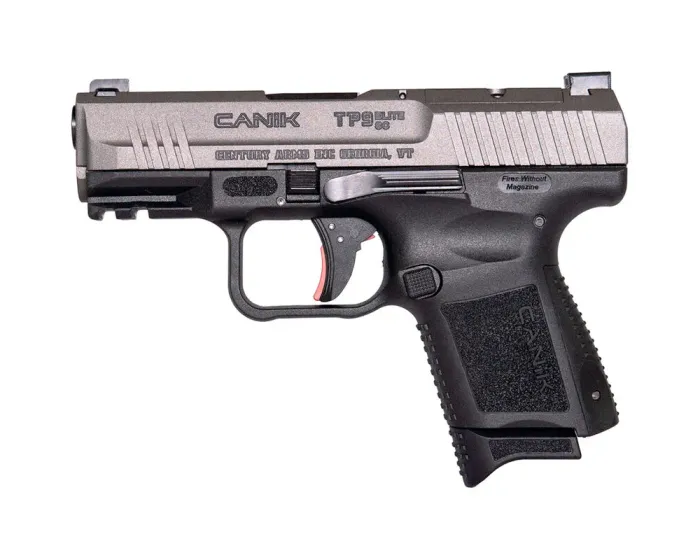 The TP9 Elite SC is a versatile sub-compact offering from Canik that can be "converted" into a compact using the 15-round Canik magazines. The extra length from the 15-round magazines helps improve the grip for larger hands, and the extra capacity, well, obviously gives you more rounds!
It features an optics-ready slide, match-grade barrel, and interchangeable back straps to help you achieve a comfortable grip.
While the sights are standard height, you can mount Shield SMS/RMS footprint optics directly on the slide, allowing you to obtain a true cowitness. It's a great overall package at a reasonable price.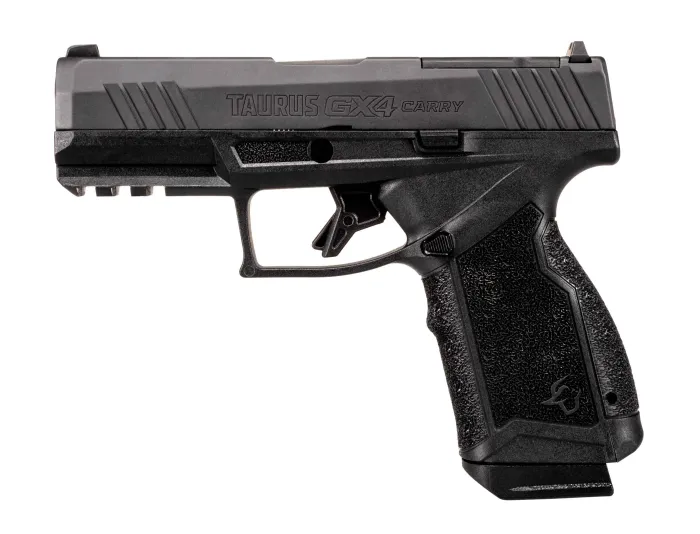 The GX4 Carry T.O.R.O. (Taurus Optic Ready Option) is what a lot of us have been wanting to see from Taurus.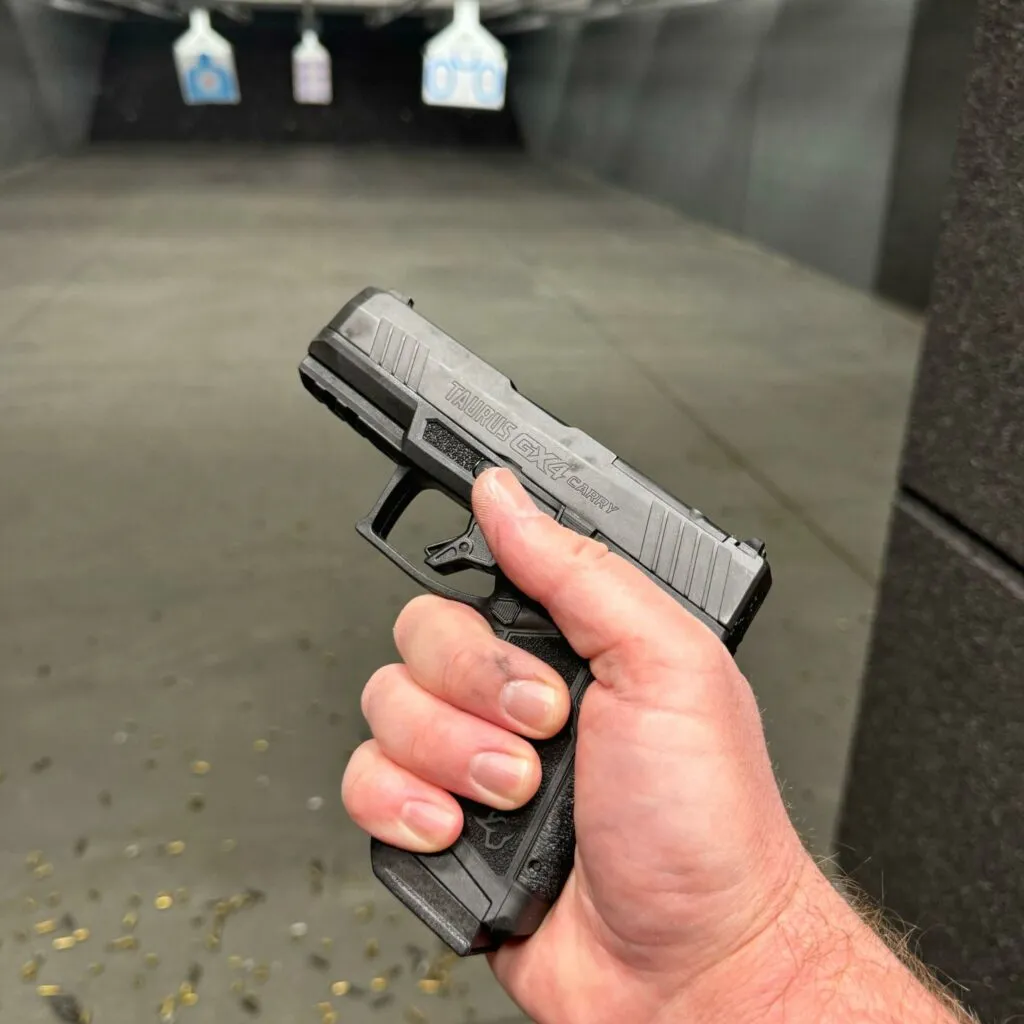 What we've wanted is a well-rounded concealed carry option with all of the latest features, such as an optics-ready slide, accessory rail, flat face trigger, and a 15+1 capacity. Other Taurus models may have incorporated a few of those features, but not all.
We had the opportunity to review one of these recently, and we had almost nothing negative to say about it. See our GX4 Carry TORO review to get the full scoop!
Conclusion
Will you see the YEET Cannon in the next John Wick movie? Probably not. Will it be the next contract winner for the United States Army? Doubtful. Is it reliable and one of the most affordable pistols on the market? Yes. Yes, it is.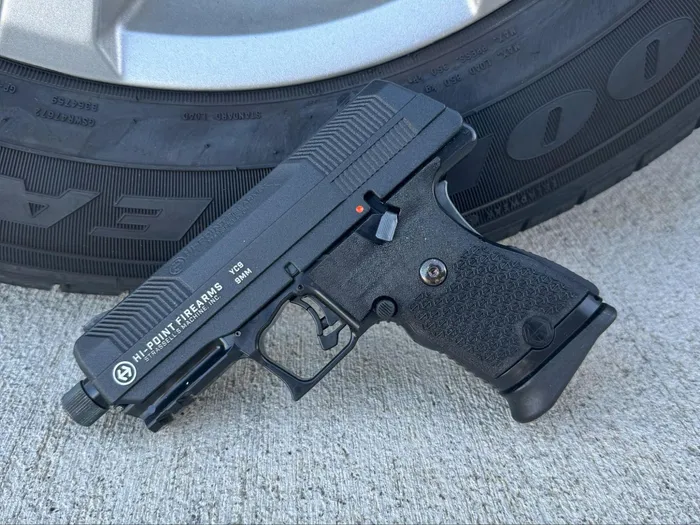 While I wouldn't carry it or rely on it as my primary home protection firearm, simply due to the better options available, I do think it would make a good truck gun, range toy, or garage gun. It's one of those you can count on to go BANG, but if it got stolen or lost, you wouldn't shed a tear or go broke.
If you get the opportunity to shoot a YEET Cannon, I suggest you do so. I think you'll be surprised at how fun they are to shoot.
Have you ever shot a C9 or YC9? If so, what did you think? Let us know in the comments below!
As always, stay safe, train hard, and have fun.  
Explore more