Best Gun Safes Under $500 In 2023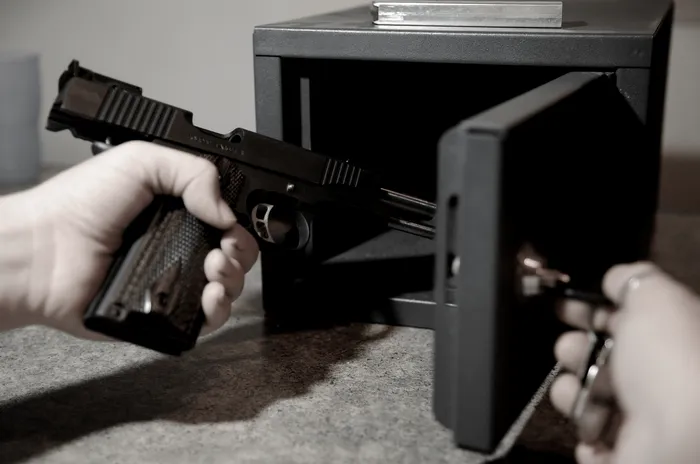 Best Gun Safes Under $500 In 2023
If you're in a hurry and just want to know what the best pistol light is, then I'd recommend the Barska Quick Access Safe as the best one. 
In order to keep you and your family safe, one of the best accessories you can invest in is a gun safe. Unfortunately, many of these can be quite expensive, making it difficult to find an affordable one that suits your needs.
But don't fret; there are some options available. And that is why we have put together a list of the best gun safes under $500.
Best Gun Safe Under $500
Using the features and attributes above, we found five of the best gun safes under $500. Here are the models we chose:
Stack-On is a company that brings with it a lot of durability and well-designed safes. One of the best for long guns is the GCB-1522. 
It has a good capacity, handling about 14 guns and accessories. This means that it should fit most collections easily and keep all your stuff organized. That's my favorite part about this gun safe.
The unit can also be bolted to the wall and comes with all the hardware to do so. Be careful, though, as it is a little heavy at the top, especially when you have all your ammo and accessories on the shelves.
The outer frame of the safe is not the only thing that is durable. The lock, which may be one of the most critical aspects of the design, is sturdy too. The lock is capped with a digital keypad that is easy and quick to use. 
Features and Specs
3-point locking system
Built-in foam barrel rests
Weight – 86 lbs.
Dimensions – 18" x 21" x 55"
Comes with mounting materials
Pros
Roomy
Padded rest
Able to anchor to the wall
Durable lock
Digital keypad
Pocket on the door
Cons
No bolt holes for locking rods
Capacity not accurate
This gun safe is compact and lightweight. It may not look like it is a sturdy option to store your rifles or shotguns, but looks can be deceiving. In my opinion, it is one of the best rifle safes you can buy for less than $500.
On the safety front, the mechanical lock that only has five buttons gives it plenty of security and makes it easy to use. If the stock lock is not enough, the safe comes with two additional locks to make the safe even more secure.
The weight of the safe is a plus, as it makes it easy to move from place to place. This is both a blessing and a curse. Why do you ask? Well, if you can carry it away, so can a thief.
That is not the only disadvantage that may detract from the performance of this gun safe. The unit is not waterproof. Other than that, it is not compliant with California's requirements, and it does not come with any foam padding.
Features and Specs
No key needed premium grade lock
Additional 2 keyed locks
Can be mounted or hung on the wall
Dimensions – 42" x 8" x 3.5"
Weight – 25.1 lbs.
Pros
No batteries needed
Pry resistant door
Sturdy construction
Pre-made mounting holes
Adhesive strip for mounting included
Easy to operate lock
Cons
Not waterproof
Not California DOJ compliant
No foam padding inside
This small safe is great for pistols and small homes. Its compact design allows for easy placement in almost any home. 
It is easy to conceal, and when diving into the security features, the unit only seems to get better. For us, we felt this was good inclusion for those not looking for an awkwardly large option.
It is crafted to be water-resistant and fireproof. The pry-resistant hinges and extra override keys help with ease of use and to improve the protection of your firearms. All this combined makes for one superior safe that has a very small footprint.
There are a few issues that we felt we would be remiss without mentioning, though. Unlike other models that are built with high-grade metal casing, this one is plastic. That is why, although it is fireproof, it's only good for an hour in high heat.
It is also small, so if you have rifles or shotguns, you will have to go with another option.
Features and Specs
Capacity – 1.31 cubic feet
Concealed pry-resistant hinges
Heat resistance – up to 1,700 degrees-Fahrenheit
Sealed for water resistance
Built-in backlit digital keypad
Weight – 93 lbs.
Dimension – 18" x 17.5" x 19.63"
Pros
Fire-resistant (1 hr.)
Waterproof
Override keys
Pry resistant hinges
Force entry resistant
Affordable
The Stack-On E-040-SB-E is one of the largest in interior capacity on our list. In other words, this is the perfect option for the gun owner who has quite a collection. The ability to readjust the shelves can help you organize and make room for whatever you are looking to store in it.
The double-thick walls and the hefty weight may be the best thing about this safe. Its heft keeps it from being able to be stolen, and the width of the walls enhances the security of the gun safe.
Unfortunately, the heft also means a few extra precautions are necessary when mounting the safe. That is basically the biggest issue when dealing with this safe. 
Features and Specs
3-point locking system w/ key coded cylinder lock
Adjustable barrel rests
Dimensions – 19.75" x 20.87" x 40"
Weight – 225 lbs.
4x 1.5" live-action locking bolts
Heat resistant – up to 1,400° Fahrenheit
Pros
Expandable to keep heat out
Able to bolt to the floor
High heat resistance
Built-in low battery warning
Carpeted interior
Fire resistant
Drill resistant lock
Cons
Shelve take up a lot of space
Mounting instructions are poorly written
Not good for hunting rifles
Technology is continually changing, and this gun safe takes advantage of that. This safe is crafted with a biometric module. That attribute also comes with an optional silent mode. 
The most impressive thing, and the thing we feel really sets this gun safe apart, is the interior space. It is capable of holding up to 12 guns and can fit more if the shelves are removed from inside the model altogether. 
It is bulky and a little top-heavy when storing ammo and other accessories, however. The lock is durable and easy to use. On top of that, the deadbolt system is included to heighten the security of the piece.
Though, in my opinion, the model is okay for most guns, it does have a problem storing longer rifles. 
Features and Specs
120 fingerprint biometric module w. option silent mode
Crafted in solid steel (14 gauge) w/ tamper-resistant edges
3x pry-resistant deadbolts
Pre-drilled mounting holes
Deadbolt thickness – 5/8"
Weight 62 lbs.
Dimensions – 8.63" x 9.5" x 52.13"
Pros
Sturdy build
Nice capacity
Durable lock
3 point deadbolt system
Approved by DOJ
Silent access mode
Cons
Balance
Too small for some rifles
Do You Really Need a Gun Safe?
Like with anything, there are people that love them and people that don't find them necessary. Those that argue against the need for a safe often discuss the fact that storing your guns in a safe makes it difficult to get to in an emergency. But in the end, no matter what side you land on, the idea of having a safe place to store your firearms could save someone you love from a dangerous event. 
Benefits of Owning a Gun Safe
Having a good safe to store your firearms safely has a ton of benefits. No matter your ultimate reason for purchasing a gun safe here are some of the advantages you get:
Without a safe, you will have to find a secure and easy-to-locate place to store your guns. Without having this place, you may find you and your family at risk if there is ever an intrusion in your home.
Some states require a gun safe before purchasing a firearm. For instance, California has laws in place like this.
Guns and their accessories are not a cheap investment. Those that are serious collectors could find themselves sitting on thousands of dollars of products that need to be protected. A safe is a good way to do that.
Insurance companies will sometimes give a significant discount if you lock your firearms in a safe.
You can keep your guns and ammo more organized as many safes have built-in barrel posts and shelves to do just that. 
Safes are not only for your safety but for your gun's safety as well. Many safes are fire-resistant and water-resistant, which means your collection will be protected in case of a natural disaster.
What to Look For in a Gun Safe
We took the time to go through a plethora of safes to find one that is not only budget-friendly but gives you the most value for your money. The first step is to determine the type of safe you want to invest in, and then you can use the following features to narrow down your options. 
That is what we did to gather the five gun safes we review below. Here are the features that we focused on:
Size and Weight
There are a couple of reasons why we felt size matters. The first is concerning the space you have available to house the safe. You will want to measure the area you plan to put the safe in and make sure that the dimensions match. 
Size is also important when you consider the guns you plan to store in the safe. If you have pistols, you will not need a big enough safe to store rifles and vice versa.
The weight is important as well, especially if you plan to place your safe upstairs. It is also essential if you might be moving the safe around quite a bit.
Lock
There are multiple types of lock options, and choosing the type is key to the final decision. The choice is down to you. Are you someone who can remember a combination? Or are you more traditional and prefer a key? This is up to you, but each offers a different level of security.
Steel Gauge
You need to look both at the thickness as well as the sturdiness of that steel. The better the steel gauge, the more protection, and durability your safe will have. 
The steel gauge should also be looked at when it comes to the bolts, hinges, and the locking mechanism. These all play a part in the performance of the safe.
Mounting
If you want a super anti-theft safe, you should look into one that can be mounted or hung. When you do look at options with this ability, then you should also pay attention to whether the hardware comes with the safe.
Accessibility
No one wants to have to access the safe for emergency purposes, but if you do, the accessibility of the safe is vital. You will want to make sure that the safe opens easily and quickly. 
For the easiest entry, many people look at keypads or biometric entries. This will also keep others from being able to break into your safe.
Power Source
If you opt for an electrical safe locking mechanism, then the power source is another factor that should be a consideration. Some safes can be run on batteries or even charging packs that can be attached via USB.
Conclusion
Gun safety is important, and one of the biggest parts of that is having a good gun safe. The safe choice will be determined by the amount of space you have available and the firearms you are planning on securing. 
With a limited budget, you will want to look for one that will give you the most value. For us, that means the Barska Quick Access Safe. 
The safe has a large interior capacity and security measures that make it practically impregnable. The lock mechanism is high-tech and capable of monitoring fingerprint biometrics to raise the level of security even more. That is why this model is the best inexpensive gun safe under $500.
Explore more