PSA Dagger SW3 Review: Affordable Glock 19 Clone Worth It?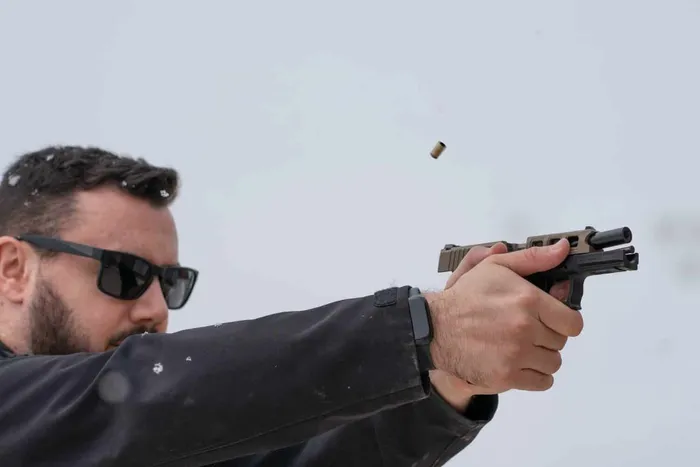 PSA Dagger SW3 Review: Affordable Glock 19 Clone Worth It?
Introduction
Palmetto State Armory (PSA) has been a big name in the firearms industry for some time. Their mission of arming law-abiding Americans has brought affordability and options to many.
Whether it be MSR rifles, parts, or accessories, PSA sells it, probably in seven different colors and calibers. Today we are going to review one of PSA's own productions, the new Dagger SW3 9mm pistol.
The Dagger is a polymer-framed striker-fired 9mm pistol with incredibly similar features to the venerable Glock 19. That is no mistake either. The popular pistol has been copied, cloned, and customized by countless manufacturers.
But what makes the PSA version different you might ask? Well, that's what Gun Made is here for; we'll show you.
The Dagger utilizes fifteen-round flush-fit Glock magazines and is available in too many different models to mention. There are threaded and non-threaded barrels, extreme carry cut slides, night sights, optic-cut slides and so on.
I would recommend you go browse their selection as there is surely one you will like.
There are many advantages to the Dagger, and most of them are related to its kinship with the Glock. Magazines and other parts can be used to customize the pistol if one of the many models doesn't perfectly fit your fancy.
The polymer frame is textured nicely to give the shooter a good purchase on the grip area, and the undercut trigger guard allows you to 'choke-up' your hand into the grip and seat the pistol deep into your grip.
The trigger features a flexing shoe safety, similar to those I've seen on S&W M&P pistols.
The Extreme Carry Cuts and Gatormouth slide add some custom detail to the pistol, and add to the gripping area of the slide while reducing weight. The slide itself is stainless steel with a Cerakote finish and topped with Tritium Tru-Glow night sights.
The 1-10 twist barrel inside has a hard DLC coating for durability and long life.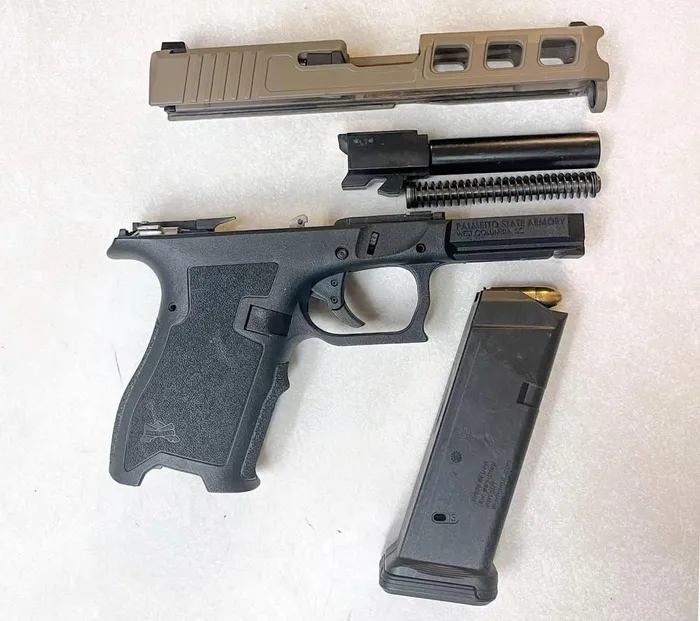 Upon receiving the Dagger, I wasted no time in giving it a thorough look over. And I must confess I was quite impressed with the little pistol; not only did it feel quite robust and smooth, but I had no idea they could be purchased for as little as $299.
The model shown here goes for about $60 more, but if this thing lives up to my hopes, I'd consider it a steal for that price.
Dagger 9mm Review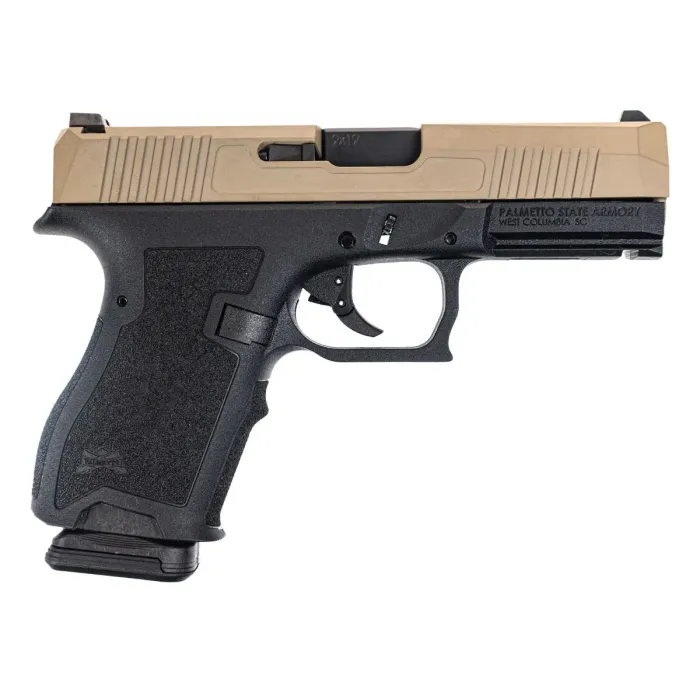 Specifications
| | |
| --- | --- |
| Caliber: | 9mm |
| Capacity: | 15 rounds |
| Action:  | Striker Fired |
| Weight:  | 22.4oz (unloaded) |
| Overall Length: | 7.15″ |
| Overall Width:  | 1.28″ |
| Overall Height:  | 4.78″ (Without Mag) |
| Barrel Length: | 3.9″ |
| Twist Rate:  | SAAMI Spec 1:10 |
| Slide Finish:  | Cerakote, Flat Dark Earth |
Pros & Cons
Pros
Very Affordable

Lighter than a Glock 19

Magpul Magazines

DLC Barrel coating

Cerakote over stainless finish

Picatinny accessory rail

Included night sights

Striker block and trigger safety
Cons
I couldn't come up with something to dislike
On The Range Testing
With the Dagger in a holster and several boxes of ammunition I headed out into what we call springtime here in Utah. After a short ride on my snowmachine, I found myself at my spot, and after hanging a target, I started loading magazines. I'd never loaded a Magpul Glock magazine since I've never owned a Glock; they do feel stiffer than I expected.
With fifteen rounds in the magazine, I chambered a round and prepared to shoot. The lockup feeling as the slide closed felt great, and I tightened my grip around the pistol as I settled the sights on my target.
Overall Feel
The Dagger felt great in the hands; it really does feel above its price-point.
The trigger isn't anything out of this world, but I certainly wouldn't expect it to be for a CCW pistol. I kind of expected it to be a little long, and a bit stiffer than I would normally like. Turns out I was pretty much spot on. I wouldn't consider myself a trigger snob, but I do like a good trigger, and this one impressed me as pretty standard.
I broke one shot after another, listening to the trigger reset between shots. After emptying my first magazine, I gave the pistol a good look over to ensure everything was in place before reloading.
I carried on through magazine after magazine of Magtech 124 grain FMJ ammo. I was very pleasantly pleased with how the Dagger felt in my hands and how it pointed so well. Every time I'd lift the pistol, the sights were lined up on my target.
The snappy recoil was easily controlled, and follow-up shots came fast and accurately. I'm also not a competition pistol shooter, so I wasn't expecting to be particularly accurate with the Dagger. And yet I felt quite confident at hitting what I aimed at after just a few magazines.
I holstered the pistol and drew it from retention quite a few times. Since this is sort of a CCW-focused pistol, I figured I would try and simulate drawing it. Again, everytime as I drew it from the holster, it would come up on target for a good clean shot. Well, almost every time.
Reliability
The Dagger was very reliable during my testing; no significant malfunctions or jams occurred.
During my range time, I experienced no malfunctions other than one time the pistol failed to lock back upon emptying the magazine. The magazine appears to make good contact with the slide-lock, so I'm not sure if there was another issue or if maybe my thumb was riding the release. But I haven't been able to repeat it yet.
Accuracy
Accuracy was perfectly acceptable; I would like to shoot another one with the red dot sight.
The Tritium sights were great for targeting, even though I'm a bit of a red dot kinda guy. But the nice thing is that you can certainly get the Dagger with a cut slide for your red dot.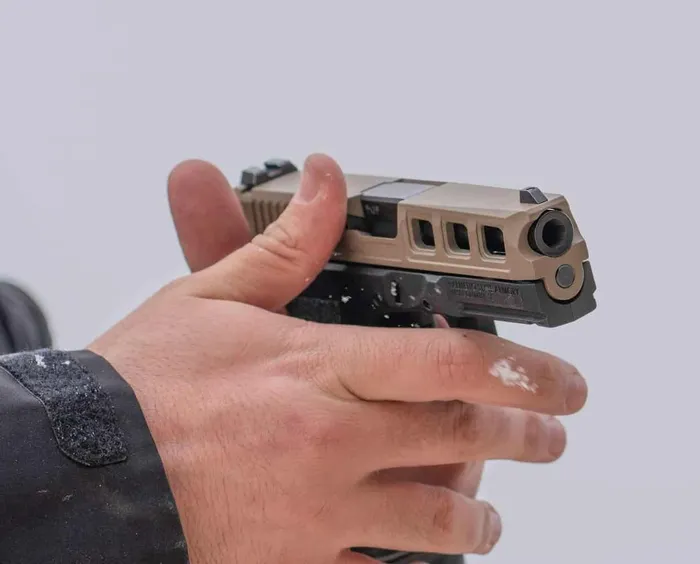 Features
Polymer Frame
The lightweight polymer frame with its grippy texture felt great in my hand; the slippery polymer allowed the magazines to drop free easily and seat properly as well. The mag release is not reversible.
Tritium night sights
The low-profile night sights work well for targeting, and they were unobtrusive. I think they could be improved by perhaps rounding off the edge to reduce the likelihood of snagging.
Carry Cut slide
The carry cut slide reduces weight and also gives an excellent grip area to cycle the pistol. I suppose it is possible that the large cuts allow more dust and debris to enter the pistol, but as long as you have it holstered, I don't see a problem.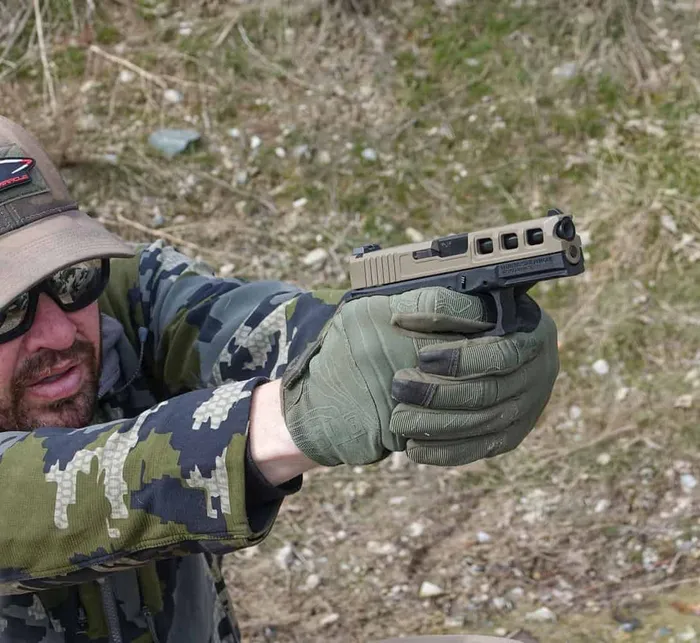 How We Tested
During the course of more than a couple of hundred rounds, I got a good feeling for the function of the PSA Dagger. Shooting many courses of double taps, reloads, and other typical pistol drills.
I carried the pistol as my CCW for the better part of a month in a compatible OWB holster.
Part of my daily interaction with the pistol included repeated drawing and presenting of the pistol, and when in the right kind of place, shooting a few rounds to see how well I could place them under time limits.
It didn't take long to see why these style of pistols are so popular. It was relatively easy to get comfortable and present some modicum of proficiency.
Shooting the pistol on the range got me very comfortable with the Dagger, and after spending a few weeks and boxes of ammo shooting the pistol I was very happy with the performance.
Ammo Used
For this review, I used Magtech 124-grain FMJ ammunition, and it worked great.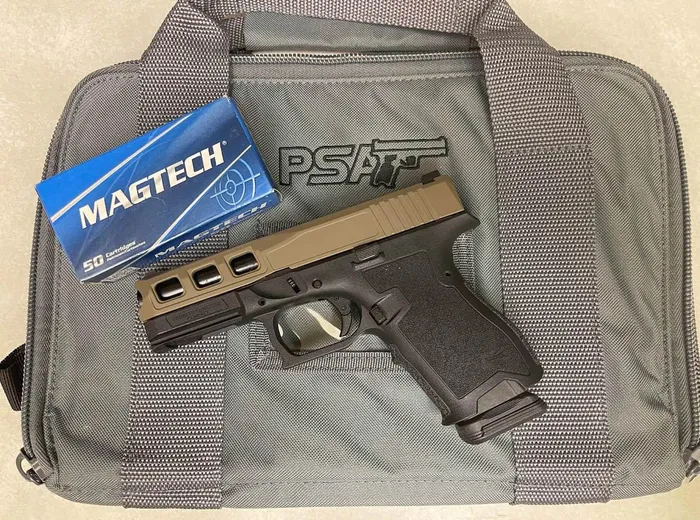 Score Card
Reliability (9/10)  
The Dagger worked almost perfectly and flawless during my shooting. The controls felt and functioned perfectly.
Ergonomics (9/10)
The Dagger felt fantastic in the hands. I think the only way you could improve it would be to add some kind of adjustable backstrap or grip.
Customization (8/10)
The incredible custom options of the Dagger allow you to get almost anything you want in the pistol. The various colors, slide, and barrel options make it easy to please nearly any shooter.
Appearance (9/10)
The Dagger is a handsome pistol; again the custom options make it more so. The finish and look of the pistol are every bit as good as the famous Glock pistols they mimic.
Value (10/10)
I was literally blown away when I saw the price of these pistols. I had played with and shot the pistol quite a bit before I looked and saw the street price of the pistol as tested was only $359.00
Accessories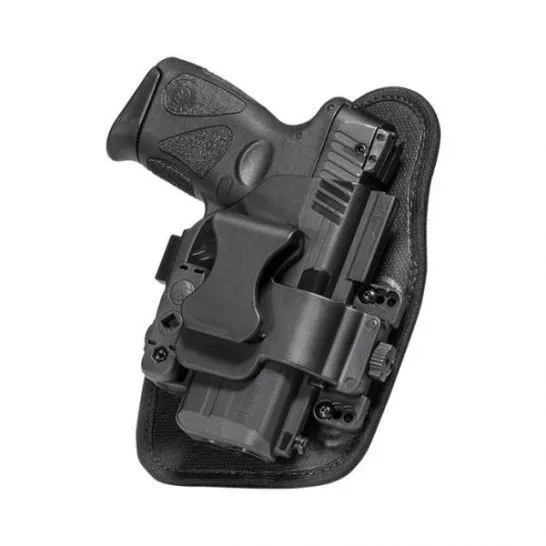 A good pistol deserves a good holster. There are many to choose from that will work with this gun. An easy choice would be the Alien Gear Shapeshift appendix.
There are plenty of good choices again for a light. A comparably priced one for this pistol would be the Streamlight TLR-6.
Alternatives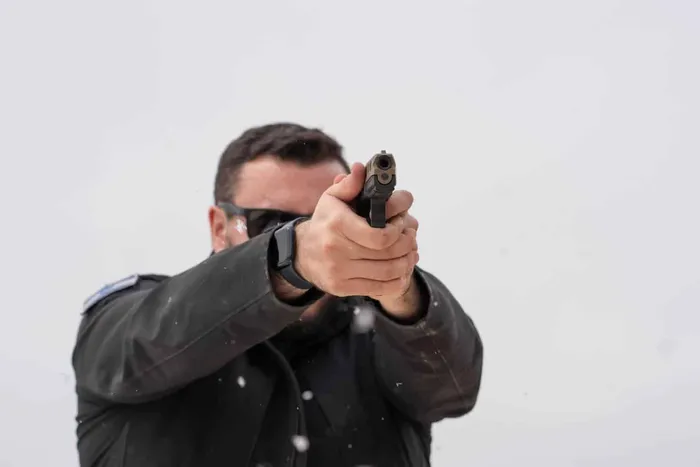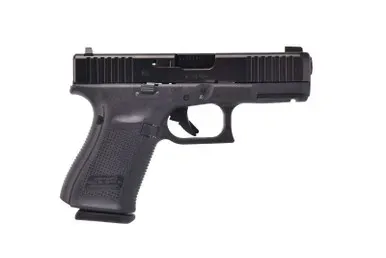 An obvious alternative with a distinguished service record, albeit for a slightly higher price.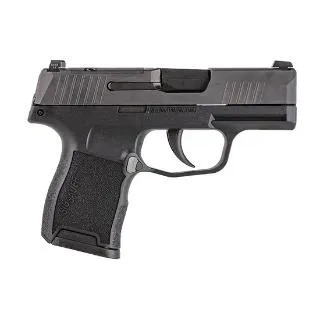 Another popular pistol of the same size would be the Sig Sauer P365 pistol.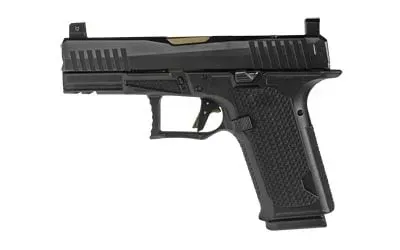 The DUSK 19, introduced by Lone Wolf Arms, and the Palmetto State Armory Dagger are both reputable Glock 19 clones, offering firearm enthusiasts viable alternatives to the original model.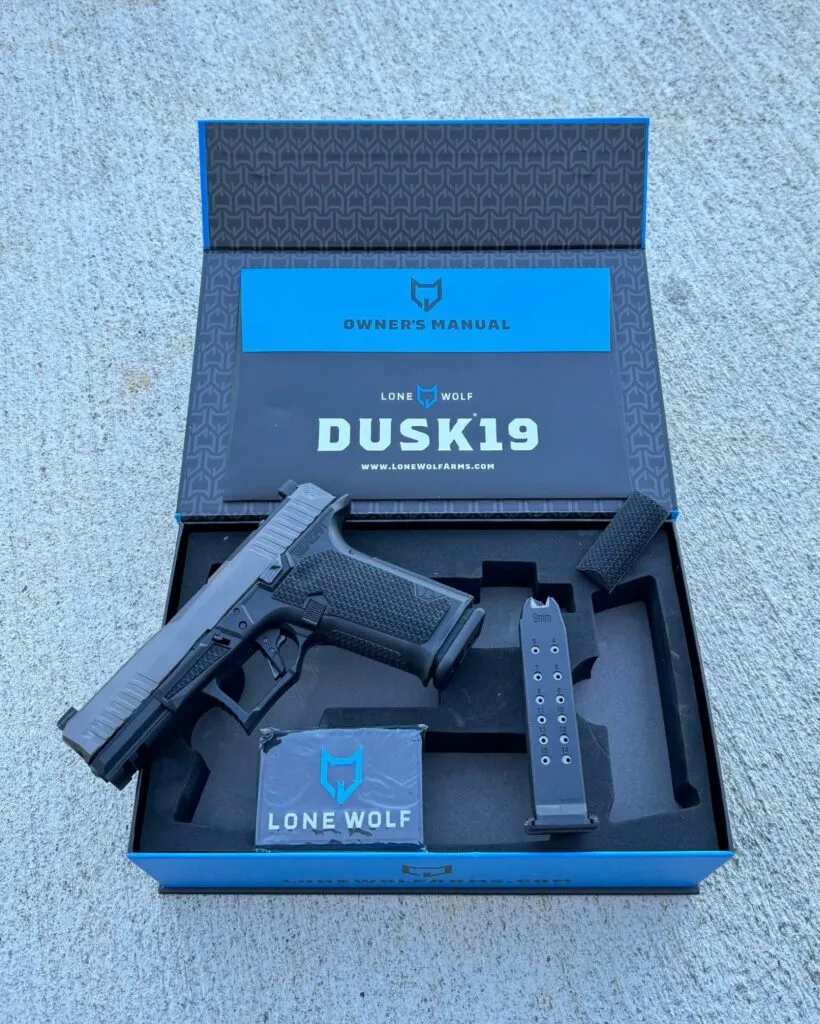 The DUSK 19 stands out with its array of aftermarket upgrades, including a unique slide design for optic mounting, diverse barrel finishes, and the innovative Lone Wolf Ultimate Adjustable Trigger. On the other hand, the Palmetto State Armory Dagger has garnered attention for its affordability while maintaining quality and reliability.
Both pistols cater to those seeking the Glock 19 platform with added enhancements or cost-effective alternatives. Choosing between the two would largely depend on individual preferences for specific features and budget considerations.
Check out our Lone Wolf Dusk 19 review for more information!
Conclusion
Palmetto State Armory has certainly hit a major goal in its mission of arming America.
The PSA Dagger is an outstanding value. I think it would serve as a perfect start for someone who is new to the firearms game and looking for an economical entry.
The great features and function of the Dagger come not just at a good price but with market compatibility and customizability.
I have no doubt these pistols will be very popular with the American shooting public. I myself look forward to seeing how this pistol continues to kick.
The only thing left to do is shoot a few thousand rounds through it. That might take a while, so follow along if you'd like to see how that goes.
Explore more