Taurus TS9 Review: Hands-On [Photos + Video]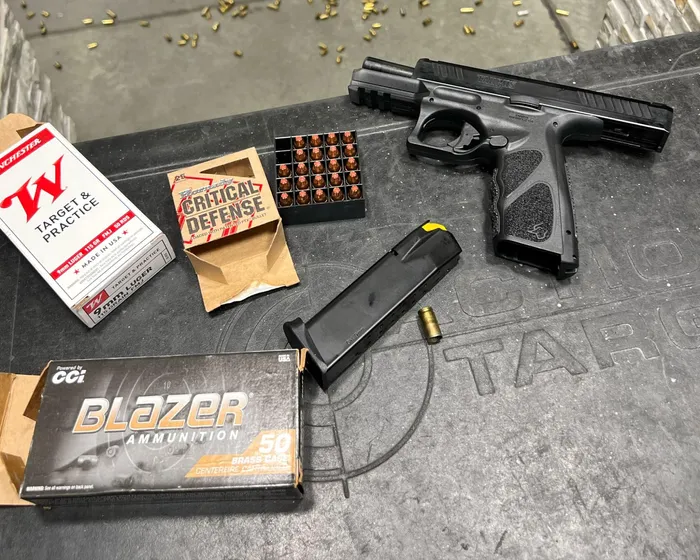 Taurus TS9 Review: Hands-On [Photos + Video]
Introduction
I don't know about you, but when I think of Taurus, I don't typically think of full-size striker-fired service pistols. That's not a knock on Taurus; I just usually think of its revolvers and more compact pistols, such as the G3c.
The Taurus TS9 isn't necessarily a "new" gun in Taurus' lineup but is new to the U.S. market. It has been serving the Brazilian military and law enforcement units for years, but we in the U.S. now have them available due to a government contract sales overrun.
The TS9 has passed NATO pistol-proof tests, offers a 17+1 capacity, and has an MSRP of only $499.99. Is it too good to be true, or did we simply get lucky?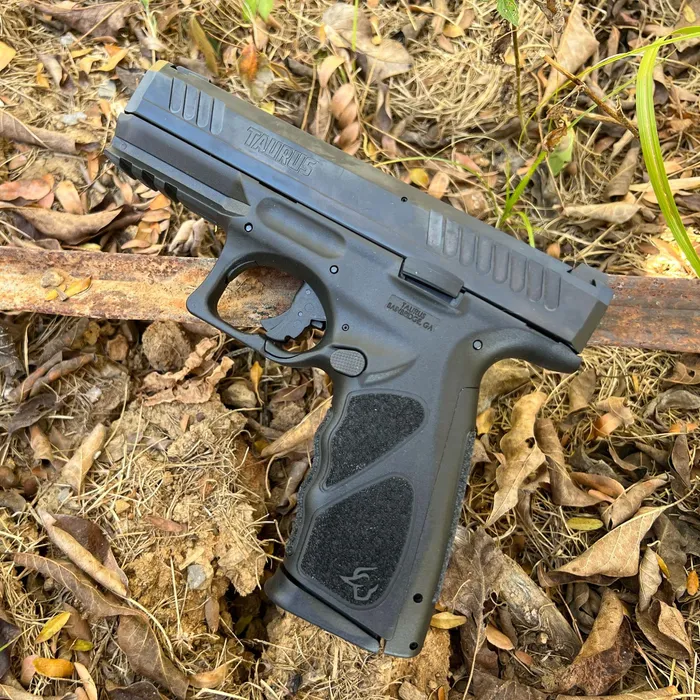 A big thanks goes out to Taurus for sending us a TS9 to test for this review. We do not get to keep the pistol, and Taurus isn't paying us a cent, so you can rest assured we'll remain unbiased in our review.
Taurus TS9 Review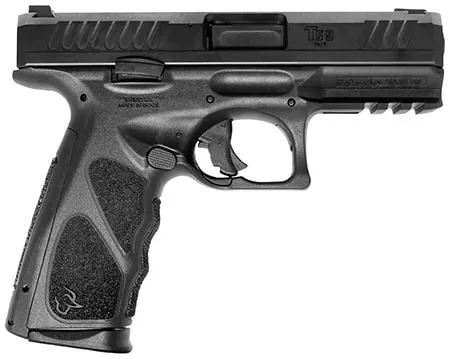 Specifications
| | |
| --- | --- |
| Caliber | 9mm |
| Capacity | 17+1 |
| Action | SAO |
| Barrel Length | 4 inches |
| Overall Length | 7.25 inches |
| Width | 1.26 inches |
| Height | 5.64 inches |
| Weight | 35.25 ounces (unloaded) |
| Frame Material | Polymer |
| Slide Material | Alloy Steel |
| Barrel Material | Alloy Steel |
| Sights | Drift Adjustable |
Pros & Cons
Pros
Affordable – MSRP of $499.99

Reliable and not picky with ammo

Ambidextrous controls and ergonomic grip

Accessory rail accommodates most of your favorite lights

17+1 capacity
Cons
No optic cut

Feels a bit blocky and top-heavy

Would like to see a more defined trigger reset
First Impressions/Unboxing
Overall Feel
Beefy but ergonomic came to mind when I first picked up and pointed the TS9 down range. It feels a bit top-heavy but fits well in the hand and points well.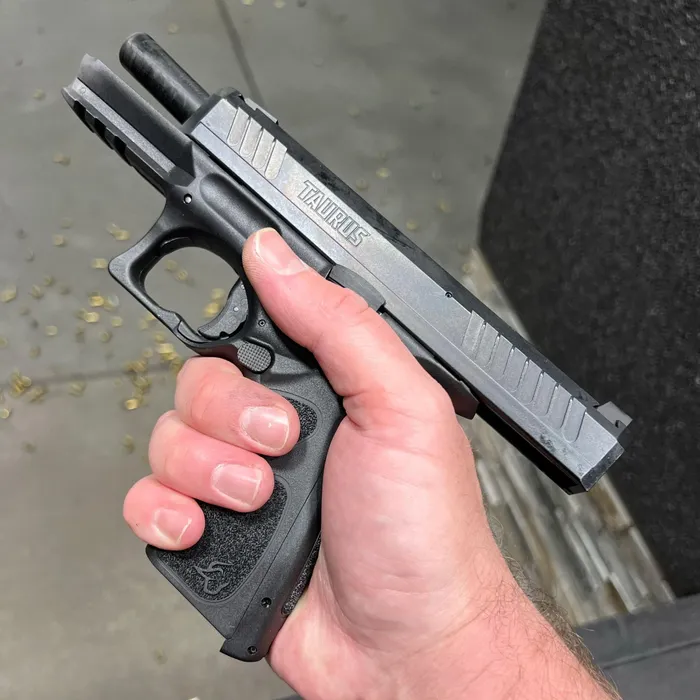 How We Tested
Even though I've only had the TS9 for a little while, it has accompanied me to the range three times, where I put a total of 210 rounds through it.
Reliability
Out of those 210 rounds, I had zero malfunctions. It didn't matter if I used JHPs or FMJs, lighter or heavier ammo; it all cycled perfectly. From taking my time shooting at 25 yards to mag dumping at 10 yards, every round fed, shot, and ejected.
Ammo Used
Since I was shooting a few other handguns during the same range trips, I didn't keep track of exactly how many rounds of each ammo type I shot, but it was a mix of the following: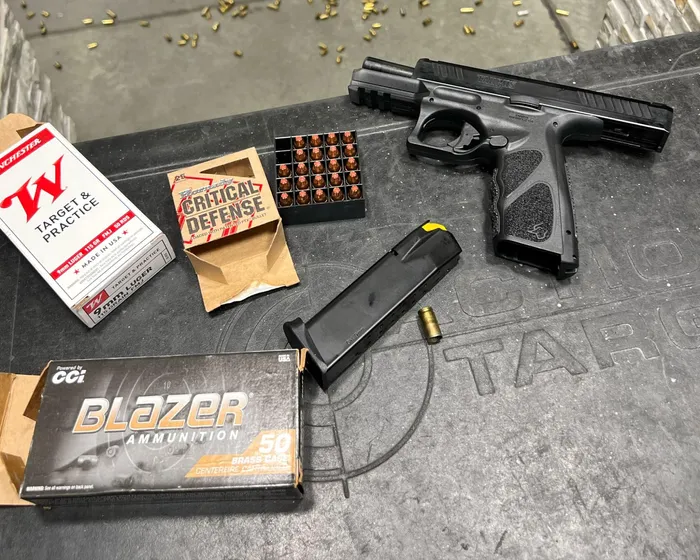 Accuracy
Even though I've become accustomed to flat-face triggers and red dots lately, the TS9 didn't take long to get familiar with. After my first magazine or two at 10 yards, I could vary my distances between 5 and 20 yards while keeping most of my shots in the 8/9 zone seen below.
I'm no competition shooter, so that's more than acceptable for my skill set.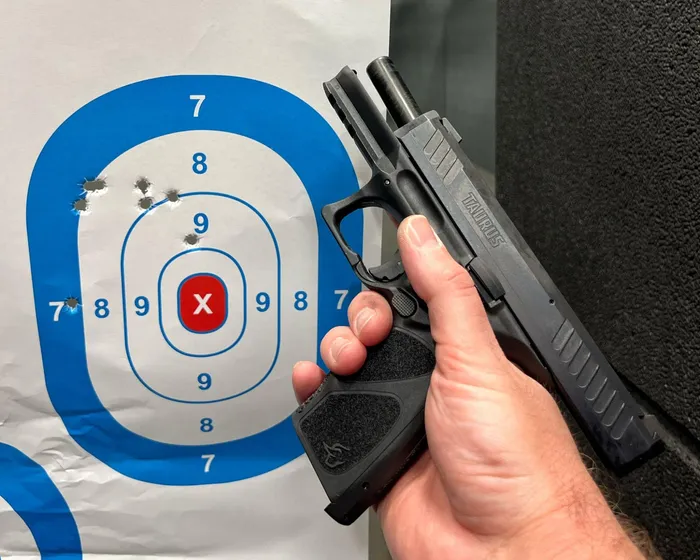 Features
Ergonomic Grip
The grip has some great texturing that isn't too rough or smooth. The finger grooves aren't super defined, so they don't bother me as much as the older Glock's did.
In the box/case, you'll find a total of four backstraps to help you find that perfect hand fit.
The only half-complaint I have about the grip is I would have liked to see the texturing cover more surface area.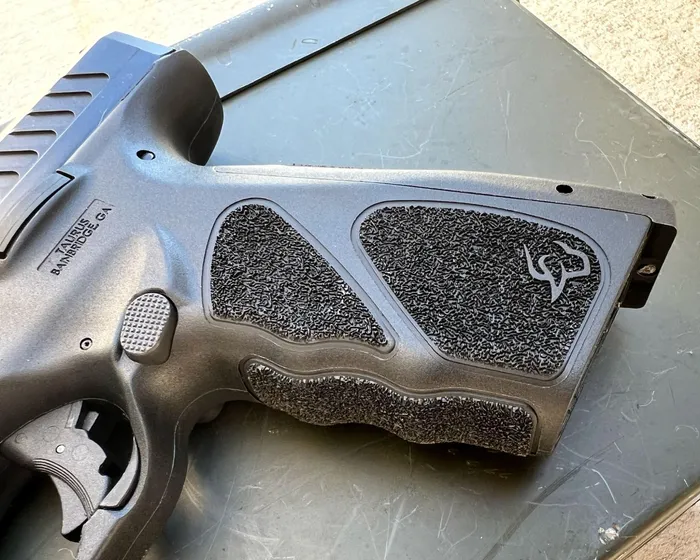 Ambidextrous Controls
Even though I'm right-handed, I love ambidextrous controls. It's always better to have the option to use either hand than not.
The mag release and slide stop lever are both well-placed and easy enough to activate. I actually liked that the mag release took a little extra effort to help avoid any accidental mag drops via the opposite side release.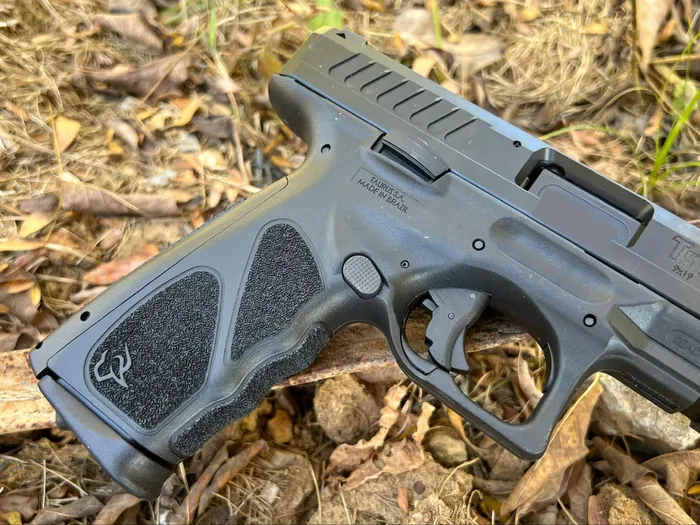 Trigger
I was pleasantly surprised by the trigger. Do I wish it was a touch lighter of a pull and had a flatter face? Yes, I do.
However, the pull was consistent, the break was clean, and the reset was quick (albeit hard to notice every time).
Overall, the trigger got the job done but has room for improvement.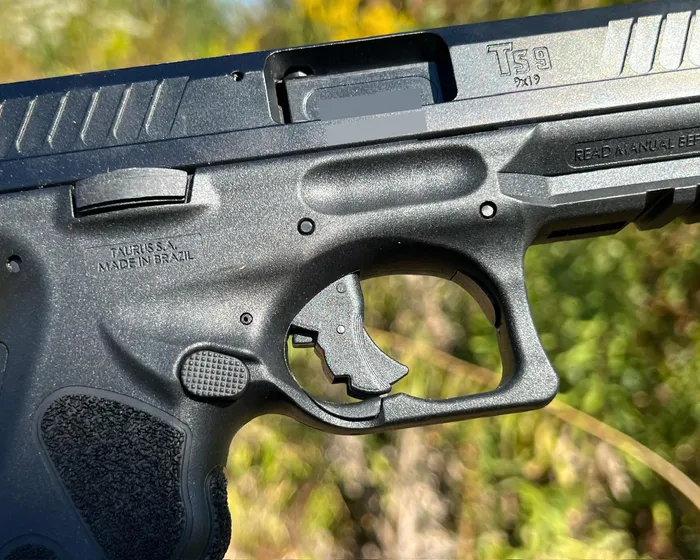 17-Round Magazine
The TS9 comes with two 17-round metal magazines. For some reason, there is a cutout within the foam inside the case for three, but maybe some models come with three?!
There are tons of witness holes to help you keep track of your rounds, and the bright yellow followers quickly and easily alert you before grabbing an empty mag.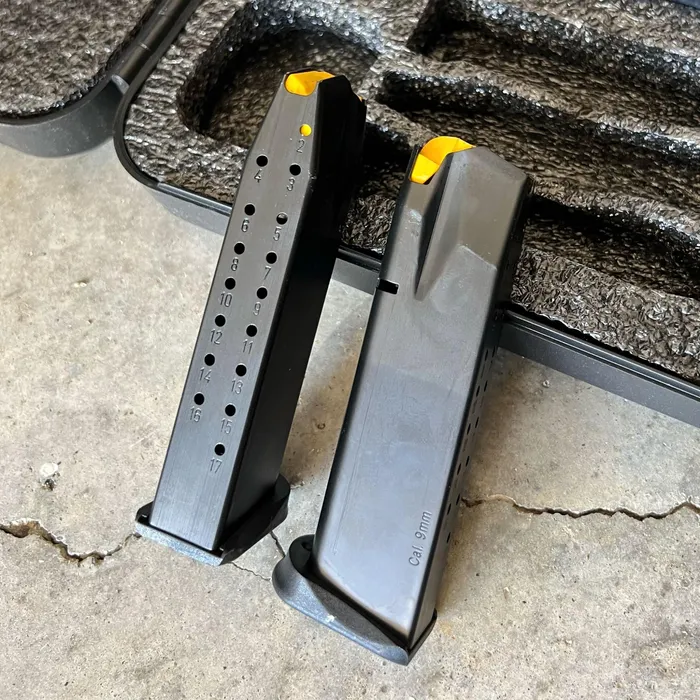 Score Card
Reliability (10/10)  
The TS9 ate everything I put through it with no problems.
Ergonomics (8/10)
The grip feels great in hand, and the ambidextrous controls are nice, but it does feel a bit top-heavy.
Customization (6/10)
I wasn't able to find much of any accessories/parts made specifically for the TS9. However, I'd imagine there are other gun models out there that have parts you could use or holsters.
Appearance (8/10)
It's a black pistol with some nice curves and cuts.
Value (9/10)
You'll be hard-pressed to find many other full-size 9mms with a name like Taurus for less.
Accessories
From my quick research, I didn't find many accessories out there specifically for the TS9. However, I suggest one of these lights since it has an accessory rail.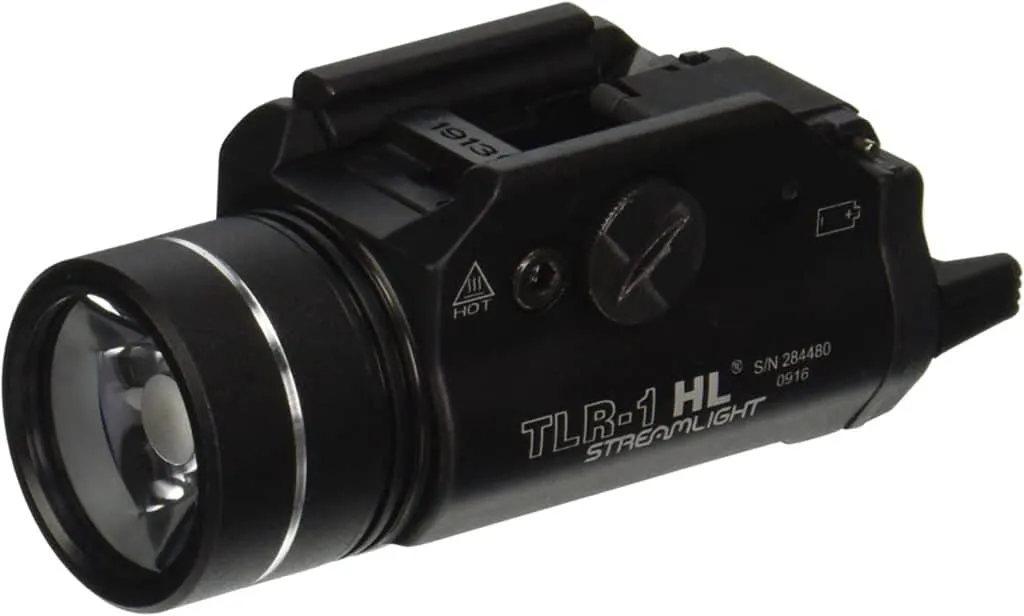 With a pistol this size, my preferred light is the Streamlight TLR1-HL. It puts out 1,000 lumens for up to one and a half hours and is powered by two CR123A batteries.
The ambidextrous switch lets you choose between momentary and constant operation with a user-programmable strobe function. It's IPX-7 rated and is machined out of aircraft aluminum, which results in a very durable light.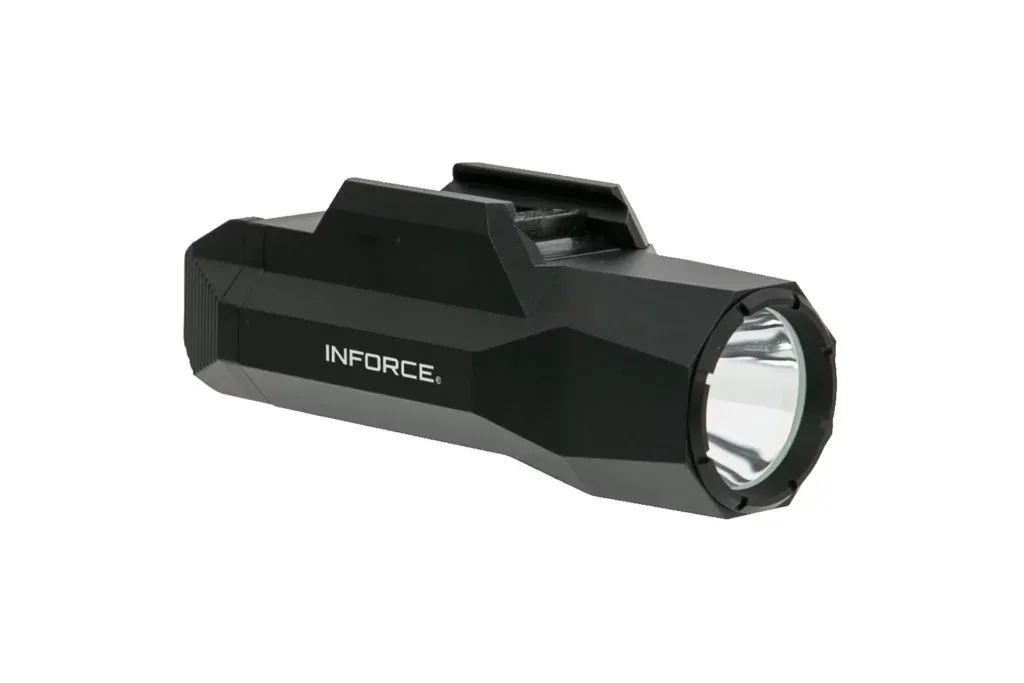 Just like the TLR1-HL, the WILD2 provides 1,000 lumens for up to one and a half hours. It also has ambidextrous paddles and constant/momentary/strobe functions.
INFORCE constructed it with 6061-T6 aluminum and made it waterproof down to 66 feet. I've used the WILD2 and its smaller sibling (WILD1) on many occasions with no complaints. They both have been put through the wringer and keep on trucking.
Alternatives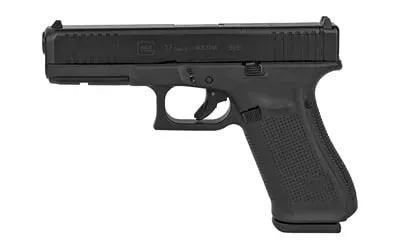 There is little to no introduction needed with the Glock 17. It's one of the most popular 9mm pistols on the market, and for good reason.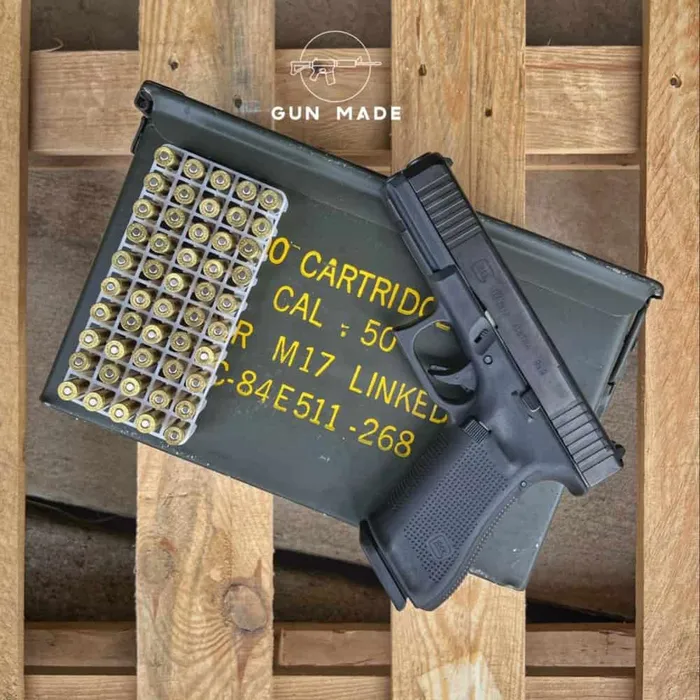 It boasts a 17+1 capacity, has an optics-ready slide, and offers more aftermarket support than almost any other gun out there. The newer Gen5 models now have front slide serrations, an improved trigger, and no longer have the dreaded finger grooves on the grip.
It will cost you a few more bucks than the TS9, but you're getting that Glock reliability and way more aftermarket support.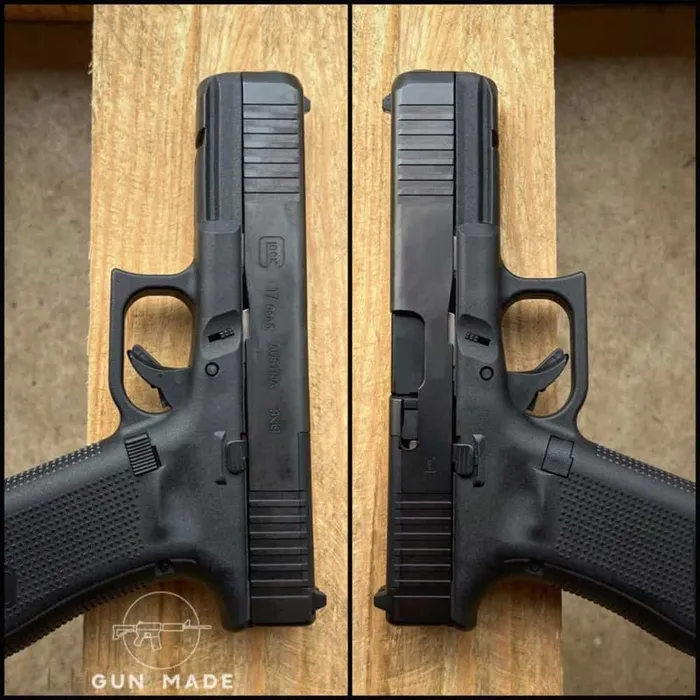 See our Glock 17 Gen5 MOS review if you want to read more.
The M&P9 M2.0 has earned one of my personal top spots after many hours and rounds spent with it.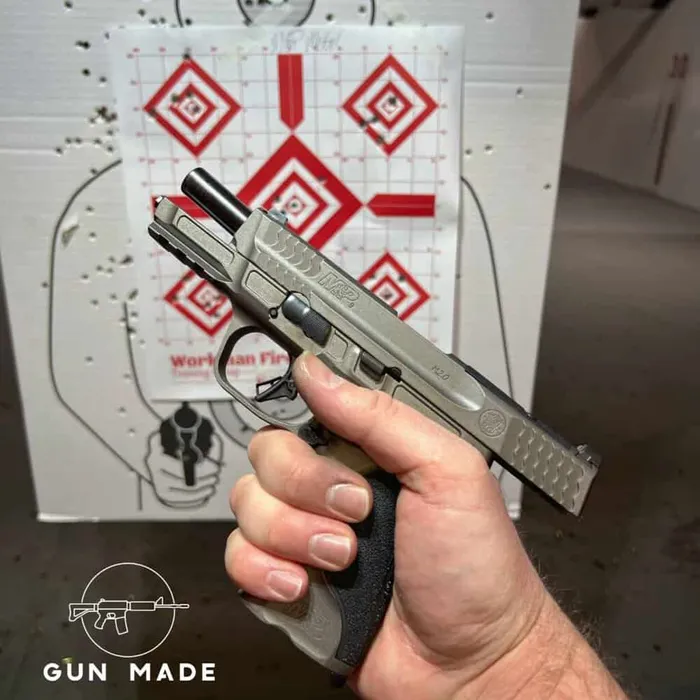 An optics-ready slide, flat-face trigger, and an ergonomic 18-degree grip angle for a more natural point of aim. It comes with four interchangeable grip inserts and features a Pictainny-style rail, giving you plenty of options to customize it to your fit and preferences.
If you're looking for a higher capacity (17+1), feature-filled, and affordable 9mm, this is one worth checking out.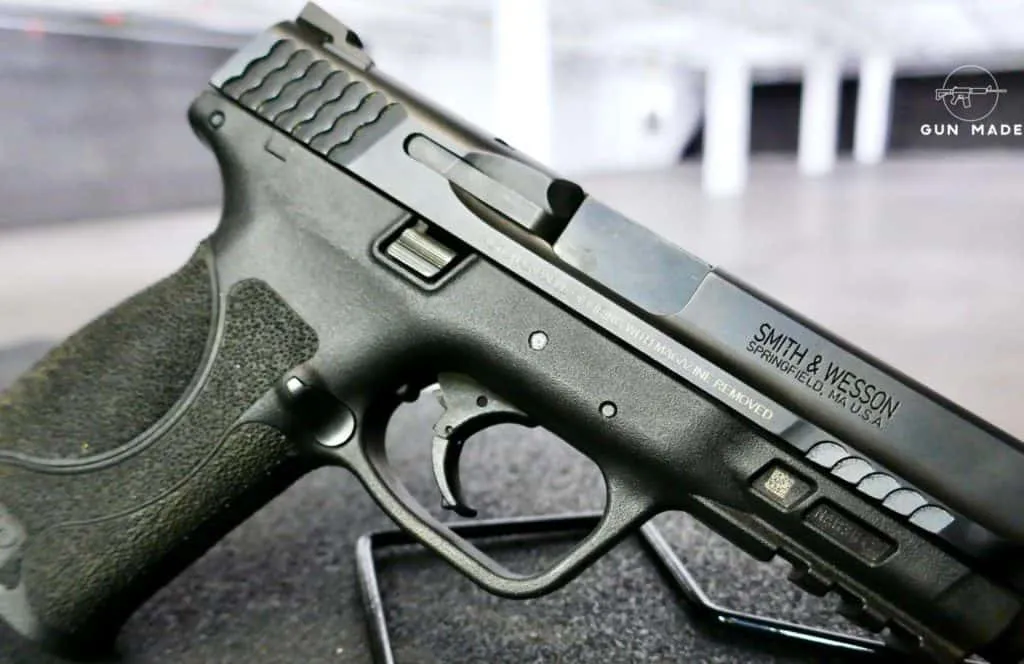 Check out the following M&P9 reviews to get more info on the M&P line –
Conclusion
When looking at a full-size 9mm that is both duty and battle-proven, it's hard to believe it would come in under the $500 mark. While there may not be a ton of aftermarket support for the Taurus TS9, I think it would make a great range gun or home defense gun (pending more rounds through it to verify reliability further).
If you're in the market for an affordable and reliable 9mm pistol, I think it's worth giving the TS9 a chance.
As always…be safe, train hard, and have fun.
Explore more