5 Best .308 Rifles [2023]: Hunting, Shooting, Survival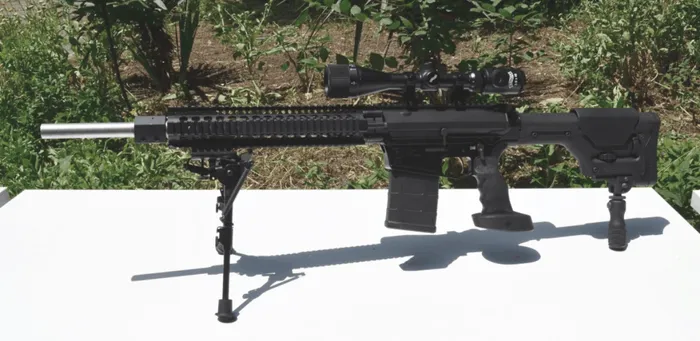 5 Best .308 Rifles [2023]: Hunting, Shooting, Survival
Cover Photo Credit – State Military Scientific-Technical Center "Delta" / CC BY
A .308 rifle is one of the most versatile long-distance rifles on the market. It's known for having a friendly recoil and serious stopping power. Whether you need one for hunting, sport, or law enforcement training, here are some things you need to know about how to find your best .308 rifle.
Choosing the Best .308 Rifle
I've already mentioned the versatility of the .308 rifle. This comes from the broad range of uses that a .308 round has. So obviously, it's hard to figure out which exact rifle may be the best in one specific context.
That said, I can give you a tip. If you just look at bolt action rifles and semi-automatic rifles, you can pretty much cover any shooting scenario between those two. Now, let's discuss some information on specific build and design features that you should know.
.308 Rifle Chamber
For beginning gun enthusiasts there may be some confusion regarding the .308. The designation leads some people to believe that all rifles chambered for this round will only shoot this round.
I thought so too at first. But as it turns out, .308 chambered rifles can also shoot 7.62 NATO as well as .308 rounds. So, if you're eyeing a .308 rifle, you can practice and hone your skills using two rounds, depending on where you are and what you're trying to do. Cool, right?
Barrel Length
Not all .308 rifles come in the same size. You need to look at the barrel length closely before you decide which model is best for you. For example, I find that a 22" barrel length is great for maintaining accuracy in long-distance shots.
But, I wasn't always comfortable with the idea of needing a 22" barrel since it adds more weight. Makes sense, right? Well, as it turns out, I've learned that the barrel length doesn't always imply that the rifle will be heavier. There are plenty of 16" and 20" rifles that are considerably heavier than a 22".
Get the Designation Right
The .308 is a popular round, but so is the 7.62 NATO. How can you be sure that the rifle you're planning to buy will shoot .308s without issues? Aside from me pointing out a few solid choices, that is.
Make sure that the rifle is marked or chambered for a .308. This guarantees that the chamber will support the high pressure created by a .308 casing.
Bolt Action vs. Semi-Automatic
Are bolt action rifles truly more accurate than semi-automatic rifles? It's hard to say. So much matters in terms of build quality, accessories, and of course the shooter's skill.
What I've learned is this – Bolt action rifles always have better recoil as there's a single stage, as opposed to three stages of recoil that you get from shooting a semi-automatic.
I'll say that bolt action rifles, in my experience, and based on what my more experienced friends have said, are better equipped for long-distance shooting. Part of it has to do with being more energy efficient with the gas release.
Therefore, I would recommend a bolt action .308 for hunting game and a semi-automatic for shooting ranges and target practice. Of course, whenever you need to shoot multiple targets in a short amount of time, having to deal with a potential failing firing pin and more time wasted between shots isn't going to be fun.
Consider the Reliability
You always want a reliable firearm that won't fail in the heat of battle or from bad weather conditions you may be practicing or hunting in. Choosing the best .308 if you're going to battle is extremely important when looking at these rifles. 
So, if you must choose between bolt action and semi-automatics for the .308, which is the top .308 rifle in terms of reliability, there's a very clear answer here – it's the bolt action rifle.
This type of rifle has a design with very few moving components. This design makes it simplistic but also more reliable as it has fewer components that can breakdown, work poorly, and affect the precision, distance, or cause the rifle to misfire.
Other Sweet Perks
Build quality and design aside, the devil is in the detail. One of the things I like most on any rifle is an adjustable trigger weight. I feel like that's something that really helps me be the best shooter I can be.
A good muzzle brake can be essential for a semi-automatic if you want good recoil control. Furthermore, the stock on a .308 semi-automatic is also important. Especially since semi-automatics have considerably more recoil.
Are you considering a bolt action rifle for long range shooting? Here's one more thing you might want to be wary of – Make sure that the bolt throw has a good angle so that it doesn't come back at you or mess with your optics.
Best .308 Rifles
All in all, there are many things that differentiate .308 rifles from one another. My hope is that these following reviews will shine more light on why some models are simply better than others, and why some shooters prefer specific barrel lengths, optics, and designs over others.

The Tikka T3x is an outstanding bolt action rifle that puts .308 rounds to good use. Its barrel can go up to 24", making it ideal for hunting game from long-range.
It's one of the lighter .308 rifles, weighing in at just 6.5 lbs. without a scope attached. This is frankly one of my favorite things about this build. The lighter weight makes the rifle more portable and allows the hunter to stay on the trail for longer periods of time.
What's even better is the superior balance, which is hard to come by in an ultralight rifle. Personally, I haven't been a fan of very smooth stocks, but the synthetic stock on this rifle is just too comfortable.
I'll also add that the recoil pad should further help tame the kick when shooting .308 caliber rounds. While the Tikka T3x is only mildly customizable, it's still a well-put-together rifle with smooth bolt action and a very comfortable feel. I couldn't recommend it enough for this caliber and for most hunting contexts, especially for beginners who need that extra bit of help when handling a long-range rifle.
For more info on the T3x, check out our Tikka T3x Lite review.
Pros
Almost no overtravel on the trigger
Foam-filled synthetic stock
Lightweight build
Asymmetrical pistol grip for added comfort
Multiple scope mounting options
Cons
Only a three-round capacity magazine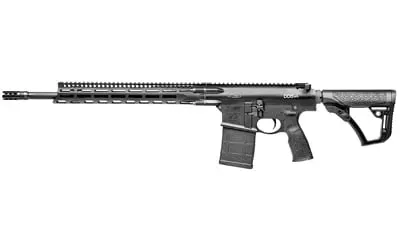 The Daniel Defense DD5v4 is essentially an AR-10 rifle chambered for the .308 round. What sets this model apart from others is pure engineering.
The four-bolt connection system makes the rifle very robust and similar to a single piece, especially on the upper portion of the rifle. It's one of the things you need to handle a larger caliber as the .308.
I also find this model particularly intriguing because it's ambidextrous. At least as far as the safety, bolt catch, and mag release are concerned. This makes it very different from a standard AR-15 configuration, for example.
The two-stage 2.5lbs Geissele trigger offers smooth action and in my opinion, more reliability than anything else, in terms of triggers. Granted, this semi-auto can be somewhat heavy. It stands at 8 lbs without optics and magazine.
But is it difficult to handle? No. It's easy to shoot with and does a great job at even 500 yards with decent optics. Another thing that I find useful in the design is the beveled magazine. In case you don't know, this feature will help you reload faster.
Pros
Flared and beveled magazine
Good range
Robust upper portion
Geissele SSA trigger
Enhanced bolt extractor

When talking to some of my veteran hunter friends, I was surprised to learn that the most expensive rifle doesn't always make the best rifle. Case in point, the Browning X-Bolt Hell's Canyon chambered for the .308.
It's arguably the best .308 rifle if you're budget-minded. It's easy to use because of its short action, it comes with a magazine capacity of four rounds, and has a polished chamber finish.
The rifle is comfortable and lightweight at 6.5 lbs, without optics of course. It has a barrel length of 22", my favorite for long-distance shooting with a .308, and an overall length of 42". I find this impressive as it's a relatively big .308 rifle yet allows me to be very mobile.
Because of the lighter weight, I even find it better to pair with a bigger, fancier scope as it helps to balance out the rifle. It's an affordable alternative for anyone just starting to take hunting more seriously. While it may not have the best stock in the business, I think that the recoil pad does a good job of relieving some of the sting.
Pros
Affordable .308 rifle
Recoil pad
Four round magazine
Adjustable trigger
Made for rugged weather conditions
Cons
May be susceptible to lateral manipulation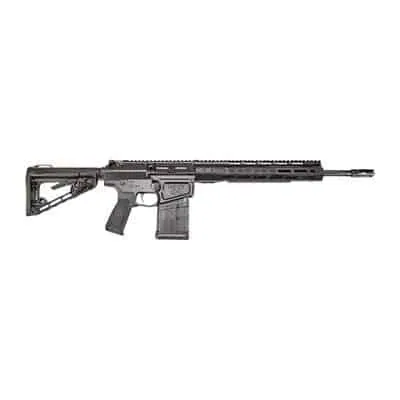 Another one of my personal favorites is the Wilson Combat AR-10 Ranger. This .308 chambered rifle comes in a standard black finish, a 20+1 round capacity, and a maximum length of 37.75".
I like its 14.7" barrel as it provides a decent amount of range while still being optimized for more rapid-fire shooting. The design is very interesting to me as it follows a classic AR rifle pattern yet with a Wilson Combat Ranger barrel that has extra tapering.
This helps reduce its weight dramatically and makes it more flexible. What's even more commendable is that the barrel maintains a match grade rating, which translates to sustained accuracy when shooting with a heated rifle.
Interesting enough, the .308 chambering is the only model in the lineup that comes with a barrel under 16". I used this gun on the range and wasn't surprised one bit by its accuracy, from the moment I got a feel for it. It's well built and adaptable, even though it may not be the top choice for target practice in muddy and rainy weather conditions.
Pros
Adjustable gas block
Threaded muzzle
M-LOK attachment points
Ergo Grip rail covers
Match grade lightweight barrel
Cons
The shoulder buttstock takes some getting used to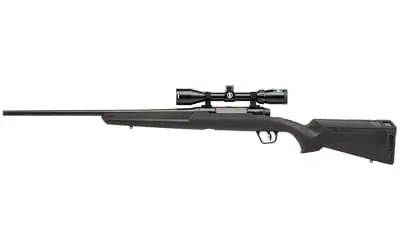 It's hard to find a cheap .308 Winchester chambered rifle that shoots well and feels right in your hands. Believe me. When it comes down to accuracy, feel, safety, and control, you usually have to spend quite a few bucks.
Imagine my surprise when I first handled the Axis II XP. This bolt action rifle, made for right-handed shooters, is light, well-built, and one of the most accurate .308 rifles.
It has 4+1 rounds capacity, more than some of the better rifles on the market. It also weighs around 6.5 lbs. unloaded and without optics. Again, a very nice trait. But what really sets it apart?
Sheer value for money. Few rifles, even above this price range, will come with a 3-9x40mm scope attached. This is one of the few hunting weapons you can put to good use straight out of the box. Now is the scope the best for this rifle?
No. You could use an upgrade. But for someone in a hurry and low on funds, this is a great rifle to start hunting with. Definitely a great fit for any weekend warriors out there that aren't interested in long-term planning.
Pros
Factory mounted scope
Robust synthetic stock
Two-position tang safety makes it more beginner-friendly
Very affordable
Adjustable AccuTrigger
Cons
Has a more noticeable recoil due to being a cheaper build
Conclusion 
Even if you're moderately informed on rifles and different types of ammunition in general, it shouldn't be hard to see why the Tikka T3x is arguably the best .308 rifle for the money. If you want to get the most range out of this caliber, you'll want a smooth bolt action weapon like the Tikka T3x.
Its lightweight build, asymmetrical multi-grip pattern, long-range capabilities, and almost non-existent recoil (thanks to its foam-filled stock), make it a force to be reckoned with out in the wild. But you don't have to take my word for it, when you can just take it for a spin yourself.
Explore more