7 Best Micro Compact 9mm Pistols In 2023: Photos + Reviews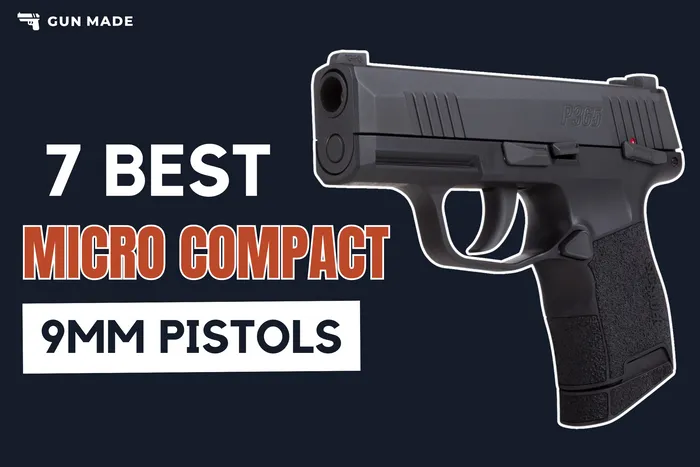 7 Best Micro Compact 9mm Pistols In 2023: Photos + Reviews
Introduction
Finding the best micro compact (micro) 9mm hasn't always been this simple.
Not long ago, those who wanted to carry were given two options: a gun that was not so easy to conceal but had a great magazine capacity and one that was easy to conceal but only a several-round capacity.
That's not the case anymore. Who said you couldn't have your cake and eat it, too?
And you even have a variety to choose from. I've gathered the ones that I think you should look at if you're wondering which micro 9mm is the best for you.
I've had the pleasure of shooting some of these pistols, while others have been picked from the advice of other shooters I work with and backed with hours of research.
So, if you're looking for the best micro 9mms, here you go.
Best Micro Compact 9mm & Recommendations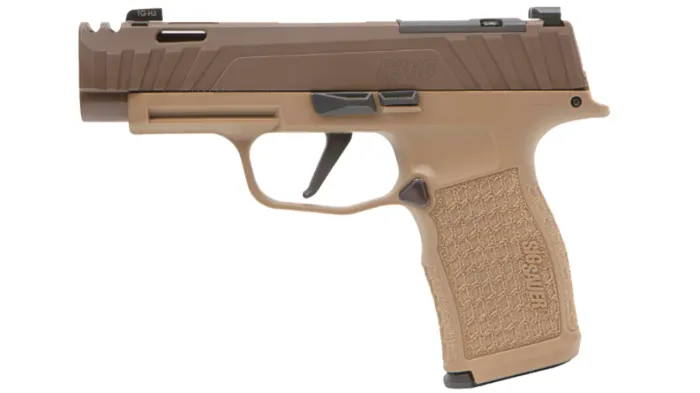 Specifications
| | |
| --- | --- |
| Caliber | 9mm |
| Capacity | 10+1 Rounds |
| Weight | 1.1 Pounds |
| Barrel Length | 3.1 Inches |
| Height | 4.3 Inches |
| Overall Length | 5.8 Inches |
Pros & Cons
Pros
High magazine capacity for its size

Great aftermarket support 

One of the better triggers for small pistols
Cons
PVD coating on the slide wears quickly

It is still somewhat snappy due to the short barrel

Finish on the magazine wears quickly

Prone to rusting
Sig Sauer came out with the P365 in 2017, and it quickly became one of the best-selling carry guns on the market.
The P365 has quite a few things going for it. First, it has a rail for lights, which you don't always see on micro compacts, and an optic cut slide from the factory.
Surprisingly, it also has a great trigger. It's not too mushy and unsure like most Sig triggers, which is excellent for dry firing purposes.
Another reason I recommend the P365 is the extensive aftermarket support. It almost rivals that of the Glock. When you inevitably decide to customize your carry gun, the P365 will have plenty of options for you to choose from.
However, I could never understand why since the thing snaps harder than the old lady when you call her by the wrong name, and it has one of the worst PVD coatings on the market.
Here's a full review of the Sig Sauer P365.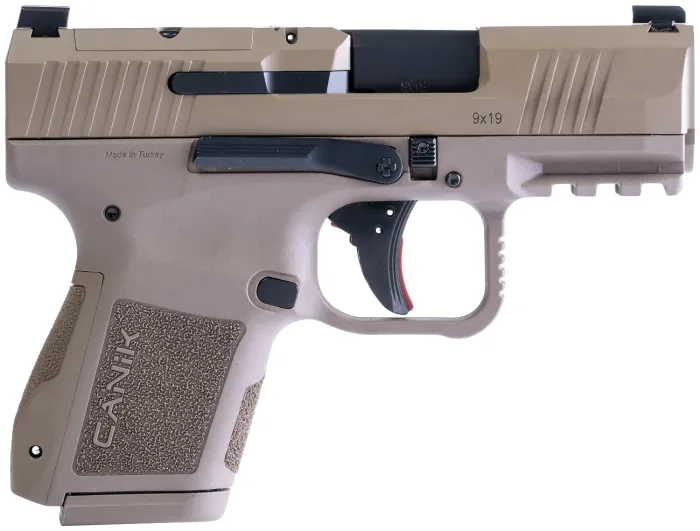 Specifications
| | |
| --- | --- |
| Caliber | 9mm |
| Capacity | 12+1, 15+1 Rounds |
| Weight | 1.3 Pounds |
| Barrel Length | 3.18 Inches |
| Height | 4.52 Inches |
| Overall Length | 6.1 Inches |
Pros & Cons
Pros
Great magazine capacity (comes with a 12 and 15-round magazine)

Fits well in larger hands

Has an optic cut and rail for lights

Easy to find under retail price

Has one of the best triggers I've seen on a pistol this size

Surprisingly accurate
Cons
Snappy due to shorter barrel (still easy to control) 

Sticky mags (don't drop down all the way) 

The backstrap on the grip doesn't cover large hands
The Canik Mete MC9 is perhaps another runner for the best micro-compact 9mm on the market. Yes, I said it. Not the Glock, the Smith & Wesson, or any other big-name brand that guys in lifted Ford gassers have stickers of on their back window. No. The Canik.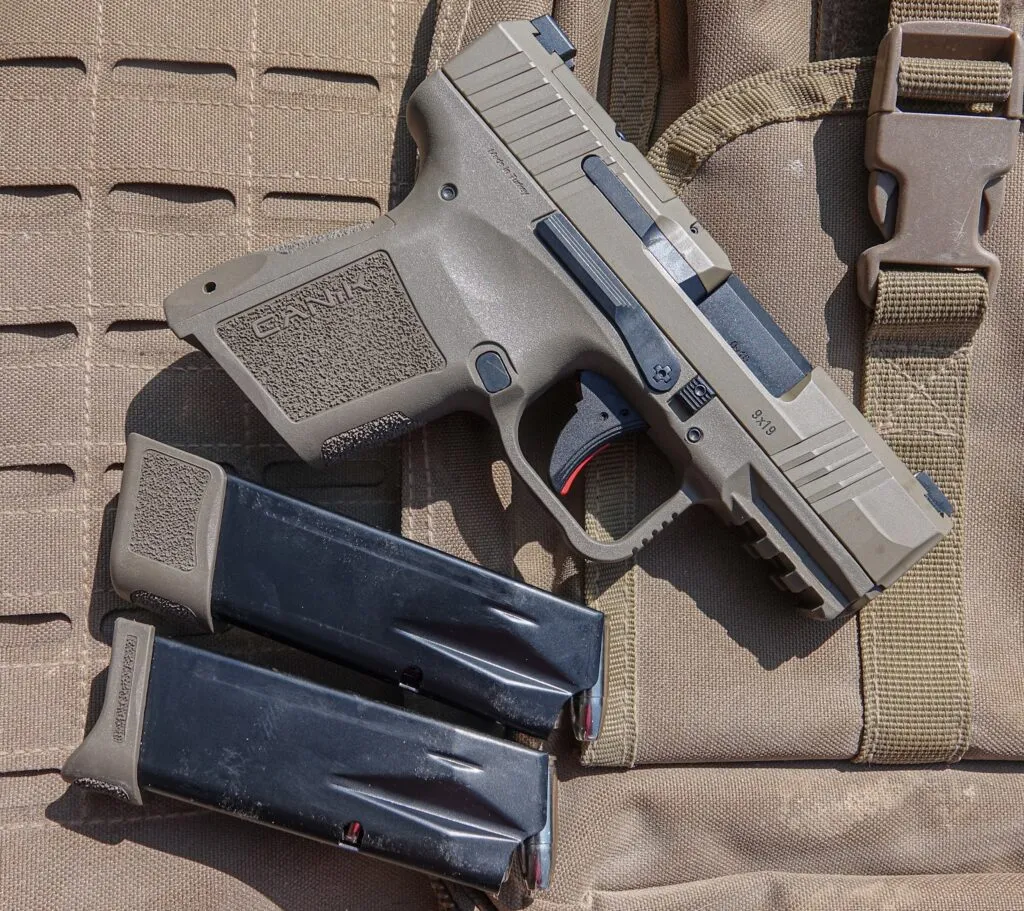 For the price, you can't find almost anything to complain about. In fact, the opposite occurs once you pull that glorious trigger. The wall is very defined, with a crisp break and a short reset.
That is beneficial when using it as a carry gun so you know when the trigger will send that round down the barrel. It may not seem like a big deal, but some triggers confuse you.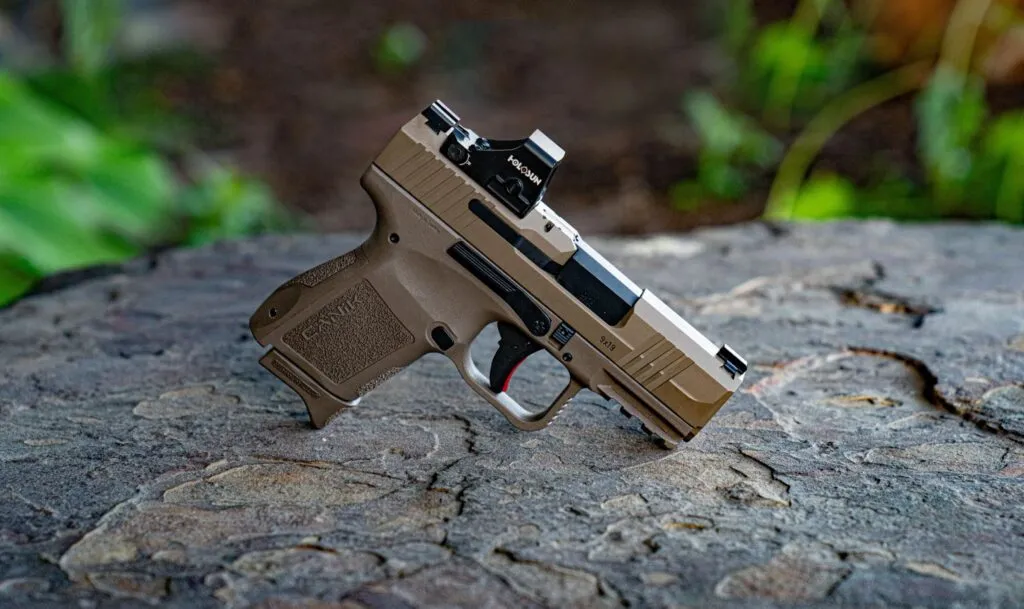 The gun comes with a 12 and 15-round magazine, which rivals the IWI Masada Slim and the Springfield Hellcat. The 12-rounder also has an extension, so your pinky isn't hanging on the edge.
One issue that those of us with big hands may face is that the back of the grip needs to be longer. It's not the biggest deal, but it can cause some pain when shooting—just a heads up.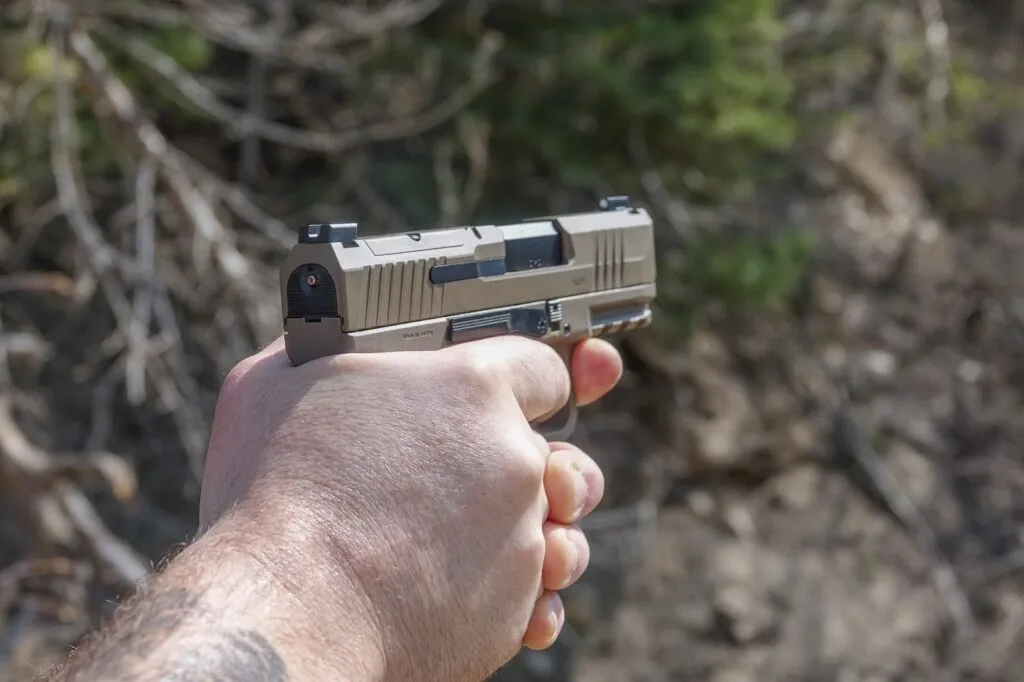 It also comes with a holster, which is not that bad.
During our testing, the MC9 ran flawlessly with a variety of ammunition. The ergonomics are excellent, with interchangeable backstraps to fit different hand sizes. My only gripe is that the grip could afford to be slightly longer for those with bigger hands.
For the price, the Canik MC9 is hard to beat. The included accessories, like an IWB holster and cleaning kit, add even more value. Though not perfect, the MC9 punches far above its weight class and deserves consideration alongside pistols costing hundreds
Here's our review of the Canik METE MC9.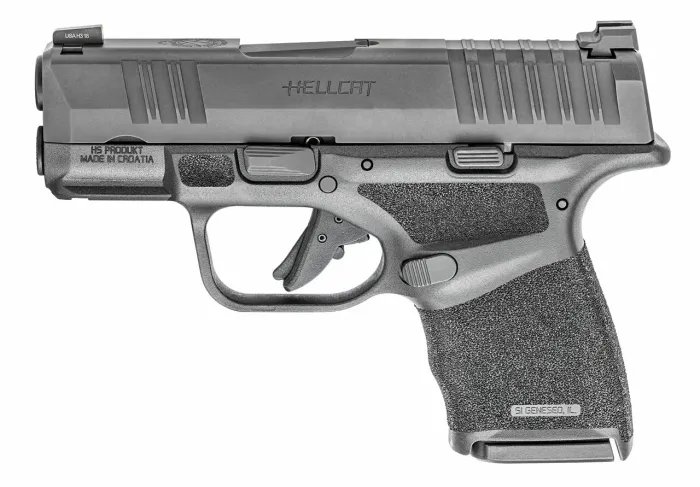 Specifications
| | |
| --- | --- |
| Caliber | 9mm |
| Capacity | 11+1, 13+1 Rounds   |
| Weight | 1.1 Pounds |
| Barrel Length | 3 Inches |
| Height (w/ Extended Magazine) | 4.5 Inches |
| Overall Length | 6 Inches |
Pros & Cons
Pros
13+1 magazine capacity with an extended magazine

It has a rail for lights

Deep slide serrations for easy racking

Optic cut slide 

Nice tritium sights
Cons
I couldn't hit the broad side of a barn with this thing (but that doesn't mean that you couldn't)

Hard to get back on target

Snappy
The Springfield Hellcat made me never want to touch a micro firearm again. It was the first micro compact I ever shot, and after putting five magazines through the thing, my groupings were extremely spread out.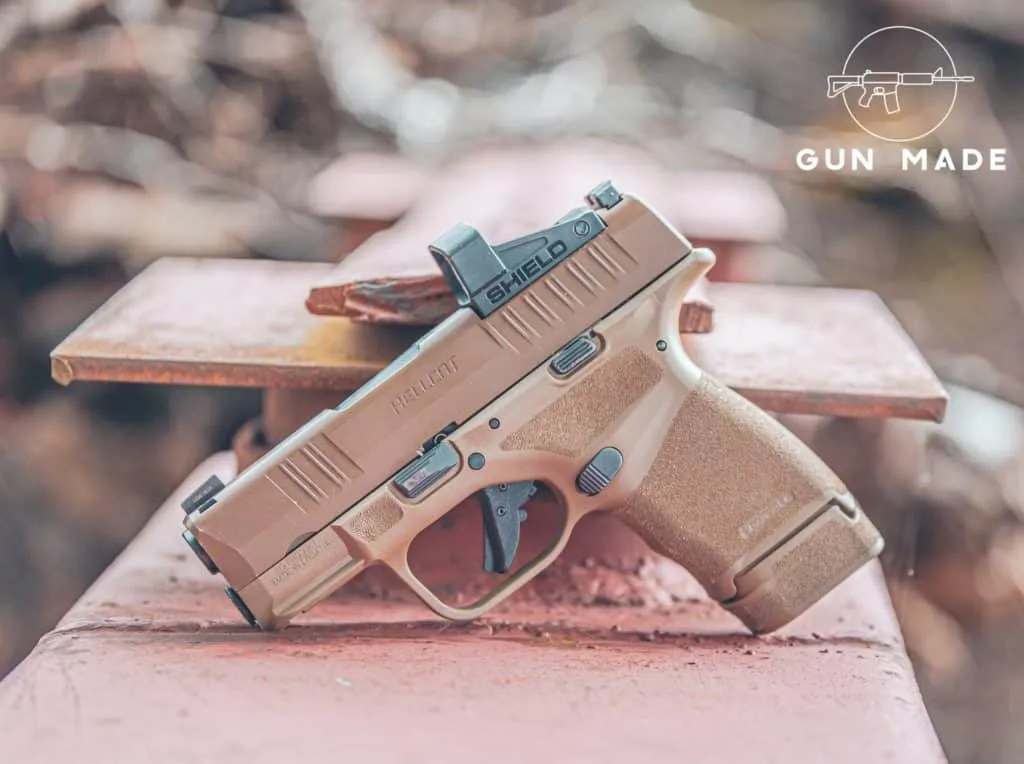 Of course, it wasn't the firearm but my error. I wasn't used to such a small pistol, and my pinky hanging off the tail end didn't give me the comfort I usually got from a larger handgun.
I shot it again at the range and had better results than the first time. Fortunately, the extended 13-round magazine gave me more gun to hold onto. I liked the Hellcat more after that.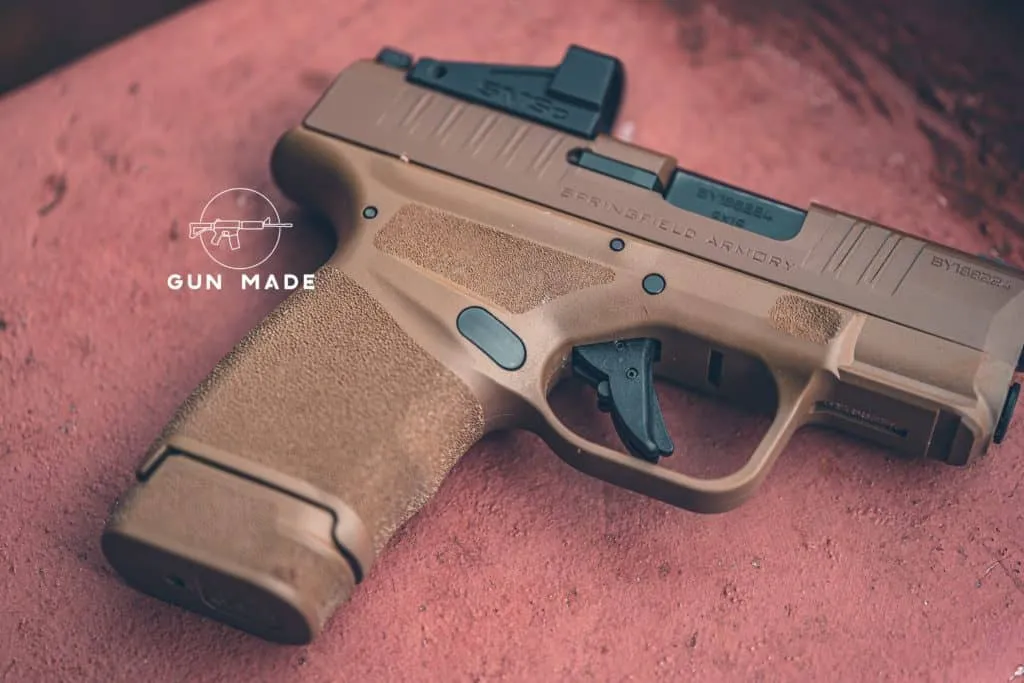 It does have a rail for a light, which I recommend every shooter have on their carry gun. Optic cut variations are available, but the stock sights aren't half bad. It has a Glock-like bore axis and dual recoil spring that does help with the felt recoil, but it's still a snappy little thing.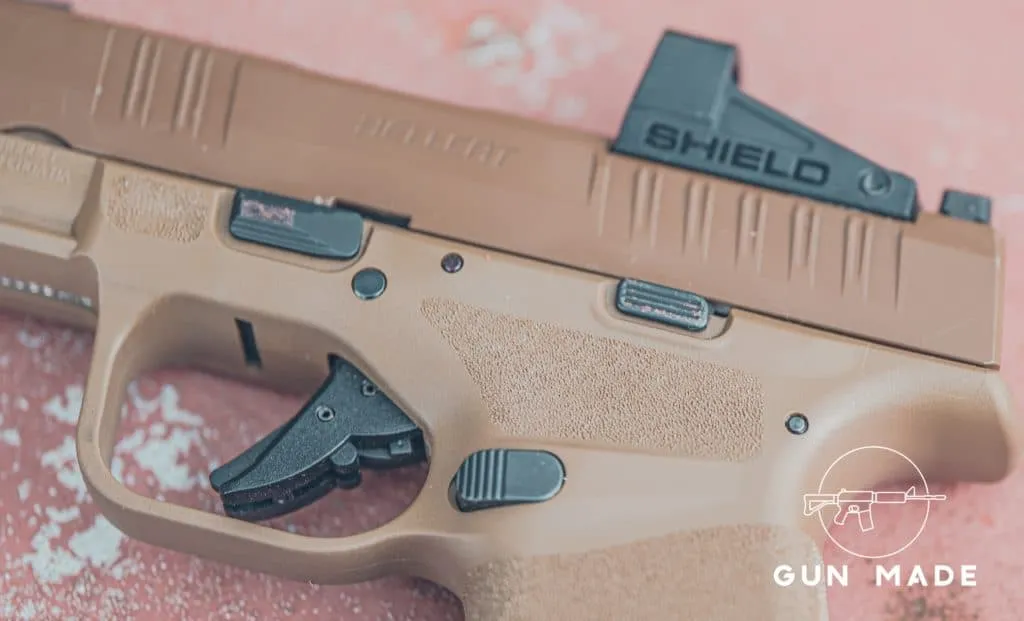 It does, however, have best-in-class magazine capacity. So, if you're looking for a high-cap micro compact, you'll find the Hellcat to be all you need.
Despite its size, the Hellcat was reliable and accurate enough within defensive pistol ranges during our testing. The long but smooth trigger pull took some adjustment coming from striker-fired guns. Overall, the Springfield Hellcat excels at providing maximum capacity in a highly concealable package.
Here's our full review of the Springfield Hellcat if you want to learn more.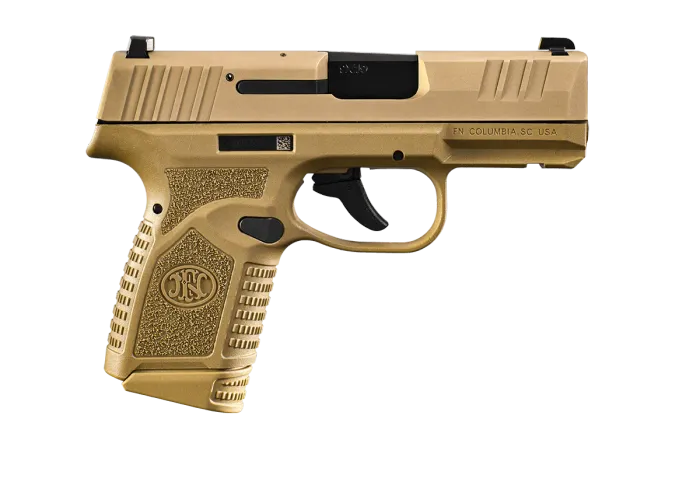 Specifications
| | |
| --- | --- |
| Caliber | 9mm |
| Capacity | 11+1, 15+1 Rounds |
| Weight | 1.1 Pounds |
| Barrel Length | 3.3 Inches |
| Height | 4.27 Inches |
| Overall Length | 6.2 Inches |
Pros & Cons
Pros
Slide coating doesn't show wear after hard use

Polished feed ramp for reliable chambering with crowned barrel

Trigger feels amazing

Easy rack slide and easy load magazine

Rail for lights
Cons
Slightly snappy

No external safety models (yet)
FN decided to enter the micro compact space and couldn't have done a better job of putting all it's known for in one small package. It's the SCAR of the micro 9mm world.
It's dedicated to its purpose.
Of course, FN is one of the best purveyors of barrels, and the target-crowned barrel features a polished feed ramp that ensures feed reliability. Imagine your carry gun jams when it comes time to perform? That is bad every way you think of it.
The slide feels like DLC (Diamond-Like Carbon) and is easy to rack. For those of you who don't like carrying one in the chamber, or if you have a weaker grip, you will find it easier to manipulate over other micro compacts on the market.
My favorite feature of the FN Reflex is the extended magazine. The extended magazine on the reflex acts like an extension of the grip itself, giving you more gun to get your hands on. You can turn the micro-compact Reflex into a sub-compact by changing the magazine. As someone with larger hands, I appreciate that.
I suspect more companies will start making parts and tailored accessories for it, so the Reflex may soon become a favorite.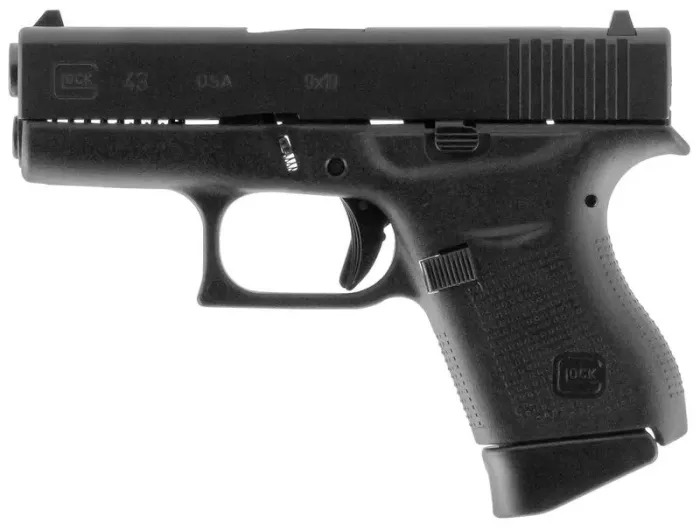 Specifications
| | |
| --- | --- |
| Caliber | 9mm |
| Capacity | 6+1 Rounds |
| Weight (w/out Magazine) | 1 Pound |
| Barrel Length | 3.41 Inches |
| Height | 4.25 Inches |
| Overall Length | 6.26 Inches |
Pros & Cons
Pros
Huge aftermarket support

Low bore axis 

You can count on Glock's reliability
Cons
There is no rail for a light

No optics cut offered from the factory

Snappy due to shorter barrel 
Well, it wouldn't be a list of pistols without at least one Glock entry. When you're talking about one of the most aftermarket-supported firearms in the industry, with one of the most reliable designs ever built, it would be incomplete without one.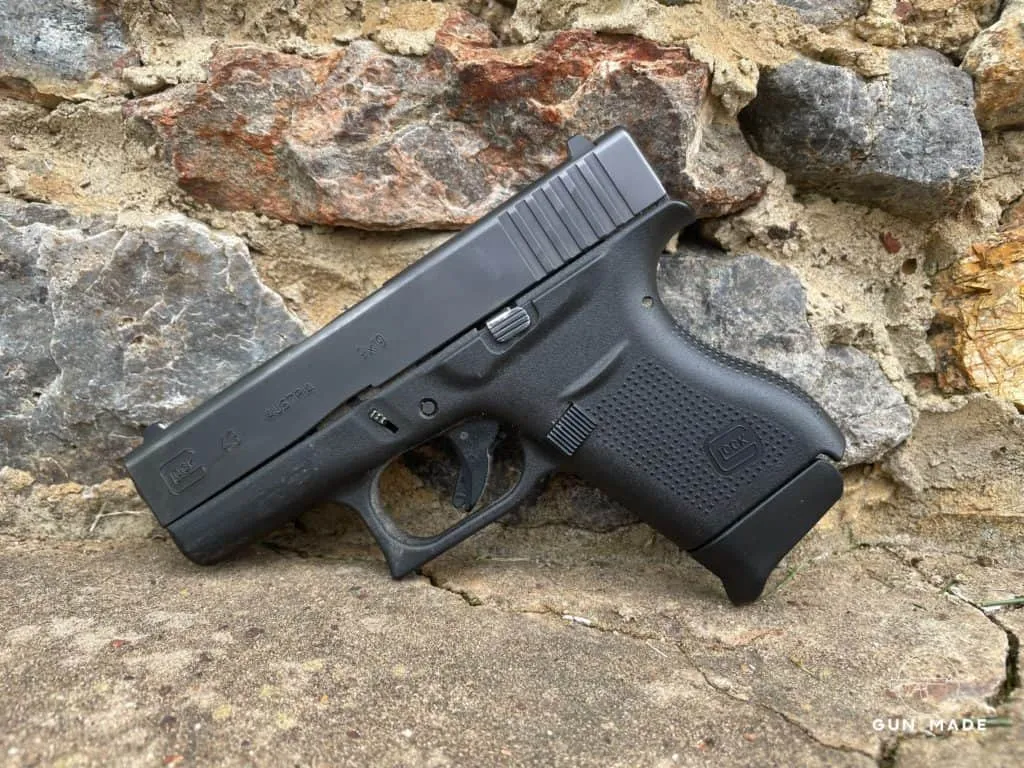 I originally wanted to put the Glock 43X but found it wasn't technically "micro compact," so I went with the Glock 43. While it doesn't have an impressive magazine capacity like the other guns on this list, finding a company that makes magazine extensions doesn't take too much effort.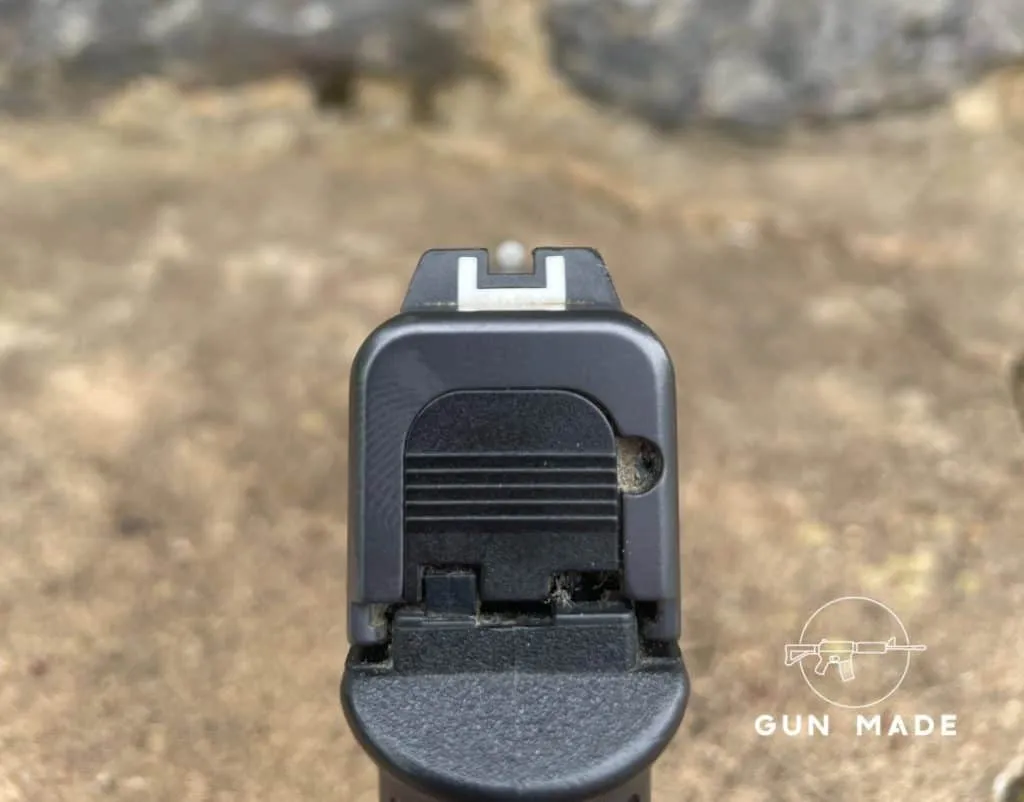 Optic cut slides are also effortless to find.
From the factory, it is made for deep concealed carry. You couldn't print with this thing if you tried. It's perfect for carrying on those hotter months. Hey, it's better to have a gun than not have a gun at all, right?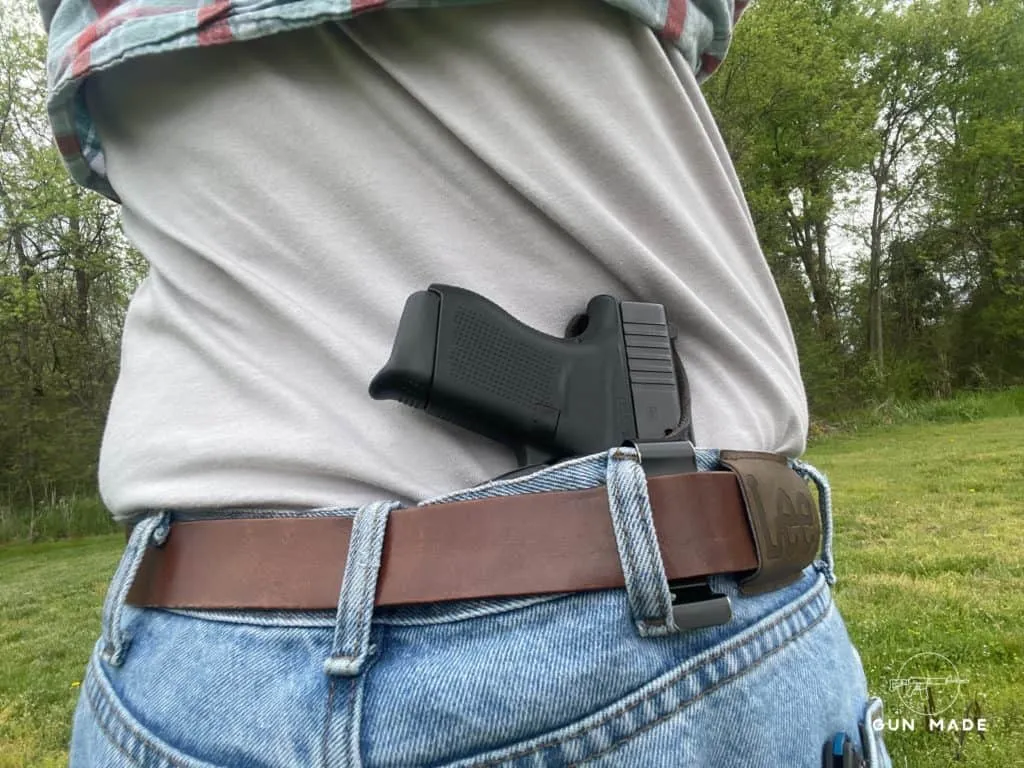 Check out our Glock 43 review for additional information.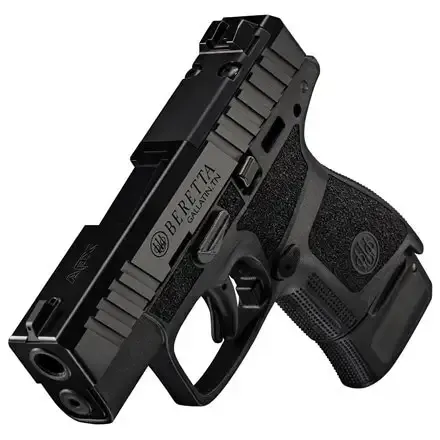 Specifications
| | |
| --- | --- |
| Caliber | 9mm |
| Capacity | 8+1 Rounds |
| Weight | 1.2 Pounds |
| Barrel Length | 3 Inches |
| Height | 4.17 Inches |
| Overall Length | 5.63 Inches |
Pros & Cons
Pros
Beretta will send an optics plate of choice when you register

Highly accurate 

Aggressive grip texture 

Modular chassis can be put into different frames

Optic cut slide
Cons
Low magazine capacity

Barely any aftermarket support

There is no rail for a light 

Snappy
Fun Fact: Did you know Beretta is the oldest gun company in the world? It was founded in 1526 (that's 497 years ago), and it's still privately owned.
Ain't that something?
Beretta is known for making some of the best competition shotguns and the 92FS pistol we all loved from Ghost Recon. You know what I'm talking about.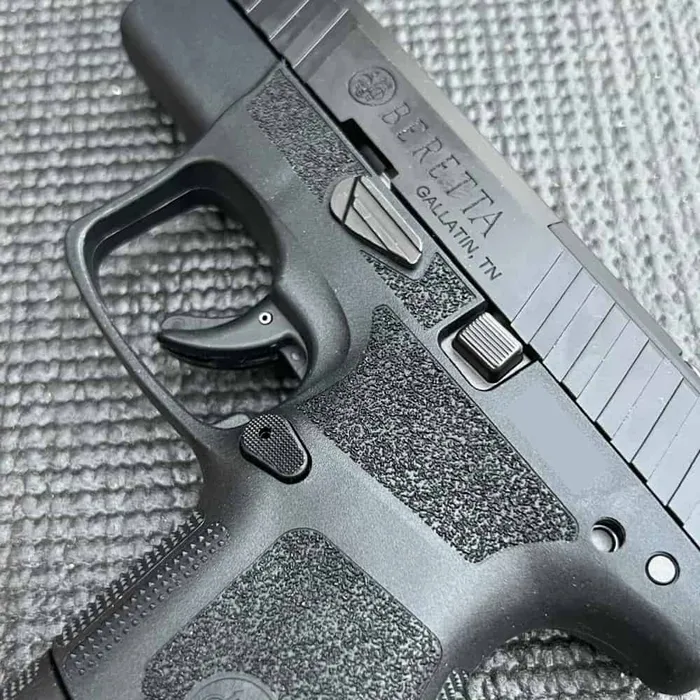 The Beretta APX was one of the firearms put forward to win the Army's MHS trials in 2017. When it didn't win, Beretta decided to roll out a bunch of variants. One of them being the APX A1 Carry.
The Beretta APX A1 Carry is one of three micro-compact variations of the APX, with the other two being offered with OD Green or Flat Dark Earth frames. Since the APX A1 Carry has a modular chassis, you can change the frames whenever you want.
A significant downside is the lack of aftermarket support, though.
But it comes with a great trigger, an optic cut slide, a decent capacity magazine, and it's pretty accurate considering that it only has a three-inch barrel. The beauty of the APX A1 Carry is the low price. What a time to be alive.
Here's our full review of the Beretta APX A1 Carry.
Having shot mostly striker-fired polymer guns, we were eager to try out something new with the APX A1 Carry. Right away we noticed the smooth DA/SA trigger, which was a nice change of pace from the striker guns we're used to.
While testing at the range, we found the APX to be pleasant and controllable to shoot despite its small size. The three-inch barrel isn't known for great accuracy, but we were able to keep tight groups within typical self-defense distances. The aggressive grip texturing helped maintain a solid hold through fast shooting strings.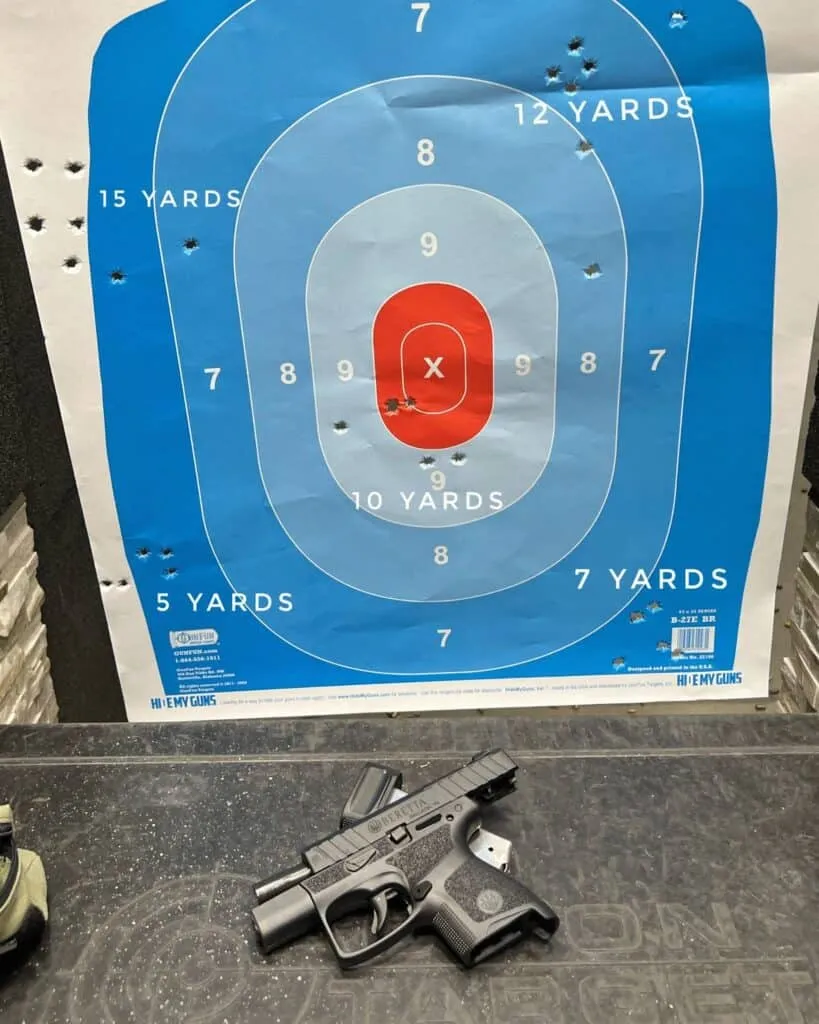 Our only complaint was the lack of ambidextrous controls, but the reversible mag release provides some flexibility. Overall, the APX A1 Carry proved to be an accurate and reliable concealed carry option with a refreshing trigger at a very affordable price point. The modular chassis also allows for easy customization down the road.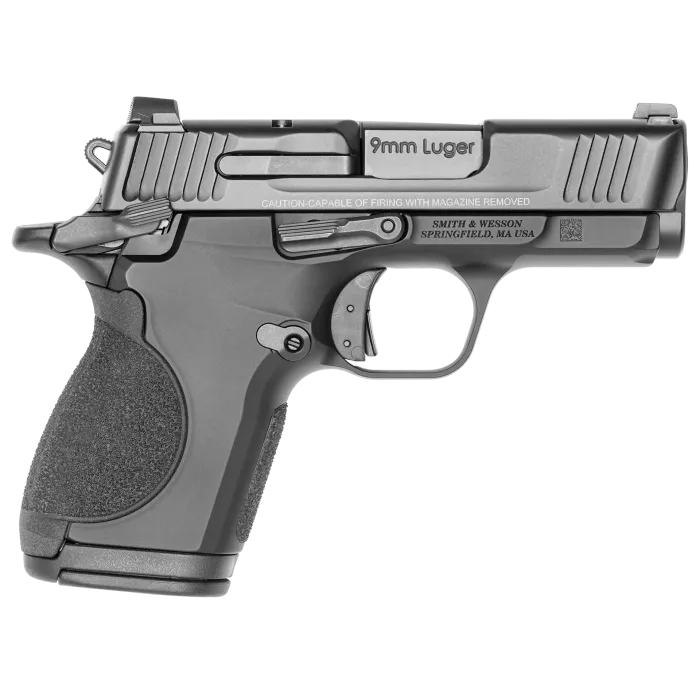 Specifications
| | |
| --- | --- |
| Caliber | 9mm |
| Capacity | 10+1, 12+1 Rounds |
| Weight | 1.2 Pounds |
| Barrel Length | 3.1 Inches |
| Height | 4.6 Inches |
| Overall Length | 6.1 Inches |
Pros & Cons
Pros
Has an ambidextrous slide release and safety 

Great magazine capacity 

Chamber window 

Ears on the slide for easy racking of the slide
Cons
Full magazines are hard to seat at first 

No optic cut or rail for a light

Snappy
The Smith and Wesson CSX is a surprising little gun. I did a review on it not too long ago, and having a disdain for micro compacts, I was dreading it. I'm not saying I'd want to carry it into a life-and-death situation; that's what full-size guns are for, but I wound up being impressed with the CSX.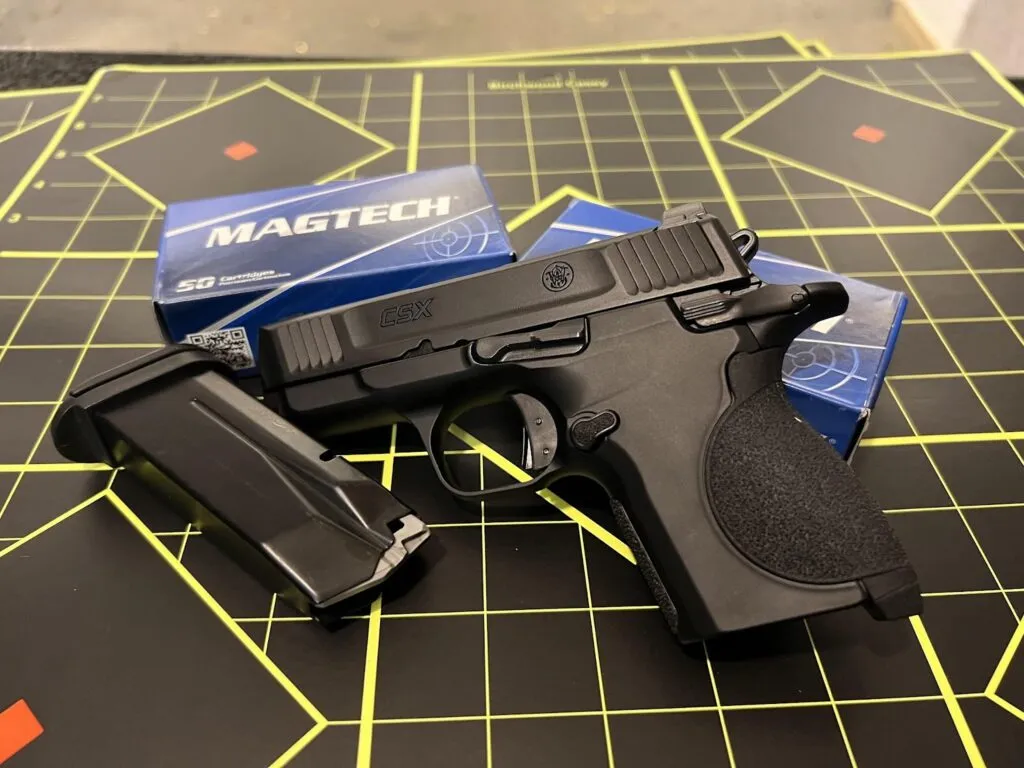 For how small it is, the 12+1 round magazine capacity is impressive. Even though I don't like how the sleeve moves on the magazine, it's not something that can't be fixed. And the whole package is easy to tuck away like it never existed.
I like it.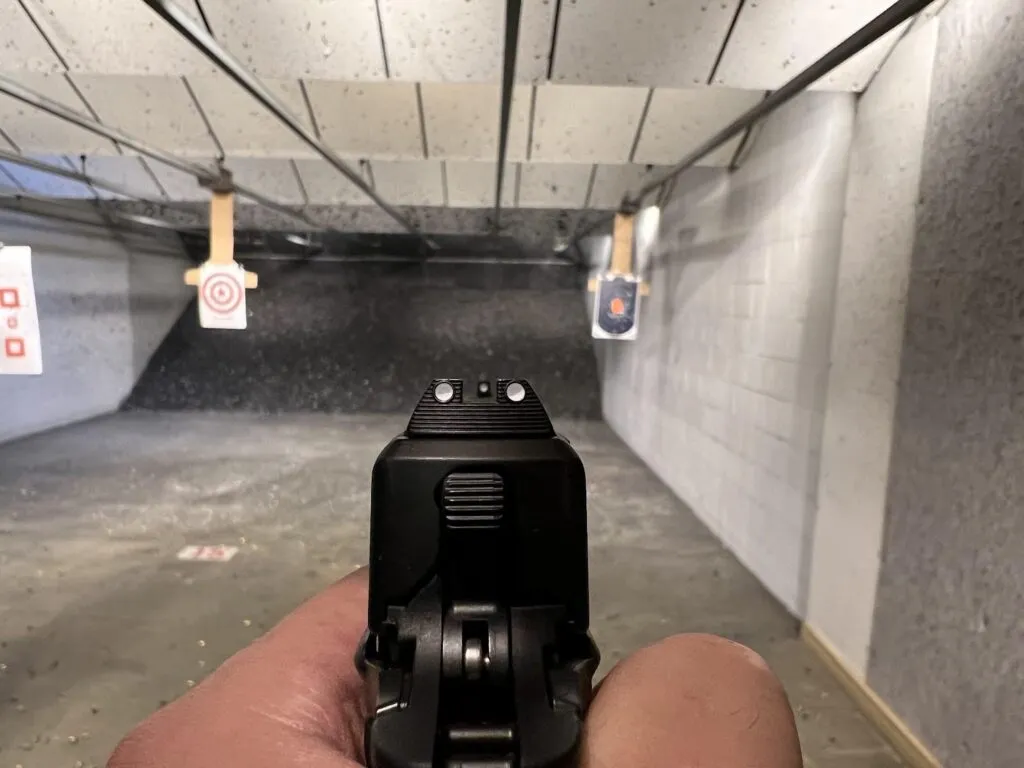 It's small, and my palm doesn't get all it needs, but it's still easy to grasp. Not so much with the 10-rounder, but the 12-rounder is up to the task.
It's easy to get on target too. Of course, I know it's more of a shooter thing than the gun itself, but I'd still rather have the CSX over a Hellcat.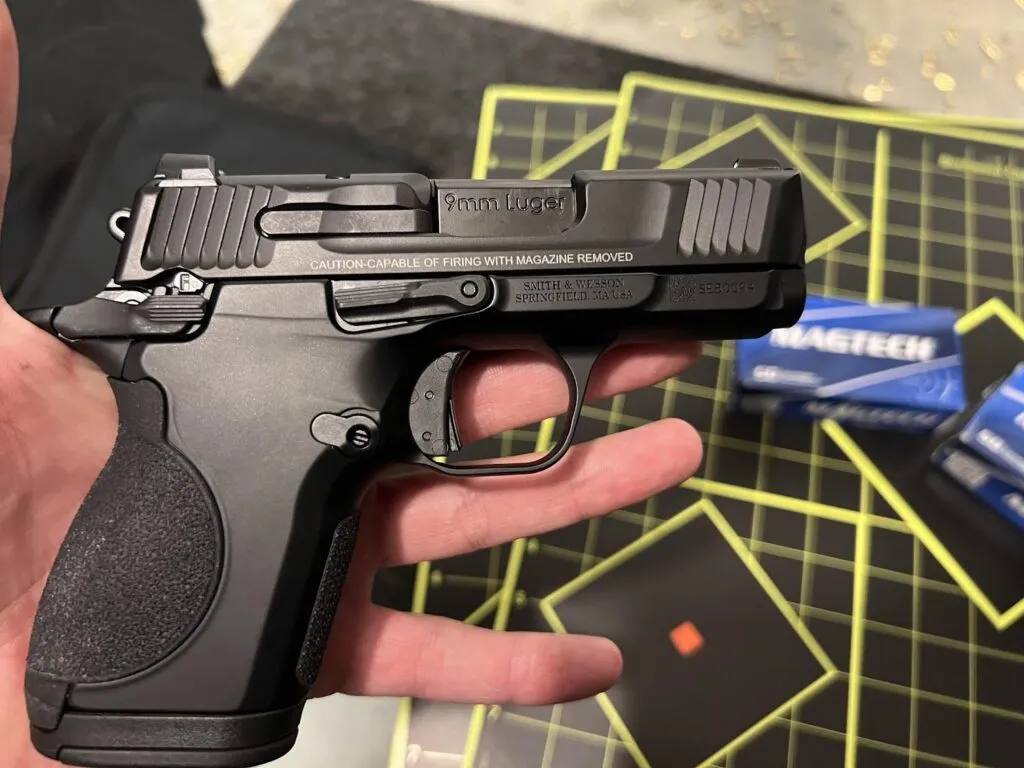 It doesn't have a rail for a light or an optic cut, which are both things I think Smith and Wesson need to change quickly, but S&W has something here.
Fix the sleeve, too.
Like many shooters, I was skeptical of the CSX at first. As someone who dislikes micro-compacts, I was dreading it. I'm not saying I'd want to carry it into a life-and-death situation; that's what full-size guns are for, but I wound up being impressed with the CSX.
For how small it is, the 12+1 round magazine capacity is impressive. Even though I don't like how the sleeve moves on the magazine, it's not something that can't be fixed. And the whole package is easy to tuck away like it never existed.
Overall, the CSX proved to be a capable and concealable micro-compact, despite my initial reservations. While some improvements could be made, Smith & Wesson is on the right track with this slim 9mm pistol.
Here's my review of the Smith and Wesson CSX.
How We Chose Our Top Picks
I have a lady with tiny hands who wasn't initially into firearms. Not only did I have to convince her that firearms are necessary, but I had to find one that would be comfortable enough for her hands.
It was a process that took months and many range visits. She didn't like the P365 because it was too snappy, and she didn't like the Hellcat for the same reason.
She eventually went with the P365X, but I got my hands on many of these firearms in the process. I also consulted with many shooting friends and scoured the wonderful internet, of course.
What To Look For When Buying A Micro Compact 9mm
Make Sure The Gun Fits
One of the mistakes I see shooters make is not choosing a pistol that fits in their hands correctly. It's often the exact issue I have when I shoot micro-compacts. Shorter-barreled firearms are already snappy. Not having enough gun to wrap your hands around adds another difficulty level.
While this list tells you which micro compacts are the best, it's ultimately up to you, the shooter, to get your hands on these firearms and see how you like them.
You shouldn't carry it if it doesn't fit in your hands.
Trying to ensure your firearm is adequately concealed shouldn't mean sacrificing your ability to shoot reliably, so make sure you find a pistol that fits you.
Conversely, make sure it's not so big that you can't seem to get your firearm not to print. It goes both ways.
Magazine Capacity
As you've seen, having a concealable pistol no longer means you are limited in the number of rounds in a magazine like you would have been in the past. Even pistols that set a standard for capacity, like the P365, are starting to fall behind.
The more rounds, the merrier. I'd rather have it and not need it than need it and not have it. That said, I'd recommend finding a magazine that allows you to have the most rounds available possible.
Many people will say that you don't need that many. But opinions are like A-holes…everyone has one.
That leads us to this next category.
Aftermarket Availability
If you're like most other shooters, you see a firearm as something to be improved upon. It's something you transform as you become a better shooter. Or as you see movies or other people's builds at the range.
Something that you can build on. It's a fun part of the process.
That's why I usually buy pistols with a ton of aftermarket support. Glock and Sig Sauer, being the most popular on the market, have a ton of support.
Some manufacturers even offer pistols with modifications, whether a performance trigger or a built-in compensator, for example.
And don't listen to when people say you shouldn't customize your carry gun. As long as it doesn't make the pistol less reliable or safe, you should be good.  
Attachments For Every Carry Gun
Listen. You know how bad things tend to happen at night? And how it tends to be dark outside at night? You need something to show you what you're aiming your gun at when you can't see.
Yes, I'm telling you that you need a light. This may seem odd to some, but I'd recommend a light extending past the barrel. It will help keep your slide in battery if and when you have to press it against a surface.
I've heard good things about the Streamlight TLR-7 Sub. But you can always look around and see what fits you. I've changed my light three times. You might have to test one or two before you find what works.
Just make sure the light is compatible with a good inside-the-waistband holster.
Why You Need An Optics Cut
I've recently gone to carrying without a red dot, so I am not saying you need a red dot to be accurate. Still, it does make life easier for the newer shooter.
And it's always better to have the option to mount a red dot.
A red dot on your carry gun will help you feel more confident when pulling the trigger. Especially if you train often (which I will talk about in a second), it'll also help you get back on target quicker.
Accuracy, confidence, and consistency are all we can hope (and train) for as concealed carriers.
Training With Your Carry Gun
Training with your carry gun should be conducted as often as possible. There is no getting around it. Anything that requires performance requires training. And you should be training as often as possible.
Dry fire is one of the best ways to train with your concealed carry gun. It's simple: it is free and builds muscle memory that will translate into live-fire training.
Of course, nothing beats actually going to the range and shooting. Dry firing can't show you how the gun will recoil or teach you how to get the sights back on target quickly.
So dry fire, then take your gun to the range and add in live rounds. Watch videos. Become proficient.
FAQs
What Is The Best Ammo For Self-Defense?
If I could recommend one, it would be Speer Gold Dot 124-grain. It's been tested repeatedly by law enforcement and government agencies and is rated to penetrate clothing without affecting reliability.
What Is The Best Pistol Cleaning Kit?
Honestly, you don't have to spend much on a cleaning kit. A microfiber cloth, some Hoppe's #9, and lubricant are all you need to get by.
Often, shooters think they need cutting-edge cleaning kits to get the job done. Firearms work similar to a car. Keep them clean and lube them up to keep them running smoothly.
What Is The Highest Capacity Micro 9mm?
Conclusion
So now you have some of the best micro 9mm pistols on the market and some knowledge for the way. While a micro 9mm will never be the best in a self-defense situation, your gun is better than the one you don't have, and all of these will serve you well.
If you're in the market and just want my best recommendation, go with the SIG P365.
Other pistols may deserve a place on the list, but I may still need to cross paths with them. I'll update this list as time goes on.
Be good and take care.
Explore more