Ruger LCP II Review: Concealability and Convenience in the Palm of Your Hand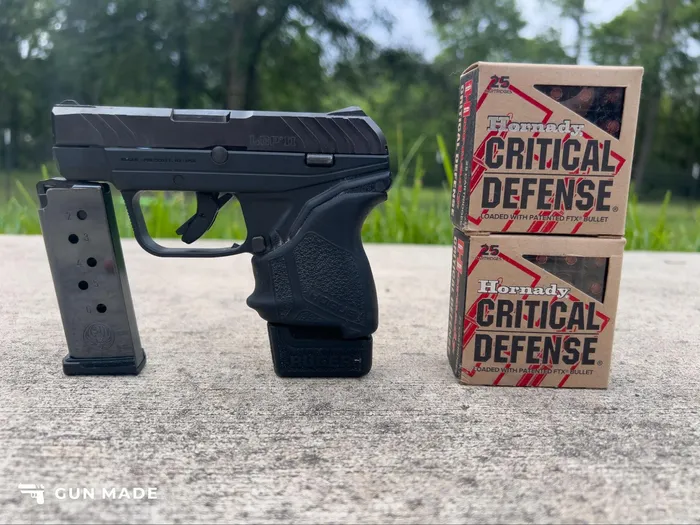 Ruger LCP II Review: Concealability and Convenience in the Palm of Your Hand
Introduction
One of the main reasons people who are licensed to carry a concealed firearm but don't is the hassle of carrying it. Taking the time to get their holster and firearm together and positioning them in a comfortable and concealable location when worn for hours can dissuade some from carrying.
Solving these issues is a priority for firearms manufacturers. Over the past ten to 20 years, the firearms industry has taken innovative steps in making pistols smaller and easier to conceal comfortably.
The Ruger LCP II is not Ruger's first attempt to meet concealed carry consumers' needs but instead is an evolution of an earlier design. The first LCP, "Light Compact Pistol," was released in 2008 and quickly gained popularity.
However, there were some features of the LCP that many shooters wanted to see improved. Two of the most desired changes involved the sights and the trigger. The LCP's sights were small and hard to see, and the trigger saw complaints about its feel and weight of pull.
Ruger released the LCP II in 2016 with an eye to correcting the LCP's deficiencies. Was Ruger able to successfully address the LCP's weakness with the LCP II and make an even better pistol for concealed carry?
Keep reading to find out.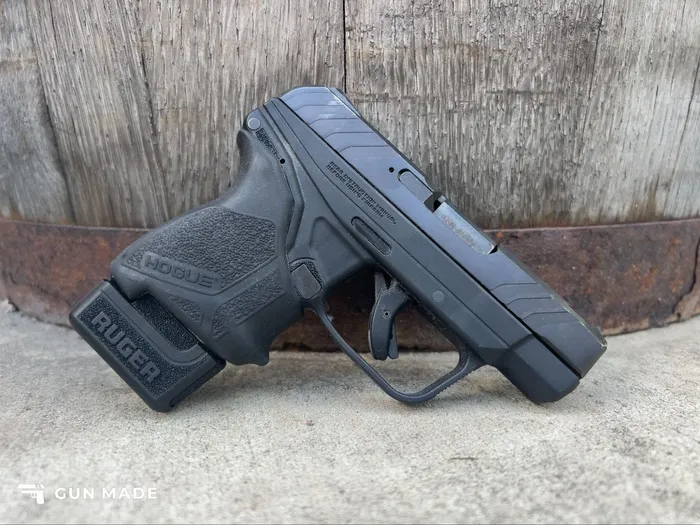 Ruger LCP II Review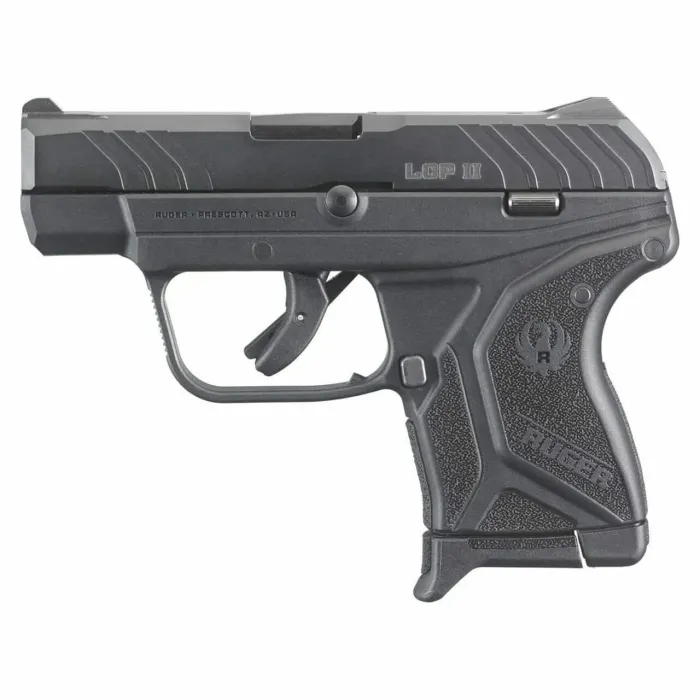 Specifications
| | |
| --- | --- |
| Caliber | .380 ACP |
| Capacity | 6+1 |
| Barrel Length | 2.75 inches |
| Overall Length | 5.17 inches |
| Height | 3.71 inches |
| Weight | 10.6 ounces |
| Sights | Fixed integral sights |
| Material | Alloy steel slideGlass-filled nylon grip frame |
Pros & Cons
Pros
Light and compact size makes concealing it effortless

Low felt recoil for the size

Accurate for such a small pistol

Improved trigger and sights compared to the first generation LCP
Cons
Sights can be hard to see compared to larger pistols

.380 ACP stopping power is lower compared to 9MM

Low capacity
Impressions & Range Report
Aesthetics
As a black polymer and alloy pistol, the LCP II is pretty standard. Most people will get their LCP II in black, but several options exist for getting your pistol in a different color.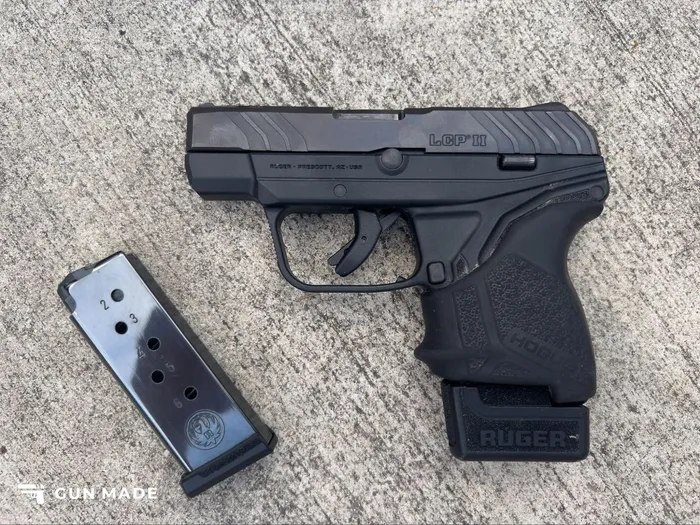 Overall Feel
The pistol feels great in the hand. Despite its small size, the pistol is very usable for those with average to small hands. However, if you have larger hands, I imagine it will feel like a toy, possibly affecting your ability to shoot the pistol well.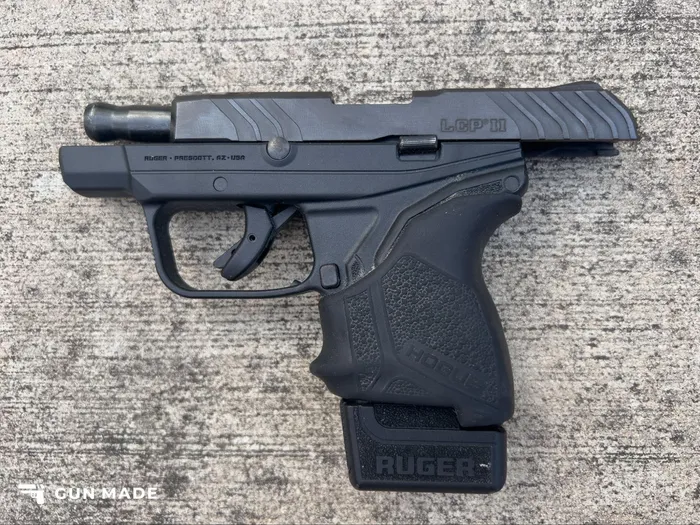 For a micro-compact pistol, the recoil is surprisingly light. I have owned several pocket pistols chambered in .380 ACP; of them, the LCP II has the most friendly shooting characteristics.
A Hogue grip sleeve goes a long way to improving the shootability of the LCP II. I have one on my pistol and highly recommend that anyone who gets an LCP II also uses one.
How We Tested
I have been carrying the Ruger LCP II consistently since 2018. It has even been my EDC at times. During those times, it has been primarily carried in a pocket holster.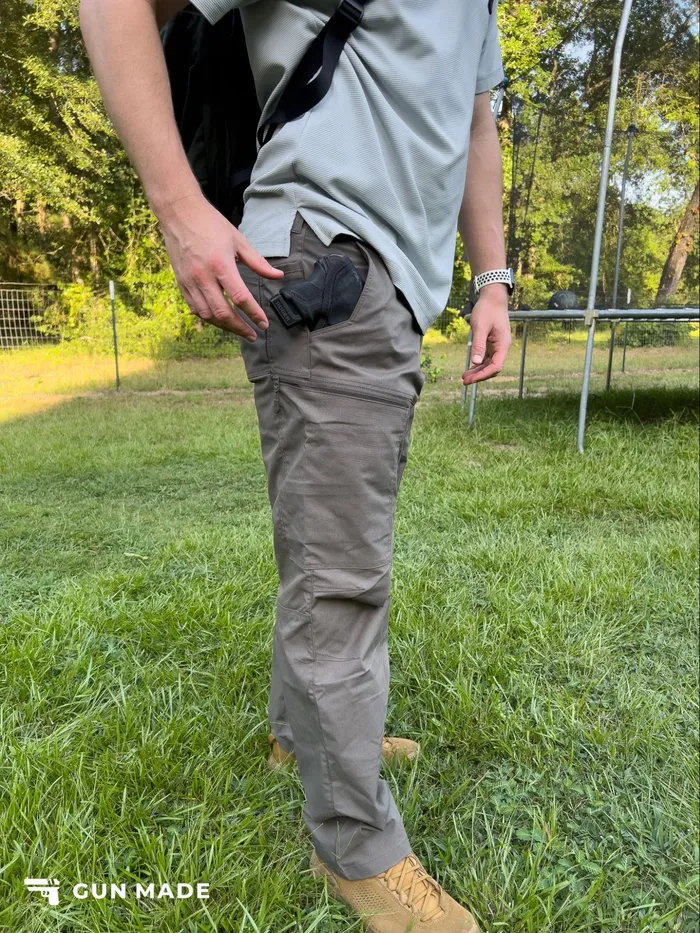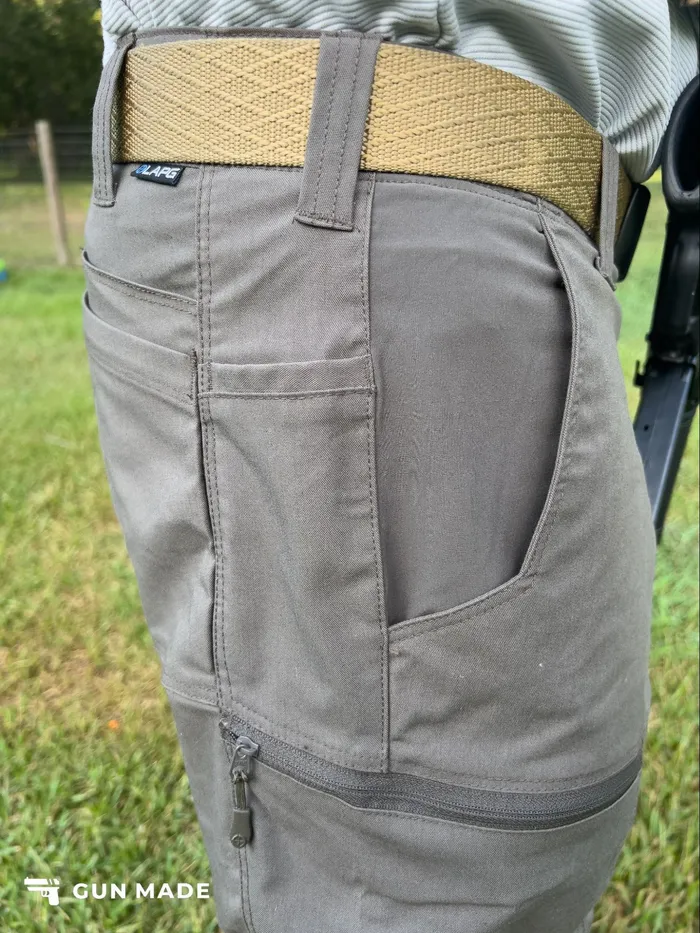 I have carried the LCP II while wearing athletic shorts, cargo shorts, jeans, cargo pants, and slacks. It's an excellent carry option for all of these pant types, although some pants did carry better than others, depending on the size and stiffness of the pockets. I also have a "tactical" fanny pack I have used to carry the LCP II, which I primarily use when jogging.
My total round count through the LCP II sits at approximately 1,000 rounds.
I have shot the LCP II at both indoor and outdoor ranges. I've shot steel and paper targets at distances as close as three yards and as long as 25 yards.
My most recent range trip before writing this review was outdoors, shooting at varying distances.
Ammo Used
A special thanks go to Hornady and AmmoMan for the ammo used during my most recent range trip for this review.
Hornady provided its 90-grain Critical Defense self-defense ammunition, while AmmoMan provided Speer Lawman 95-grain FMJs.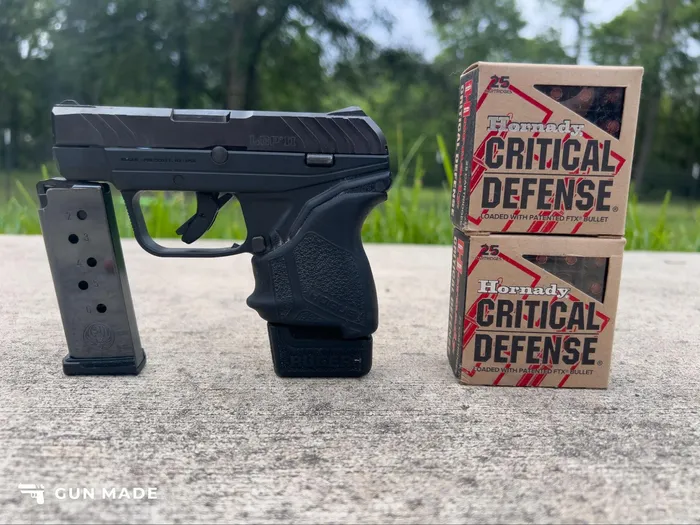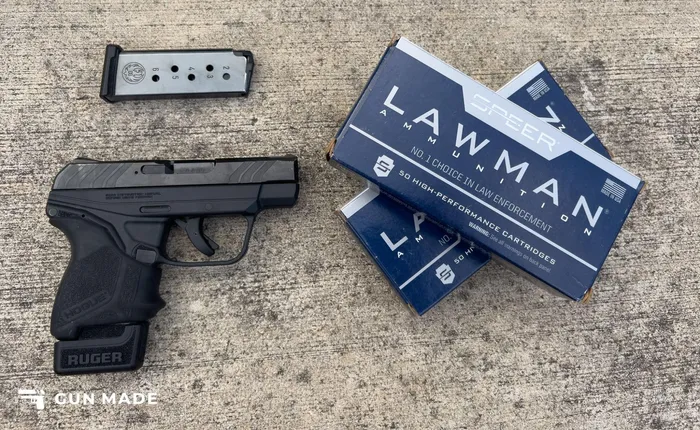 Both ammunition types performed well through the LCP II, and I experienced no failures to feed or eject.
Reliability
Since I've owned the pistol, it has functioned perfectly 99.9% of the time. I think I had one failure to feed, but it was so long ago I can't tell you with certainty if it actually happened or if it was just my memories of practicing clearing failures.
Throughout my time with the LCP II, I have primarily carried and shot Federal Hydrashok for self-defense and self-defense practice. I have also carried, and am currently carrying Hornady Critical Defense.
For range and training purposes, I have used whatever the cheapest target loads available have been and have also had good results.
I am confident enough with my LCP II that it is in my EDC rotation, and many weeks, it is carried at least three times. I place it alongside my Glock 17, Glock 26, and M&P9C as one of my most carried firearms.
Accuracy
Accuracy is one of the aspects of pocket pistols, where they frequently come up short compared to their larger siblings. The LCP II is accurate for a pocket pistol. It can punch close holes in paper at three and five yards incredibly well.
The improvements in the sights from the first-generation LCP are noticeable. While not as nice as fiber optics or night sights, the sights are more than functional.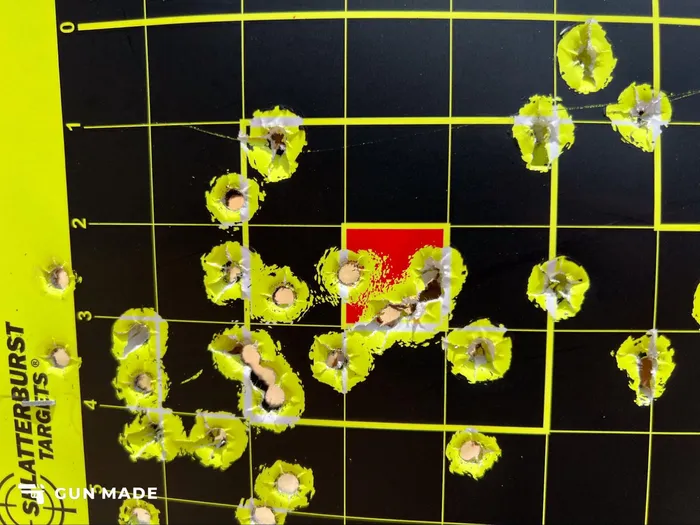 I would be lying to you if I said I shoot the pistol with the same level of accuracy as I shoot my Glock 26, Glock 17, and other pistols. The small size limits my ability to get tight groups past 5 yards.
The sights, while better than the original LCP, are not as good as those on my other pistols, and since they are integrated into the slide, I can't just buy a set of high-quality fiber optic sights to replace them.
Features
Compact & Lightweight Size
The compact size of the Ruger LCP II is the most significant selling point of the pistol. This firearm is very small. It easily fits in your hand, a compact purse, or even your pocket.
If you own a Ruger LCP II, there is no reason to forgo carrying your firearm daily and wherever it is legal. Even when fully loaded, the pistol's weight is similar to your oversized smartphone.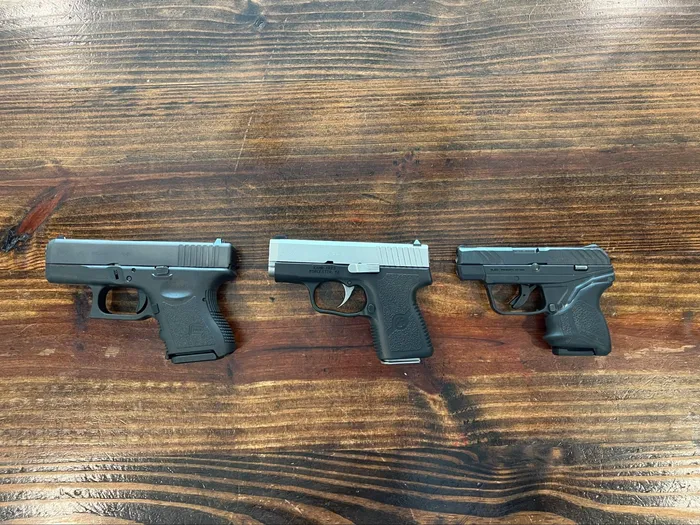 The compact size and light weight of the LCP II make it an excellent backup gun. Many people prefer to carry a larger firearm as their primary defensive pistol. Firearms like the Glock 43X or the Shadow Systems MR920 are very popular in the concealed carry community.
There is an adage that is often said in the firearms community, "Two is one, and one is none." If you follow this principle, having a backup gun, just in case, is a must. The LCP II allows you to have a backup gun while at the same time not overloading yourself.
Improved Trigger & Sights
The trigger on the LCP II improved upon the first-generation LCP trigger in several ways.
The first improvement was the weight of the trigger pull. The LCP pistols had a pull weight of between 6.5 and 7 pounds, and the LCP II reduced the pull weight to around 6 pounds. The LCP II also has a smoother and crisper trigger break than the LCP. Combining these two improvements makes the overall trigger function feel a very nice upgrade.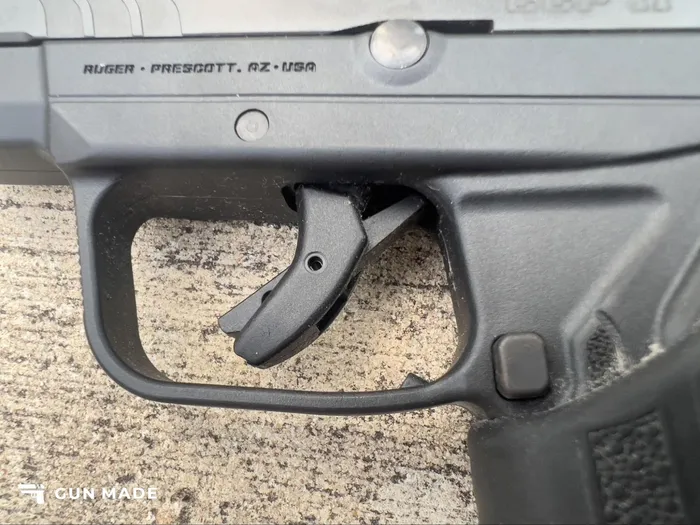 The sights on the first-gen LCP were minimal and hard to see. The low profile of the sights reduced the chance of snagging, but you were sighting down the top of the slide when using your LCP, especially in low-light conditions.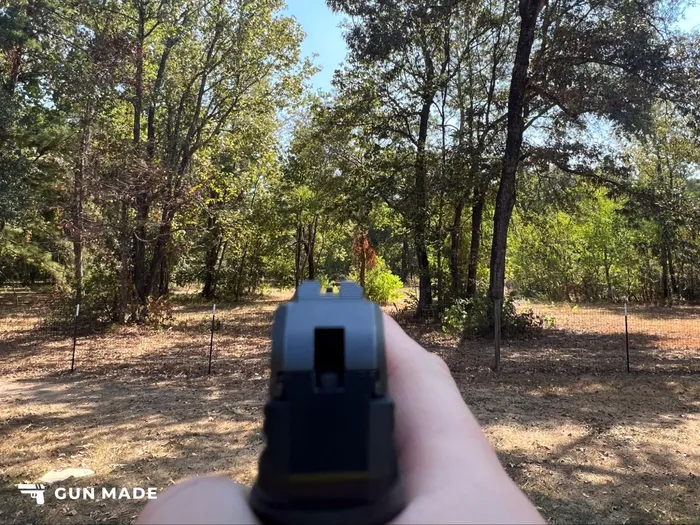 Ruger made sure to raise the sights and make them slightly wider. These changes make the sights easier to acquire and get on target with the LCP II. Serrations were also added to the front and rear sights to reduce glare.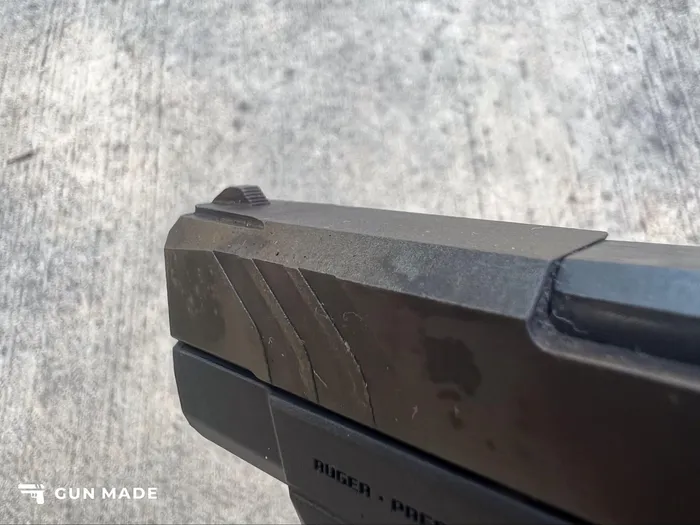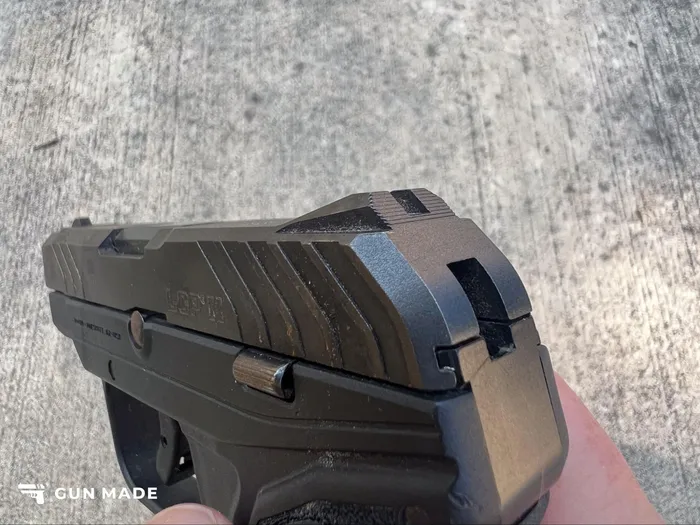 Score Card
Reliability (10/10)
If you are going to stake your life on a firearm, you need to know it is reliable. The Ruger LCP II is going to go bang every time.
Ergonomics (9/10)
This is a subjective answer. I like the ergonomics. Someone with different hands than me might not. It points well and feels good to me.
Customization (3/10)
It's a pocket pistol. It has limited real estate for customizing the pistol, and the sights are fixed. This is not a pistol you buy to trick out with all the extra goodies you can find.
Appearance (8/10)
The LCP II is a relatively standard modern pistol. It looks good but isn't breathtaking by any means.
Value (10/10)
The LCP II can be found for under $300. This makes it a lot of pistol for not a lot of cash.
Accessories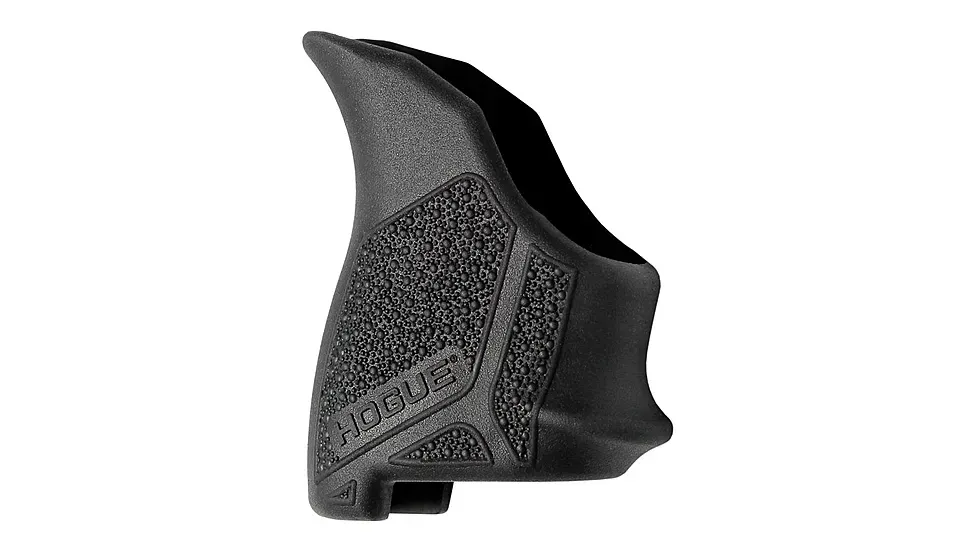 This is my number one must-have accessory for the LCP II. The difference in felt recoil and comfort when shooting the LCP II is a game changer. The LCP II is not a pistol that will beat you up by any means, but it is a small, lightweight pistol, and that does result in more felt recoil.
The Hogue HandALL Grip sleeve does a great job helping to make the LCP II's shooting experience more enjoyable.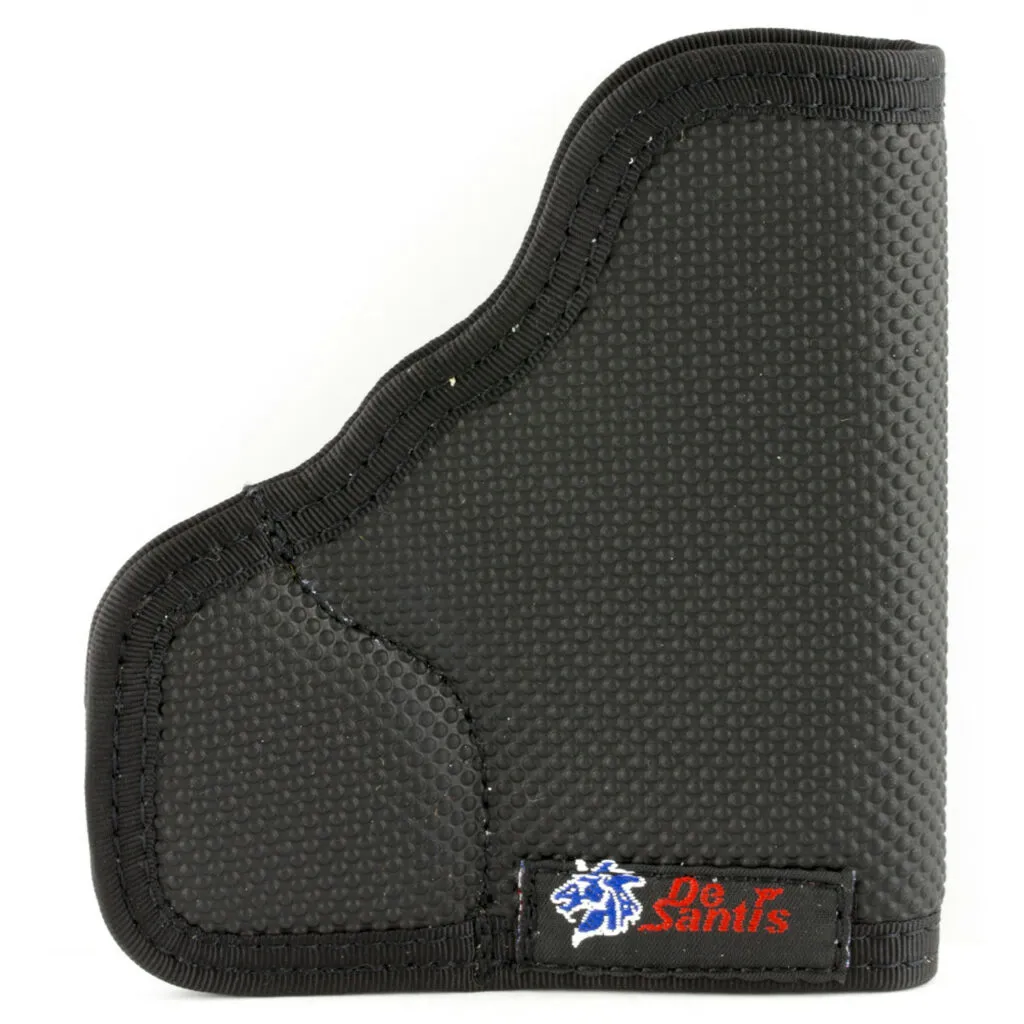 My favorite pocket holster is the DeSantis Nemesis. It does an excellent job of keeping your pistol concealed and in your pocket. The Nemesis effectively covers the trigger, which is paramount in preventing accidental discharges.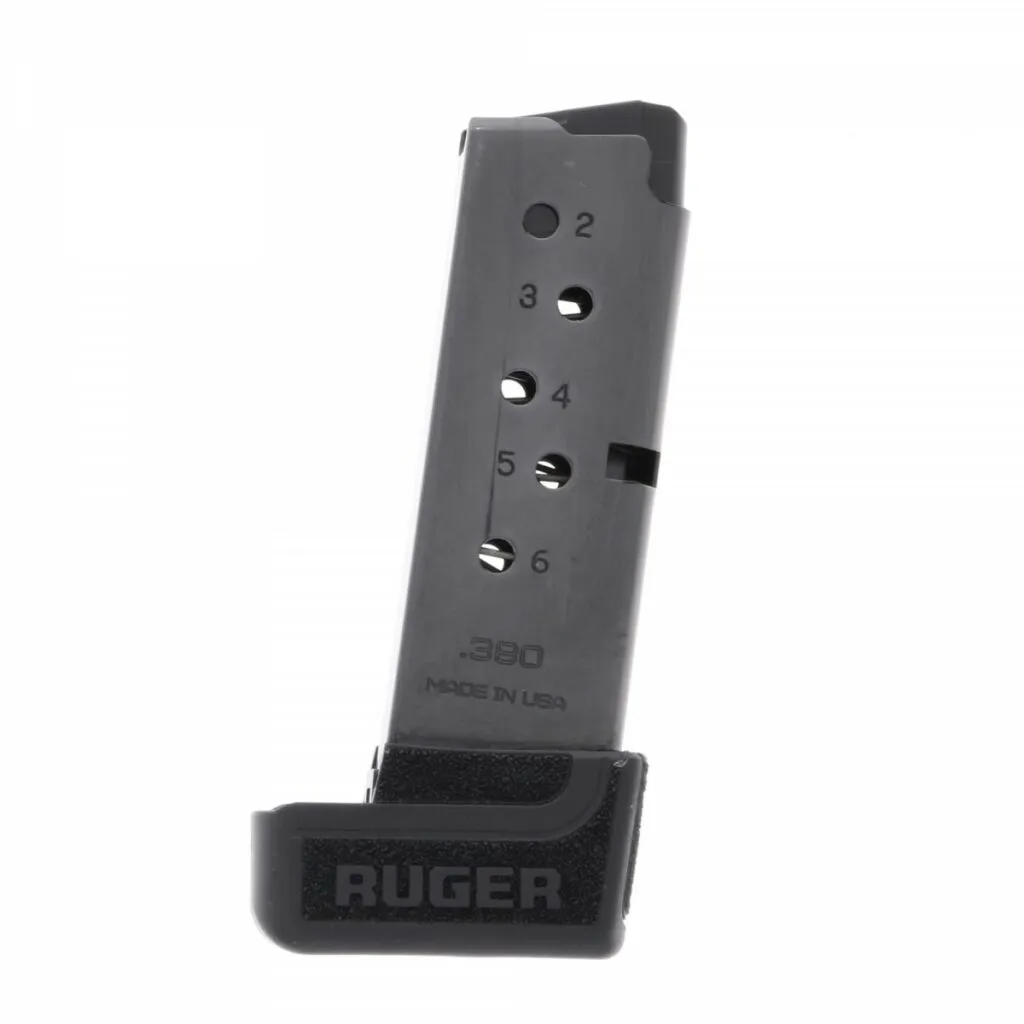 Having spare magazines is essential when owning a firearm. If you only have one magazine for your gun, you are looking at a failure point that could knock your gun out of action. A second, third, fourth, or more magazine is essential for any firearm you plan to stake your life on.
One of the criticisms of the LCP II is the limited, six-round capacity of the magazine that comes with the LCP II. There are several ways of increasing the capacity of your LCP II. I purchased a seven-round magazine from Ruger, and there are also magazine extensions and aftermarket magazines.
Alternatives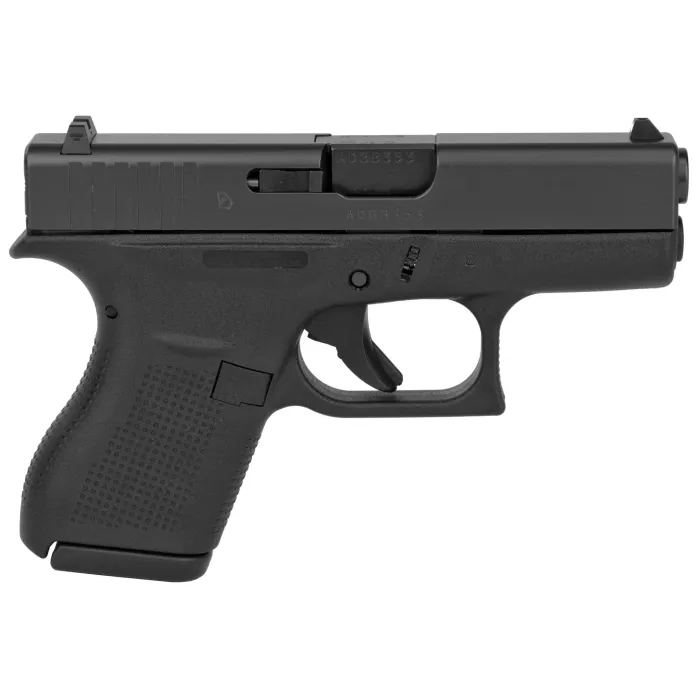 For many firearms owners, Glock is the only pistol brand they will carry. Regardless of your thoughts about Glock pistols, they have earned their reputation through solid performance and reliability over many decades.
The Glock 42 is larger than the Ruger LCP II but is smaller than Glock pistols chambered in 9MM like the Glock 26 and Glock 43. Those wanting to stick with a Glock-made firearm but want a pistol smaller than some of Glock's 9MM offerings have a solid option with the Glock 42.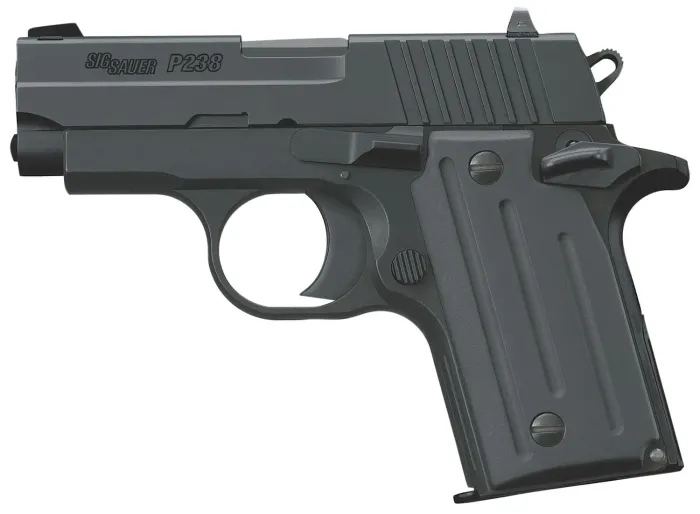 The Sig P238 (see full review here) is a solid and compact 1911-style pistol chambered in .380 ACP. Its classic looks and metal construction differentiate it from most pistols in its class.
Sig is one of the most prolific firearms manufacturers in the world and has a solid reputation for manufacturing high-quality firearms and having quality customer service. If you are looking for a pistol in .380 ACP but want something different than the polymer offerings from Ruger and Glock, give the Sig P238 a look.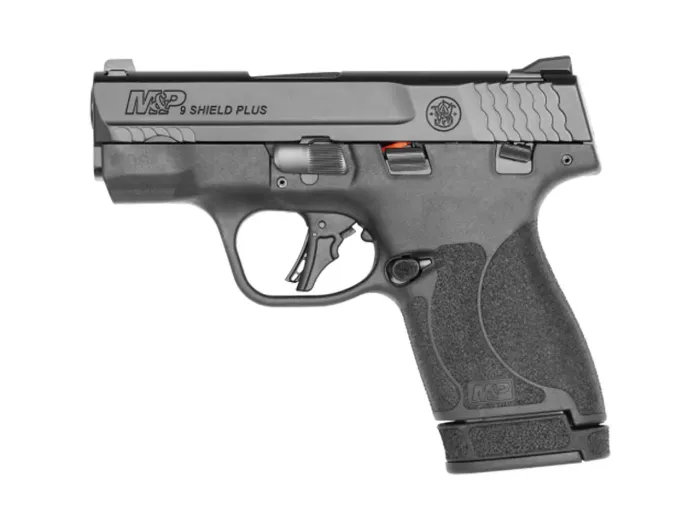 9MM is a more effective cartridge than .380 ACP. If you want a compact pistol but don't need the super compact size of the LCP II and want a more effective cartridge, the Smith & Wesson Shield Plus should be at the top of your list of pistols.
It's small enough to be easily carried and has a larger capacity (13+1) than the LCP II. If you want this size of a gun but aren't sure if the Shield Plus is your style, check out this article comparing the Sig P365 and Springfield Armory Hellcat.
Conclusion
The Ruger LCP II is one of the best, if not the best, pocket pistols on the market. It fits firmly within Ruger's MO of producing high-quality, affordable firearms. Ruger listened to the requests of its customers and upgraded its first-generation LCP.
The LCP II can easily be thrown in a pocket or put in an IWB holster, appendix holster, or bag, ensuring you are always armed. It makes it easy for you to leave your home armed.
If you need a compact, lightweight, and reliable pistol for concealed carry, look no further than the LCP II.
Do you have thoughts on the Ruger LCP II or a question? Leave a comment below or find us on your favorite social media platform and hit us up there.
Explore more